Musician, rapper, and fashion designer Kanye West is well-known for his distinctive and occasionally polarizing style. Fans of his music can have his well-known quotes, catchphrases, and even song lyrics read aloud in his distinctive voice on various Kanye West voice generator. This article will introduce Kanye West Text to Speech voice generators.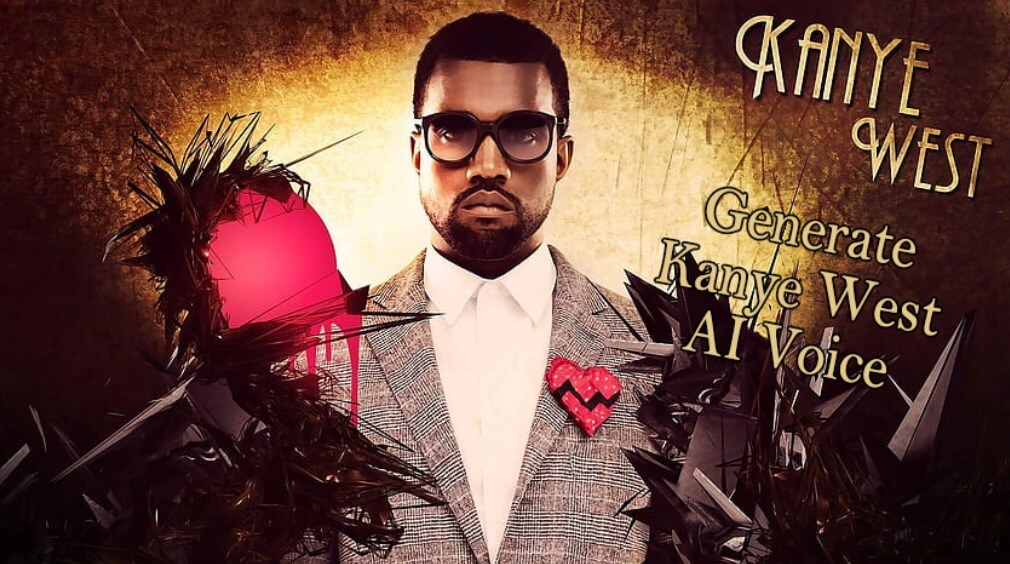 Part 1: Who is Kanye West and Why So popular?
Kanye West is not just an American rapper; he has proved his mettle as a singer/songwriter and, later in his career, even as a record producer. He recently became renowned as a fashion designer due to his hard work. He surfaced to the limelight when Jay-Z discovered him due to "The Blueprint." and had creative help from Kanye on this 2001 album.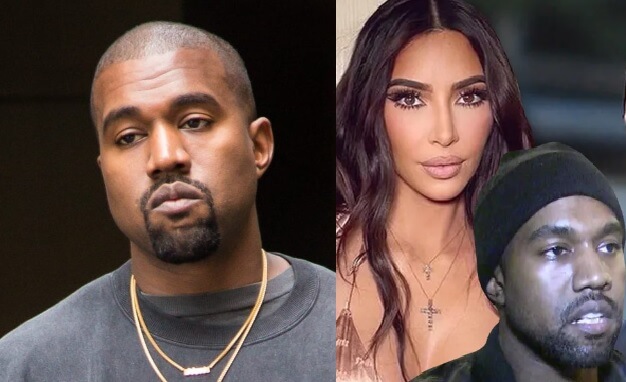 West went on to release several critically acclaimed albums, including the famous "The College Dropout" (2004) and many more in his early career, such as "Late Registration" (2005).
His ever-changing and quality variation in music has made him not just an amazingly creative singer but, due to his fame and some of his decisions, one of the most controversial musicians of the 21st century.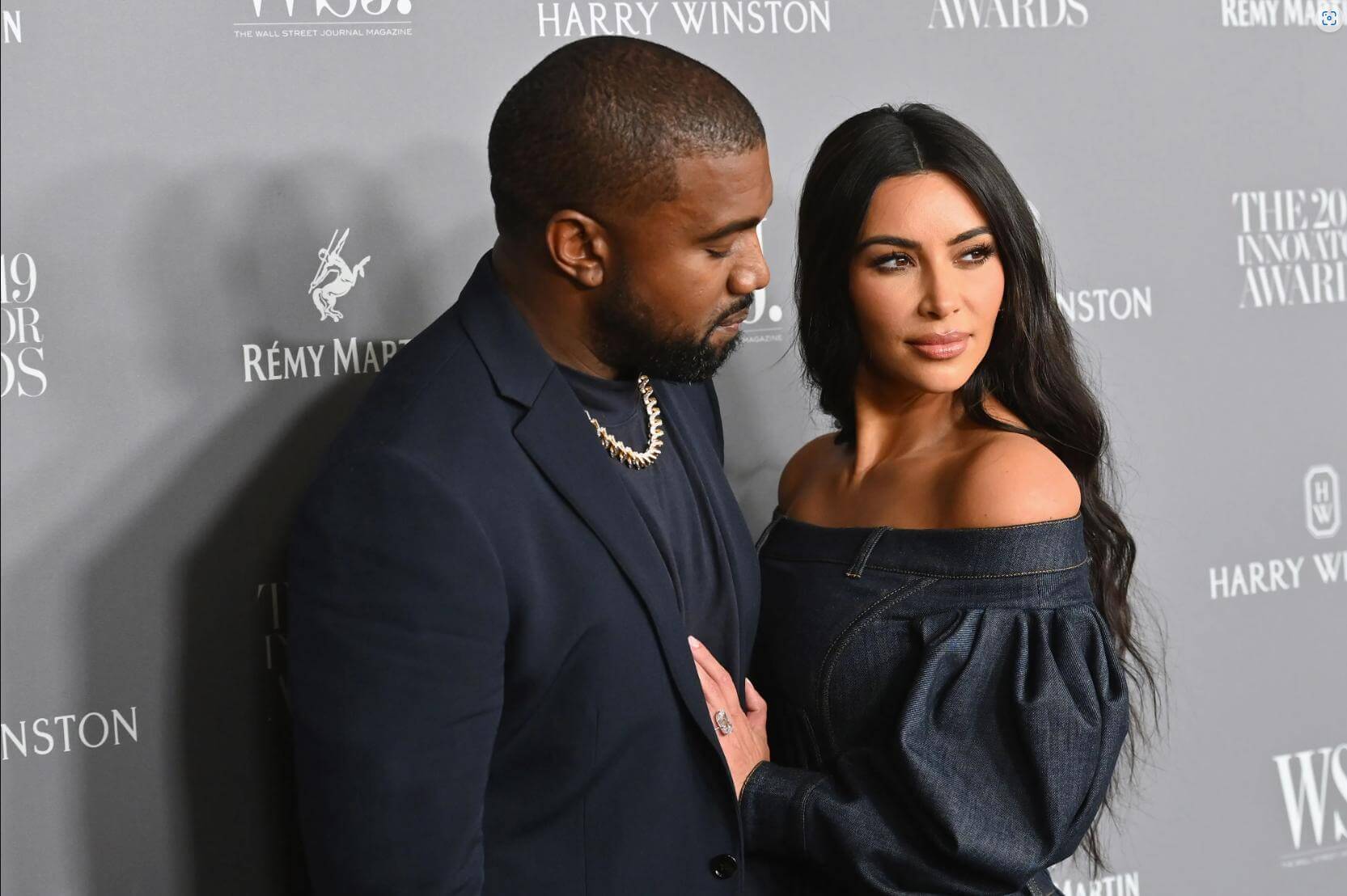 The more popular West got, the more outspoken and controversial his personality, which has garnered significant media attention over the years. He has been involved in numerous public feuds and controversies, such as his support for President Donald Trump and his various statements on politics, religion, and other sensitive topics.
Despite this, he continues to be one of the most influential and famous figures in contemporary music and culture, attracting millions of fans and followers worldwide.
Part 2: Poplular Kanye West Voice Generator
Let's discuss a few Kanye voice generator tools in this section if you are his fan and want to use his voiceover for your communication and media. For this very purpose, we share 3 of the best Kanye West voice generator tools here.
The Kanye West voice generator TopMediai text to speech works by analyzing your text and creating a synthesized voice that sounds like Kanye West. You can input any text you want, and the generator will produce a voice that matches Kanye's unique tone and cadence.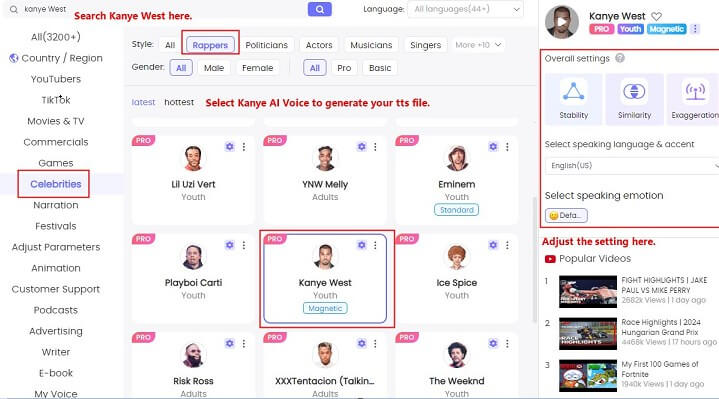 Key Features:
Many voiceover options, including celebrity text to speech and memes.
More than 3200+ voices are on offer in addition to Kanye West ai voice.
70+ languages available to work with.
Adjust the speed, pitch, and volume of the voice to your liking, making it customizable Kanye West text to speech voice.
Many other rapper text to speech voice are also available.
How to Grab Kanye West ai voice:
Step 1: Go to TopMediai text to speech.
Step 2: Simply enter the text in the given space, and select the Kanye West ai voice from the options.
Step 3: Adjust the speed, pitch, and volume of the voice ae desired.
Step 4: Once ready, click on ' convert'. Nowyou are free to enjoy Kanye West text to speech voice.
Pros
A useful tool for various applications, such as podcasts, audiobooks.

Users can make Kanye West ai rapping song with ease.

TopMediai does not require any installation.

You can make Kanye West voiceover for your video.

Simple and user-friendly interface.
Cons
It always requires an internet connection because it is an online conversion tool..
There are more than 2,700 voices available for text-to-speech on the website FakeYou. With this flexible tool, you can give cartoon characters voiceovers, make the president of the United States say anything, generate Kanye voice generator outputs or even make two villains from different superhero movies become friends.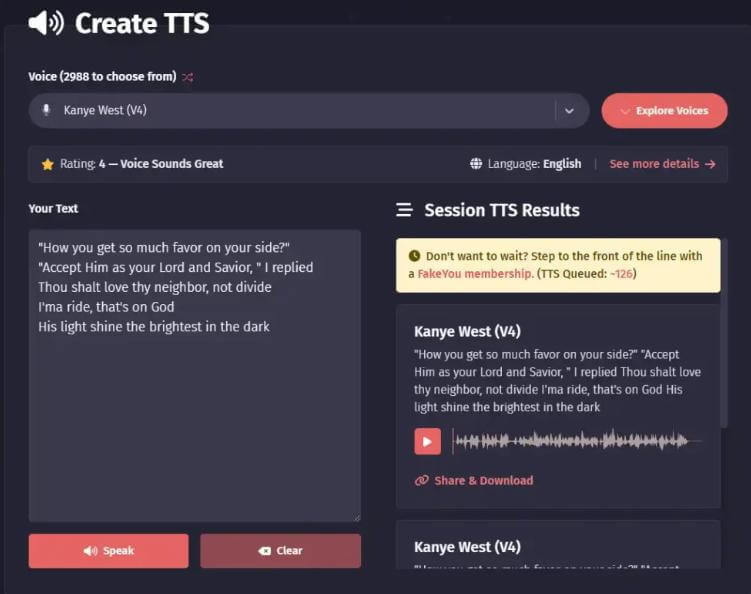 Key Features:
The quality of voiceovers is continually improved with regular updates.
Access to an extensive library of 2,700 high-quality voices.
Easily edit and save in popular formats for future use.
Many celebrity text to speech voice are also available.
An online text-to-speech service similar to FakeYou for Kanye west text to speech utility is Uberduck.ai. Users have a wide range of options thanks to its extensive selection of more than 4,000 voices.
In conclusion, those looking for a text-to-speech website with various voices should consider Uberduck. All voices are accessible for free, but saving the generated audio necessitates a subscription which is best if you want an excellent Kanye West text to speech generator tool.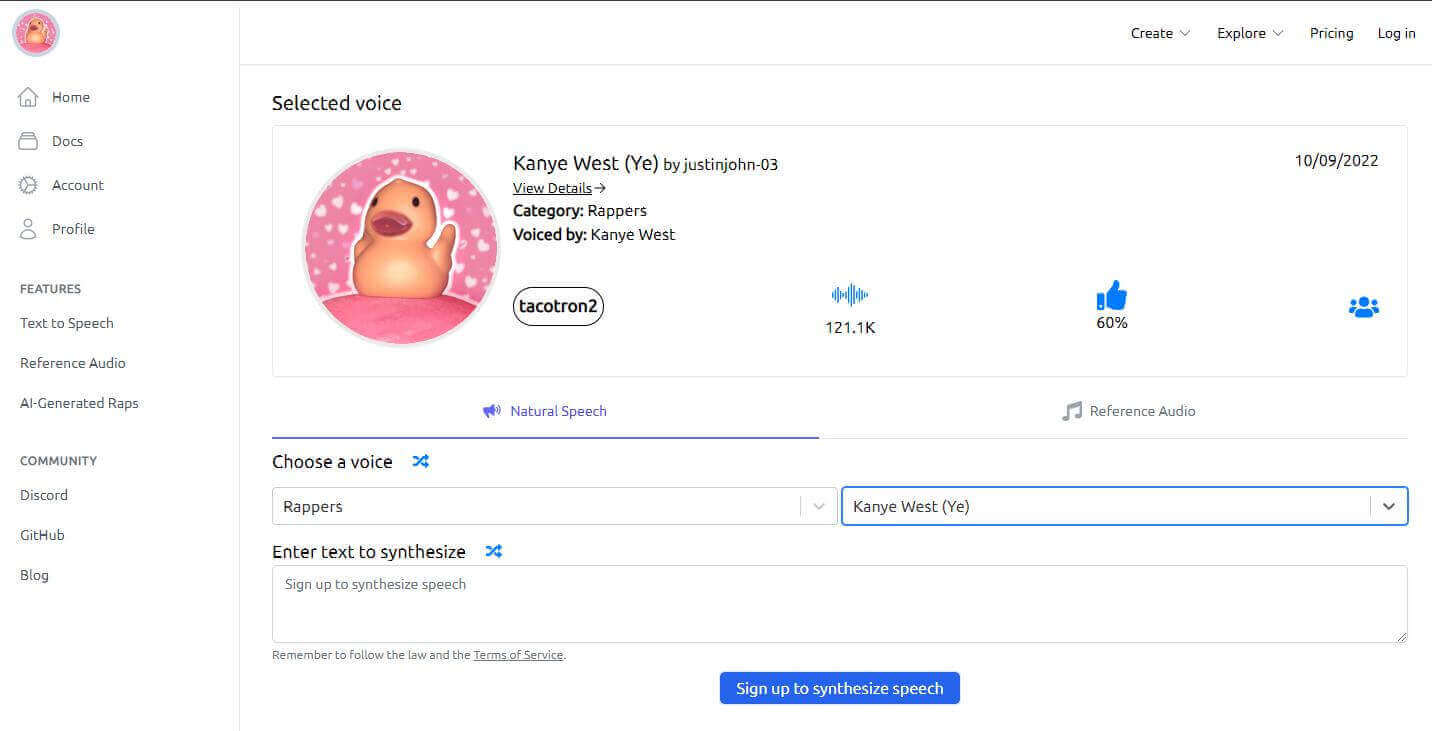 Key Features:
AI-based program with fast results expected.
Text to Speech function with a decent selection of Uberduck.ai voices.
High-quality, accurate results.
Excellent features for voice-based creativity.
Part 3: FAQs About Kanye Text to Speech
Let's look at some of the most asked questions regarding the Kanye voice generator that are online.
1 What is the Kanye West voice generator?
The Kanye West voice generator is a text-to-speech tool that creates a synthesized version of Kanye West's voice. It allows you to input any text and generate an audio file that sounds like Kanye West speaking.
2How does the Kanye West voice generator work?
The generator uses machine learning algorithms and artificial intelligence to analyze Kanye's voice and create a synthesized version of it. It can analyze the tone, cadence, and inflection of Kanye's voice to create a more realistic and accurate version.
3 Can I use the Kanye West voice generator for commercial purposes?
It depends on the specific terms and conditions of the tool you are using. Some Kanye West voice generators may allow commercial use, while others may require you to purchase a license or obtain permission from the developer.
4 Can I use the Kanye West voice generator to create music?
Yes, the Kanye West voice generator can be used to create music by adding a Kanye West-style voice to your tracks. However, it's important to note that the generated voice may not be as expressive or nuanced as a real human voice, so it may not be suitable for every musical genre or style.
Conclusion:
If you're a fan of Kanye West's music, you might be interested in the Kanye West voice generator. This tool allows you to create a text to speech
Kanye West ai voice
, making it perfect for everything from music production to social media posts.
If you are looking for more rapper voice generators, other than Kanye West voice generator from text, we recommend TopMediai text to speech for its realistic Kanye West AI voice.