Drake is a multi-platinum selling artist known for his distinctive voice and style of rapping. Have you ever wondered how you can make your own voice sound like Drake's? Whether you're a musician looking to add a unique touch to your music or a fan looking to have some fun, this article will show you how to make Drake Text to Speech voice with a Drake voice generator.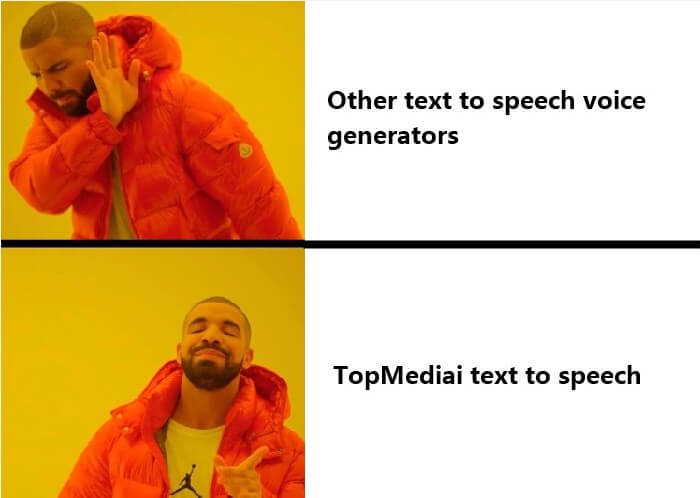 Part 1: Who is Drake?
Drake, whose real name is Aubrey Drake Graham, is a Canadian rapper, singer, songwriter, actor, and entrepreneur. He was born on October 24, 1986, in Toronto, Canada. Drake started his career as an actor on the television show "Degrassi: The Next Generation before transitioning to music.
Drake's music is characterized by his introspective lyrics, smooth melodies, and versatile flow, blending elements of hip-hop, R&B, and pop. He has released numerous successful albums, including "Take Care," "Nothing Was the Same," and "Views," which have all achieved multi-platinum status.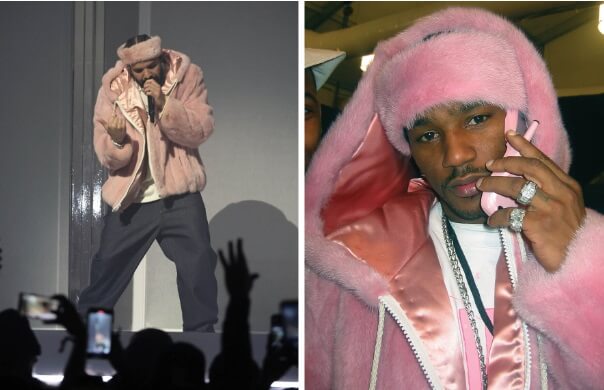 Drake has also had many chart-topping singles, including "One Dance," "Hotline Bling," and "God's Plan." He has won four Grammy Awards, six American Music Awards, and 27 Billboard Music Awards, making him one of the most successful artists of all time.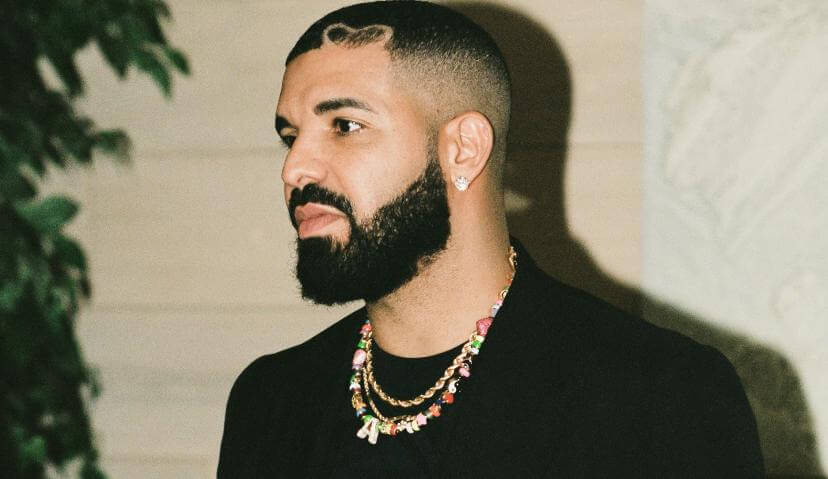 Drake's popularity stems from his ability to connect with audiences through his music and his relatable lyrics. He has a massive following on social media, with millions of fans around the world. Drake is often cited as one of the most influential and successful artists of his generation.
Part 2: How to Make Drake Text to Speech Voice?
1. TopMediai for Drake Voice Generator
TopMediai is a top-rated text-to-speech (TTS) software that uses advanced AI and natural language processing (NLP) technologies to convert text into high-quality speech. It is widely considered as the best choice for Drake text to speech due to its exceptional features, ease of use, and affordability.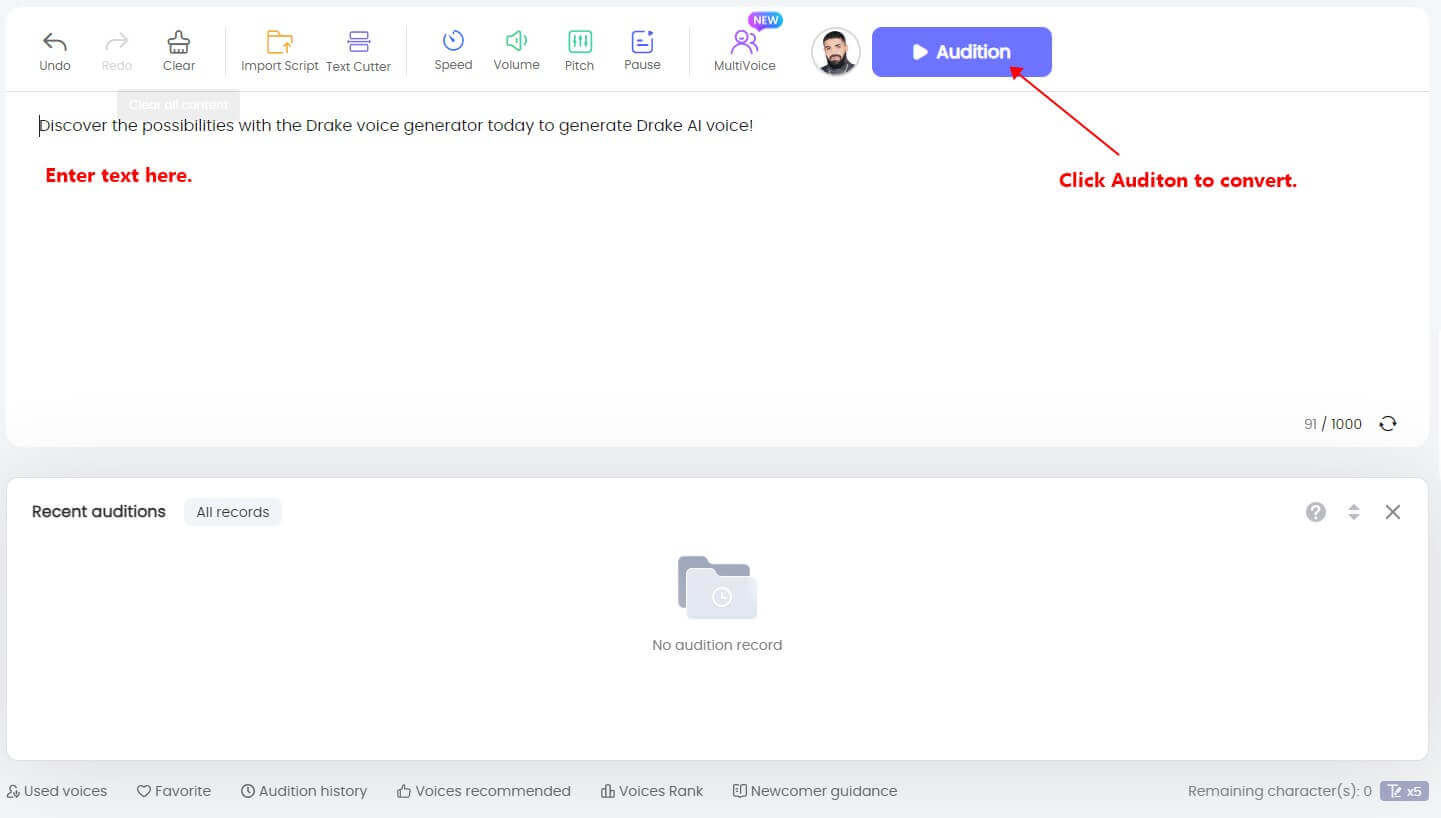 Key Features:
High-quality and realistic Drake ai voice.
Support for multiple languages (70+) and accents.
Multiple output file types supported including OGG, WAV, and MP3
Wide range of voice options including male, female, and robotic ai voices.
Automatic punctuation and capitalization.
Real-time preview and editing of the speech output.
How to Use Drake Voice Generator AI:
Step 1: Go to the TopMediai website.
Step 2:pload or copy-paste the text that you want to convert into speech.
Step 3: Choose the language, voice, and other settings that you prefer.
Step 4: Download the final speech output as an audio file.
Pros
Easy integration with various platforms and applications.

Automatic punctuation and capitalization for better.

3200+voice and 70+ languages options to choose from.

A good choice for other rapper voice generator.

Customizable settings for voice speed, pitch, and volume.
Cons
Internet connection is required.
nline text-to-speech conversion tool that has gained popularity in recent years. The website allows users to convert written text into realistic-sounding audio files using a variety of different voices. One of the most popular use cases for the tool is the conversion of text into the voice of the Canadian rapper Drake, which has become a popular meme on social media platforms.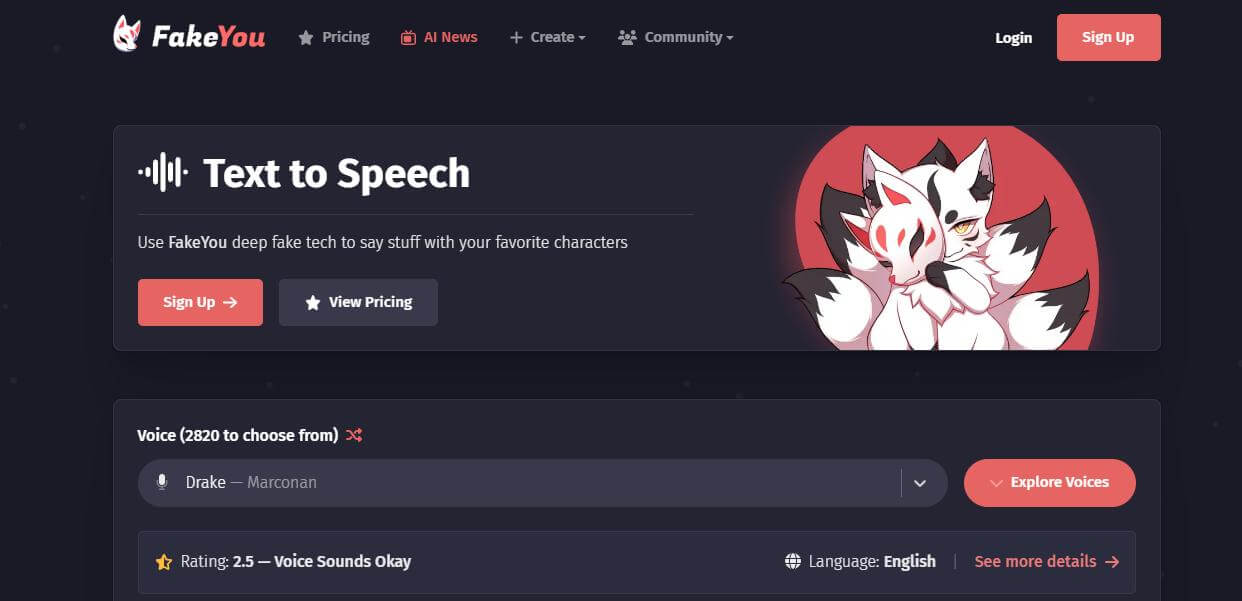 Key Features:
Converts any text that you input into speech using a computer-generated voice that sounds like Drake.
Users can adjust the speed of the speech to your preference, making it slower or faster as needed.
The tool supports multiple languages, including English, Spanish, French, German, Italian, and Portuguese.
Pros
Fakeyou.com offers a fun and unique way to hear your text read back to you, particularly with the option to mimic the voice of Drake.

You can adjust the speed, pitch, and volume of the voice to your liking, making it customizable to your preferences.
Cons
While the tool is fun and unique, it may not have practical applications beyond entertainment.

The computer-generated voice can sound somewhat artificial, particularly for longer text passages.

Occasionally, the software may produce errors or glitches that affect the speech output quality.
Uberduck.ai is a tool for converting text into speech using the voice of the famous rapper, Drake. With its advanced algorithms and machine learning models, Uberduck.ai can generate realistic and high-quality speech that sounds just like Drake.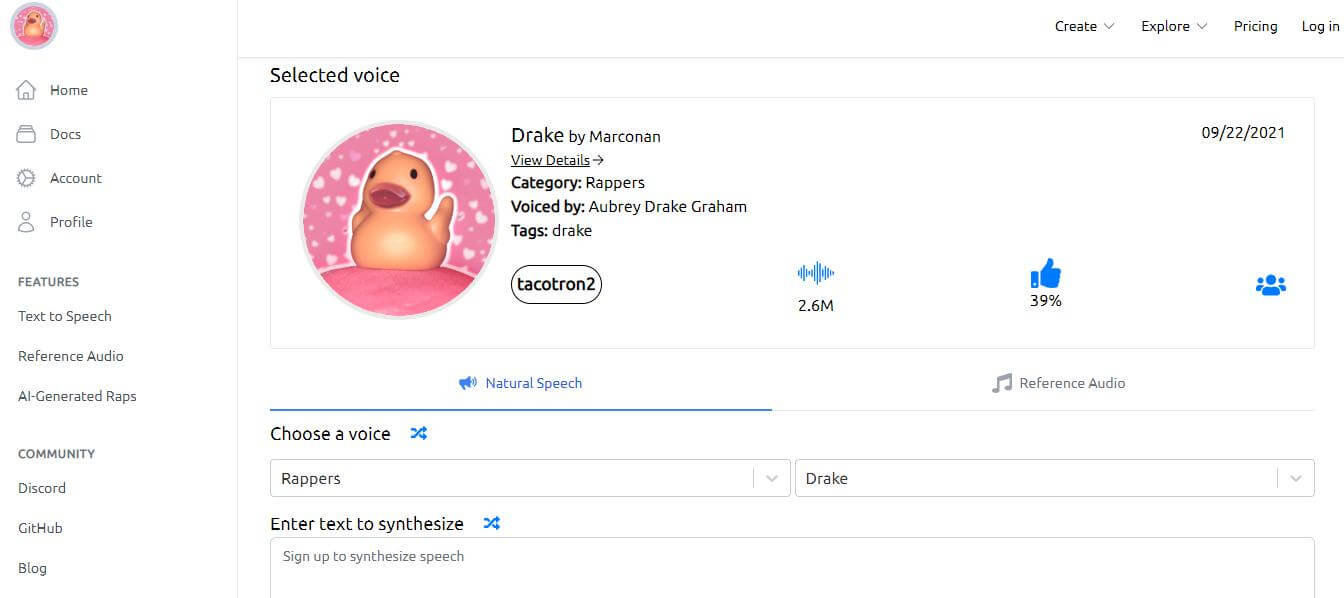 Key Features:
User-friendly installation process that's a breeze to set up
Over 5,000 voiceover choices to find the perfect fit for your needs.
Personalized voice replication feature for a customized experience.
Pros
Unique and customizable speech using the voice of Drake.

Supports multiple languages.

Affordable pricing options.

Customizable settings for voice speed, pitch, and volume.
Cons
Only allows 5 saved audio clips.

Not suitable for all types of speech applications.

May not be ideal for formal or professional contexts.
Part 3: FAQs about Drake Voice Generator
1 How can I make Drake's Text to Speech voice online?
You can make Drake text to speech voice online by using a text to speech software or tool that offers a Drake voice option. One such tool is TopMedia's text to speech generator, which offers the option to select from a variety of voices, including Drake's voice.
2 Which is the best Drake voice generator online?
There are several Drake voice generators available online, but one of the best is TopMedia's text to speech generator. TopMedia's generator uses advanced text to speech technology to create natural-sounding voices, including Drake's voice.
The tool is easy to use, and you can adjust the voice speed, pitch, and volume to create the perfect Drake voiceover for your project.
3 Can I make Drake's voiceover for my youtube video?
Yes, you can make a Drake voiceover for your YouTube video using TopMedia's text to speech generator. TopMedia's generator allows you to convert text into Drake's voice and download the resulting audio file. You can then use this audio file in your YouTube video as a voiceover.
Conclusion:
In conclusion, with the right
Drake voice generator
, you can easily create audio clips that sound just like Drake. Whether you're looking to make fun memes or add a unique touch to your music production, this tool is a creative way to do it. And, when it comes to high-quality Text to Speech services,
TopMediai
is a trusted provider that offers a wide range of voices like
Joe Biden ai voice
and language options, making it the ideal choice for
Drake Text to Speech
voice.