Text to speech technology has revolutionized the way we interact with computers and devices, and now it's even possible to generate an authentic Snoop Dogg voice using this innovative technology.

With the Snoop Dogg text to speech voice generator, you can now bring his iconic voice to your content or projects and have some fun while doing so.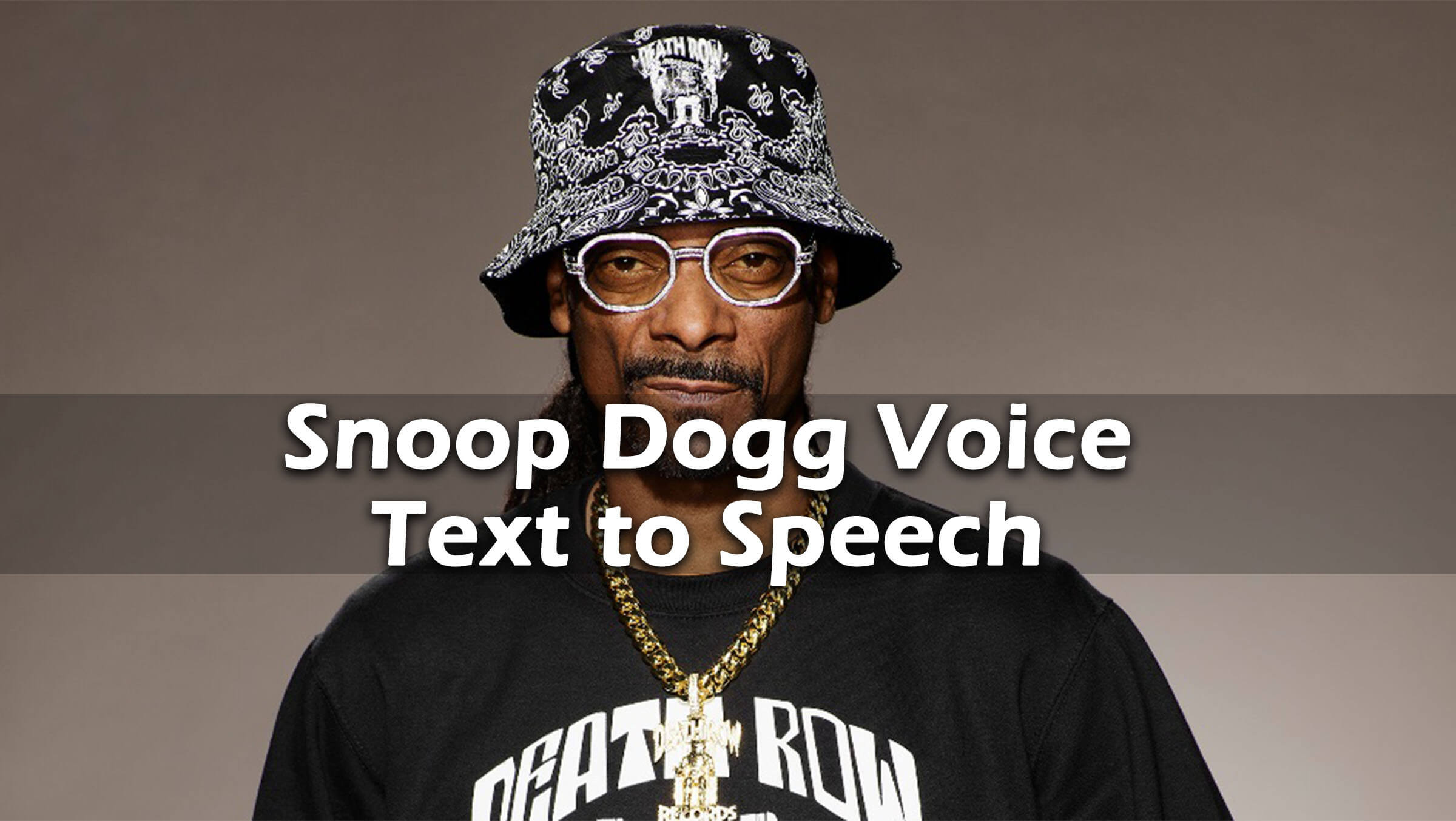 Part 1: Who is Snoop Dogg?
Snoop Dogg is a legendary rapper, songwriter, and actor whose unique voice and laid-back style have earned him a massive fanbase around the world. He first gained fame in the early 1990s with his debut album, "Doggystyle", which was a commercial and critical success. Snoop Dogg's unique voice and laid-back style have made him a beloved icon in the music industry.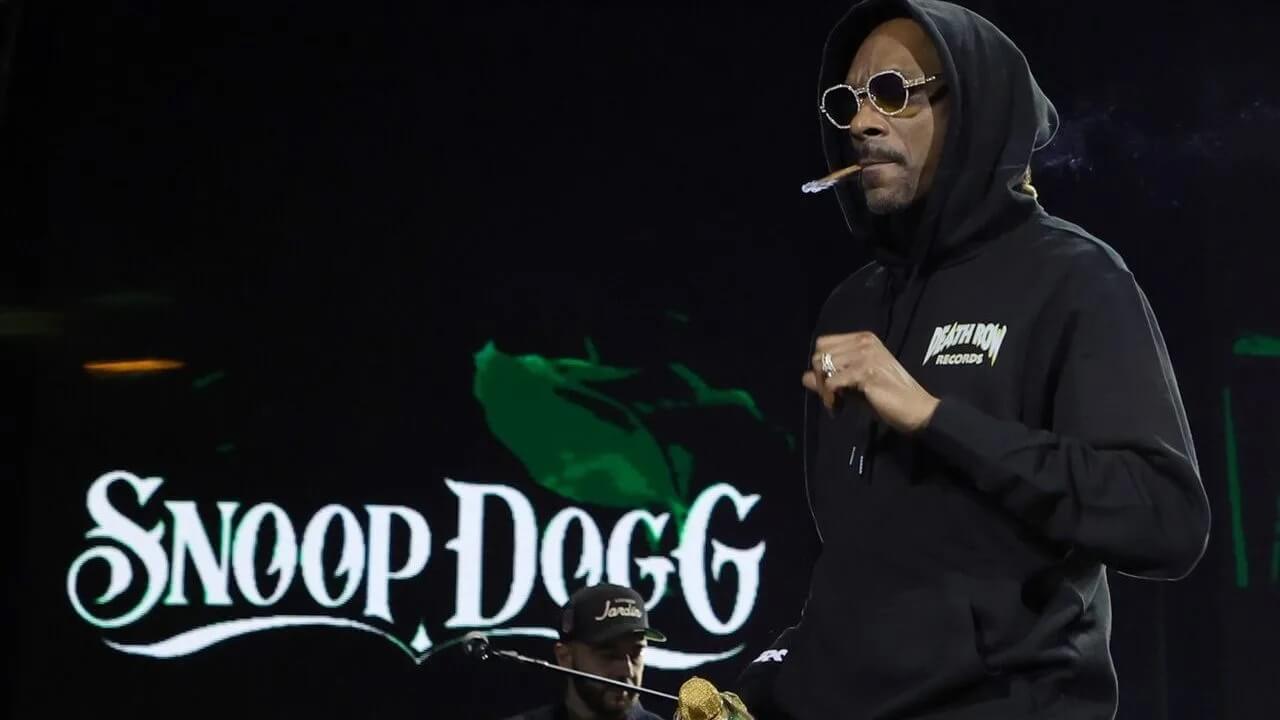 Aside from his entertainment career, Snoop Dogg has also been involved in various business ventures. He has his own record label, clothing line, and a line of cannabis products.
Part 2: How to Use Text to Speech to Generate Snoop Dogg Voice?
TopMediai is an excellent choice if you're in search of a free and user-friendly Snoop Dogg text to speech voice generator. This innovative tool provides a variety of character voices, including an authentic Snoop Dogg voice and a Kanye West voice, which can be used to add flair and personality to your written content.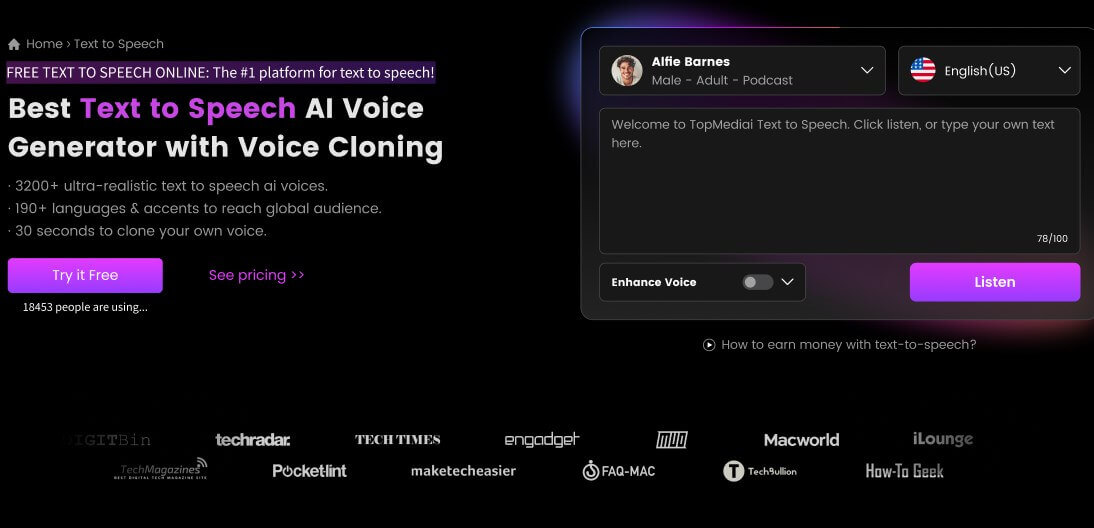 How to Use Snoop Dogg Voice Text to Speech:
Step 1: Go to the TopMediai Text to Speech.
Step 2: Upload or copy-paste the text that you want to convert into speech.
Step 3: Choose Snoop Dogg Voice in the rappers voice type .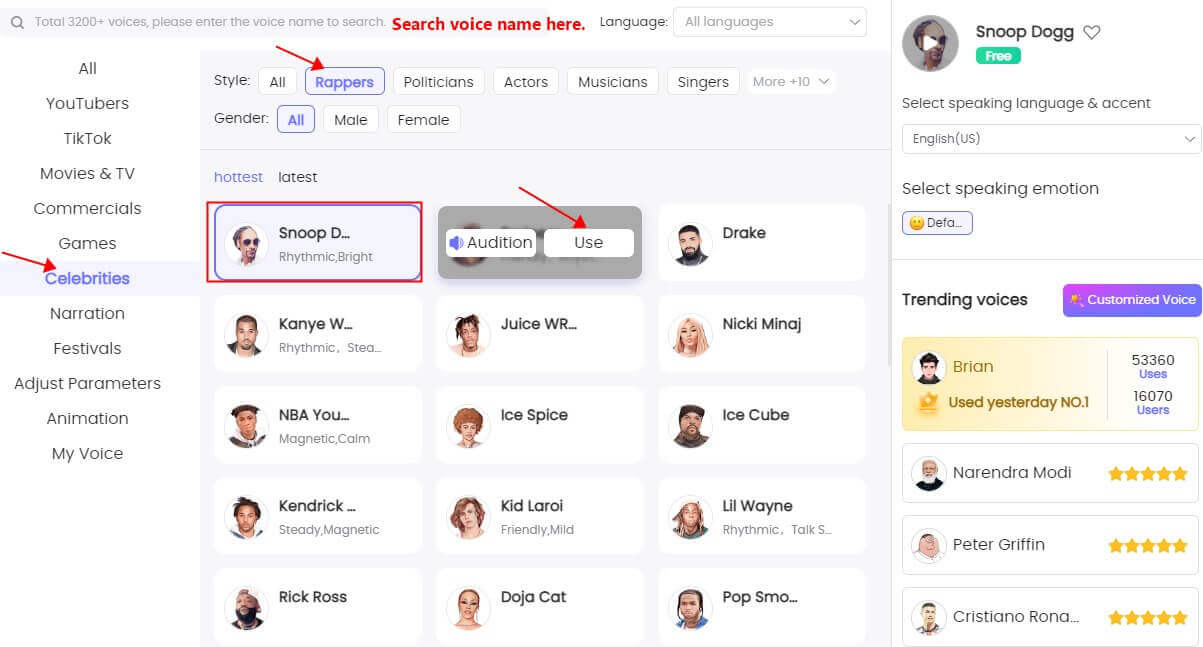 Step 4: Choose the language, voice, and other settings that you prefer.
Step 5: Download the final speech output as an audio file.
Pros
The application can be utilized on both desktop browsers and mobile devices.

Offers a diverse selection of voiceover options.

Users can effortlessly manipulate pitch, punctuation, and emphasis to customize their AI-generated voices.

Supports multiple input and output formats, such as MP3 and WAV.

With a vast library of over 3200+ voices, users can create audio that is incredibly realistic and expressive, catering to their specific requirements.
Cons
PC version is unavailable.
Speechify Text to Speech is an innovative web and mobile application that uses cutting-edge technology to convert written content into spoken words. It offers a range of customizable features, making it an ideal tool for those looking to improve their productivity and comprehension on-the-go.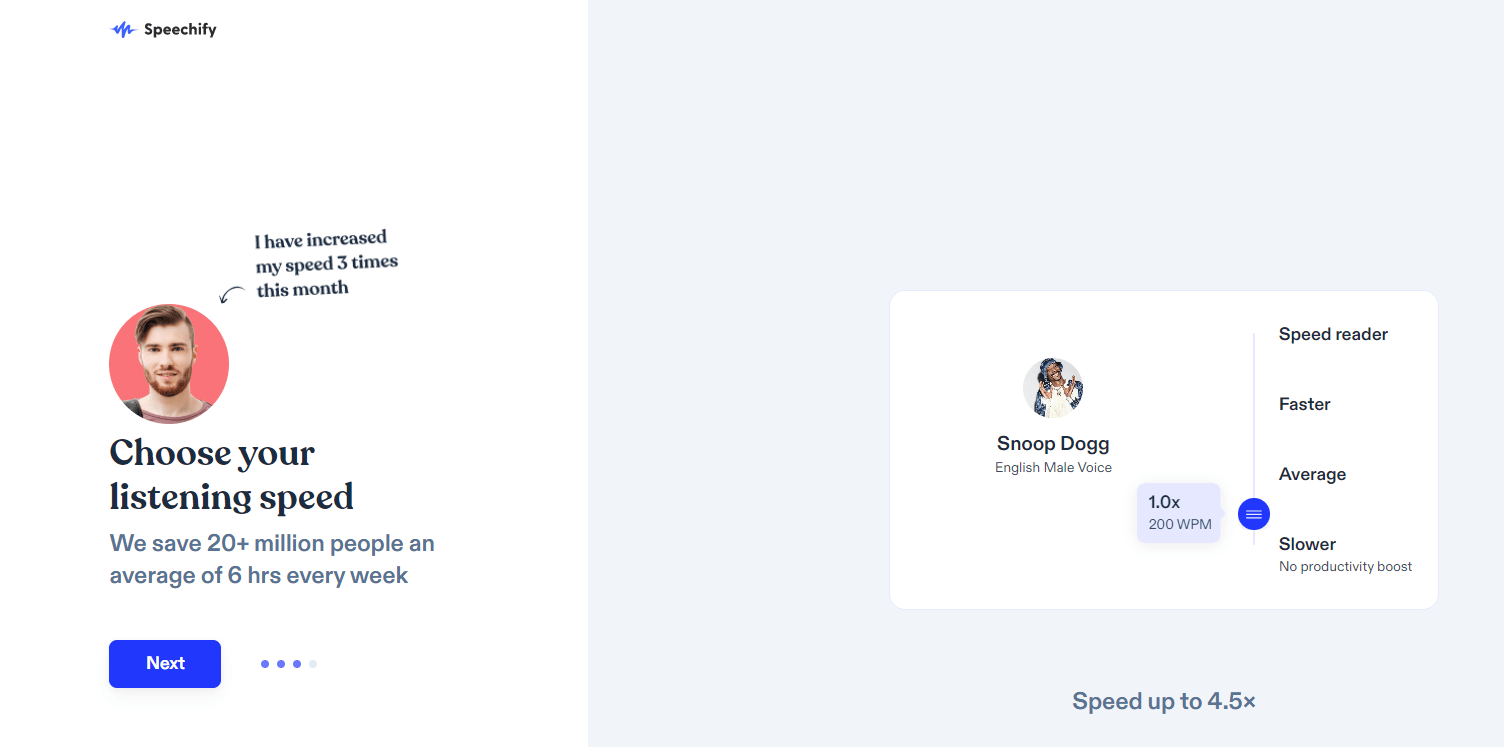 Pros
With layers of security, this software stands out as one of the most secure ones.

Compared to other software, this one offers numerous options for free users.
Cons
The Android app of this software is currently under development, while only a desktop version is available.

It has higher pricing plans, pay before using.
Part 3: FAQs about Snoop Dogg Voice Text to Speech
Finally, we come to the most asked questions for Snoop Dogg Voice Text to Speech.
1 How old is snoop dogg?
Snoop Dogg was born on October 20, 1971, which would make him 52 years old.
2 How is snoop dogg height?
Snoop Dogg's height is approximately 6 feet 4 inches (193 centimeters).
3 Can I use TopMediai to mix the voice of Snoop Dogg and other rappers?
Of course. On TopMediai, you have the option to produce your text or voice in various rapper's styles, and even combine the unique vocal tones of Snoop Dogg with other rappers to create a captivating and dynamic auditory experience.
ConclusionSnoop Dogg text to speech voice generator is an exciting tool that allows you to generate an authentic-sounding Snoop Dogg voice for your projects. Whether you're a content creator, a social media influencer, or simply a fan of Snoop Dogg's voice, this technology allows you to bring his iconic voice to your projects in a fun and innovative way.

So why not try it out and see how it can enhance your next project?!