'Tis the season to bring joy and laughter! what better way to spread the Christmas cheer than by making stunning Santa voice blessings? Imagine surprising your loved ones with a personalized Santa AI voice delivering heartfelt Christmas wishes.

In this article, the most important thing is guide you how to use a Santa Text to Speech and create a unique and memorable Christmas experience.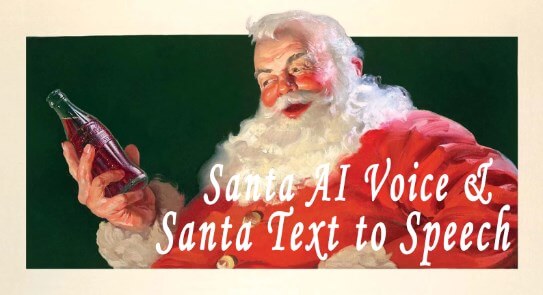 Part 1: The Origins of Santa
Santa Claus has roots in the 4th-century Christian bishop St. Nicholas, known for his generosity. Dutch settlers brought Sinterklaas traditions to America, blending with Clement Moore's 19th-century poem that popularized Santa's iconic image. Thomas Nast's illustrations and Coca-Cola's 20th-century campaign further shaped the modern, jolly Santa we know—round, bearded, and dressed in red.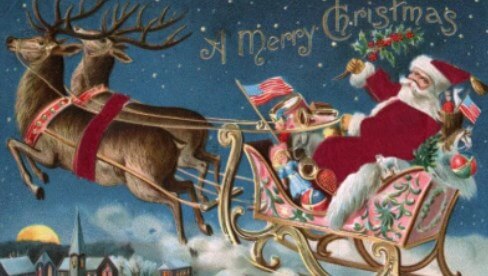 This amalgamation of folklore, poetry, and commercial art has created a universal symbol of holiday cheer, emphasizing the joy of giving. Santa Claus transcends cultures, embodying the spirit of generosity and the magic of Christmas, making him a beloved figure worldwide.
Part 2: What is the Relationship between Santa and Santa Claus?
"Santa" and "Santa Claus" are terms often used interchangeably to refer to the same legendary figure associated with Christmas. Both terms are commonly used in various cultures to describe a benevolent, gift-giving character who is said to bring presents to children on Christmas Eve.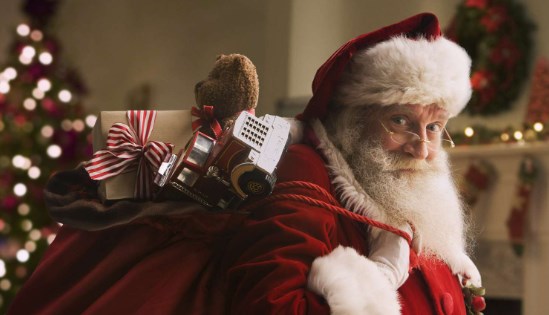 The name "Santa Claus" is derived from the Dutch figure "Sinterklaas," which is a shortened form of Sint Nikolaas (Saint Nicholas). The modern image of Santa Claus has evolved from various sources, including the Dutch Sinterklaas traditions, the British figure Father Christmas, and the 1823 poem "A Visit from St. Nicholas" (commonly known as "The Night Before Christmas").
Part 3: Use Santa Text to Speech to Generate Unique Christmas Blessings
Welcome to the most important part! Want to make Santa Claus ai voice? Here is a good Santa Text to Speech Voice Generator for you – TopMediai Text to Speech.
TopMediai Text to Speech is an ever-evolving tool. As popular trends continue to be added and there are more and more festival rituals, TopMediai has also added many new voices with different themes. With 3200+ ai voices and diverse-theme voices, such as Christmas, Halloween, Thanksgiving and more, you can enjoy yourself on it!
Craft personalized Christmas messages and blessings in Santa Claus ai voice, creating a memorable and unique experience for your loved ones. Whether it's a heartfelt message or a playful wish, TopMediai Text to Speech brings your words to life with the authentic charm of Santa himself.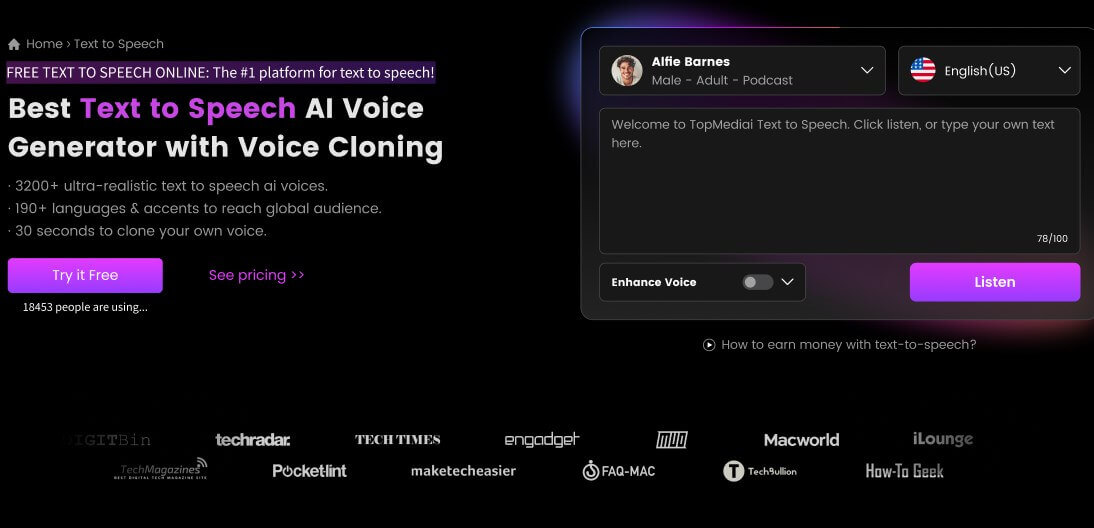 How to Use Santa Claus Text to Speech to Generate Santa AI Voice:
Step 1: Access to TopMediai Text to Speech first.
Step 2: Choose Santa Claus's voice model.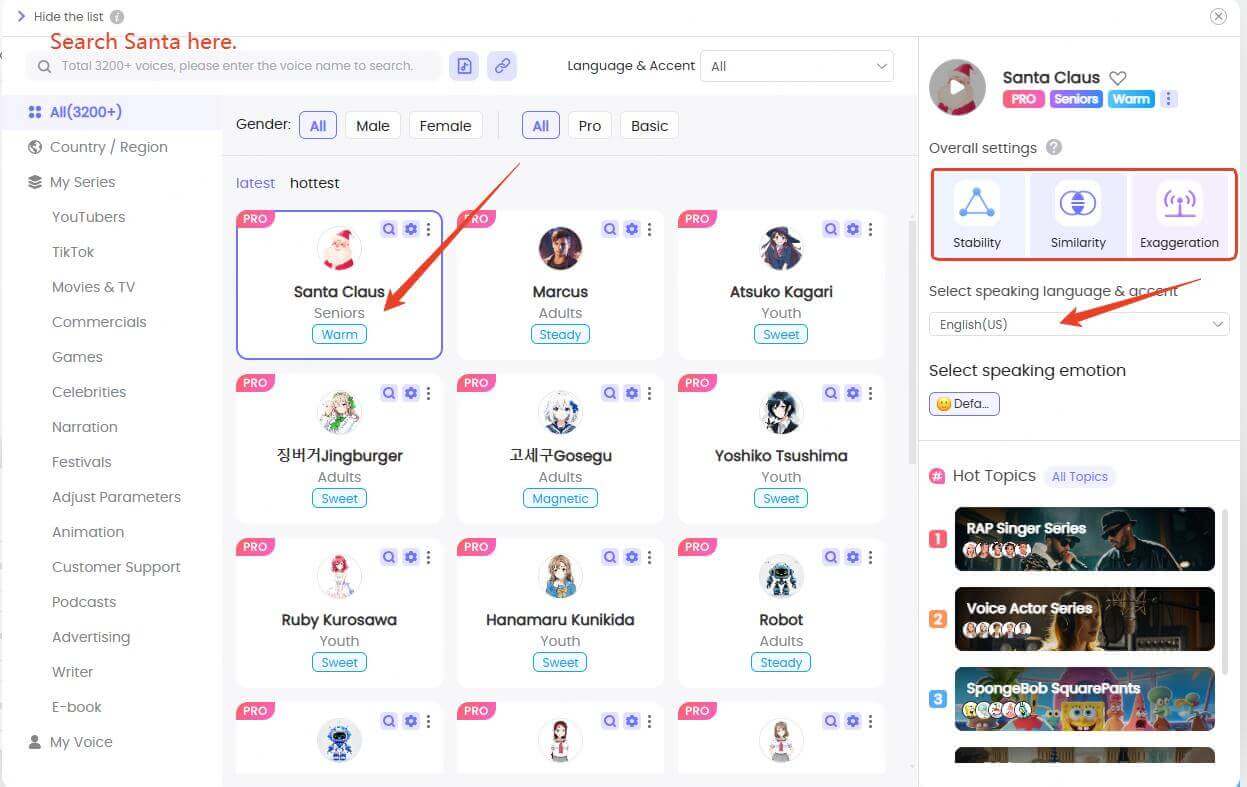 Step 3: Input your text you want to speak in Santa Claus's voice.
Step 4: Click "Convert" to generate the ai voice.
Step 5: After finishing, listen to the audio and download as an audio file.
Crafted realistic voice brings warmth, jolliness, and the unmistakable charm of Santa Claus.
Supports more than 70 languages for global users.
Voice cloning is available for everyone to create your own Santa voice.
Provides different-theme voices, you can enjoy every holidays on TopMediai!
Voices and services will be regular updated.
Part 4: More Funny Tips about Santa's Voice
What can you do with Santa ai voice in Christmas? Share additional 2 entertaining ways to use Santa's voice for maximum holiday amusement.
1. Voice Changer Online:
If you keen on playing games, live streaming or make a phone talking, you can try voice changer. A voice changer can make your voice sound like Santa in real-time.
Try it Now >>
2. AI Song Cover:
If you like singing, you must try this ai song cover generator! You can make Santa singing "All l want for Christmas is You" or other popular Christmas songs.
Try it Now >>
Part 5: Hot FAQs about Santa Text to Speech
1 Can l add Santa sound effect on Santa Text to Speech?
Yes. When you generating Santa ai voice, you can add additional Santa sound effect.
2 Can l use Santa Claus ai voice to make blessing messages?
Yes. There is nothing better than making blessing messages with Santa ai voice. You also can change different emotions of Santa ai voice.
Conclusion As we wrap up Santa Voice Text to Speech Online and its playful applications, let's embrace the spirit of giving and joy this Christmas. Whether you're using TopMediai Text to Speech for heartfelt messages or adding a touch of humor with other tools, may your holiday season be filled with warmth, laughter, and the magic of Santa's voice.

Merry Christmas Ho ho ho!