Halloween is just around the corner, and what better way to get into the spooky spirit than by giving your text a creepy twist? Whether you want to narrate a spine-chilling story, create a Halloween-themed video, or craft a song, the power of text-to-speech technology can help you achieve the perfect Halloween voice effect.

In this article, we'll explore how to use Halloween voice text to speech, and even throw in some tips for crafting a ghoulish Halloween song.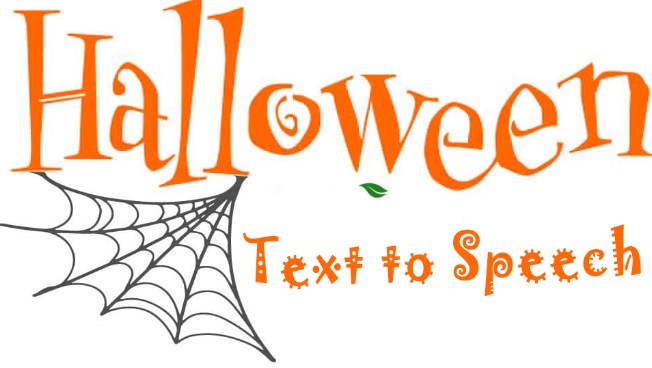 Part 1: What is Halloween Voice Text to Speech?
Halloween Voice Text to Speech is a technology that allows you to convert regular text into spooky, bone-chilling voices. It's perfect for creating unique Halloween-themed content, such as haunted house announcements, eerie storytelling, or devilish dialogues for your decorations. Imagine the possibilities – your Halloween party or haunted house can now be brought to life with ghoulish voices that send shivers down the spines of your guests.
Part 2: How to Make Text to Speech Halloween?
Creating Halloween voice text-to-speech is easier than you might think. Here's a simple guide to get you started.
TopMediai Text to Speech is a user-friendly text-to-speech converter that provides a selection of Halloween-themed voices and effects, allowing you to transform your text into a spine-chilling narrative with ease. Simply input your text, choose your preferred Halloween voice, and watch your words come to life with haunting intonations, enabling you to create eerie dialogues, spooky narrations, and chilling announcements effortlessly.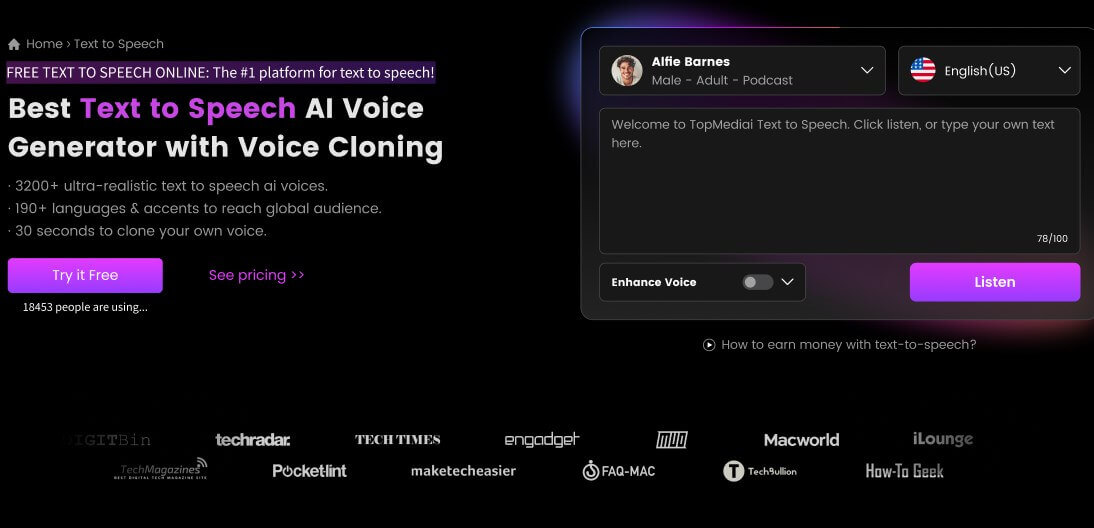 How to Make a Text to Halloween Voice:
Step 1: Visit the TopMediai website online and get start with the Text to Speech.
Step 2: Select a voice from 'Halloween' category.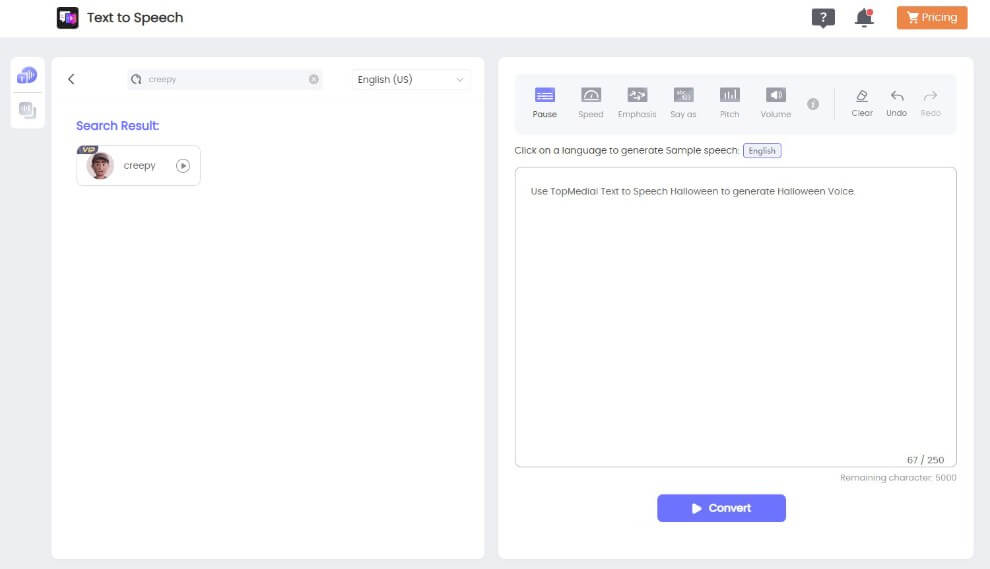 Step 3: Input the text you want to transform into a Halloween-style voice.
Step 4: Click the "Convert" button to create the Halloween-style text-to-speech audio.
Step 5: Save the audio to your device or cloud storage for use in your project.
TopMediai offers a selection of Halloween-themed voices that allow you to give your text a spooky and eerie makeover.
It is an easy-to-use interface, accessible for both beginners and experienced users.
Before finalizing the transformation, you can preview the Halloween voice to ensure it meets your expectations.
You quickly convert your text into Halloween-style text-to-speech audio, saving you time and effort.
As an online platform, TopMediai is accessible from anywhere with an internet connection, providing flexibility and convenience.
In addition to Halloween voices, TopMediai offers a range of other voices and accents, allowing you to use it for various creative projects.
Part 3: Popular Halloween Voice and Voice Effects
Halloween-themed voice and voice effects are not limited to just one option. You can explore a wide range of popular Halloween voices to suit your specific needs. These voices can include but are not limited to:
Witch's Cackle: Perfect for casting spells or brewing potions.
Zombie Groans
: Ideal for undead characters in your haunted house.
Ghostly Whispers
: Adds an otherworldly vibe to your decorations.
Vampire Elegance
: For a touch of dark sophistication in your Halloween narratives.
Monster Roars
: Great for adding suspense and fear to your Halloween content.
Part 4: Bonus: How to Make a Halloween Song and Add Some Halloween Voice?
If you want to take your Halloween experience to the next level, consider creating your own Halloween-themed song. To achieve this, TopMediai AI Song Cover is your go-to tool. This AI-powered platform allows you to generate spooky songs and incorporate Halloween voices seamlessly. Your songs can be used for parties, haunted houses, or as the soundtrack for your Halloween videos.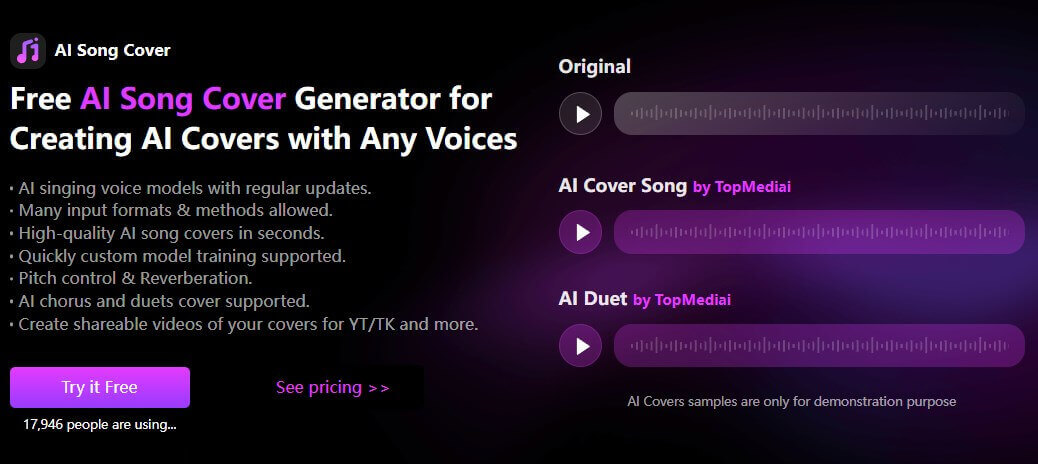 Part 5: Hot FAQs about Text to Speech Halloween
1 Can I combine Text to Speech Halloween voices with other audio effects or music?
Yes, you can combine Text to Speech Halloween voices with other audio effects and music to create a more immersive and spooky audio experience for your projects.
2 How can I create Text to Speech Halloween voices?
To create Text to Speech Halloween voices, you can use online platforms or software designed for this purpose. One popular option is TopMediai, which offers Halloween-themed voices.
Conclusion Halloween Voice Text to Speech is the latest and greatest way to make your Halloween celebrations unforgettable. With tools like TopMediai Text to Speech and a variety of Halloween-themed voices and effects, you can infuse an extra layer of spookiness into your decorations, haunted house, and Halloween songs.

Don't miss out on this innovative technology to create a Halloween experience that will leave your guests screaming for more. Happy Halloween!
TopMediai Text to Speech
AI-powered text to speech generator with voice cloning