Roblox, a popular online platform system for users to play games and create their own games. Many YouTubers and video creators are keen on create games and record video to engage their fans. Although it is a good platform for everyone, it lacks of voice ai features. That's mean creator and user can't directly change the characters' voice or make their text speak in characters' voice. Now, Roblox ai voice coming.

This blog will guide you how to use Roblox ai voice generator to create a perfect game in Roblox and make a stunning Roblox game video.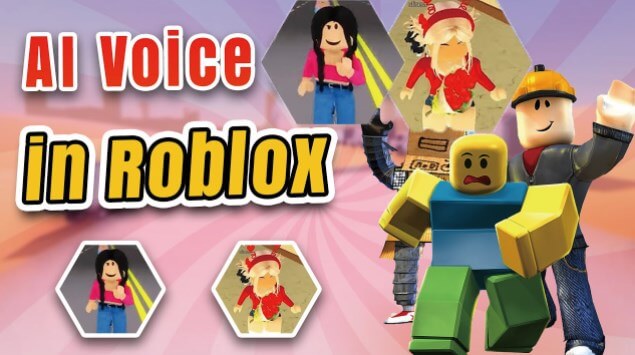 Part 1: What is Roblox?
Roblox a popular online platform and game creation system that allows users to design their own games and play games created by other users. Roblox provides a vast array of user-generated games covering various genres, from action and adventure to role-playing, simulation, and more. Players can also create their own virtual worlds and experiences using Roblox's proprietary game development tools. The platform has a large and active user base, appealing to a wide range of ages.
Part 2: What can Roblox Voice AI Do?
There are 3 main functions of Roblox Voice AI.
First, you can custom a unique ai voice model for your own games. In your games, there must be many characters, each character has their own voice to speak. With Roblox Vocie AI, it is easy to create a voice or sound effect for them.
Second, it is a good way to generate Roblox characters' voice using Roblox Voice AI. If you are interested in the game character created by others, you can use it to make your text said in his voice.
Third, if you are a YouTuber or video creator, you can choose Roblox voice generator to make narrator of voiceover using Roblox characters' voice.
Part 3: The Differences between Roblox Client and Roblox Online?
When you search Roblox on Google, you may found that there are two versions of Roblox, one is Roblox Client, another one is Roblox Online.
1. Roblox Software (Roblox Client) allows you to access the Roblox platform and play games, create games using Roblox Studio, and have an enhanced, more feature-rich experience compared to playing in a web browser.
Features:
More features: Offers additional features, stability, and more customization options compared to the web-based version.
Roblox Studio: The client application includes Roblox Studio, the software used to create games on the Roblox platform.
2. Online Roblox (Playing in a Web Browser) allows you to play games and access the platform's features via a web-based interface.
Features:
Browser-Based: Playing Roblox online allows you to play games directly in a web browser without the need for any downloads.
Access: It's convenient for quick access to games on various devices that support web browsing. It doesn't mean you can't create game online, there is a creator hub online same as Roblox Studio.
Part 4: Best 3 Robxlox AI Voice Generators(Online and Software)
TopMediai Text to Speech stands out as a robust online voice generator, seamlessly integrated into Roblox, allowing users to generate lifelike voices for their games and videos. Now it has 3200+ realistic voices and supports 70+ languages, making it a popular choice among Roblox creators. If you want to quickly access without download, TopMediai is your best choice. Most important is TopMediai will update new Roblox voices.
Ideal for: People who pursue high-quality online services and fast creation experience.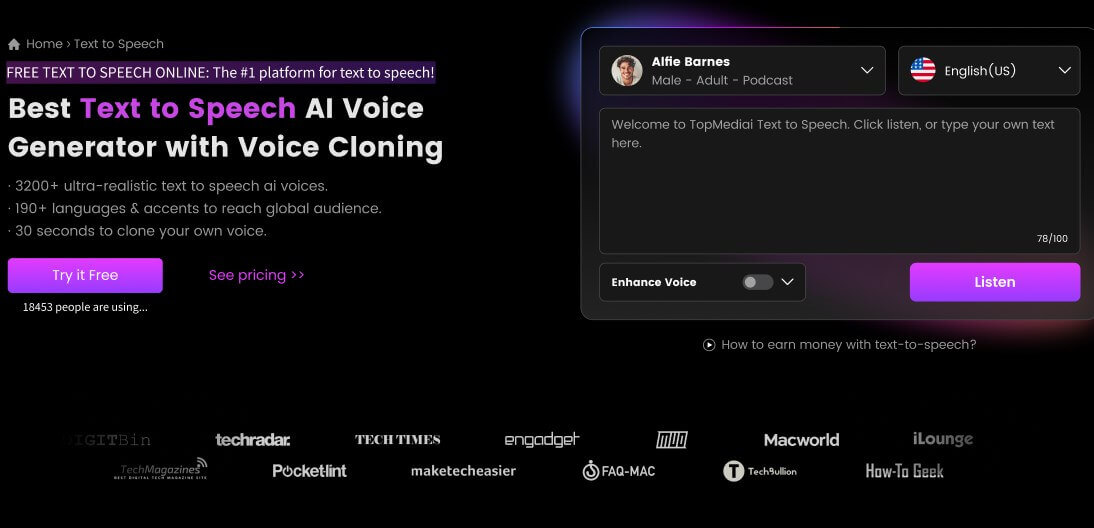 3200+ realistic voices and regular updates.
Supports 70+ languages.
Only provides high-quality output.
Free to try.
Different emotions supported.
Also provide voice cloning feature to custom your own voice.
How-to Guide:
Step 1: Go to TopMediai Text to Speech.
Step 2: Choose a Roblox character's voice and your frefer languages and emotion.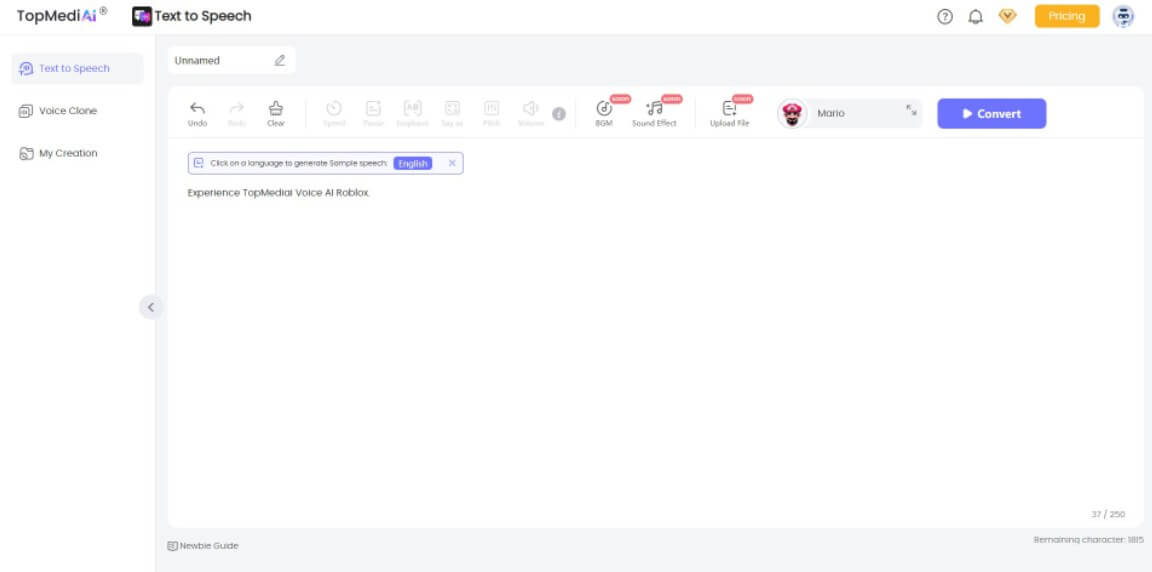 Step 3: Enter your text.
Step 4: Click "Convert" to let the magic happened.
Step 5: Download your audio or review on "My Creation"
Try Roblox Voice Generator Online >>
Speechify Text to Speech Software offers a simple yet effective tool for transforming text into speech. Its compatibility with Roblox makes it a go-to option for creators looking to add narrations or dialogue to their games and videos with ease. It's is the best Text to Speech software focus on natural reading. If you want to make a clear and fluent speaking, you will like it.
Ideal for: People who pursue a smooth reading experience.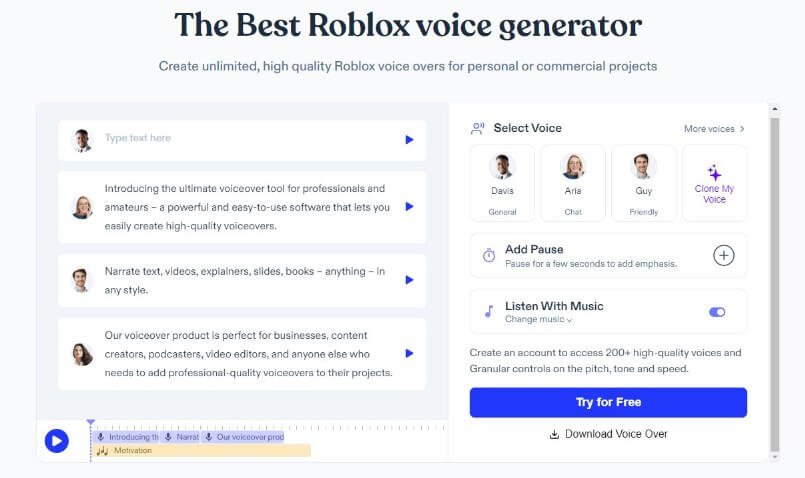 Easy-to-use platform for quick text-to-speech conversion.
Allows modification of voices to match desired styles.
Provides clear, natural-sounding voices for immersive experiences.
Supports users with reading disabilities and audio format preferences.
Different with above 2 Roblox ai voice generator, to use Resemble.ai, you need to register an account with your jobs and name. It provides advanced AI-generated voices that sound remarkably natural. With its customization options and high-quality output, it's a valuable asset for those seeking professional-grade voiceovers in Roblox content.
Ideal for: People who like to customize voices.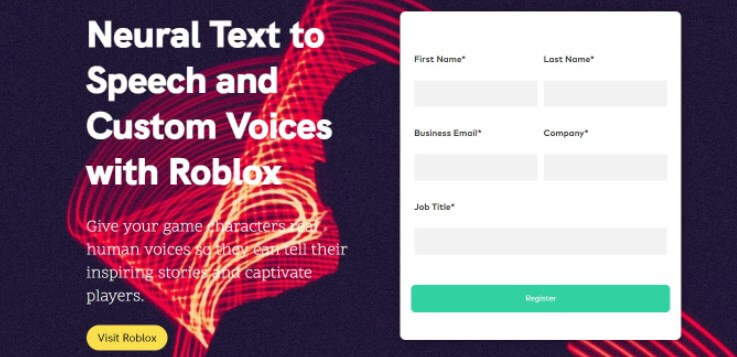 Produces remarkably natural and human-like voices.
Offers control over pitch, tone, accent, and more.
Easily integrates into platforms like Roblox.
Conveys emotions naturally, enhancing engagement.
Part 5: FAQs about Roblox AI Voice Generator
1 What is Roblox ai voice generator?
Roblox ai voice generator is an integration that allows users to communicate using voice commands within the Roblox platform. It enables real-time interaction and communication during gameplay and content creation.
2 How does Roblox ai voice enhance gaming experiences?
Roblox ai voice adds a new dimension to gameplay by enabling players to communicate with fellow gamers using voice commands. This enhances teamwork, coordination, and overall immersion within games.
3 Are there any popular Roblox games recommended?
Adopt Me! MeepCity, Royale High, Jailbreak, Tower of Hell, Murder Mystery 2, Arsenal, Piggy, Brookhaven, Bloxburg.
Conclusion AI voice generator can make up for Roblox's shortcomings in voice. With the above 3 tools, you can easily communicate with characters in Roblox. Whether for immersive gameplay interactions or elevating content creation, the integration Roblox ai voice generator is a significant leap forward, empowering both players and creators alike.

Looking for a better experience? Come to TopMediai Text to Speech!