The Trippie Redd Voice Generator is a groundbreaking tool that revolutionizes music production.With its cutting-edge technology, you can effortlessly capture the essence of Trippie Redd's voice, infusing your tracks with his distinct tonality, cadence, and emotive delivery.

In this article, we will delve into the features and benefits of the Trippie Redd Voice Generator and explore how it can elevate your music to a whole new level.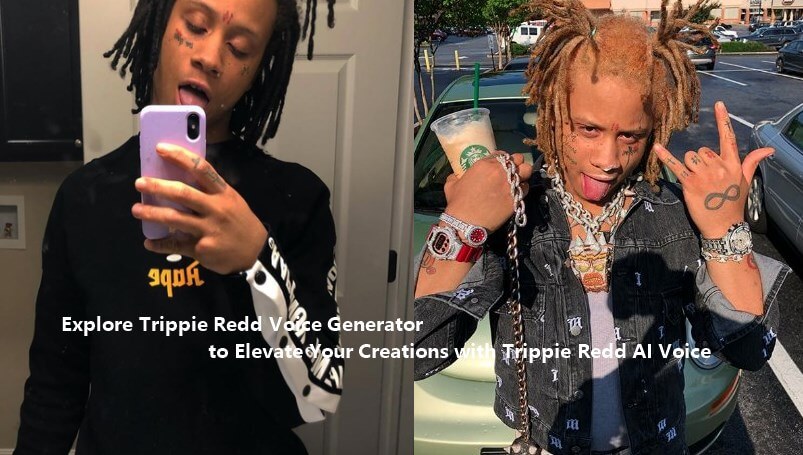 "I will always do something new."
Part 1: Let's Get More Facts about Trippie Redd!
Trippie Redd, born Michael Lamar White II on June 18, 1999, is an accomplished American rapper and singer-songwriter. He gained recognition as a prominent figure in the SoundCloud rap scene.

With the release of his debut mixtape, "A Love Letter to You" in 2017, and its chart-topping lead single, "Love Scars," Trippie Redd quickly rose to fame and solidified his position in the music industry.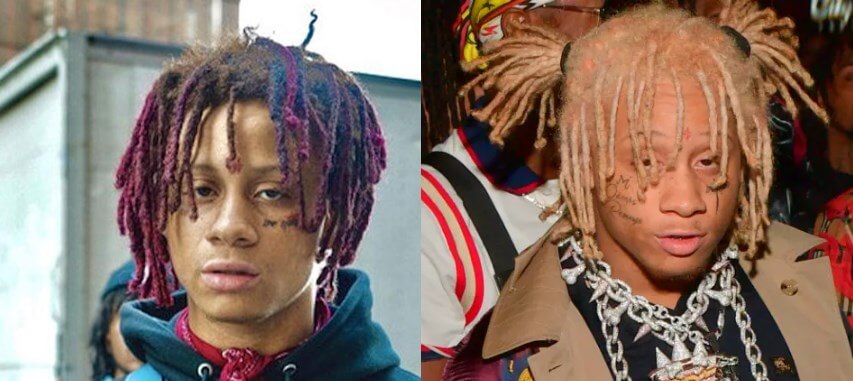 1. What is Trippie Redd's real name?
His real name is actually Michael White IV! However the 'Love Scars' rapper goes by the stage name Trippie Redd.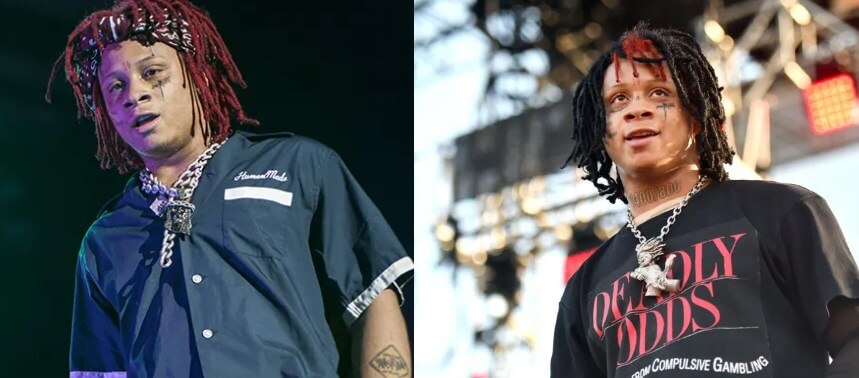 2.What is Trippie Redd's biggest song so far?
Trippie Redd's breakout hit, "Love Scars," has become his most popular song to date. The accompanying official music video has garnered over 37 million views on YouTube and continues to captivate audiences worldwide.

Premiering on Pigeons and Planes, a respected brand in the music industry, the video showcased Trippie Redd's unique and innovative style, described as a blend of grunge and melodic elements.
Part 2: How to Generate Trippie Redd's Voice?
In facts, there are several ways to generate Trippie Redd's voice, such as AI Trippie Redd voice generator, Trippie Redd voice change or Trippie Redd AI Cover generator. Here we will show you two ways of Trippie Redd's voice generation.
1. TopMediai - Cost-effective Choice for Trippie Redd Voice!
TopMediai is a leading online AI platform that offers an innovative text-to-speech generator, revolutionizing the way you bring your written content to life.

One of the standout features of TopMediai is its extensive collection of voice options. Whether you're looking for a voice that resembles a cartoon character, a real person, a renowned rapper, or even a beloved sports star, TopMediai.com has got you covered.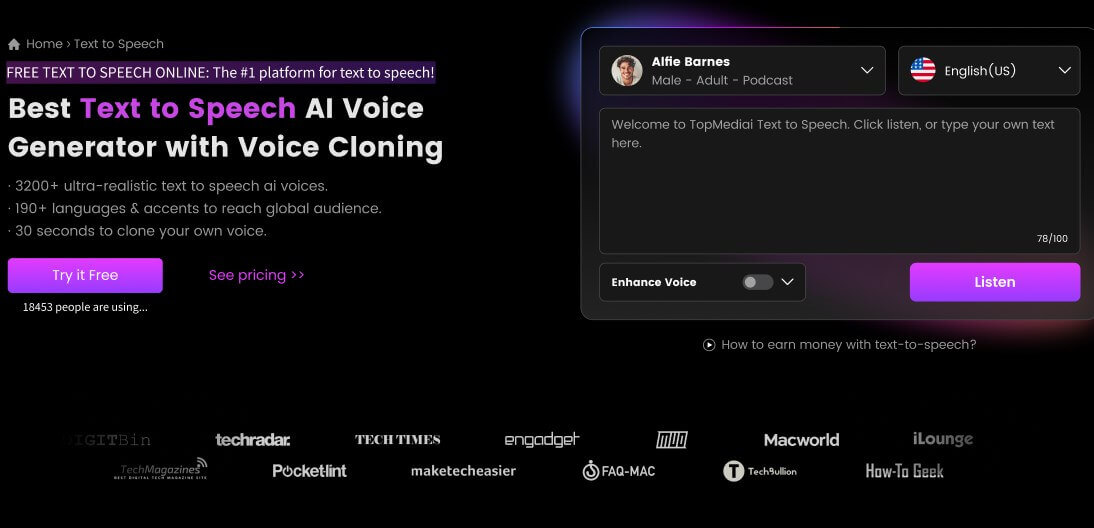 Key Features:
AI Text-to-Speech Generator.
Regular Voice Library Updates.
Natural and Expressive Speech.
Accessibility and Convenience.
How to Generate Rapper AI Voice (Trippie Redd's Voice Coming Soon):
Step 1: To begin, go to the TopMediai's official webiste.
Step 2: Type your word or paste your text into the text box.
Step 3: Choose the specific rapper voice you want to convert your text into.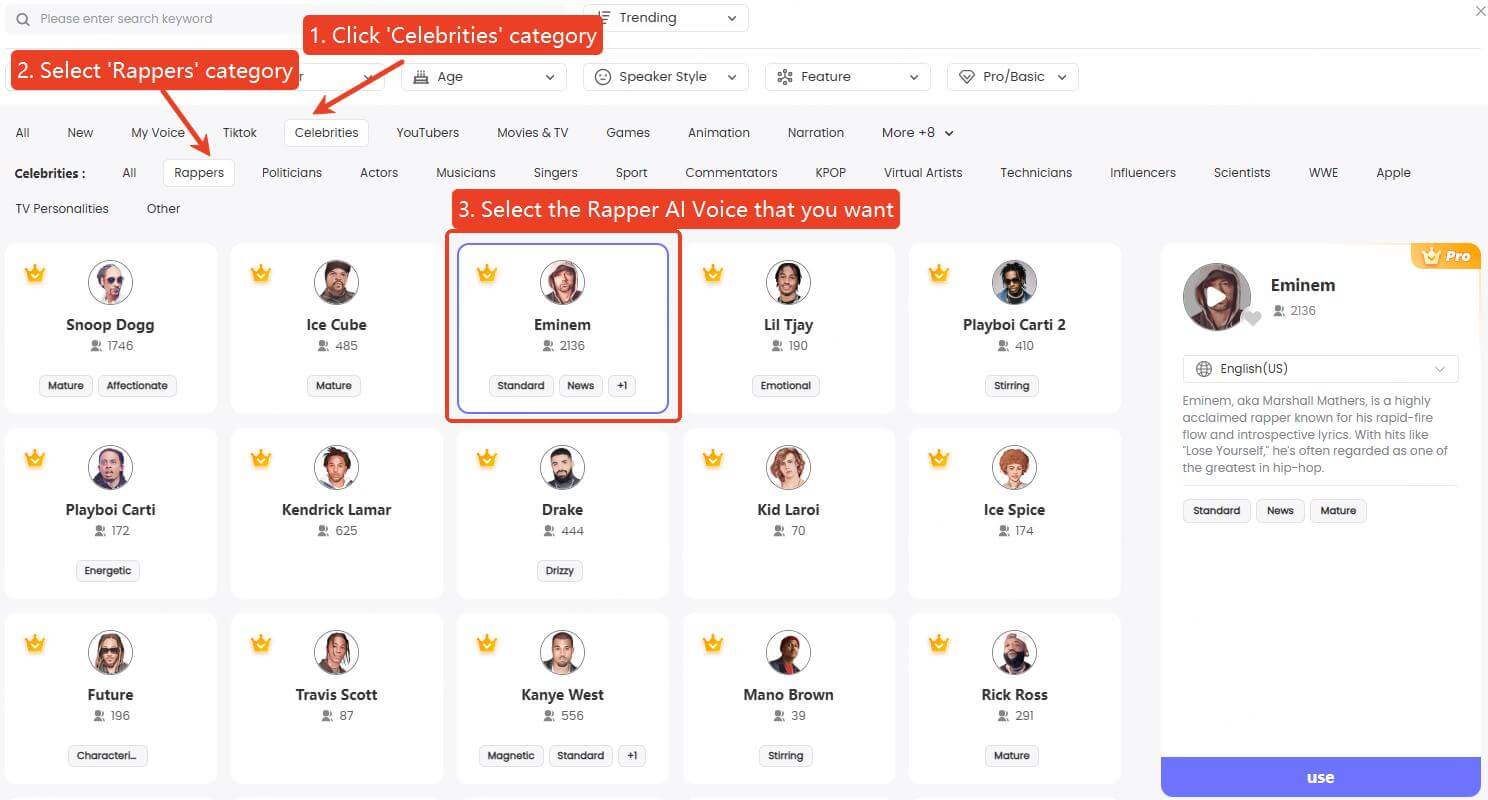 Step 4: After choosing the voice you want, click on Convert.
Step 5: If you are satisfied with the voice generation, download it to enjoy your audio in rappers'voice.
Pros
Enhanced User Experience.

Dependency on AI Technology.

Wide Range of Voice Options.

User-Friendly Interface.
Cons
A good internet connection is needed.
2. Voicify.ai - AI Trippie Model
Voicify.ai is a cutting-edge platform that takes cover songs to a whole new level using the power of AI. With our AI cover song generator, you can effortlessly transform your favorite tracks into unique and captivating covers, all with the authentic voice styles of renowned rappers, including the acclaimed artist Trippie Redd.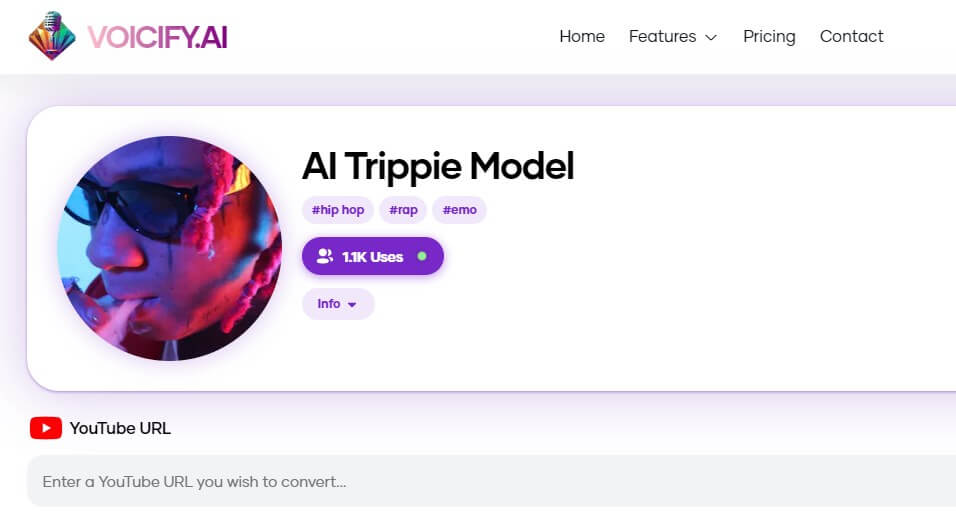 Key Features:
User-Friendly Interface.
Efficient and Time-Saving.
AI Cover Song Generator: Voicify.ai utilizes advanced AI technology to generate high-quality cover songs.
Pros
Wide Range of AI Voice Models.

Simplified Cover Song Creation.

Expanding Creative Possibilities.

Authenticity in Vocal Replication.
Cons
Limitations in Vocal Customization.

Copyright and Legal Considerations.
Part 3: HOT FAQs aboutTrippie Redd's Voice
1 What makes Trippie Redd's voice unique?
Trippie Redd's voice stands out due to its distinctive tone and range. He often employs a melodic and emotive singing style, combined with elements of rap and rock.

His raspy and raw vocal quality adds a gritty edge to his music, setting him apart from other artists in the genre.
2Are there any notable influences on Trippie Redd's vocal style?
Trippie Redd has mentioned being influenced by various artists, including Lil Wayne, Tupac Shakur, and Marilyn Manson. While he draws inspiration from different genres and musical icons, he has managed to develop a vocal style that is uniquely his own.
3Any Trippie Redd voice generator recommended?
There are several Trippie Redd voice generators now. But here recommend TopMediai text to speech because it is an online service, easy to operate. And its text to speech generation of Trippie Redd's voice is fabulous!
Conclusion In the competitive landscape of music production, standing out from the crowd is crucial. The Trippie Redd ai Voice Generator empowers you to create unique music that captures the essence of the acclaimed artist. With its AI-generated vocals, you can infuse your tracks with the same energy and emotion that make Trippie Redd's music so compelling.

Embrace the power of AI and unleash your music's true potential with the Trippie Redd Voice Generator.