Whether you want to remove vocals from a song to use as background music for your video projects or want to set your phone's ringtone, you will need a vocal remover. If you're not a professional musician, you might not know that you can make instrumental tracks within seconds.

Wondering how? We will share different tools and apps that let you separate vocals from songs without hassle. So let's get into it. Discover the possibilities of 10 best vocal removers with us!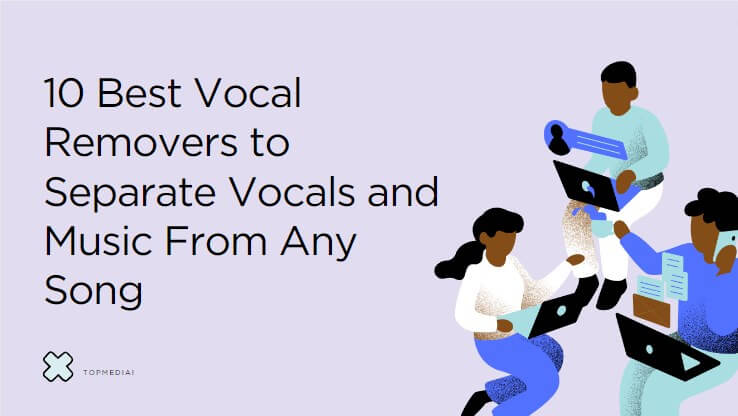 Part 1: What Should the Best Vocal Remover be Like?
The ideal best vocal remover should possess several key features and functionalities to ensure its effectiveness for various audio editing needs. Here's an illustration of what the best vocal remover should be like:
High-Quality Vocal Separation: The best vocal remover should excel in isolating vocals from audio tracks without significantly degrading the overall audio quality.
User-Friendly Interface: A user-friendly interface with intuitive controls is essential for both beginners and experienced users.
Compatibility: It should be compatible with a wide range of audio file formats to cater to different projects and sources.
Cost-Effective Solutions: While there are paid options, the best vocal remover should also offer a free or trial version, making it accessible to users with different budgets.
Speed and Performance: It should be capable of efficiently processing audio tracks without significant lag or slowdown, especially for larger files.
Part 2: 10 Best Vocal Remover Online [Fast & Easy-to-use]
TopMediai is an online platform that offerssolutions for professional video editors, photographers, and musicians. The best choice of vocal remover is TopMediai Vocal Remover, an online tool that is free to use and offers AI technology-based isolation of music and vocals from any song.

Besides, you can access the platform from any device. With its user-friendly interface, comprehensive guides, TopMediai is a go-to resource for musicians, producers, and audio enthusiasts.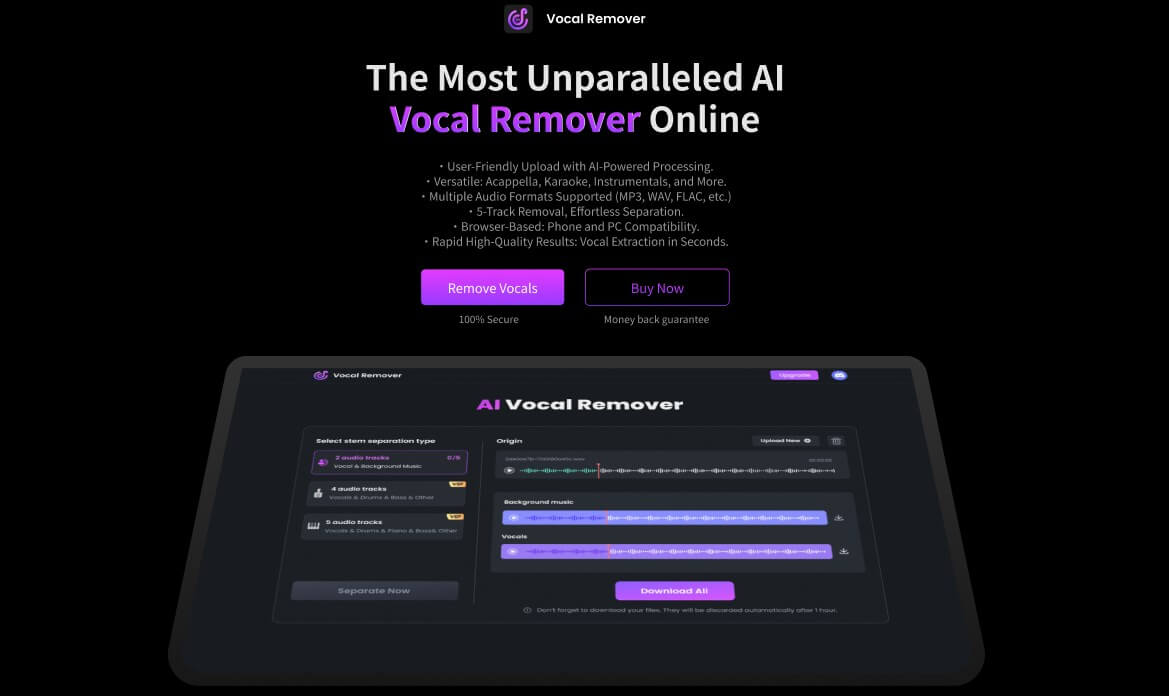 You can easily get clear the instrumental and acappella versions.
High quality vocal isolation.
Fast speed of vocal extraction.
Supported formats: WAV, MP3, WAVE, OGG, FLAC, M4A, AAC, AIFF, OPUS, AND OGA.
Quickly remove vocals from a song and extract instrumentals, 100% automatic and online.
Users can download the isolated vocal for unlimited times.
Users can remove split the vocal and background music free for 5 times.
Here is how to use the best ai vocal remover TopMediai:
Step 1: Visit TopMediai vocal remover.
Step 2: Choose the stem seperation type you prefer.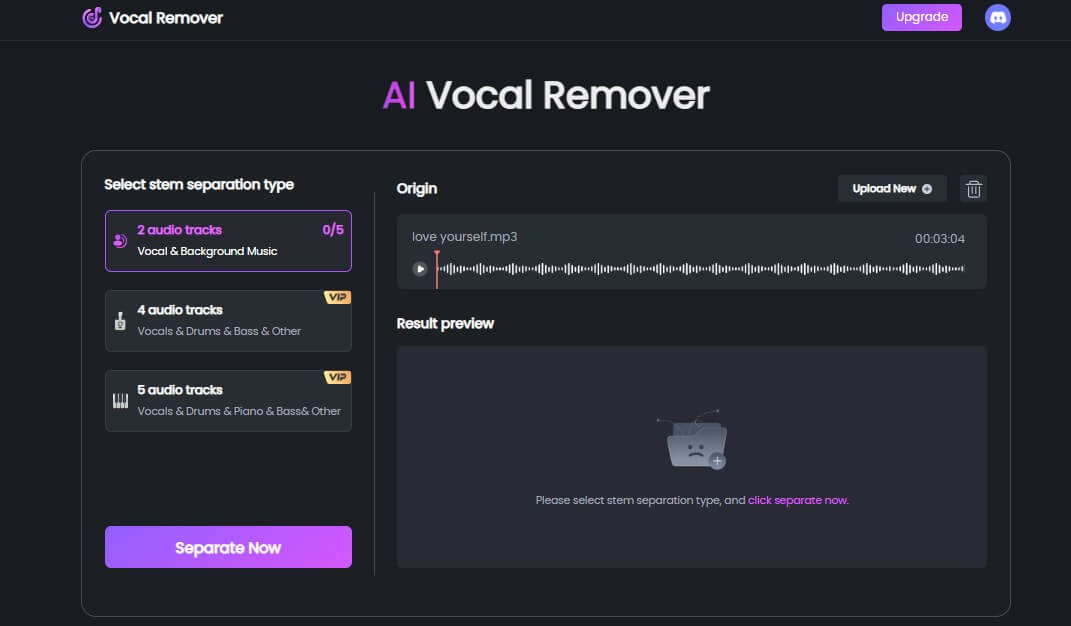 Step 3: Choose the stem seperation type you prefer.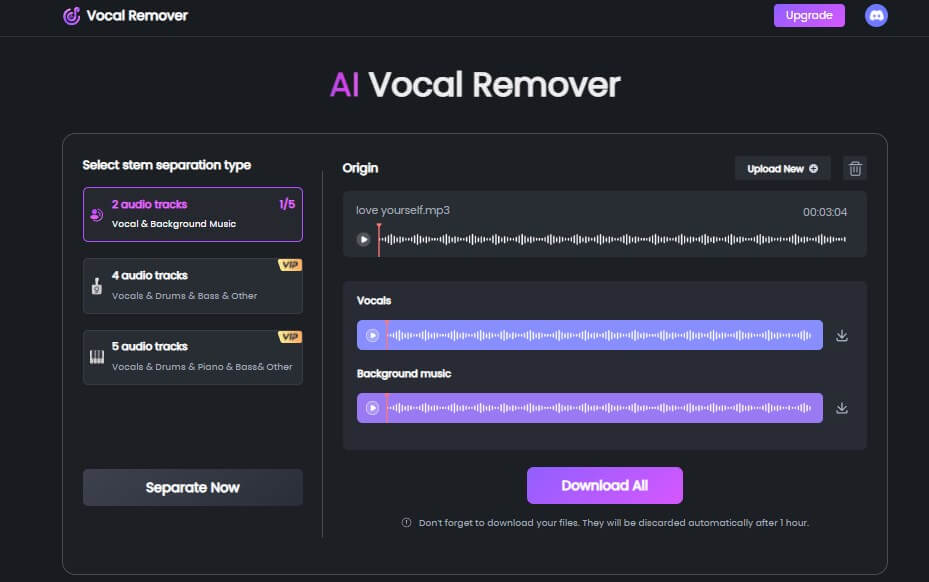 Step 4: Download the specific part as you like.
2

LALAL.AI

Lalal.ai Vocal Remover is a cutting-edge vocal remover and music source separation service that utilizes advanced AI technology to deliver fast, easy, and precise stem extraction. With LALAL.AI, you can effortlessly eliminate vocals and extract an instrumental track from any song online. This AI-based tool offers quick and accurate results, allowing you to create acapella versions or remove specific instruments from your favorite tracks.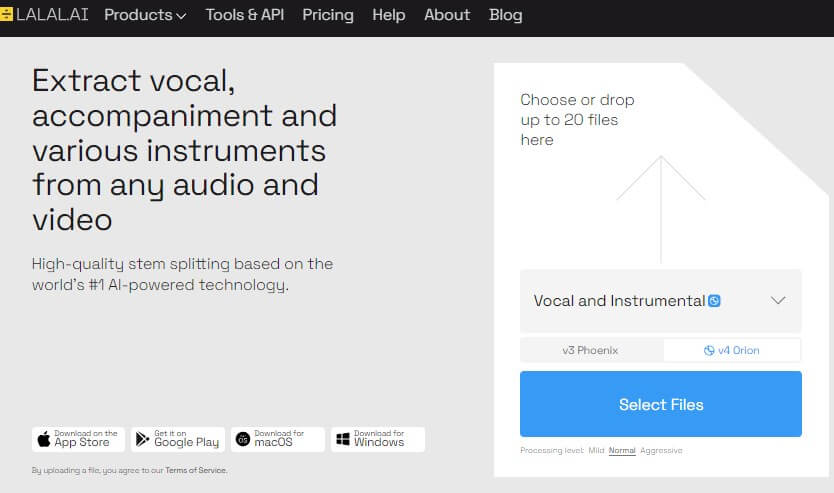 High quality stem splitting.
It support fast, easy and precise stem extraction.
Supported formats: Audio and Video: MP3, OGG, WAV, FLAC, AVI, MP4, MKV, AIFF, AAC.
Fast processing queue, batch upload and stem download allowed.
3

Phonicmind

PhonicMind is another AI-powered service that allows users to extract stems and remove vocals from songs. With PhonicMind, users can upload their audio files and the AI algorithm will separate the vocals from the instrumental parts, providing them with separate stems. This can be useful for remixing, karaoke creation, or studying music production techniques.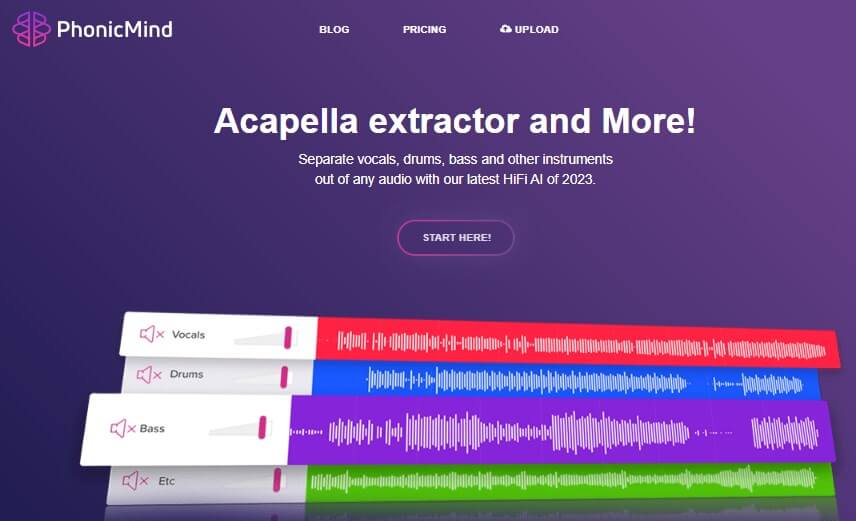 Hi-Fi Audio Quality: The tool ensures that the audio quality remains high even after removing the vocals.
Easy-to-Use Interface: Phonicmind offers a user-friendly interface that allows even beginners to easily navigate.
Sing Along: With Phonicmind, you can sing along to your favorite songs without the original vocals.
Play Instrumentals: Phonicmind can generate instrumentals from any song.
4

Demixor

Demixor is an online audio separation tool that uses advanced AI technology to separate vocals, drums, bass, and other instruments from any music track. Demixor also offers a variety of voice cleaning features, including noise reduction and equalization, to enhance the overall sound quality of the final output. It offers easy-to-use interface and affordable pricing plans.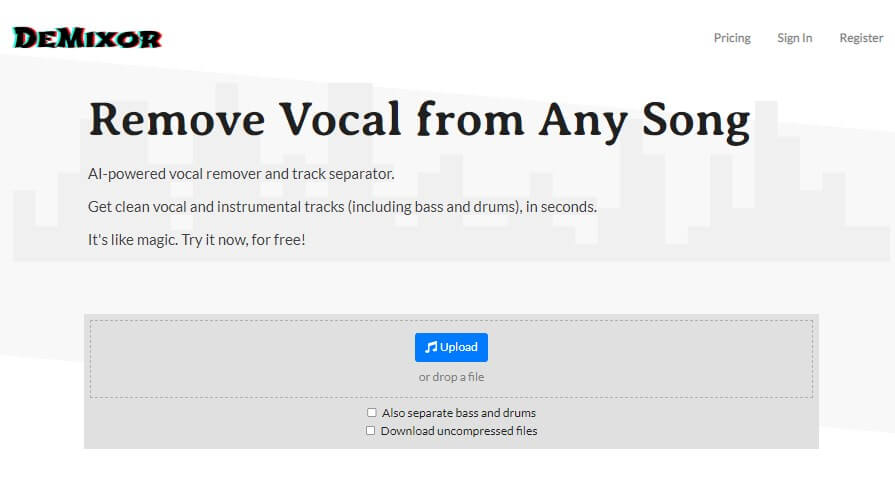 AI-powered vocal remover and track separator.
Deliver clean vocal and instrumental tracks.
Sing Along: With Phonicmind, you can sing along to your favorite songs without the original vocals.
Play Instrumentals: Phonicmind can generate instrumentals from any song.
5

Tunebat

Tunebat is a Key & BPM database and music finder. Users can search songs, artists and albums to get them. With Tunebat's powerful AI technology, you can effortlessly split audio files into separate vocal and instrumental tracks. But that's not all! Tunebat's vocal remover goes beyond just isolating vocals. It can also remove drums, bass, and other elements, giving you complete control over the individual components of a song.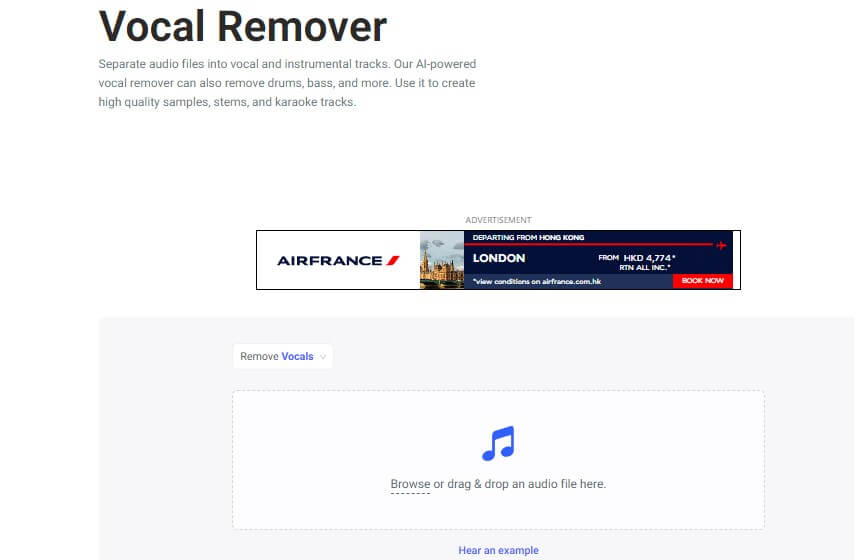 Hardware acceleration and high-quality encoding.
MP3, WAV, FLAC, and AAC supported.
A Example provided to preview the vocal removal result.
6

Notta

Notta is the perfect vocal remover for web browser users. With Notta, users gain the ability to differentiate between vocal tracks and instrumental music in both audio and video files. This tool excels at accurately separating vocals from instrumentals. You can use the vocal remover on any device and any browser.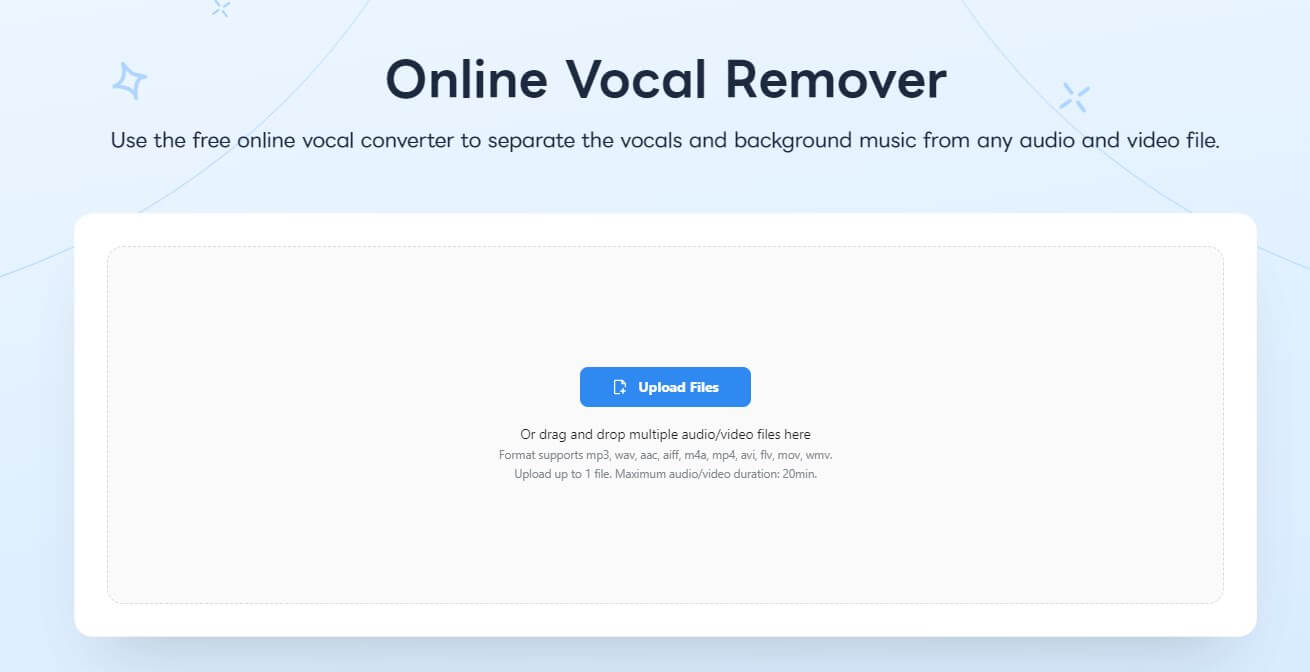 Multi-format Supported.
High quality audio and easy for beginners.
High-quality vocal extraction, easy-to-use interface, and fast processing times.
7

Vocalremover.org

Vocal removerstands as an exceptional, top-tier solution for video and audio editing enthusiasts. This online vocal-removing tool, available for free, is your ticket to expertly extracting vocals from a song, resulting in a high-quality karaoke version or instrumental accompaniment.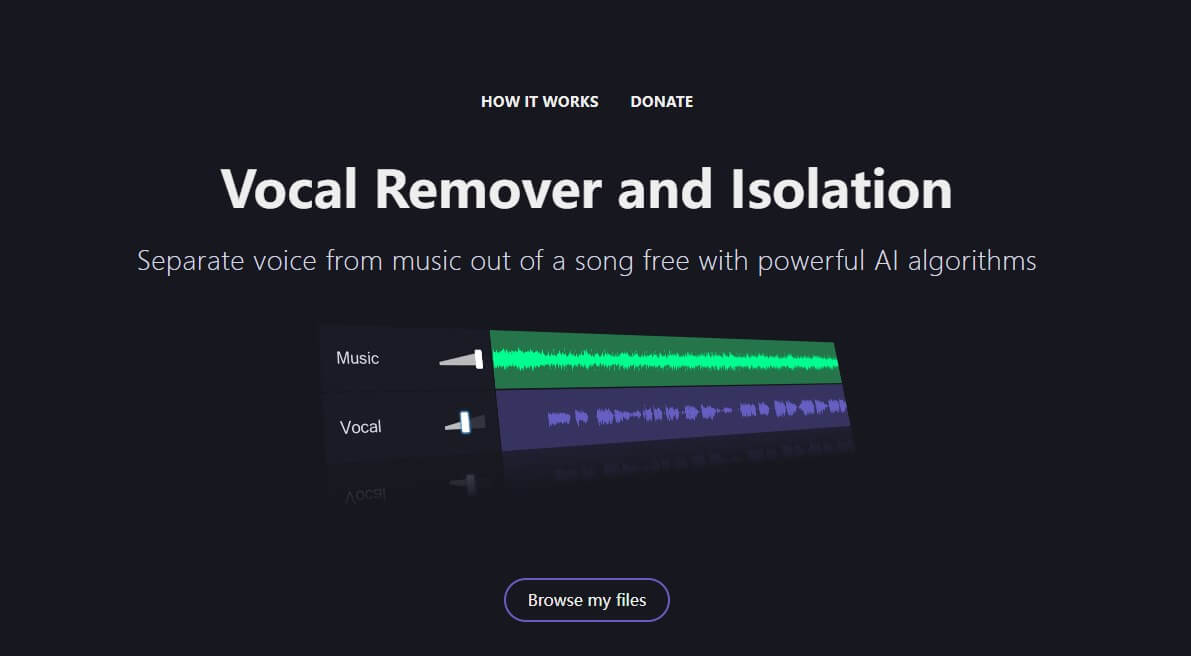 It has a strong tool kit, including vocal remover, splitter, pitcherm key bpm finder, cutter, joiner and recorder.
Other than vocal remover, it can changes pitch and tempo of the song by adjusting musical key and bpm sliders.
It allows users to separate voice from music out of a song free.
8

Audacity

Audacity offers a versatile vocal remover feature, making it a popular choice for audio enthusiasts. This open-source software empowers users to extract vocals from audio tracks, allowing for a range of creative possibilities in music production and content creation. With its extensive capabilities, Audacity's vocal remover serves as a valuable tool for various audio editing needs.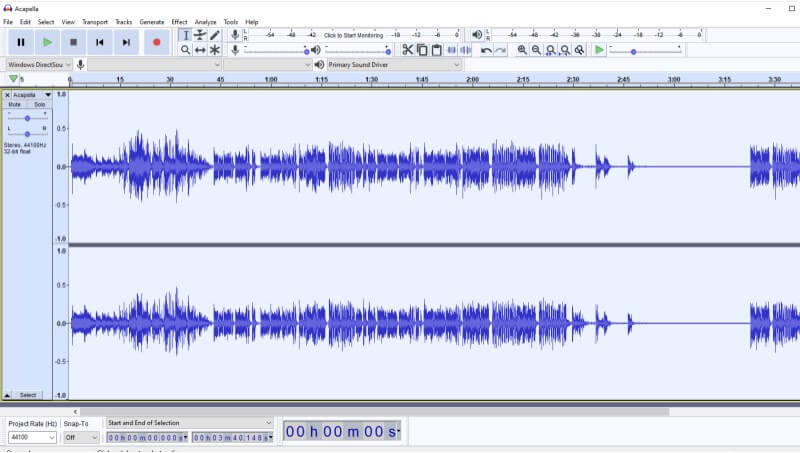 A great software for beginners and professionals alike.
Audacity provides a real-time preview feature, enabling users to assess the changes as they make adjustments.
It is available on multiple platforms, including Windows, macOS, and Linux, ensuring broad compatibility.
9

Vocali.SE

Vocali.SE is also a free online vocal remover choice, designed specifically for audio files. This web-based solution enables users to effortlessly create karaoke versions of their favorite downloaded tracks without the inconvenience of registration, paid services, or software downloads. Vocali.SE provides a choice for you to donate to keep it online and free.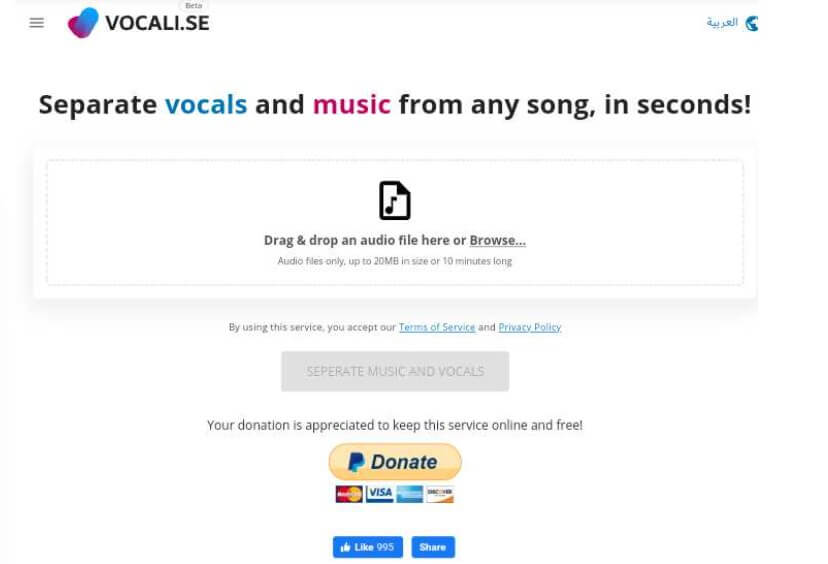 After vocal removal, the seperated audio will be downloaded automatically.
The speed is fast and very uder-friendly for new beginners.
Ads on the page and users can donate to the website.
10

Vocalremover.com

Vocal Remover is a user-friendly and versatile online vocal remover tool designed to simplify audio editing. With its powerful AI-driven technology, Vocal remover excels at separating vocals from audio tracks, providing users with the ability to create karaoke versions or instrumental accompaniments effortlessly.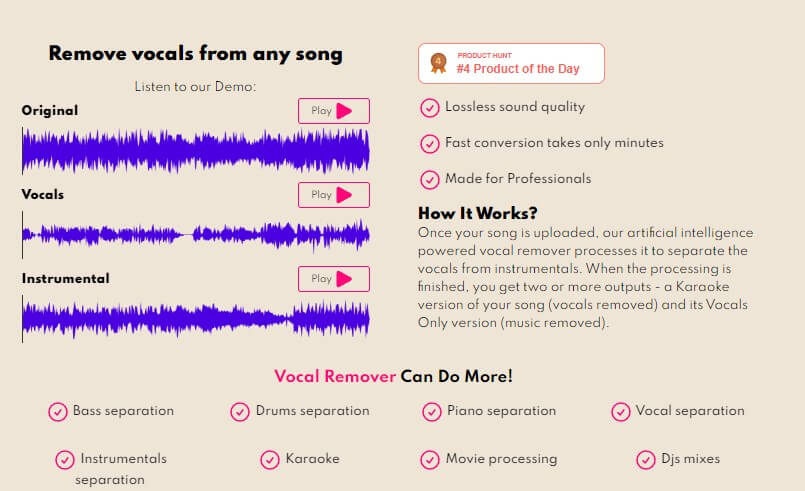 Formats like WAV, MP3, FLAC, OGG, OPUS, SPHERE, MP4, MOV, etc are allowed.
Lossless sound quality.
Fast vocal removal in only seconds.
Part 3: HOT FAQs about Best Vocal Remover
1 Which is the best vocal remover?
One option you might find worth exploring is TopMediai vocal remover. They offer a comprehensive range of audio editing tools, including vocal removal capabilities.
2 Is there some safe vocal removers online?
Yes, there are some safe online choices for vocal remover: LALAL.AI, TopMediai Vocal Remover, Kapwing, Audacity, Spleeter, etc.
3 Which is the best vocal remover online free?
Among the vocal removers listed above, TopMediai vocal remover could be your best option for vocal remover online free. It allows users to isolate vocal from songs or music for 5 times.
Conclusion In the world of audio editing, finding the best vocal remover is essential for many content creators. While some opt for the convenience of best vocal remover online free tools, others seek cost-effective solutions such as the best vocal remover software.

The choice ultimately depends on your specific needs and budget. It's crucial to select a tool that aligns with your project requirements. Why not try TopMediai vocal remover now for free?