Are you ready to have some fun with your voice? You can now enjoy the thrill of speaking in the voice of Taylor Swift, Morgan Freeman, Trump or other celebrities with just a few clicks using celebrity voice changer.

Next, l'll explore the top 4 celebrity voice changers available online, for PC, and on mobile devices, and guide you on how to achieve that dreamy transformation.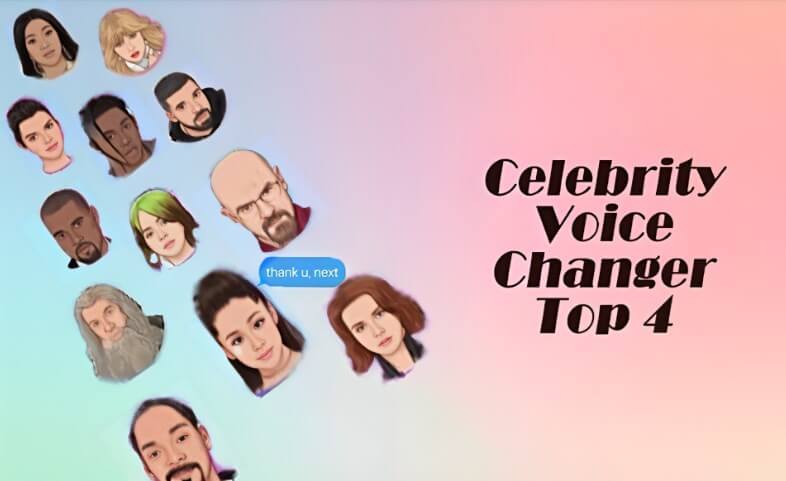 Part 1: Celebrity Voice Changer Online for Free
Voice changers have come a long way from their early days of sounding robotic and unnatural. With the power of AI, these tools can now mimic the voices of famous celebrities with impressive accuracy, offering a fun and entertaining experience for users.
Some of the free Celebrity Voice Changer Online are discussed below:
Users may enjoy modifying their voices when communicating, broadcasting, and recording movies, numerous apps or software are available to facilitate this process.
TopMediai Online Voice Changer is a fantastic web-based tool that allows you to transform your voice into that of your favorite celebrities. What sets it apart is its compatibility with all browsers, ensuring that you can use it on any device without the need for downloads or installations. Simply visit the website, select your desired celebrity voice, and start speaking. It's that easy!
Most important: it is completely free!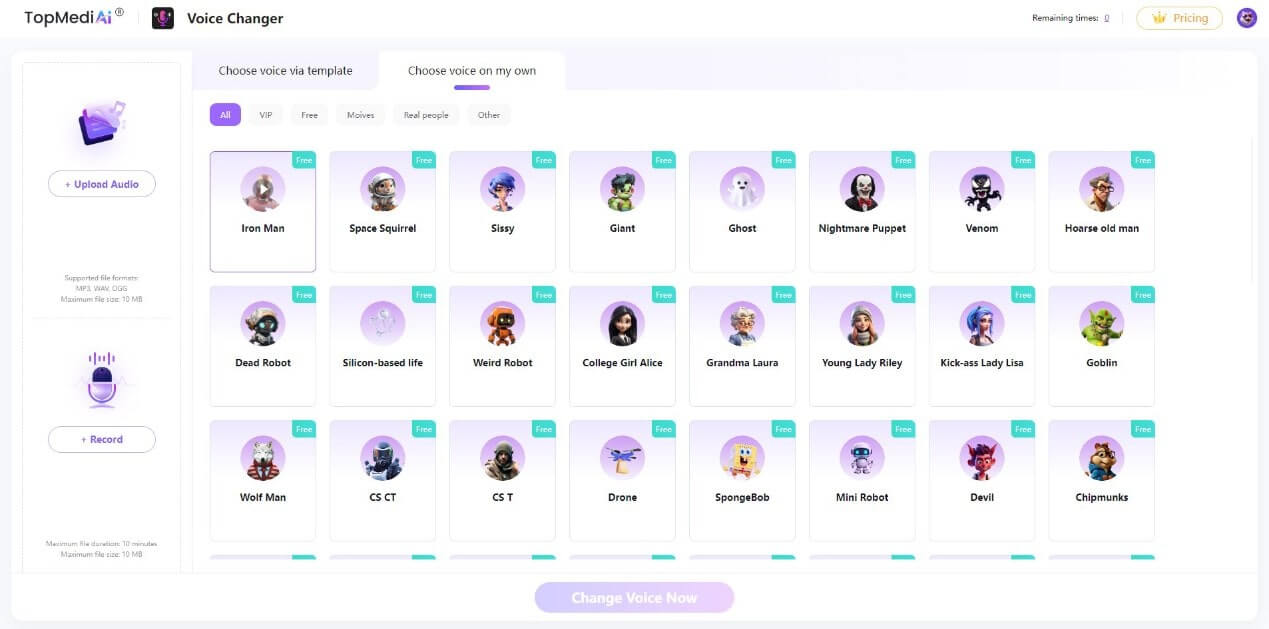 How can I change my voice to sound like a celebrity with TopMediai?
Step 1. Either upload your audio file or use the mic to record your voice in real-time.
Step 2. Select a celebrity you want to sound like him.
Step 3. Click a voice icon below to listen.
Step 4. If you're satisfied about the voice change, you can download it for free directly.
Works in all web browsers, ensuring accessibility on various devices without requiring downloads or installations.
Offers a range of celebrity voices for users to choose from.
The easy user interface makes it accessible and simple to use.
TopMediai allows you to experience a real-time voice changer.
Because of its outstanding performance, you may swiftly create your desired celebrity voice.
Pros
Create personalized interactions via voice-changer celebrities.

Reach out to several users at the same time.

High-quality output.

Free for all user.
Cons
Need a stable internet connection.
User rating: 4.8
Most users report that TopMediai voice changer will be regular updated, with new voice models being updated from time to time, and discord customer service is available 24*7 to help them.
Pricing: TopMediai voice changer is absolutely free.
Bonus: If you want to make celebrity ai voices, TopMediai Text to Speech is here to help!
This intuitive platform provides a variety of celebrity voice presets that you can apply to your recordings or live conversations. Whether you want to sound like a charismatic movie star or a legendary musician, Voice Changer.io offers an array of options for your voice transformation needs.
With a user-friendly interface, you can quickly modify your voice and surprise your friends with your newfound talent.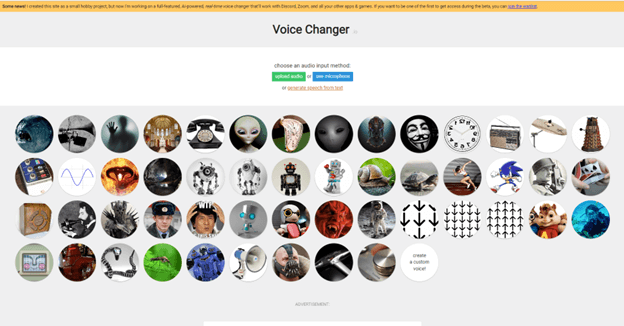 An online voice changer lets you change your voice in real time across many systems.
Voice Changer.io allows the user to access hilarious sounds such as crank noises or meme sounds.
Voice Changer.io has an easy-to-use user interface, so you won't have to worry about how it works.
Pros
Profiles for various titles may be made.

The creators frequently launch new and innovative themes.

Allows for voice customization to produce various voices.

A few hilarious audio clips can be mixed.
Cons
Only a steady internet connection is required to produce a celebrity audio clip.
User Rating: 4.7
A user-friendly tool and free to use, but there are too few celebrity voices.
Pricing: Free

Part 2: Celebrity Voice Changer Software
If you're looking for more advanced features and versatility, dedicated software solutions are the way to go. Here are two outstanding options:
Furthermore, archiving or sharing the audio files you make with these sites might be tricky.
1

iMyFone Magicmic

iMyFone Magicmic is a versatile voice changer software that works on both PC and mobile devices. With this powerful tool, you can not only transform your voice into that of a celebrity but also fine-tune various aspects of the voice, such as pitch and modulation. It's perfect for adding a celebrity touch to your prank calls, podcasts, or even video game chat sessions.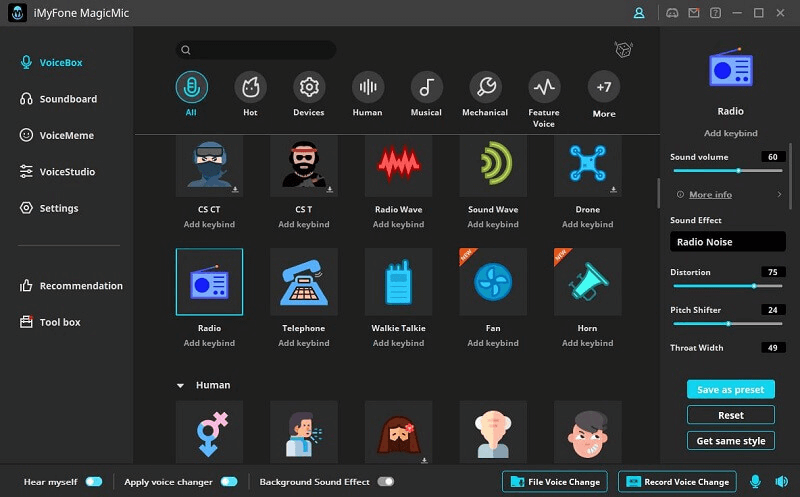 access over 225 magnificent celeb audio effects, 800+ soundtracks, and audio memes in real-time gaming and texting apps.
Aside from real-time voice modification, it also offers recording and audio voice alteration.
Allows users to customize their voice settings to achieve the desired effect.
User Rating: 4.8
Many reviewers rate it 4.8 and believe it is beneficial for real-time voice modification on both Mac and Windows but that it would be much better if it offered text-to-speech features.
Pricing: Billed monthly at $9.99

2

Celebrity Voice Changer

If you're primarily interested in transforming your voice on your mobile device, the Celebrity Voice Changer app is a must-try. It offers a wide variety of celebrity voices and comes with easy-to-use features that make voice modification a breeze. Whether you want to impersonate your favorite movie star or have a laugh with friends, this mobile app has you covered.

Even though Celebrity Voice Changer only supports English, it is still worth your time. To access all of the features, you must pay for in-app purchases.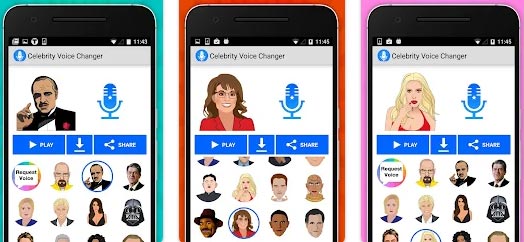 The Celebrity Voice Changer has automated voice alteration.
You have a plethora of voice filters to choose from.
Specifically designed for mobile devices, making it convenient for on-the-go voice changing.
User Rating: 4.0
Most users said used to work but doesn't anymore, and it takes a long time to download.
Pricing: Free.

Part 4: FAQs about Celebrity Voice Changer
1How do I change my voice to a celebrity voice online?
You can quickly and effortlessly prank your mates by changing your voice into a celebrity voice. Celebrity voice changer is here to help! With celebrity voice changers, the enjoyment and entertainment are well worth it. TopMediai is the leading online celebrity voice changer.
2Which website lets you use celebrity voices?
Many services and platforms enable us to generate celebrity voices, but everything has downsides. TopMediai, as the name implies, is a tool built to be at the top of its game. If you want to modify the voices in a current audio file or create a fresh one, TopMediai Voice Changer Online is one of your ideal options.
Furthermore, the TopMediai service only allows you to upload files on the hard drive of the device you are using to connect to the Web.
3Is there any celebrity voice changer online?
Recording and editing voices with software is a simple and quick procedure that anybody can do with a few taps. But, in order to minimize the risk or loss, we recommend TopMediai as the ideal option because it is a free online tool.
4Do Celebrity Voice Changers require any special equipment?
No. Most Celebrity Voice Changers can be used with a standard microphone and internet-connected device. For mobile apps, a smartphone or tablet is sufficient. No additional equipment is typically required.
Final Words lots of celebrity voices are waiting for you. Whether you lean towards an online tool that smoothly operates in your web browser or a versatile software compatible with both PC and mobile devices, there's a celebrity voice changer out there to match your preferences.

With the right tools, such as TopMediai at your disposal, the world of celebrity voices is yours to explore and enjoy!