This guide will provide information about the use of Donald Trump AI voice changers and generators to mimic the voice of popular figures such as Donald Trump. Many people find it entertaining or useful to imitate the voices of their favorite celebrities or politicians, and the availability of such technology can make this task easier.

This guide will cover the basics of using a Donald Trump voice changer and generator to generate Donald Trump ai voice for pranks!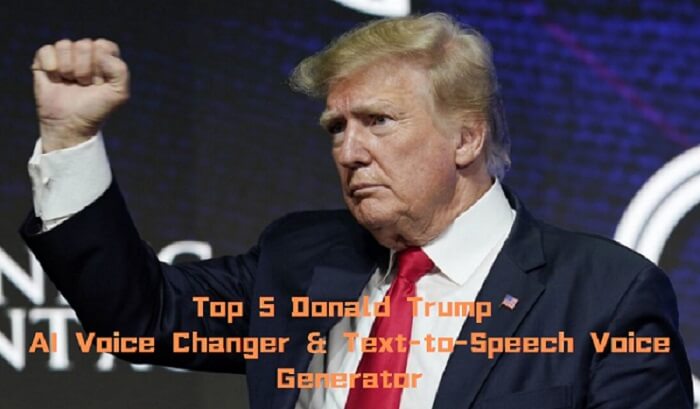 Part 1: Best 3 Donald Trump AI Voice Changer
Donald Trump's outspoken and contentious speeches have been a source of inspiration for memes and internet humor. As a result, voice changers and soundboards that feature his recognizable voice from press conferences and other public appearances have become widely available.
These tools allow users to mimic Trump's distinctive speech patterns and create humorous content or imitate his style for their own purposes.
1. TopMediai Donald Trump Voice Changer
When it comes to imitating Donald Trump AI voice, the TopMediai is a top choice. With its wide range of voice filters and seamless soundboard options, this tool is nearly flawless in its ability to create convincing Trump impressions.
In addition to its ability to modify the user's voice in real-time, Topmediai can also apply high-quality sound effects, making it a versatile and fun tool for creating content or just having some entertainment.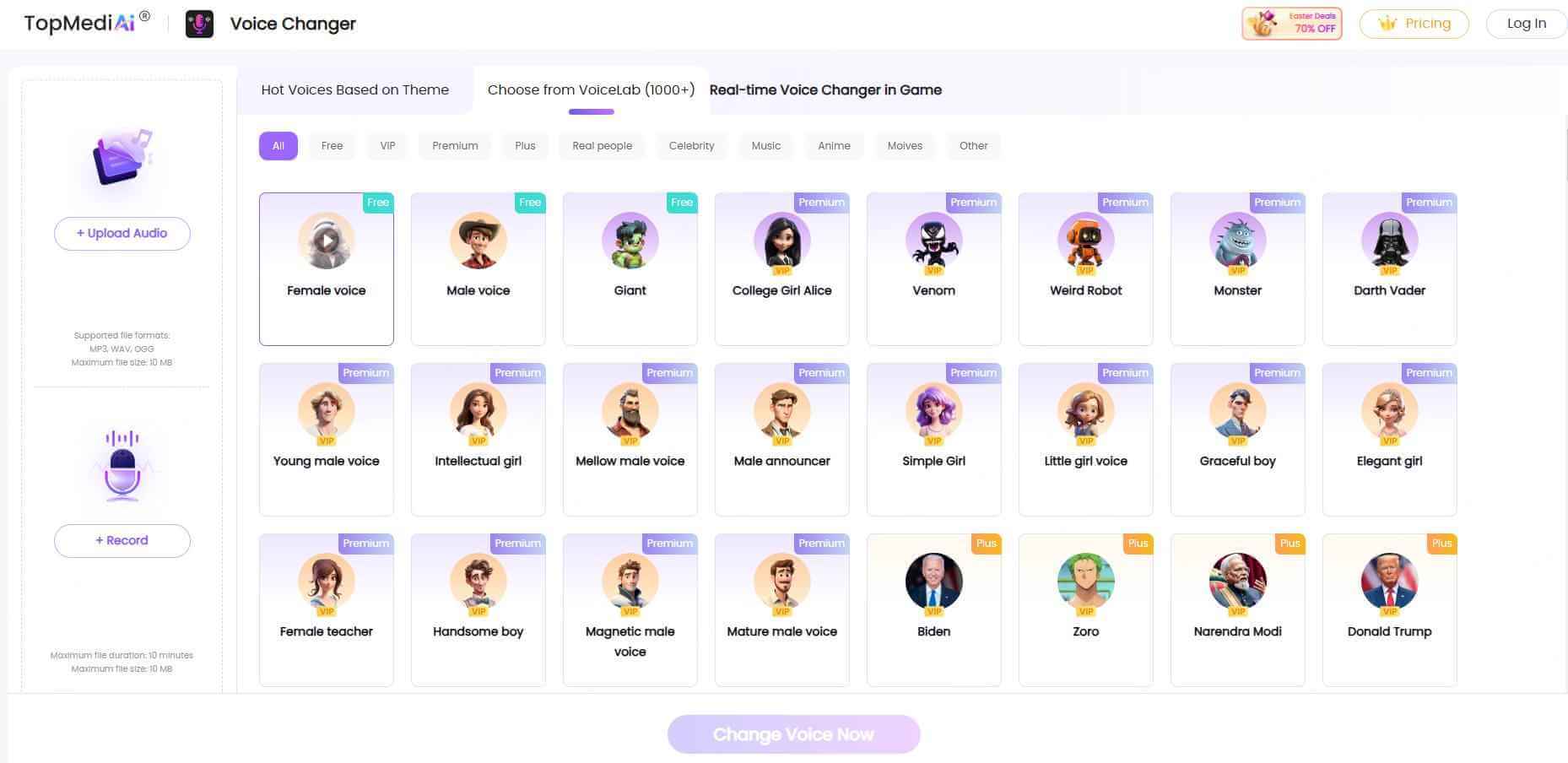 Key Features
Topmediai is an AI-powered tool that is compatible with various devices, such as smartphones and laptops.
This online software is user-friendly as its interface is easy to use.
With over 500 sound effects and 125 voice filters to choose from, including the Donald Trump AI voice, this tool offers a vast range of options to explore.
It offers the ability to modify the pitch of voice filters and adjust the volume to suit personal preferences.
It is absolutely free and no needed installation.
2. MagicMic
MagicMic Donald Trump AI Voice Changer is an excellent tool for anyone looking to imitate Donald Trump's voice or experiment with other voice filters and sound effects. It can be used in real-time on popular chatting, streaming, and gaming platforms, making it versatile and convenient.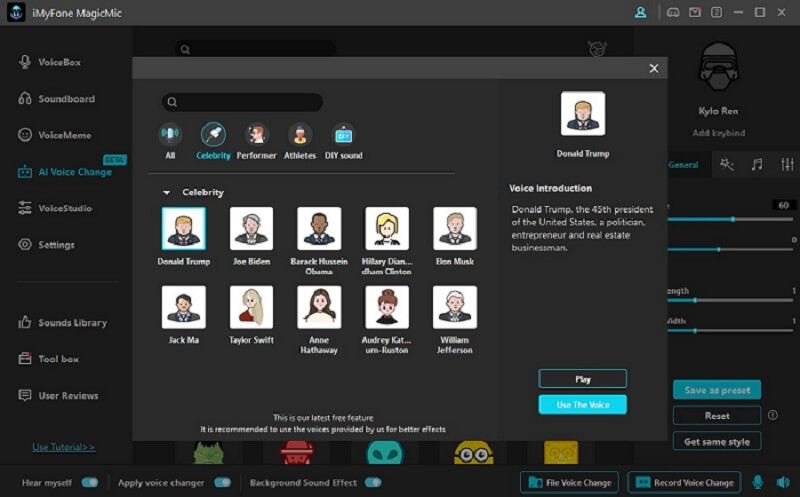 Key Features
It enables you to alter your real-time on several popular chatting, streaming, and gaming platforms.
MagicMic blesses you with a professional Voice Studio feature, allowing you to speak and customize your voice on a microphone.
Easy to use.
The tool also includes AI voice cloning capabilities, which can make the generated voice sound more realistic.
The tool also includes shortcut controls for quickly accessing and playing back voice and sound effects.
3. Donald Trump Voice.ai
Voice.ai offers a free and easily accessible AI voice changer through their website. This tool enables users to modify their own voice and also replicate other voices, including Trump AI voice. The website offers a user-friendly interface and straightforward instructions for getting started with the AI voice changer.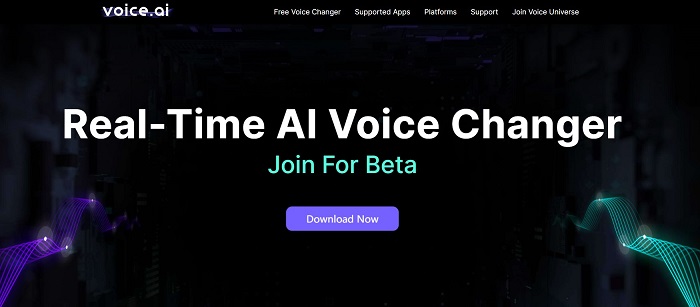 Key Features
Voice.ai is a valuable tool for content creators, marketers, and businesses as it allows for the creation of engaging and natural-sounding voiceovers.
This tool is capable of supporting voice cloning, which means that users can modify their own voice to sound like any character or create entirely new voices.
Voice.ai also offers real-time voice changing features, which make voiceover creation easy.
Users can apply voice effects while recording or streaming live on multiple streams, which saves time and makes the process more efficient.
Part 2: Best 2 Donald Trump AI Voice Generator
We will provide you with some of the most effective tools available to create Donald Trump AI voice using an AI voice generator. These tools allow you to make Donald Trump say whatever you want, opening up a world of creative possibilities.
1. Topmediai Donald Trump AI Voice Generator (TTS)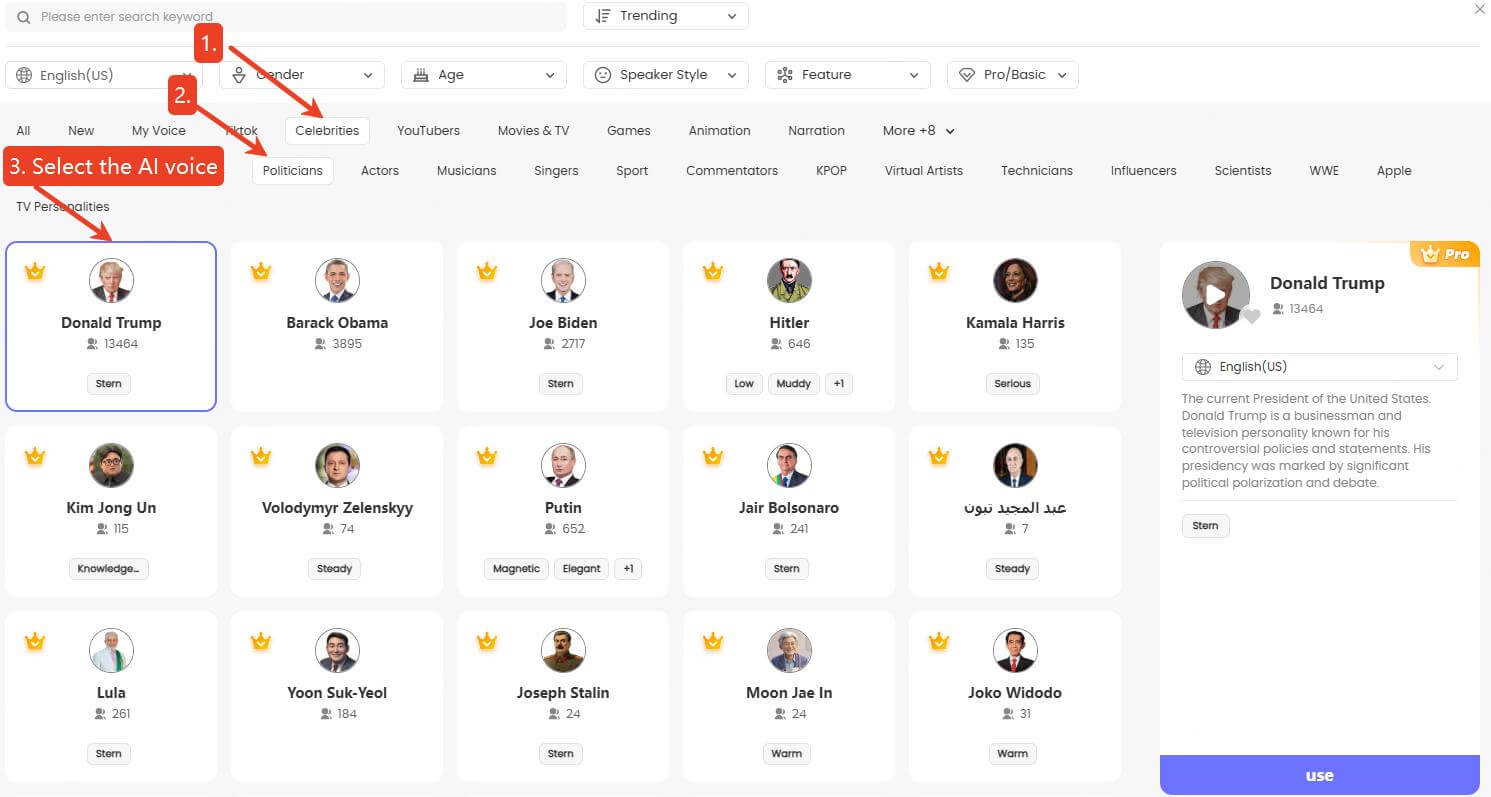 Key Features
It is a multi-functional online software that integrates online voice change, text-to-speech, file voice change, and recording voice change.
Topmedi is the high-quality voice output and the strong resemblance to Donald Trump's actual voice.
The tool also offers a range of different categories of voices, including those of other presidents such as Obama and Joe Biden.
The tool uses AI to generate the voices, resulting in exceptional results that are incredibly realistic.
It is absolutely free and no needed installation.
2. Voxbox
Voxbox is a popular tool that enables users to produce various types of voices using a vast collection of pre-recorded voices available in its library.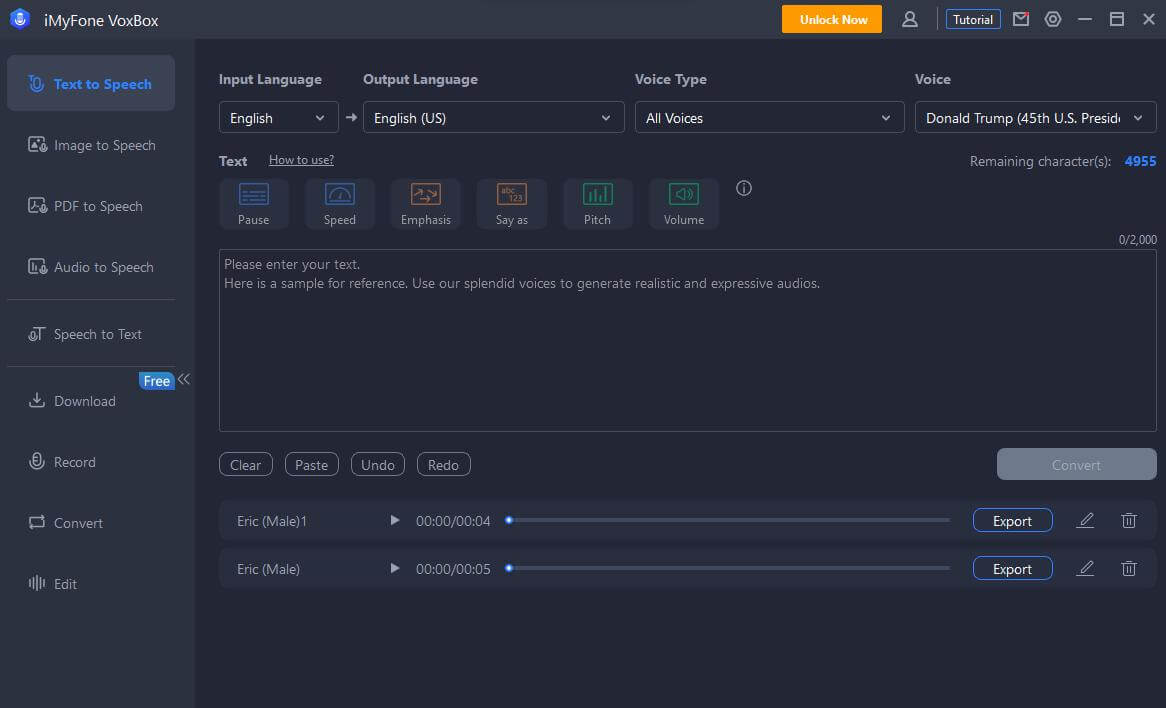 Key Features
It offers a diverse selection of over 3200 voices, including those of rappers, YouTubers, cartoon characters, celebrities, and more.
The tool supports more than 46 languages worldwide, such as Spanish, Japanese, and French.
This 6-in-1 software allows for text-to-speech conversion, speech-to-text conversion, voice cloning, voice recording, video conversion, and audio editing.
The tool supports a variety of settings such as Pause, Pitch, Emphasis, Volume, and Speed.
Part 3: FAQs About Donald Trump AI Voice
1

What is a Donald Trump AI voice?

A Donald Trump AI voice is a computer-generated voice that is designed to sound like the former US President Donald Trump. It uses artificial intelligence algorithms to replicate his distinctive voice, speech patterns, and mannerisms.
2

How is a Donald Trump AI voice created?

A Donald Trump AI voice is created by training an artificial intelligence model on large datasets of his speeches, interviews, and public appearances. This involves analyzing and synthesizing his voice, accent, intonation, and other vocal characteristics to create a realistic voice that sounds like him.
3

Can I use a Donald Trump AI voice for commercial purposes?

The use of a Donald Trump AI voice for commercial purposes may be subject to legal and ethical considerations. It is advisable to consult with legal experts and obtain appropriate permissions before using a Donald Trump AI voice for commercial applications.
4

Are there any ethical concerns related to using a Donald Trump AI voice?

The use of a Donald Trump AI voice may raise ethical concerns related to impersonation, privacy, and political bias. It is important to consider the potential impact on individuals or groups who may be affected by the use of such technology.
5

What are some popular use cases for a Donald Trump AI voice?

A Donald Trump AI voice can be used for a variety of applications, such as creating voiceovers for videos, generating personalized voice messages, and developing chatbots with a Trump-like personality. It can also be used in political campaigns, satire, and entertainment.

Conclusion The focus of this article is the voice of Donald Trump, and various Donald Trump AI voice generators have been discussed to replicate his distinctive tone. The most efficient tool highlighted in this article is Topmediai, which offers a broad selection of voices that are realistic and natural, without requiring any technical knowledge.

Users can easily choose any voice from TopMediai's library, making it an ideal tool for creating voiceovers for a variety of content, including video content, podcasts, audiobooks, and more.