Funny voice changers are mood makers for people of all ages. You can use them to pass the time or to prank your friends. Whatever your purpose is, you must know which funny voice changer you need to use.
Free funny voice changers and best funny voice changer apps have taken over the internet. Funny autotune voice changers are also getting fame nowadays. This article highlights all-important information about voice changers.
Part 1: 2 Funny Voice Changer Online [No Need to Download]
Funny voice changers online are available on the web. You can use them on your internet without the need to download them on your PC. Two best options are mentioned here that can be fun to use.
1.1 TopMediai Online Voice Changer
TopMediai Online Voice Changer is available online to everyone and every region. You can easily avail this free funny voice changer through your browser without any struggle with downloading.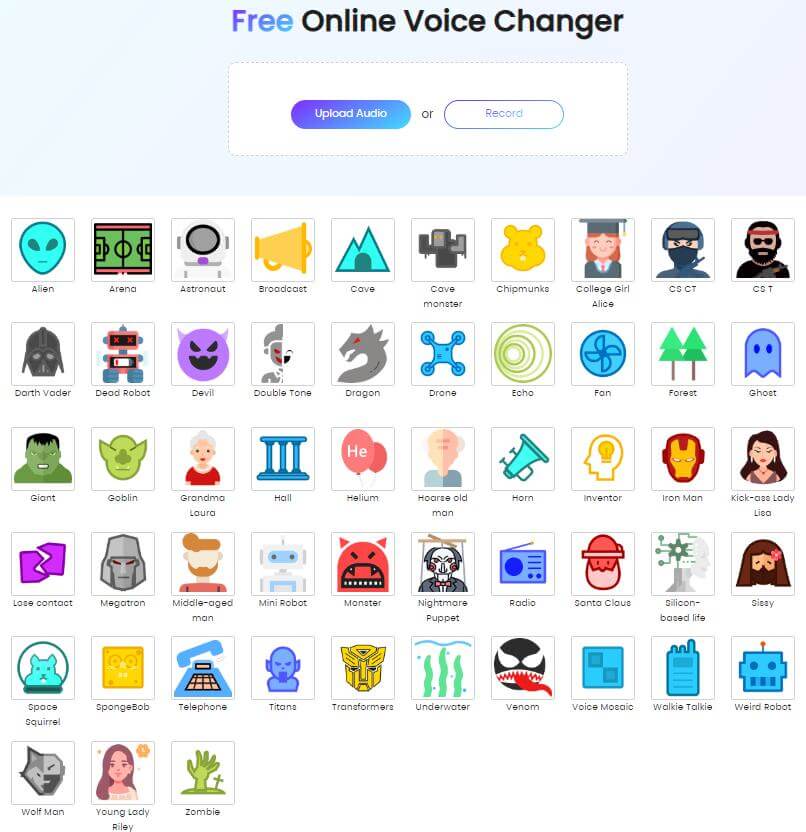 Below is how you can utilize the TopMediai online voice changer to adjust your voice.
Step 1. Either upload your audio file or use the mic to record your voice in real-time.
Step 2. Click an voice icon below to listen.
Step 3. If you're satisfied about the voice change, you can download it for free directly.
Step 4. If you want to change it into another voice, click the fork in the upper right corner and then click a new voice as you like.
Key Features
TopMediai Voice Changer Online allows you to record your voice at the moment and upload a recording file.
It also gives you the exceptional feature of converting your text into audio with the help of the "funny voice changer type words" option.
Besides the options mentioned earlier, it also offers a great range of filters to alter your voice. To your surprise, you can also add custom filters.
Pros
It is easily available on the web and easy to use. It provides you with a never-ending list of filters to alter your voice for security or fun.
Cons
Although it offers features that will astonish you, it has the cons of working online. You cannot download it.
Pricing: Totally free to use.
1.2 Voice-Changer.Org
Voice-changer.org is another important funny voice changer that allows you to change your voice. You can send your altered recording to anyone with the help of this free funny voice changer online.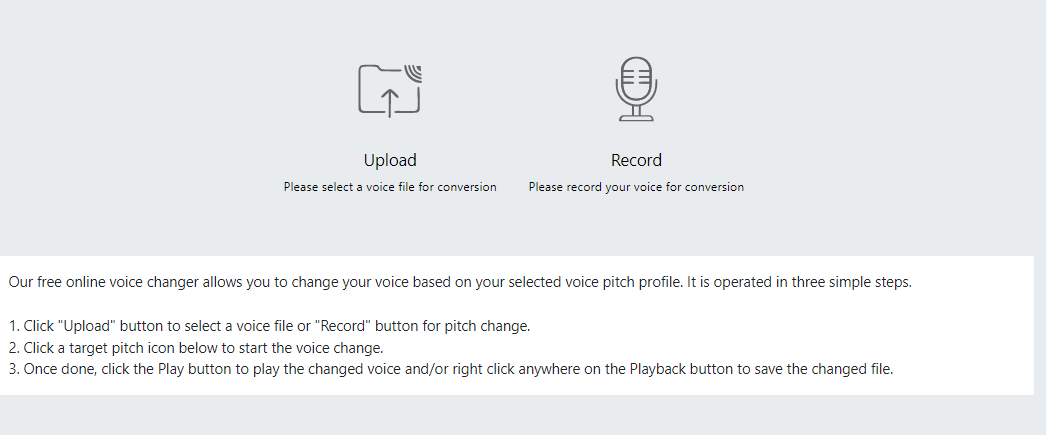 Key Features
Audio Pitch Shifter allows you to alter all popular audio formats with the size of 10 GB.
It helps you to secure your files by using SSL certification and other services. It ensures total privacy and allows you to access your files only to you.
It is easily available on the web, and you can get access through a simple web interface.
Pros
It allows you to record your audio instantly or upload a file. It also offers great privacy options for keeping your identity hidden.
Cons
It is one of the best online apps, but it has the disadvantage of working only online. You cannot use it on live calls or for gaming purposes.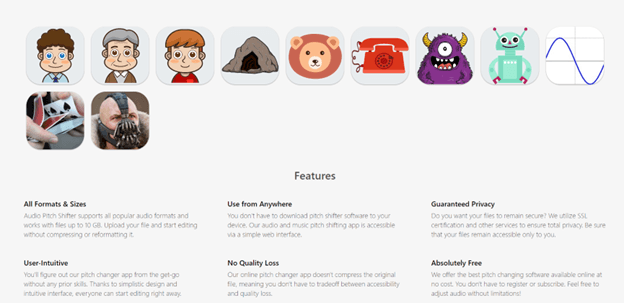 Pricing: Besides offering your the best and most funny pitch changes, it is free to use. No subscriptions and no charges. All the filters are also free to use.
Part 2:3 Funny Voice Changer Apps for Android and iPhone:
Funny voice changer apps are the best option for those who think of online funny voice changers as a headache. A list of such apps is available for Android and iPhone users.
2.1 Funny Voice Changer and Sound Effects
This App is specially designed for android users. It lets you easily download the filtered audio recordings that can be used for ringtones later.
Key Features
It has many sound effects for your audio, including robots, giants, monsters, and more.
You can also create altered voices from text and share them via WhatsApp, Facebook, and email.
You can save your recordings and use them as ringtones.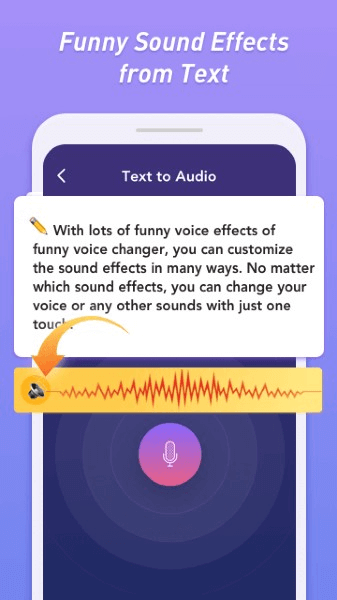 Pros
It is free to use and provides many filters to add to your recordings.
Cons
You can use it only on your android phones. It is not a con but, well, bad for iPhone users.
System Supported: It is available only on Google Play for Android 4.4+. It is the best funny voice and faces changer app for android users.
2.2 Voicy Voice Changer Lite
This App is designed to elevate the voice-changing experience for iPhone and iPad users. It works just like any other app. It brings you the knowledge of all the funny voice changer app.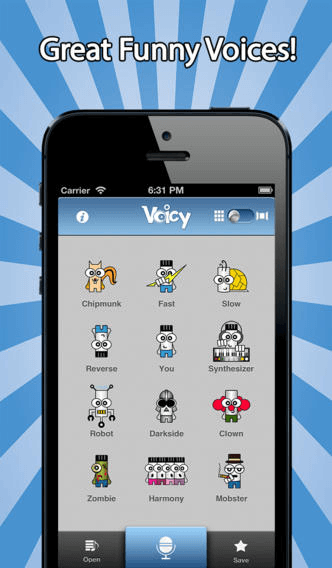 Key Features
Voicy voice changer lets your live record videos and adds filters to them. You can add all funny filters to your videos and add altered voices.
You can add the provided voice filters to your videos from the camera roll.
It allows you to share your altered videos on other social media accounts.
Pros
It is one of the best apps available on the Apple store. You can use plenty of free filters and can record videos to edit sounds on them.
Cons
Besides the great advantages, it can stop functioning sometimes. You may have to wait a long time to cancel the App. Also, the premium filters require subscriptions.
System Supported: IOS 7.1 or later or macOS 11 or later is recommended for iPad, iPhone, and iPod.
2.3 Funny Voice Effects and Changer
This extraordinary App is available on the App Store and Google Play for your phone and tablet use. It is one popular creation in the race of the best funny voice changer apps.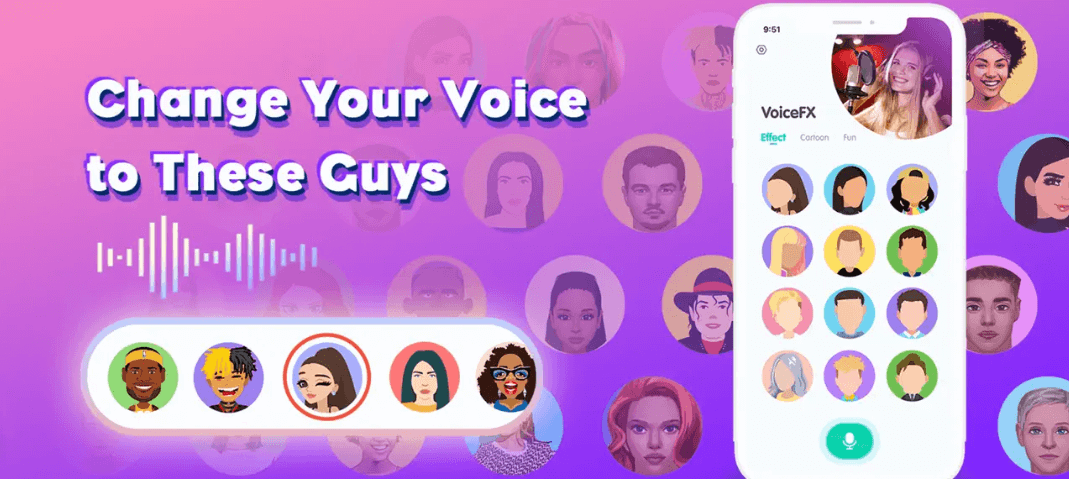 Key Features
It lets you choose from several funny sound effects, such as the robot, rabbit, alien, ghost, and many other unique voices.
It also has the option of a funny "voice changer video recording option." You can choose lots of video effects like Glitch, VHS, etc.
It also allows you to share your funny recordings with your friends.
Pros
This App is one of the best in providing unique audio filters. You can choose from funny options or originally recorded voices.
Cons
To use all the filters, you will need a subscription. The free version lets you enjoy a handful of filters. You can also find some problems with old software. Otherwise, it is perfect for fun.
System Supported: This App is only compatible with Apple devices involving iPhone and iPad with an upgrade to iOS 11.0 and beyond.
Part 3:Best Funny Voice Changer Software for PC:
If you are more into computers than mobile phones, you can look for a funny voice changer for PC and get many recommendations. Some of the best options are compiled here to make your decision easy.
3.2 iMyFone MagicMic
This funny mic voice changer is a roller coaster of sound effects for PC users. If your search for "Funny voice changer PC" takes you to MagicMic, consider yourself blessed.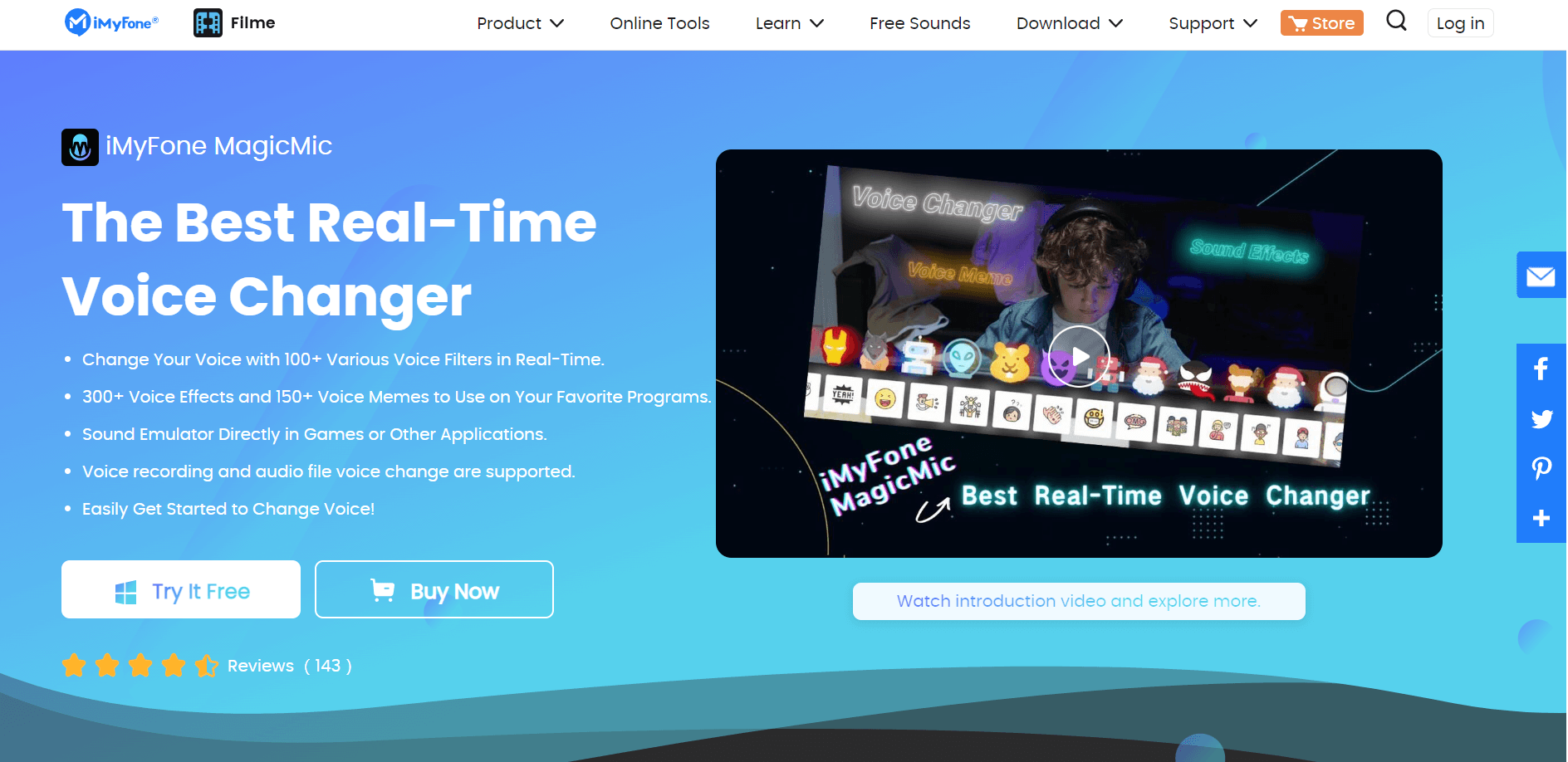 Key Features
This funny voice changer for discord, gaming, and online chats provides 300+ exotic sound effects.
New sound effects are updated every week, so you never run out of funny things to say with voice changers.
Pros
With MagicMic voice studio, you can create your voice filter. It also lets you enjoy a lot of filters for free.
Cons
The download and installation process for MagicMic could be a real buzzkill. You may need some research to learn its functioning.
System Supported: You can add this soundbar to both windows and Mac. You can say that it is the best choice for PC users.
3.2 AV Voice Changer Software
This voice changer for PC is also a good option for those who find MagicMic difficult. This thriller software lets you enjoy all the great sound effects on your PC.
Key Features
AV Voice Changer takes the audio from your microphone, allows you to change it, and then shares it through another program.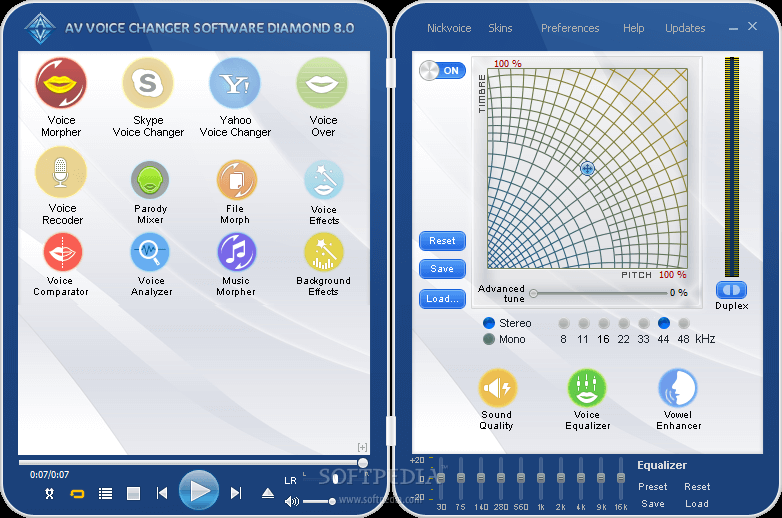 Pros
It offers you the systems of a comparator, equalizer, recorder, and voice changer.
Cons
The App is slightly outdated and feels aged to use.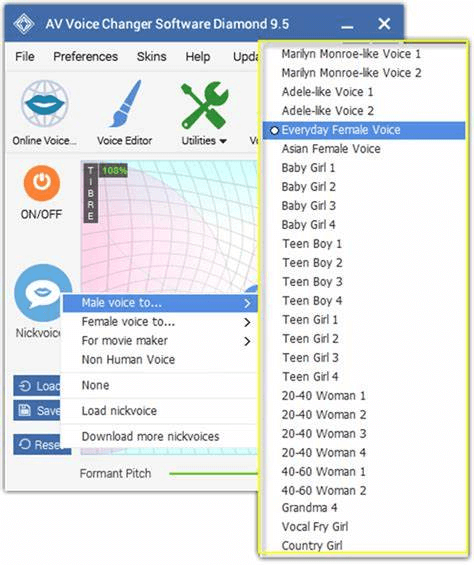 System Supported:There is a version of the software that is compatible with Windows 7, Windows10 , Windows Vista, Windows XP, and Windows 8.
Part 4:FAQs about Funny Voice Changer:
1How Can I Make My Voice Funny Online?
You can search for a funny voice changer online and add your recordings to its page to mold them.
2How Do You Get Funny Voice Effects?
You can apply all the voice filters available free on paid on your voice changer software and apps.
3 How Can I Change My Voice Funny In Audio?
You can record your voice and upload your audio file to voice changer apps or software. Then apply the required funny filter to them to have some fun.
Conclusion:
Funny voice changers
are a great option to have fun with your friends. These voice changers are easily available on the web or in app stores. The search for funny mic voice changer download will take you to options that will take control of your mic and
alter your voice
on every application using the mic. If you are a fan of gaming, the
TopMediai Voice Changer Online
is your tool. You can use it to spice your life up and prank your friends.