Sometimes the internet can be a strange and funny place simultaneously. It became a meme post for quite a few weeks, but the funny thing is, people have yet to learn the true identity of this internet viral meme celebrity. Nonetheless, his virility produced a Quandale Dingle voice that stuck, and today we will talk about it in detail if you are interested in Quandale Dingle voice changer. Let's start!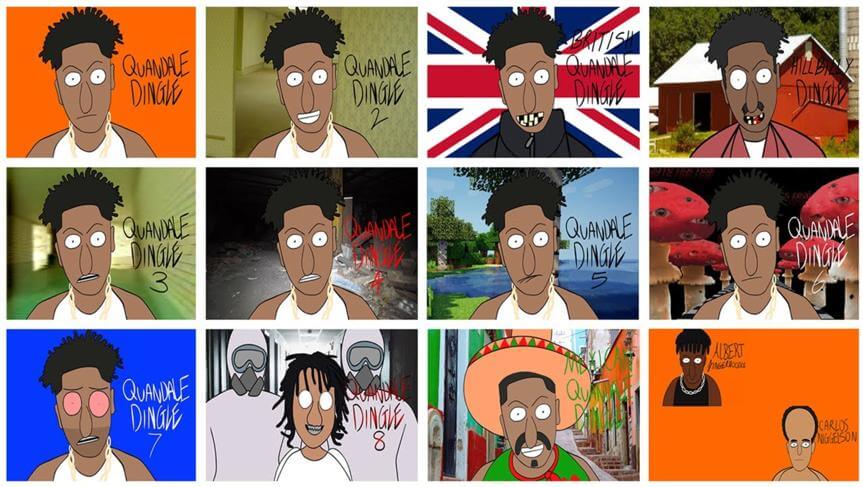 Part 1: Who is Quandale Dingle?
Internet research revealed that he is a not-so-well-known high school football player from Pennsauken. It is speculated that he wears a jersey numbered 25 and is a quarterback. His proclaimed voice which gained notoriety, was for his collection of "goofy ahh" memes, which includes the well-known "goofy ahh uncle." All that is because of a screenshot of a person's computer screen because his name sounded funny and unusual.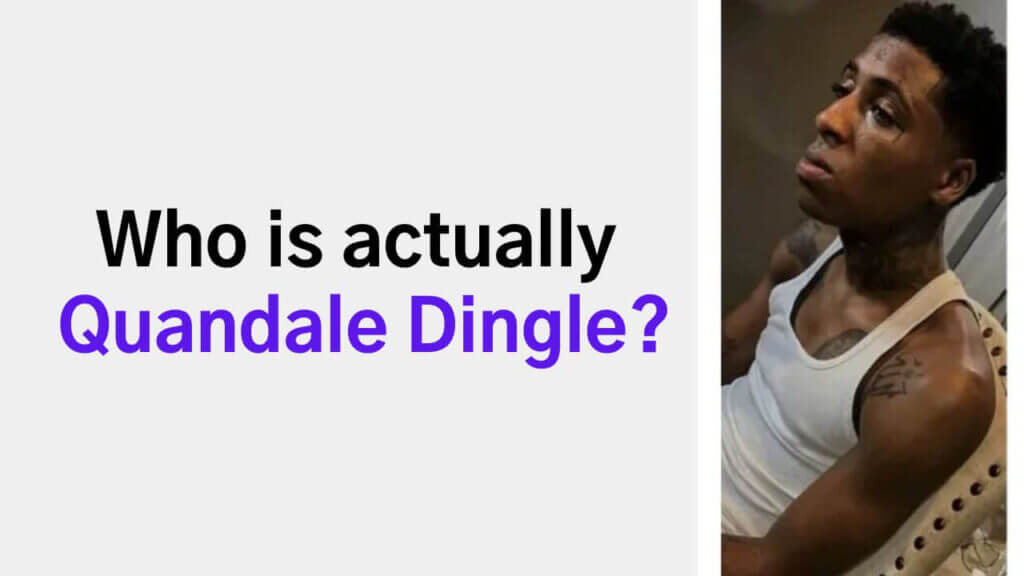 People reposted the initial screenshot that the OP posted on Twitter, which had nothing but his name on it. Later his football practice showed up where he was standing with his teammates, due to which he rose to fame, and a YouTuber then made a compilation of his meme on his channel.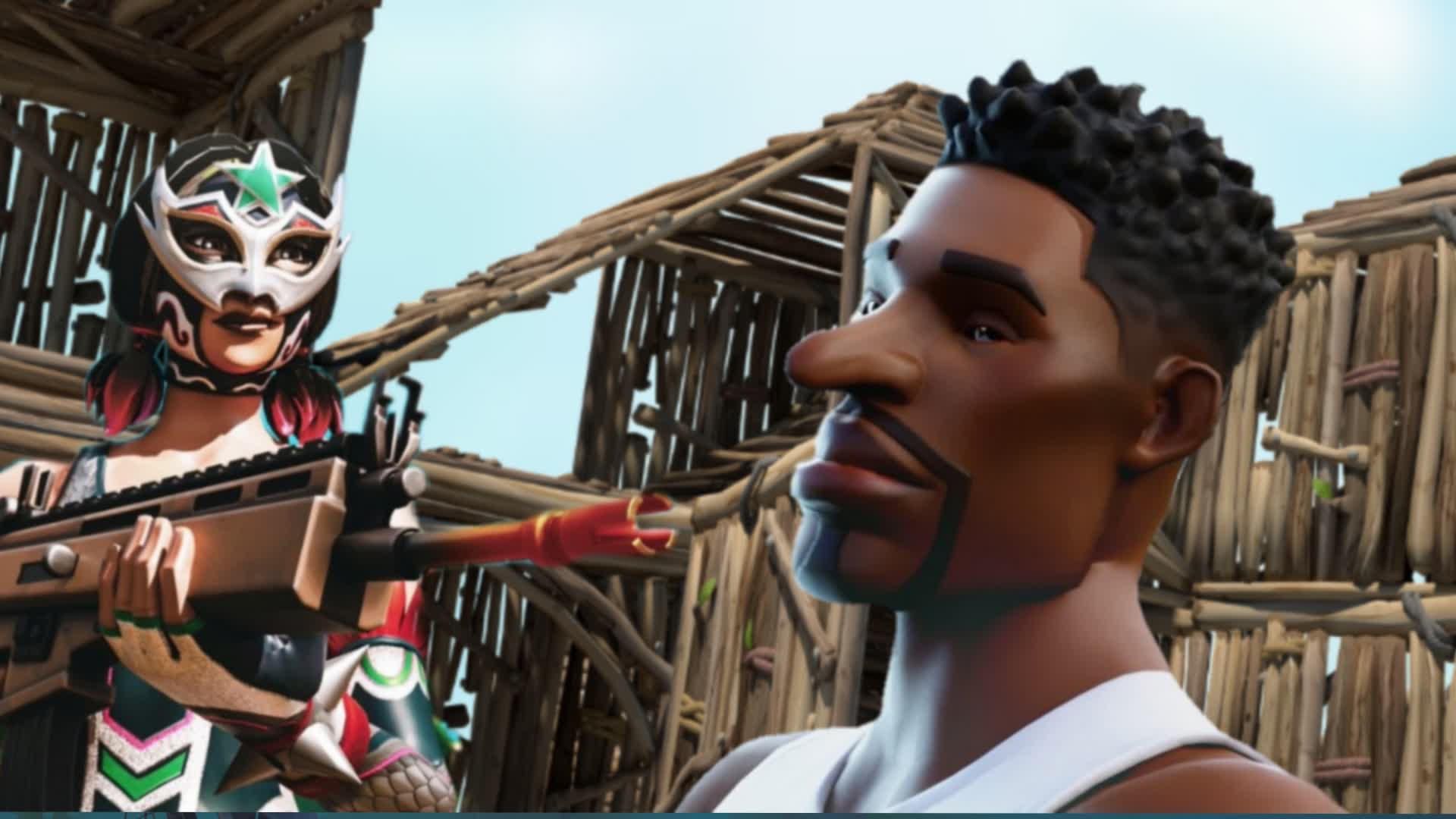 Finally and most recently, people began using images associated with him to make twisted memes, particularly black guys with a large pointed noses, in 2021 and 2022. He has become so popular now that his likeness has become a permanent meme in battle royale games like Free Fire, PUBG, etc.
The moniker Quandale is now associated with Quandale Dingle, and we don't know how long it will stay famous or be part of the crazy that the internet is.
Part 2: Best Quandale Dingle voice changer Online
In this section, we share 3 Quandale Dingle voice changer tools that we have selected based on their popularity and usefulness. Please read through the salient features of each of these apps. So you have a better picture of the right one for you.
1. TopMediai Online Voice Changer
Now that you know much more about Quandale Dingle, let's discuss the first online tool you can use to generate his voice or change your voice to sound like him. In this case, the best solution is TopMediai which is not an app but an online Quandale Dingle voice changer that you can use to convert your voice on any device if you have internet.
So, what is so good about TopMediai that we recommend it here? Please read on to learn more about its salient features and the How to Use Steps to get the best results.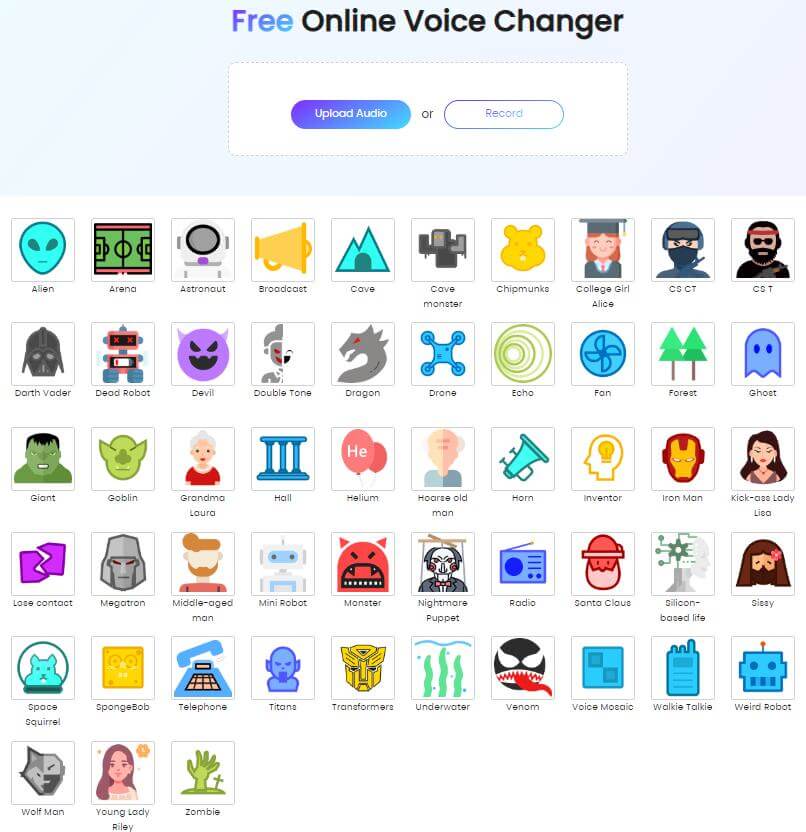 How to Steps:
Step 1.Visit the TopMediai webpage and browse the most popular voiceover options it provides.
Step.You can either upload your pre recorded audio file or use the "Record" feature to use that for voice generation.
Step 3. If you are trying this TopMediai for the first time, follow the instructions steps, and for those who have used it before, go to Settings.
Step 4. Select the microphone as an input device.
Step 5. Then select the headphone as an output device.
Step 6. In the end, click on OK.
Step 7. Now you can choose your favorite voice profile and convert your voice with the best and most fun results.
Key Features
You can record your voice from your computer's microphone and generate your voice similar to Quandale Dingle or choose from the massive list of characters and celebrities.
The consumer also has many generic real-life voiceovers available.
Fast processing of large files with excellent editing options to enhance your content.
Pros
Fantastic UI and voice lines library.

iMyFone has many other tools that, combined, can enhance your workflow for media content creation.
Cons
The online web-based tool doesn't support real-time, so if you are looking for live streaming and real-time modulation, you should look at other apps in the list.
Pricing: Absolutely free to use.
2. UberDuck.ai
Another option to use for Quandale Dingle voice changer is Uberduck.ai. Many new APIs are regularly added as open-source programs to enhance their functionality. Let's look into some of its amazing features to enhance your digital media for more followers and fun.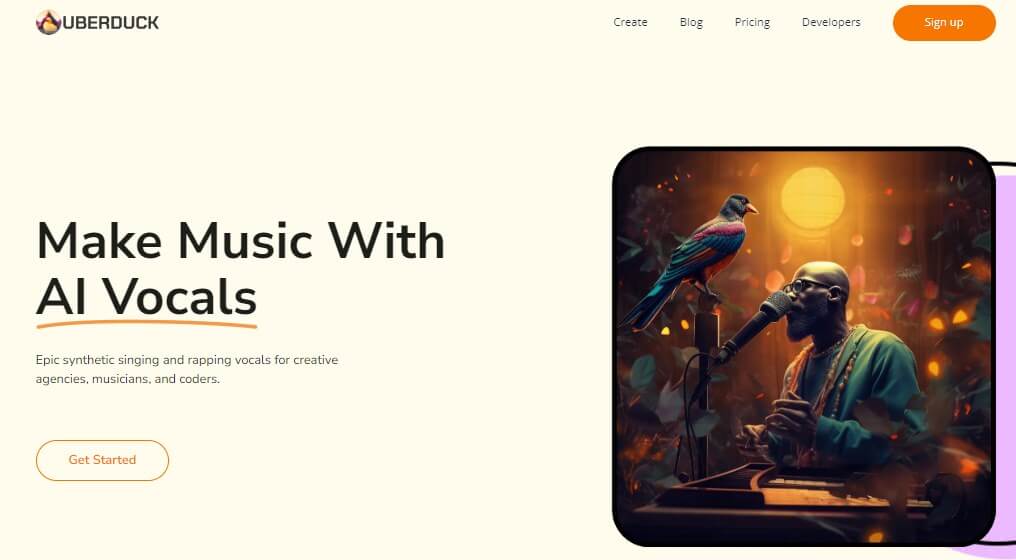 Key Features
Anyone can use API in their apps for a small price and include their outstanding features in their apps, while a regular user can utilize their regular functions for free.
5,000 royalty-free voiceovers available that you can use if you don't find a good Quandale Dingle voice changer app or tool online.
A fully featured workshop that helps users generate, tweak, and create top quality voice overs profiles.
User Rating:
On the Scam Advisor website, UberDuck.ai scores 92/100 on their Trustscore and is deemed a reliable Quandale Dingle voice changer tool you can use online. On the users' side, the consensus is 4.8/5.
3. FakeYou.com
To give your content the most realistic setting, you can use the online-only application Fake You Deepfake text-to-speech to synthesize voices from the input text. Let's say you're searching for a better FakeYou. Let's examine the main attributes and some advantages and disadvantages of the web-based tool.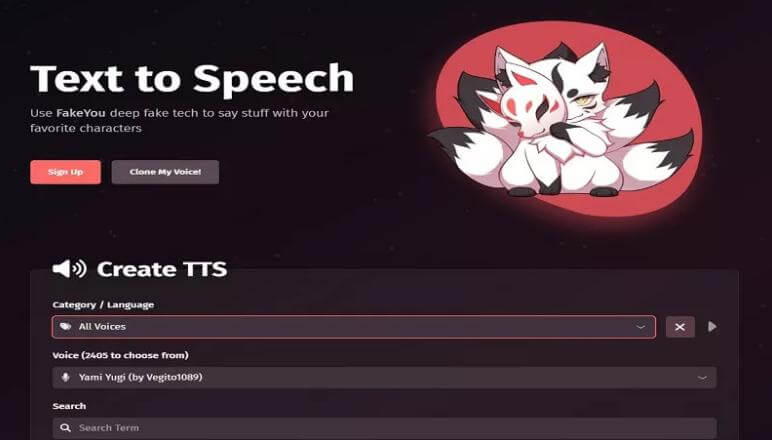 Key Features
An easy-to-use UI and intuitive controls that utilizes the AI technology behind every process.
The AI does a beautiful job of generating the best Quandale Dingle voice changer results, which are realistic and outstanding.
Increasing the quality of resultant voiceovers and soundboards with regular updates.
A massive and practical library of top-notch voices of up to 2,400, where more is added regularly.
The biggest community-funded and supported project online is Quandale Dingle voice changer or similar apps and tools.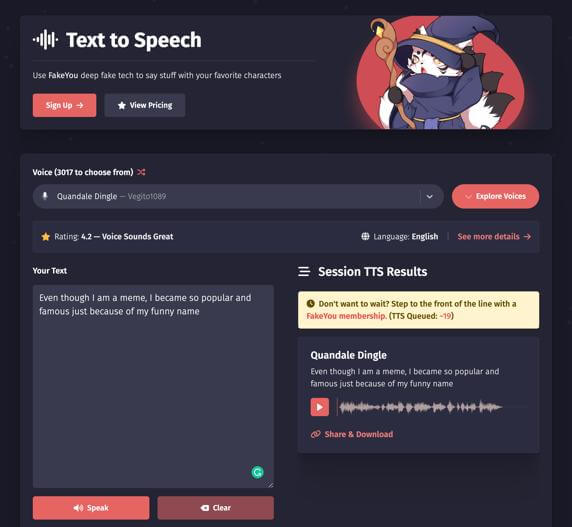 User Rating:
The user ratings for the FakeYou website are impressive as it is a community-funded and supported platform that the community supports big time.
Part 3: FAQs About Quandale Dingle Voice Changer
1 How Do You Get the Quandale Dingle Voice?
There are many online tools available that you can use right now that can act as a Quandale Dingle voice changer for you and give you excellent quality voiceovers from this meme celebrity.
In this article, we shared three such tools that are top-of-the-line and can help you with your required voiceover options.
2 Is There Any Quandale Dingle voice changer Online?
Yes, while many Quandale Dingle voice changer tools are available online, we have presented 3 of the best options for you in this article. You can use any of these fantastic voice changers and get the best results. The best thing about these tools is that they are all online.
Out of these options, TopMediai has become a fantastic option that can now create a ton of great voiceovers other than Quandale Dingle with premium quality.
3 Where to Get Quandale Dingle Voice and Meme Sound?
You can utilize any of the three meme sound generators and editors mentioned in this article and get the best results. Choose Quandale Dingle from their library and create the best meme media you want.
Conclusion:
This has been a good presentation of three excellent online tools you can use for your digital content for one of the most famous memes online these days. You can utilize any of these Quandale Dingle voice changer apps and get the best results.No matter which Quandale Dingle voice changer tool that you use, we recommend
TopMediai Online Voice Changer
for all your voice changing needs. It is a new and upcoming software which is destined to grow far.