Looking for a Robotic Voice Changer that can offer real and natural voices? Here, we have some of the best voice-changing software and tools that can change your voice in real time and change your pre-recorded audio. Let's have a look at the features of these tools and where you can use them.
Best Free Online Robotic Voice Changer
You can turn your voice into a robotic voice without downloading any tool, application, or software because it can be done by using an online tool. It will save you a lot of time and convert any voice into a robot voice effect without any hassle.
TopMediAi Free Online Voice Changer is a perfect online tool for changing any pre-recorded or live voice to the desired voice. There are dozens of commonly used voices available, and these are updated according to the requirement and trends.
You can either upload a file or record the voice in real time and then convert it to any voice you like. The converted voice can be downloaded to the computer in MP3 format. It is a simple robot voice generator.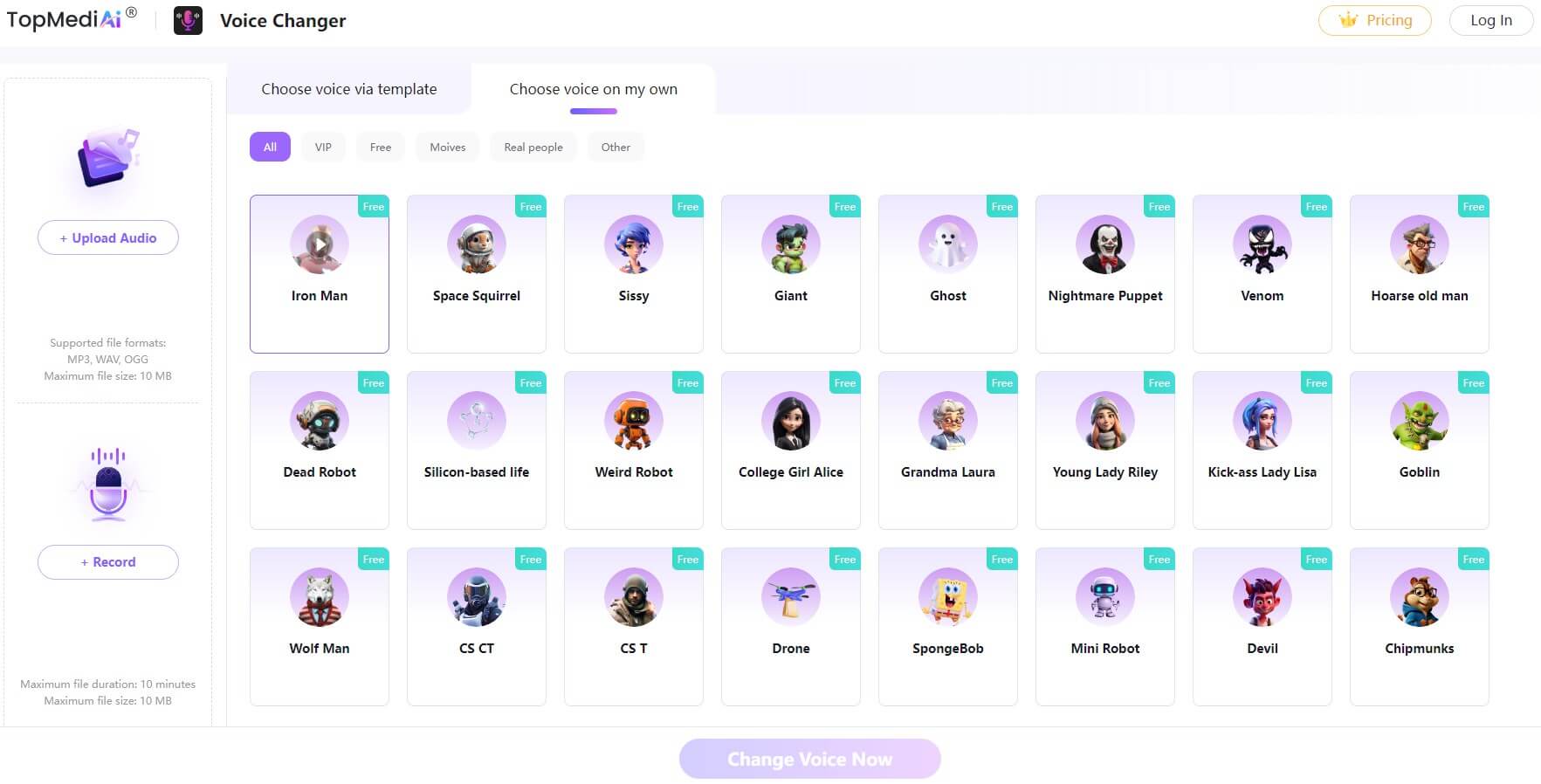 OS: As it is an online tool, you can use it on any computer or device. Just go to the website through any internet browser and use the tool. There is no compatibility issue; it works on all OS.
Key Features:
Dozens of pre-set voices are available, like robotic voice filters.
Converts voice with only one click.
The quality of the audio is splendid. It offers natural-sounding voices.
It is completely free; open the website and convert voices without creating an account.
The Best Robotic Voice Changer with Huge Robot Voice Effects
For professional voice changing, it is better to get a desktop tool or software that can do the job with perfection. iMyFone MagicMic is one of the best real-time voice-changing tools. You can change any voice to the desired voice in real-time. It is ideal for gaming, pranks, video recording, voiceovers, live streaming, etc.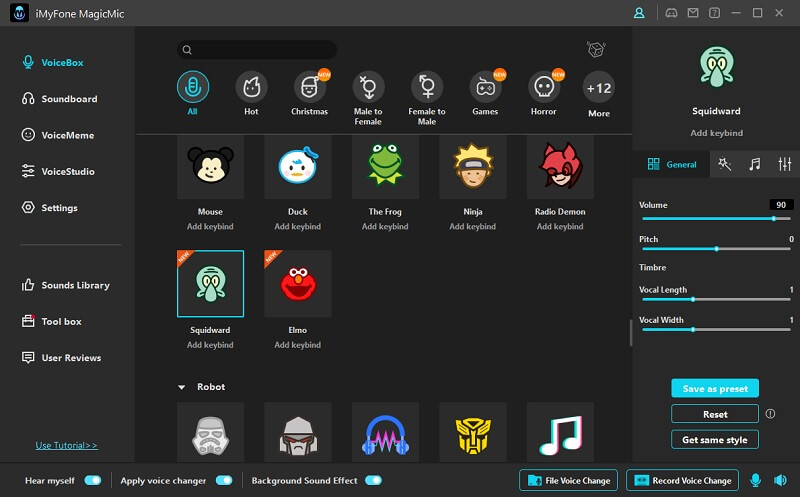 iMyFone MagicMic is a complete voice changer and voice editor. You can create your custom voice by changing the parameters. Finally, apply it to any audio/video. Plus, you can also reduce the noise in any audio by using this tool. Most importantly, the software is updated regularly, so you get new features, voices, tools, and effects.
OS: MagicMic is available for Windows, macOS, Android, and iOS. You can download it from the official website and try it for free.
Key Features:
MagicMic offers 125+ voice filters, 400+ voice effects, and 150+ voice memes.Including various robot voices.
Change your voice in real-time and use the application with live videos.
Supports custom voice to adjust voice characteristics according to the requirements.
Compatible with famous games, streaming websites, chatting tools, etc.
Keybinds control helps you use the shortcuts while changing the voice in real-time.
User Rate: 4.3
Popular Robotic Voice and Sound Effects Recommendation
Here are some of the popular robotic voice effect you can try on iMyFone MagicMic and the TopMediAi online tool.
Autotune
Autotune is the robotic voice that turns your original voice into a clean and perfect voice. It tunes everything and makes it up to the mark. You can use it for online video recordings, voiceovers, or anything you like.
Strormtrooper
Star Wars lovers like the stormtrooper voice. All soldiers in the fictional movie have the same voice, which is loved by the viewers. You can use this voice in iMyFone MagicMic. It sounds real and the same as you have heard in the movies.
Megatron
Megatron is the main antagonist of the Transformer series. People who like this fiction would love to convert their voice into the Megatron voice. The sound of Megatron is not easy to find on various platforms, but Topmediai online voice changer offers this voice. You can get the real voice in the VoiceBox, but it is included in the paid version.
Transformers
Transformers' voices are used when people want to change their voice according to the fictional Transformers. It is a general and common voice that you can find on iMyFone MagicMic, TopMediAi Online Voice Changer, and various other tools. Using the online tool, you can convert any pre-recorded voice to the Transformers voice for free.
Iron Man
Who wouldn't love to hear the deep and distinct voice of Tony Stark? If you are a Robert Downey Jr lover, this could be the best choice. The Iron Man voice is available for free in the online tool. It sounds natural and real, so you can choose it and convert your voice without any hassle.
Conclusion:
We have introduced two robot voice generators in this article. If you want to convert your audio quickly without downloading the software, you can use
TopMediAi Online Voice Changer
. It is completely free, and you can convert your pre-recorded voices. There are some trending, common, and popular voices on the website.
Now, pick the robotic voice changer you need.