Doja Cat has taken the music industry by storm with her unique voice and genre-bending music. Fans are always looking for ways to connect with their favorite artists. Now, it's possible to generate your own Doja Cat AI voice.
In this article, we will explore the world of Doja Cat, the rising star in the music industry, and discover the best way to generate your very own Doja Cat AI voice.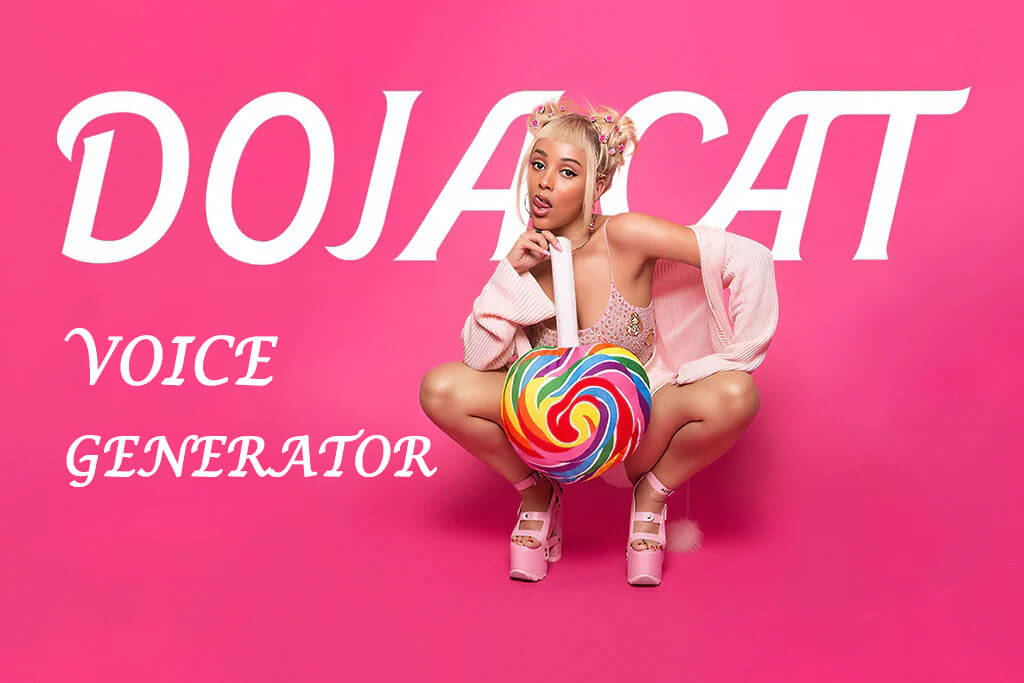 Part 1: Who is Doja Cat?
Doja Cat, born Amala Ratna Zandile Dlamini, is a rapper, singer, and songwriter from Los Angeles, California. She first gained popularity with her hit single "Mooo!" in 2018 and has since released two successful albums, "Amala" and "Hot Pink."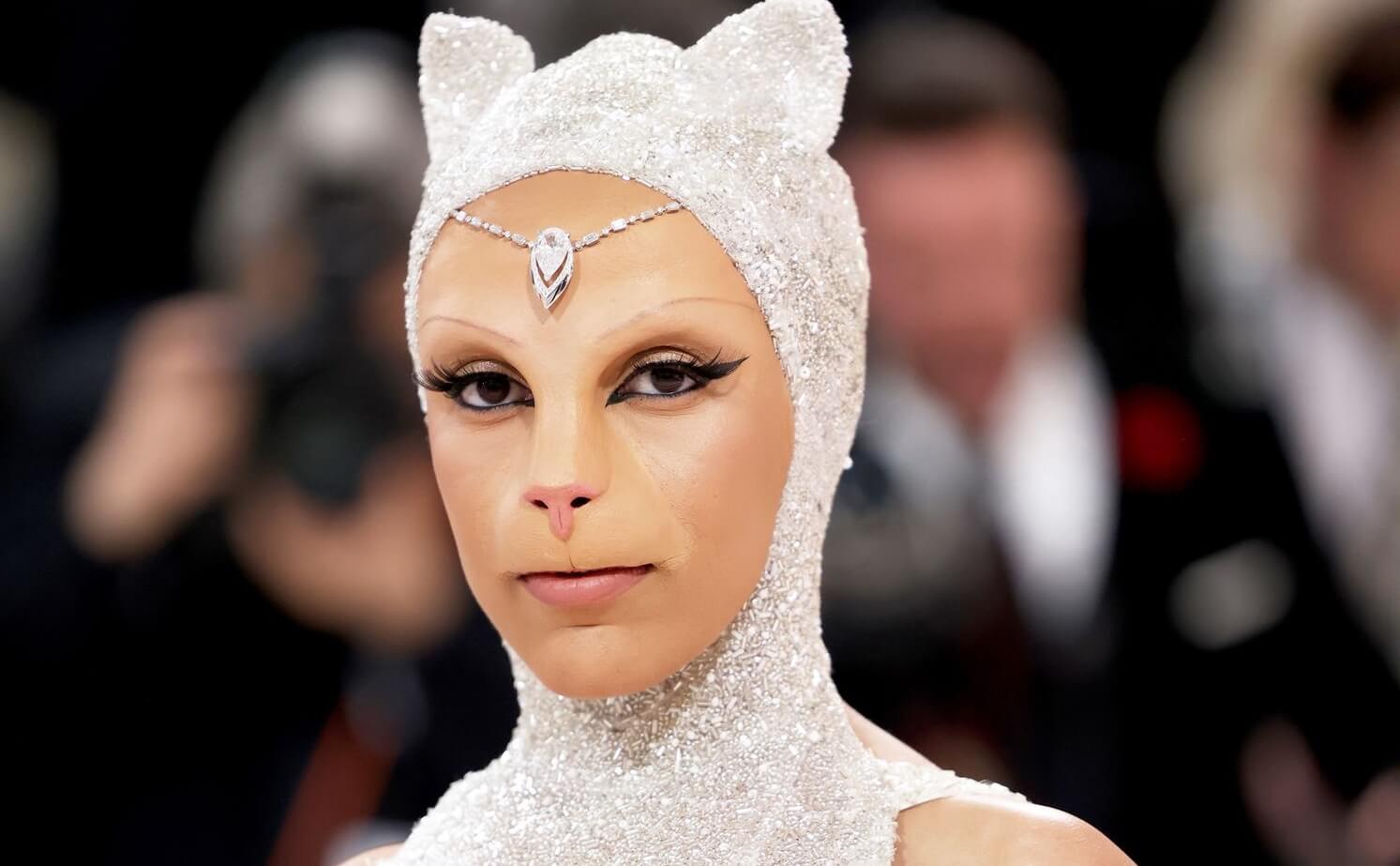 Known for her playful lyrics and catchy beats, Doja Cat has become a fan favorite and has even collaborated with big names in the industry such as Ariana Grande and Nicki Minaj. Her unique voice and infectious energy make her a favorite among music enthusiasts.
Part 2: [Highly Recommended]The Best Way to Generate Doja Cat AI Voice!
If you're a fan of Doja Cat and want to create your own AI-generated voice that sounds just like her, TopMediai is the best way to do it.
TopMediai offers a user-friendly interface, allowing you to input your desired text or lyrics and choose from various voice settings to customize the output.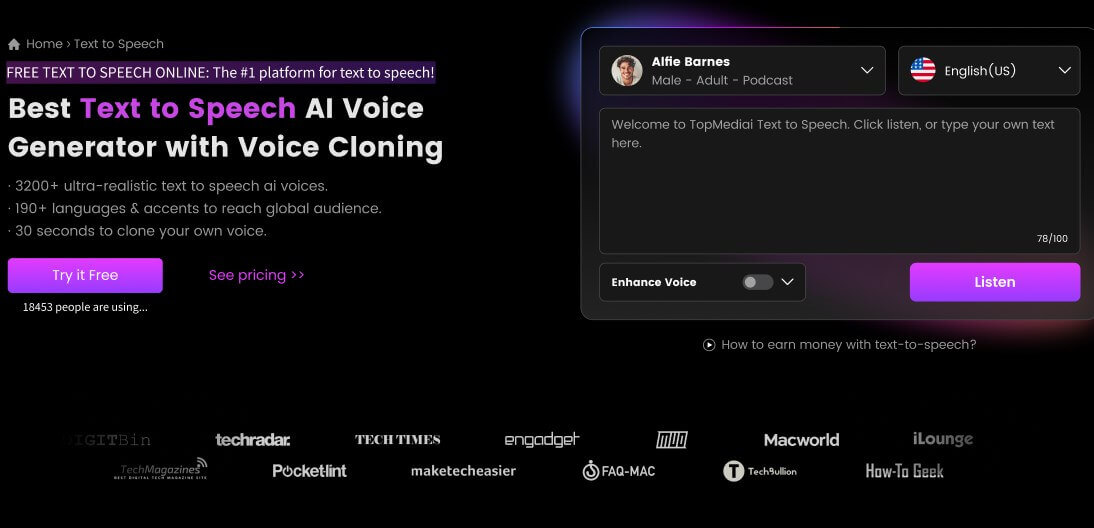 Whether you want to emulate Doja Cat's smooth and sultry tones or capture her energetic rap style, TopMediai provides the tools to bring your vision to life.
Easy steps to generate Doja Cat AI voice:
Step 1: Visit TopMediai website and access Text to Speech.
Step 2: Select the "Doja Cat" voice profile on the "Musicians" Type.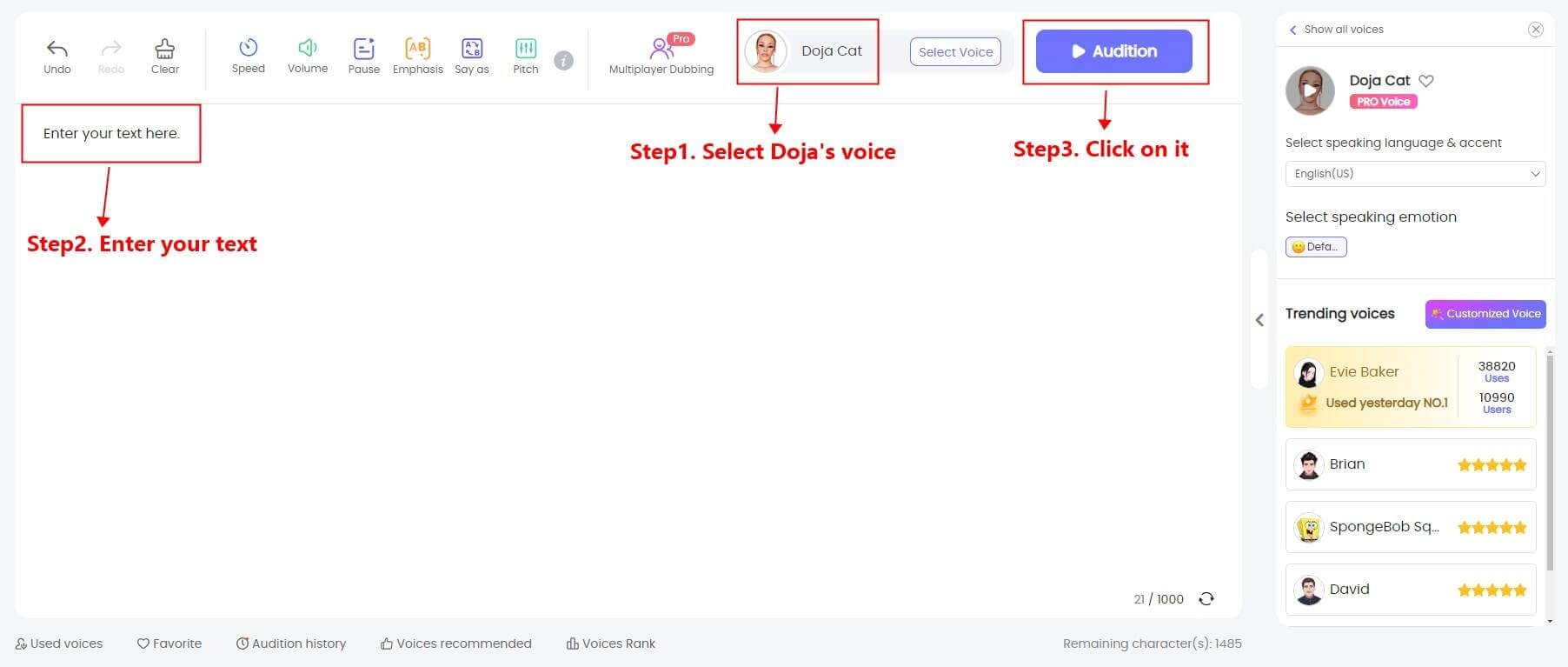 Step 3: Input your desired text or script that you want the AI voice to speak.
Step 4: Customize the voice parameters, such as pitch and tone, to fine-tune the output to your preference.
Step 5: Click on the "Convert" button and preview and download, let the AI voice generator work its magic.
Step 6: Preview and download the generated Gawr Gura AI voice file.
Above all, you could use these ai voice as voice pack for any purpose!
Key Features:
Our platform houses 3200+ voices, including those of Ariana Grande and Taylor Swift, with some available for free.
Over 70 languages are supported for enhanced accessibility.
Customize the voice's speed, pitch, and volume for superior sound quality.
Easily edit the audio at a later time.
Enjoy a wide range of Voice Generation and Speech Recognition features.
Explore the availability of text-to-speech voices from various singers.
Bonus: What's going on with Doja Cat and Stranger Things?
Aside from her music, Doja Cat has also made headlines recently for her involvement in the hit Netflix series, Stranger Things. Fans were thrilled to hear that Doja Cat would be contributing a song to the show's soundtrack, but were disappointed when it was revealed that her song would not be included in the final cut.
Despite this setback, Doja Cat remains one of the most exciting and innovative artists in the industry today, and fans are eagerly anticipating her next move.
Part 4: FAQs about Doja Cat AI Voice
1 Can I use the Doja Cat AI voice commercially?
Yes, you can use the Doja Cat AI voice generated by platforms like TopMediai for commercial purposes. However, it's always advisable to review the terms of service and licensing agreements of the specific platform you choose to ensure compliance with their guidelines.
2 What can I use the Doja Cat AI voice for?
The Doja Cat AI voice can be used in a variety of creative projects. Content creators can incorporate it into videos, podcasts, or commercials to add a unique touch. Musicians can experiment with the voice in their songs or remixes.
Additionally, fans can have fun by creating personalized voiceovers or messages using the Doja Cat AI voice. Even you could use Doja Cat AI Voice as Voice pack for Map Navigation.
3 What are the popular Doja Cat Songs?
Her biggest hit is "Say So" with 133.2 million streams, closely followed by "Boss B**ch" and "Streets" which rank as her second and third biggest songs, respectively. Other popular songs by Doja Cat include "Juicy" featuring Tyga, "Kiss Me More" featuring SZA, "Like That," and "Freaky Deaky" featuring Tyga.
ConclusionGenerating your own Doja Cat AI voice is easier than ever with TopMediai. With the help of TopMediai top voice generator, you can unleash your creativity and bring a touch of Doja Cat's magic to your content.
So, whether you're a professional or an enthusiastic fan, give it a try and let your imagination run wild with your very own Doja Cat AI voice. Get ready to take your creations to the next level!