You too are able to use the scary voice changer to prank your friends today. In this day and age, everyone enjoys a good prank on their friends, especially when playing online games.
It is however not usually easy to get a voice changer that you can rely on and that will not let you down. You can make prank calls, and much more by using the most advocated for voice changers.
This article highlights some of the best voice changers as well as prank call apps that can be used to prank your friends online and everything you should know about them.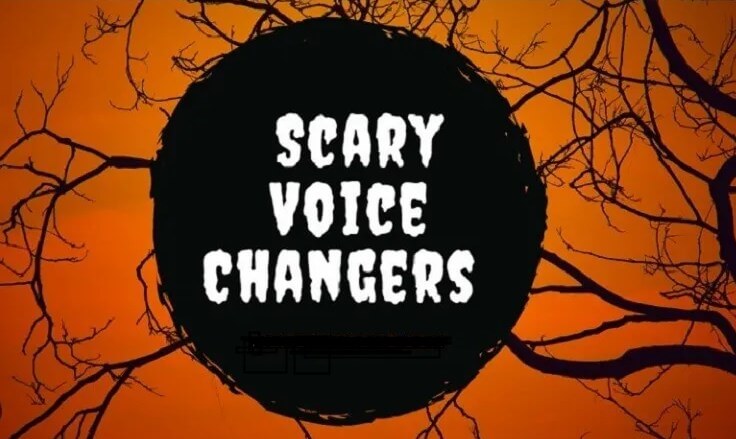 Part 1:How to make your voice sound scary?
If you are looking for ways of making your voice scary, your best two options are as given below:
1. Vocal training
With the right techniques and practice, you can learn how to manipulate your vocal cords and breath to create a deep, menacing tone that will send shivers down the spine of your listeners.
Tips
Lower your pitch: By consciously lowering the pitch of your voice, you can create a deeper and more authoritative tone that conveys a sense of power and menace.
Speak from your diaphragm: By using your diaphragm muscles to control your breath, you can produce a more forceful and resonant sound that will give your voice more depth and volume.
Use pauses and emphasis: By strategically pausing and emphasizing certain words or phrases, you can create a sense of tension and suspense that will heighten the fear factor of your voice.
Practice regularly: As with any skill, practice is key to improving your ability to create a scary voice through vocal training. Try practicing in front of a mirror or recording yourself to evaluate your progress and identify areas for improvement.
2.Use Online Voice Changer
The better and easier way to get a scary voice is by using a voice changer. Voice changers work by distorting the user's voice, changing the pitch and tone, or at times both to get the desired result for the user.
Part 2: Top 3 Free Scary Voice Changer Online to Make a Scary Voice
1. TopMediai Online Voice Changer
TopMediai scary voice changer is an online platform voice changer that is not only free but also has several background effects and voice filters that you can use to spice up your audio recordings. When it comes to scary free voices, TopMediai is the place to go. All you require is to have a web browser that will allow you to record and edit your audio.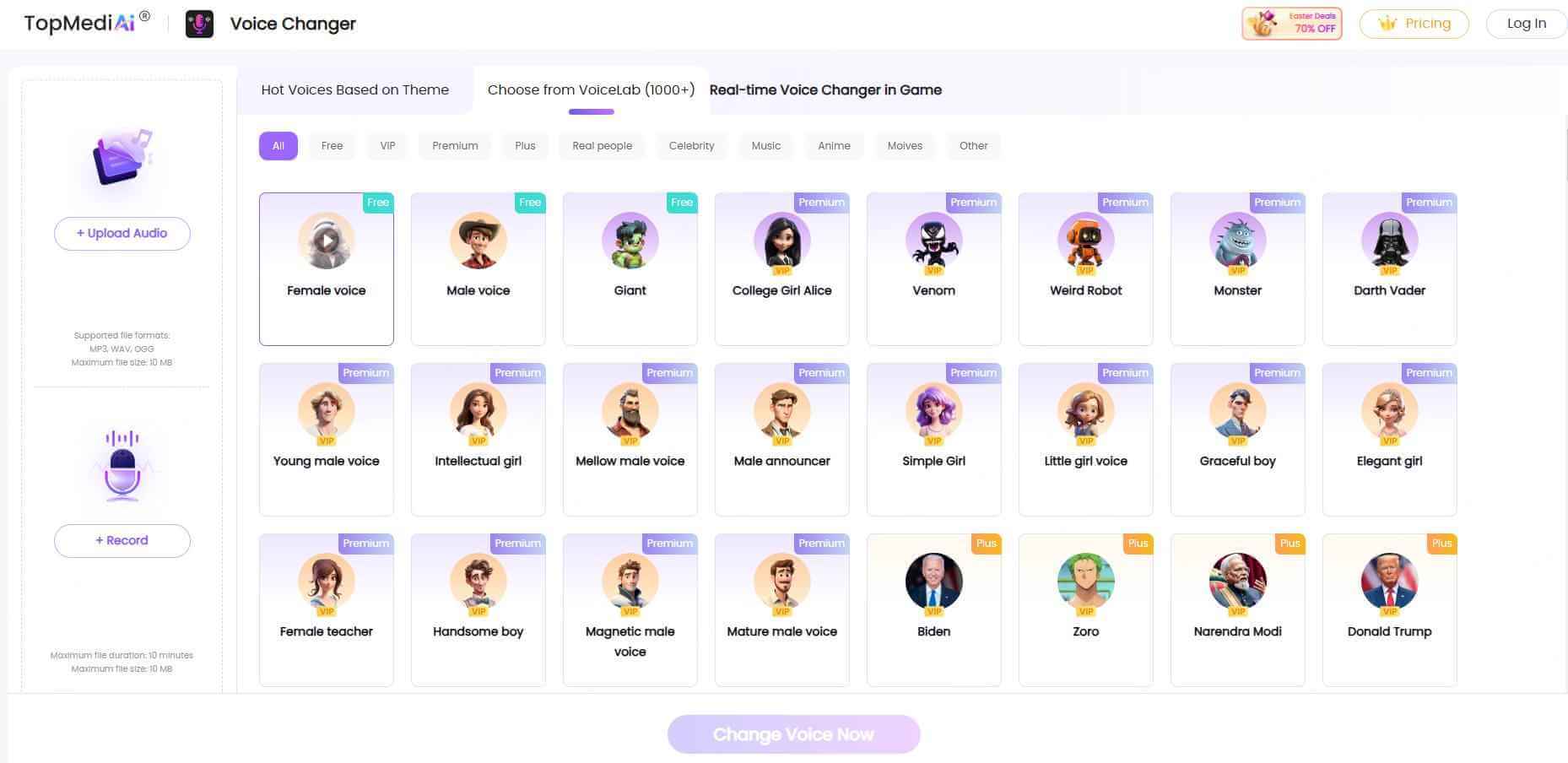 Key Features
From voice recording to uploading of audio files and even conversion of text to speech.
with a variety of voice effects that can change the pitch, speed, tone, and other characteristics of a user's voice. Some common effects include robotic, deep, high-pitched, and many others.
A user-friendly interface that makes it easy to select and apply voice alterations and effects.
Pros
TopMediai Ai scary voice changer is easy to use, even for those without technical expertise, making them accessible to a wider range of people.

It is a free platform with various options for editing.

It provides high-quality output voice.

Christmas, Birthday and other fun videos are easily created.

You can customize your voice filters.
Cons
Because it is an online voice changer, it requires access to the internet.
How to Steps:
Step 1. Click the button below and try it out
Step 2. You will be directed to a page with the option of either recording or uploading an audio file. Pick the suitable choice.
Step 3.From the various voice effects offered, choose whichever you would want to have your voice transformed into.
2.Scary Voice Changer & Recorder
Prank calls have never been made so easily. The scary voice changer and recorder is an app available for apple users that will give you all the options you need for scary voices. The app is not only limited to scary voices as the name would suggest, it has clowns and even alien voices as well, making it the best prank call app.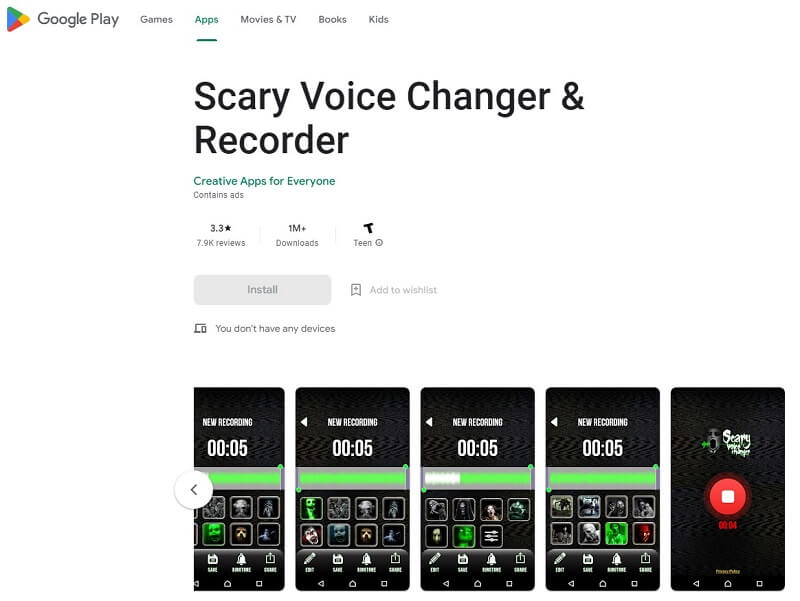 Key Features
It works in real time.
It is a modulator, voice changer as well as an editor.
It allows adjustment of the pitch as well as playback speed.
Pros
It is a free app.

You can adjust, in real time, your voice recording's pitch.

It offers several sound effects.
Cons
Some of its voices lack the quality of sounding realistic.
3.MagicMic
MagicMic is one of the creepy voice changers that you can get in the market. It is compatible with both macOS and Windows which makes it all-inclusive and together with its features, you simply cannot go wrong with MagicMic.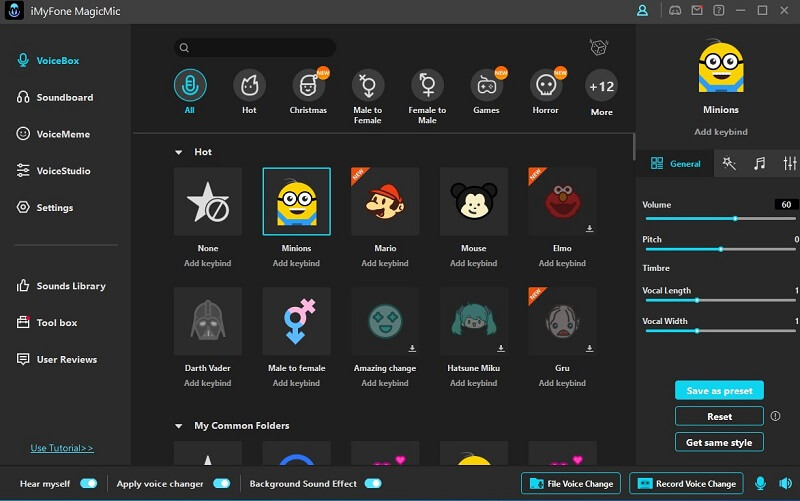 Key Features
More than 150+ voice effects and filters.
Background effects that are paired with the voice filters to make them more realistic.
It's a real-time voice changer, if you want to prank others, you can also connect this voice-changing app with online games & chatting applications and change their voice live there.
Pros
Compatible with Win/Mac/Android/iOS devices

Interface is user-friendly

Has lots of voice filters, effects, and memes
Cons
Some of the filters sound similar.

It is not as popular as other alternatives.
Final Words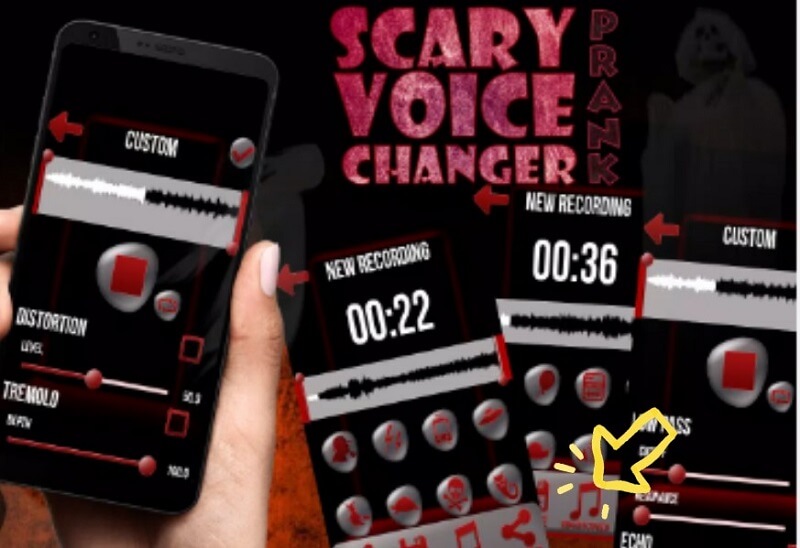 Deciding on which scary voice changer is the best no longer has to be a daunting task. With all the information above, you can get the best scary voice changer to make all your prank calls and have fun with your friends.