Want to prank your friends or want a prolific scary sound effect and background sound at your Halloween party? You might have hundreds of reasons to apply scary voice effects to your audio, but all you need is one practical solution. Scream voice changer is what you might be looking for.
We have come up with a list of the 5 best methods for users of Android, iOS, Windows, macOS, etc. Besides, we will also share an online scream voice changer that lets you play with your audio recordings or record scary voices in real-time. So let's get into it.
Part 1: 5 Amazing Scream Voice Changers For Your Choice
1.1 TopMediai Voice Changer (Online)
TopMediai Voice Changer is an online platform that can be capitalized as a ghostface voice changer. The free online tool has several voice filters and background effects to add to your audio recordings.
Whether you want a deep monster voice or
a scary voice
for Ghostface
, TopMediai Voice Changer Online is probably the best choice.
The free and online voice changer from the scream effect can be assessed from any platform or operating system. All you need is an internet connection and web browser to edit your audio or recording in real-time.
The main features of TopMediai Voice Changer are as follows:
Key Features
Real-time voice recording, upload audio files, text-to-speech conversion, etc.
AI-powered radio voice changer.
Social media platform sharing.
User-friendly interface for ease to use.
Voice editing feature like pitch, timbre, accent, etc.
Multiple platform support.
Custom voice filters.
Pros
Free platform with multiple editing options.

No installation is needed.

Custom voice filters.

Plenty of voice effects and filters to choose from.
Cons
Online voice changers need internet access.
1.2 Scary Voice Changer (Android)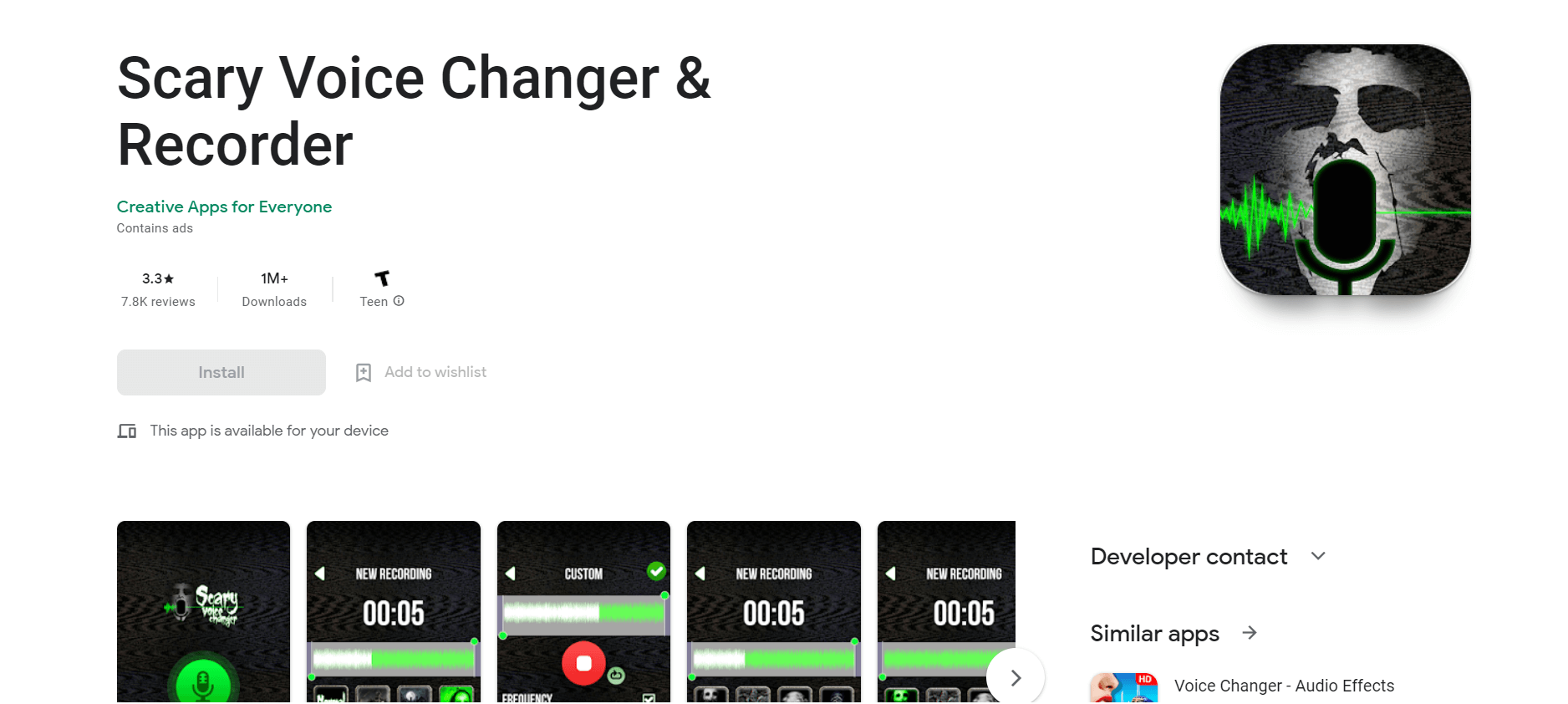 Scary voice changer is indeed sticking to its name but don't get overwhelmed to preview your scary voice converted by the tool. If you are an Android user, it's one of the best Ghostface voice changers.
Whether you want to prank your friends or want a background sound for a Halloween party, the voice changer has a plethora of scary screams to choose from.
You can install the app on your Android phone and get voice conversions effortlessly without looking for other solutions.Besides, the app also has voice filters featuring scary yet funny voices, aliens, monsters, clowns, etc.
The main features of the app are as follows:
Key Features
An all-in-one voice changer, modulator, and editor.
Real-time voice changing to scary scream.
Audio generator with several horrifying voice effects.
Noise cancellation, echo, and other effects are well managed for realistic sound.
Pitch and playback speed can be adjusted for precision.
Pros
Screamy voice changer app is for free.

Adjust the pitch of voice recording or in real-time.

Several sound effects for editing your voice.

No real-time voice changer means no integration with chatting platforms and games.
Cons
Some voices might not sound realistic
1.3 iMyFone MagicMic (Windows and Mac)
Whether you are a Windows user or have macOS, iMyFone MagicMic is one of the most effective solutions to convert screamy voices.
MagicMic by iMyFone has not only an innovative user interface but is loaded with several features and functions. You can get scream voice changer effortlessly.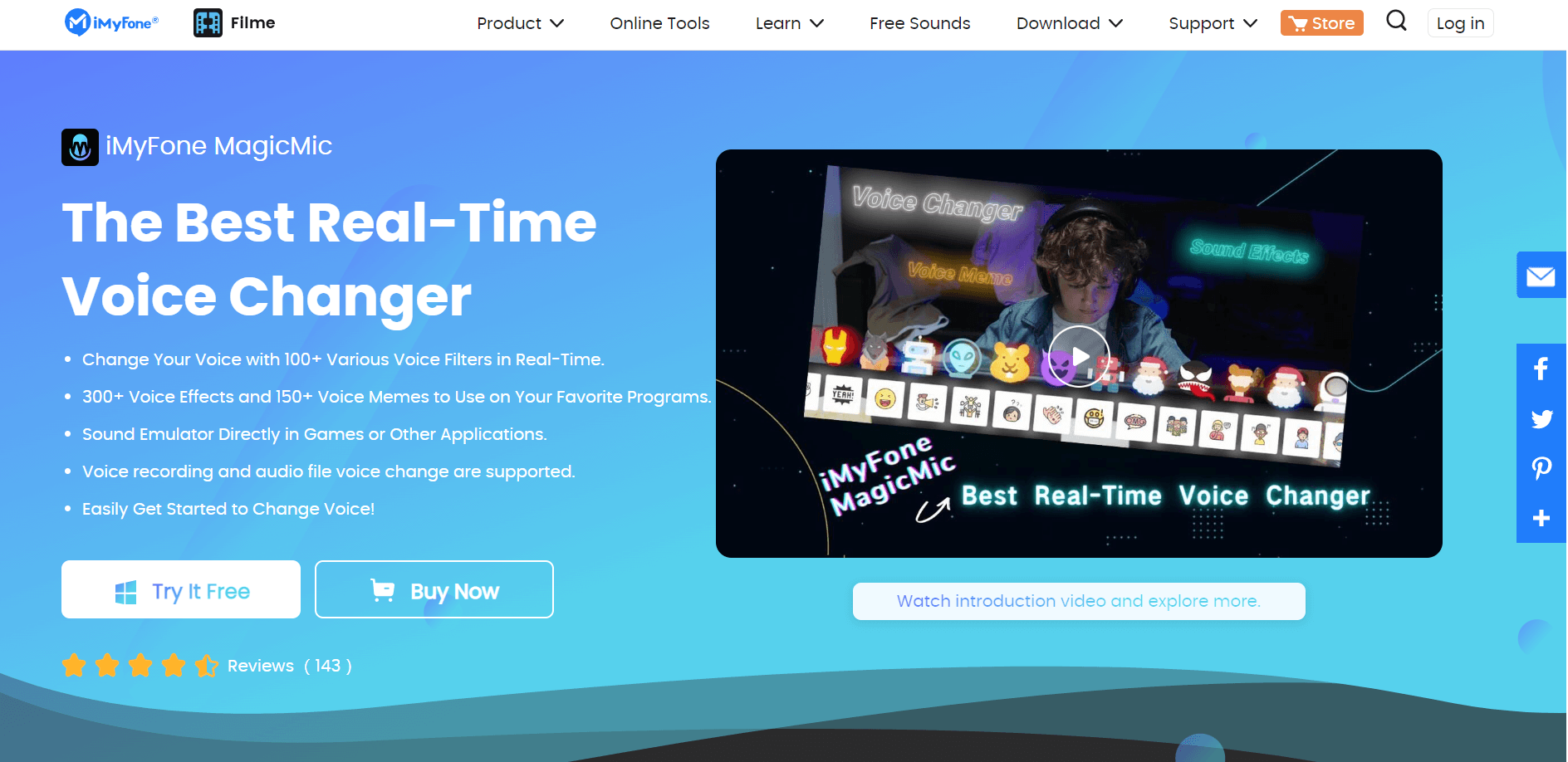 iMyFone MagicMic can also be integrated with several chatting platforms and games easily. It includes Steam, PubG, Xsplit, Overwatch, Streamlabs, Zoom, etc. Besides scream filters and background sounds, the app has over 200+ voice effects.
The main features of MagicMic are as follows:
Key Features
Several voice filters and effects like minions, chipmunks, aliens, devil, monsters, etc.
100+ voice filters and effects to transform your voice completely.
Add popular sound effects during chatting or gaming with over 300+ sound effects.
Built-in background sound effects within voice filters to give a realistic feel.
Soundboard and voice studio for advanced editing features.
Keybinds like play, cycle, replay, stop, etc.
Pros
Scream voice changer for Mac and Windows.

A plethora of voice effects and filters besides scream voice effect.

All-in-one scream voice changer app with voice studio, soundboard, and customization.

Voice filters with realistic background sounds.
Cons
Relatively less popular software than other alternatives in the market.

Some voice filters sound similar to each other.
1.4 Scary Voice Changer and Recorder (iOS)
We have yet another voice changer for iOS users: Scream Voice Changer and Recorder. The app for Apple users lets you add scary effects to your audios, apply scream filters, or add background effects to prank your friends.
Not only scary or scream effects, but the app also has several animal sounds and funny voices as well. Besides, you can capitalize on the converted audio files as your phone ringtone or notification tone.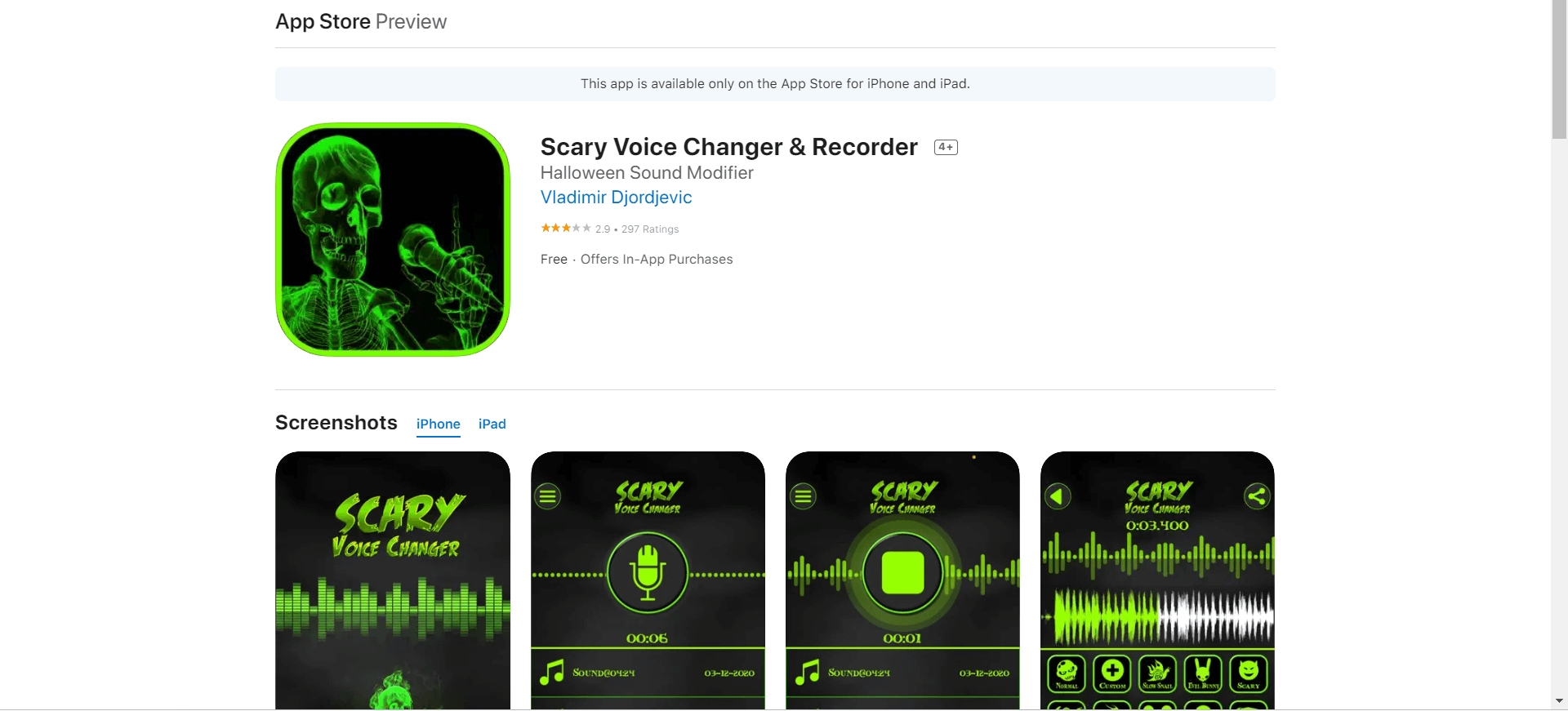 The main features of Scary Voice Changer & Recorder for iOS are as follows:
Key Features
Record audio in real-time and adjust with audio pitch, echo, etc., to add voice effects.
Easy to proceed simple 3 steps.
Shows results in real-time.
Compatible with all devices.
No irritating ads.
High-quality audio recording and conversion with the iOS scream voice changer.
Custom voices and filters can be added.
Integration with chatting apps like Discord.
Pros
A plethora of options to add scary effects to recorded audio files.

Modify your voices by adjusting pitch and echo.

Easy-to-use app.

An all-in-one sound recorder and editor.
Cons
The interface is way too brighter and dazzling.

In-app ads are annoying.

Not available for Android users.
1.5 MorphVOX Junior (Mac)
Last but not least, MorphVOX Junior is software for PC and laptop users running macOS. The versatile macOS scream voice changer has sound effects and voice-changing filters for social media sharing or using while playing games.
You can edit your audio or change voice in real-time with the effortless and simple-to-use app on your Macbook.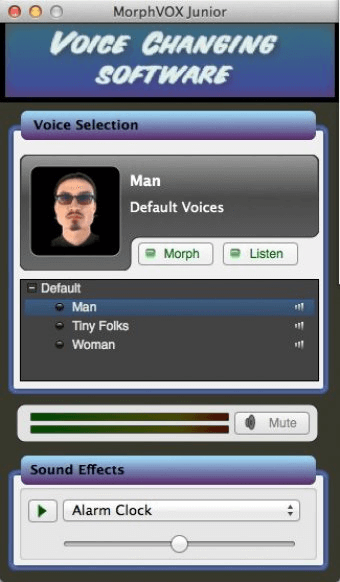 Besides scary voice effects in MorphVOX Junior, there is a lot more to discover, like male-to-female voice, ghostface voice changer, funny voice effects, background sounds, etc. The main features of the app are as follows:
Key Features
Equipped with advanced sound editing and altering phenomenon and techniques.
Real-time voice changing while chatting, playing games, or voice chat.
The output quality is maintained in the software for macOS.
Several parameters to adjust the pitch, echo, and volume of your voice.
Realistic background sounds, sound effects, and voice filters.
Pros
Audio bundles can be downloaded separately.

A plethora of scary voice effects and background sounds.

High-quality output with the realistic feel.
Cons
There are only 3 voices in the free version of the software.

The price is comparatively high to get ghost voices at $39.9.

Better free alternative software and apps.
Part 2: Feature Comparison Of Ghostface Scream Voice Changer
Here is a feature comparison of Ghostface Scream Voice Changers for your references!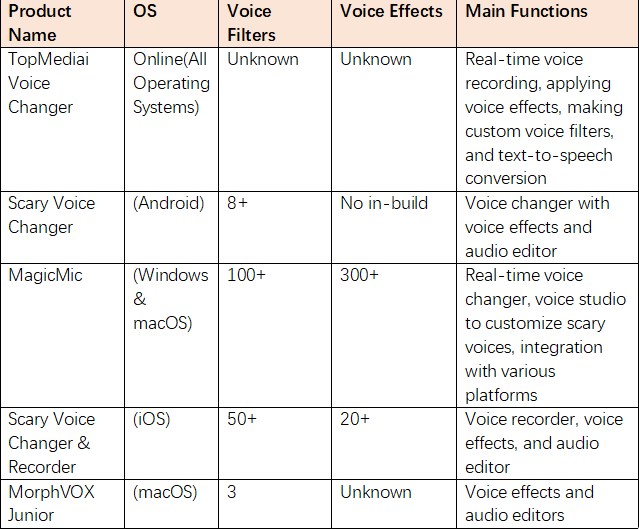 Part 3: FAQs About Scream Voice Changer
1Can I get a screaming voice online, and how?
You can get a screaming voice online with TopMediai Voice Changer, which has many voice effects, background sounds, and voice filters to choose from. Besides, you can also create your own scream voice effect to add spice to your audio recordings.
2Is there a scream voice changer app?
MagicMic by iMyFone is an app for Macbook and Windows laptops that lets you choose from multiple scary voice filters and background sounds. The output quality of the scream voice changer result is excellent and realistic.
3Is there a ghost face voice changer app?
Ghostface voice changer apps are available on Playstore, but the Scary voice changer for Android is the one with the most simple and useful features. You can adjust voice pitch, apply already available effects, and control how to share your scary voices.
Final Words:
When you are looking for a simple-to-use, practical, and free voice changer, you might come across different apps and platforms. However, TopMediai Voice Changer Online is the best online Scream voice changer with several voice effects, filters, and background sounds.
With prolific voice effects, the ability to create custom filters, and real-time voice recording, the free platform is worth trying without any operating system limitations.