Are you looking for a way to add some terror to your Halloween costume or prank? Are you a fan of the movie Scream and want to recreate the iconic voice? Look no further than the scream voice changer! In this article, we will explore the world of scream voice changers and scream voice and why they're so popular.

Part 1: What is a Scream Voice Changer?
A scream voice changer is a device or app that alters your voice to sound like the iconic character Ghostface from the movie Scream. The device works by changing the pitch and tone of your voice to create the distorted, menacing sound that the character is known for.
Why You Should Have a Scream Voice Changer:
Key Features:
Halloween costumes: Scream voice changers are a great way to take your Ghostface costume to the next level. With the ability to sound like the character, you can add an extra element of terror to your costume.
Pranks: Scream voice changers are also popular for pranks. Use them to scare your friends or family with creepy voicemails or prank calls.
Content creation: If you're a content creator or performer, a scream voice changer can add a new dimension to your work. Use it to create spooky sound effects or to voice a character in a horror-themed video or podcast.
Part 2: What is the Movie Scream?
Released in 1996, Scream is a horror movie that follows the story of a group of high school students who are being targeted by a masked killer. The killer, who calls himself Ghostface, uses a distorted voice to taunt and terrorize his victims. The movie was a box office success and has since become a cult classic.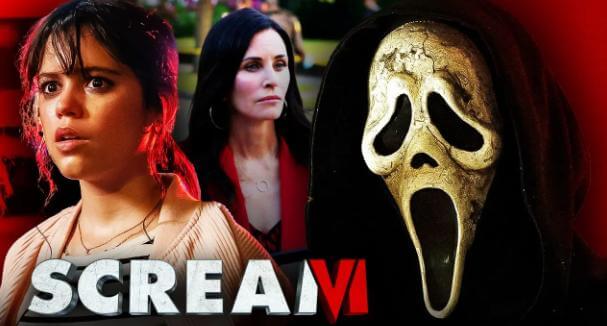 Part 3: Best Scream Voice Changer Recommended
TopMediai Voice Changer is an online platform that can be capitalized as a ghostface voice changer. The free online tool has several voice filters and background effects to add to your audio recordings.
Whether you want a deep monster voice or a scary voice for Ghostface, TopMediai Voice Changer Online is probably the best choice.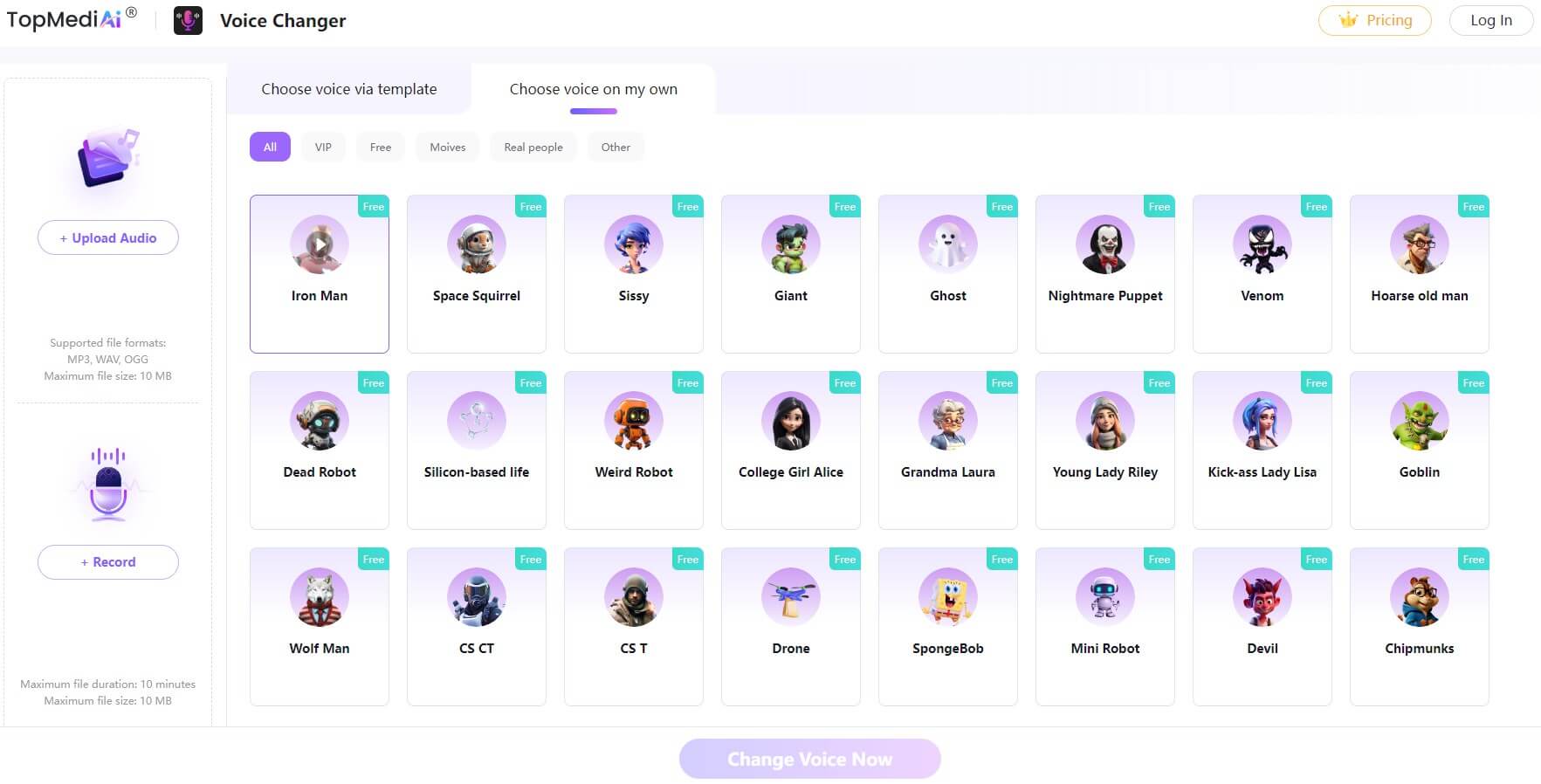 The free and online voice changer from the scream effect can be assessed from any platform or operating system. All you need is an internet connection and web browser to edit your audio or recording in real-time.
Key Features
Real-time voice recording, upload audio files, text-to-speech conversion, etc.
AI-powered radio voice changer.
Social media platform sharing.
User-friendly interface for ease to use.
Voice editing feature like pitch, timbre, accent, etc.
Multiple platform support.
Custom voice filters.
Pros
Free platform with multiple editing options.

No installation is needed.

Custom voice filters.

Plenty of voice effects and filters to choose from.
Cons
Online voice changers need internet access.
3.2 Scary Voice Changer (Android)
Scary voice changer is indeed sticking to its name but don't get overwhelmed to preview your scary voice converted by the tool. If you are an Android user, it's one of the best Ghostface voice changers.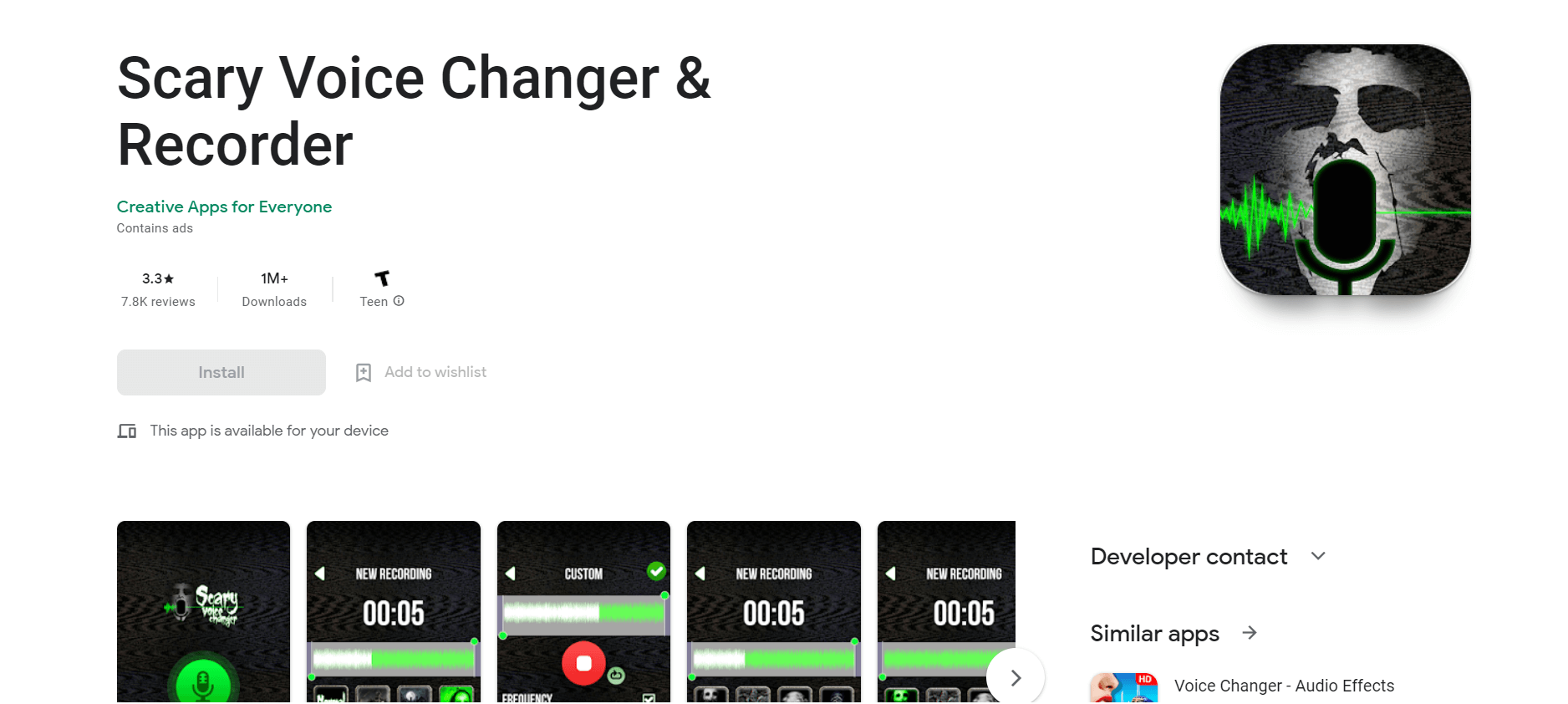 Whether you want to prank your friends or want a background sound for a Halloween party, the voice changer has a plethora of scary screams to choose from.
Key Features
An all-in-one voice changer, modulator, and editor.
Real-time voice changing to scary scream.
Audio generator with several horrifying voice effects.
Pros
Screamy voice changer app is for free.

Adjust the pitch of voice recording or in real-time.

Several sound effects for editing your voice.

No real-time voice changer means no integration with chatting platforms and games.
Cons
Some voices might not sound realistic
3.3 iMyFone MagicMic (Windows and Mac)
Whether you are a Windows user or have macOS, iMyFone MagicMic is one of the most effective solutions to convert screamy voices.
MagicMic by iMyFone has not only an innovative user interface but is loaded with several features and functions. You can get scream voice changer effortlessly.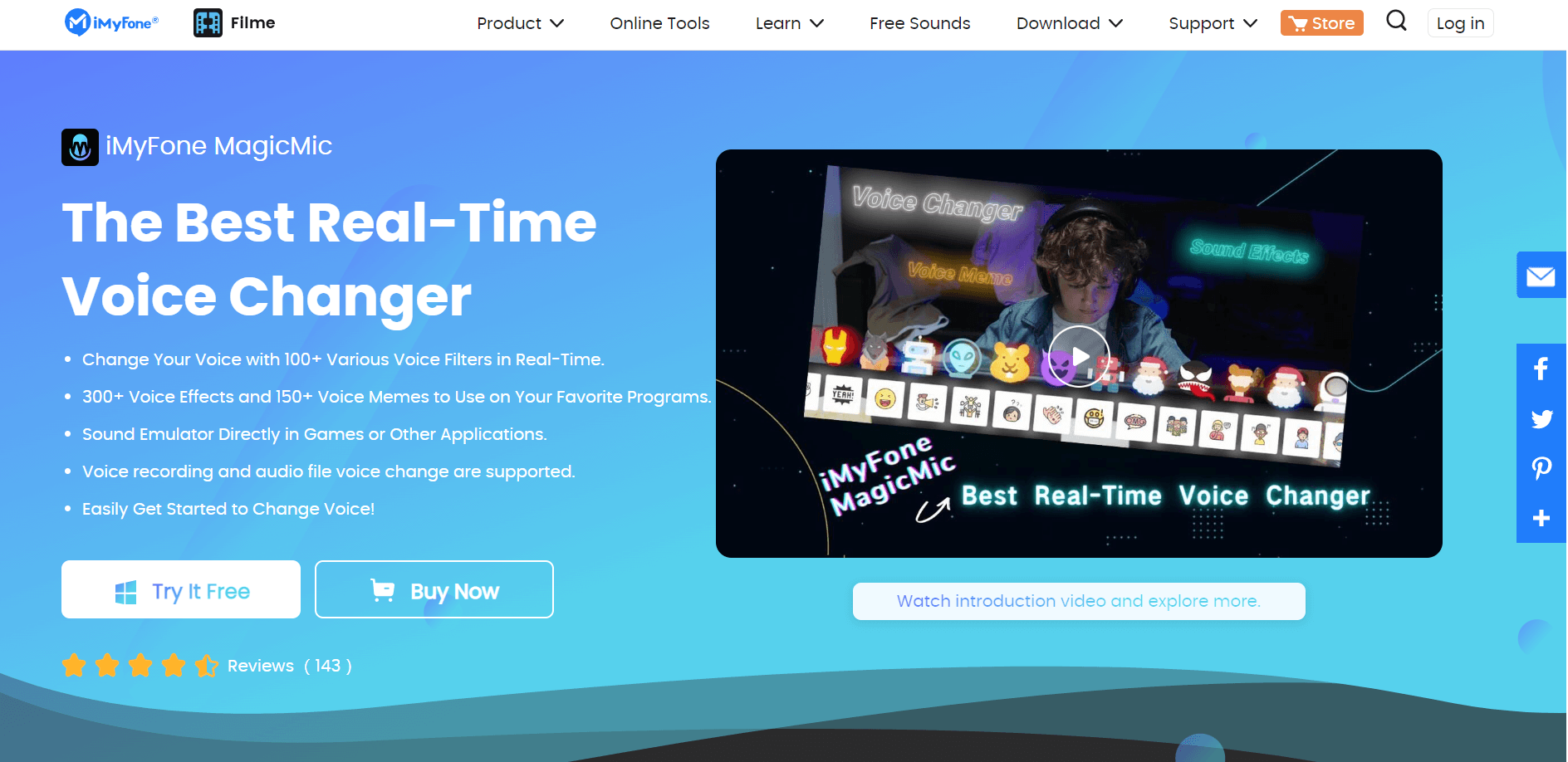 Key Features
Several voice filters and effects like minions, chipmunks, aliens, devil, monsters, etc.
100+ voice filters and effects to transform your voice completely.
Add popular sound effects during chatting or gaming with over 300+ sound effects.
Built-in background sound effects within voice filters to give a realistic feel.
Pros
Scream voice changer for Mac and Windows.

A plethora of voice effects and filters besides scream voice effect.

All-in-one scream voice changer app with voice studio, soundboard, and customization.

Voice filters with realistic background sounds.
Cons
Relatively less popular software than other alternatives in the market.

Some voice filters sound similar to each other.
3.4 Scary Voice Changer and Recorder (iOS)
We have yet another voice changer for iOS users: Scream Voice Changer and Recorder. The app for Apple users lets you add scary effects to your audios, apply scream filters, or add background effects to prank your friends.
Not only scary or scream effects, but the app also has several animal sounds and funny voices as well. Besides, you can capitalize on the converted audio files as your phone ringtone or notification tone.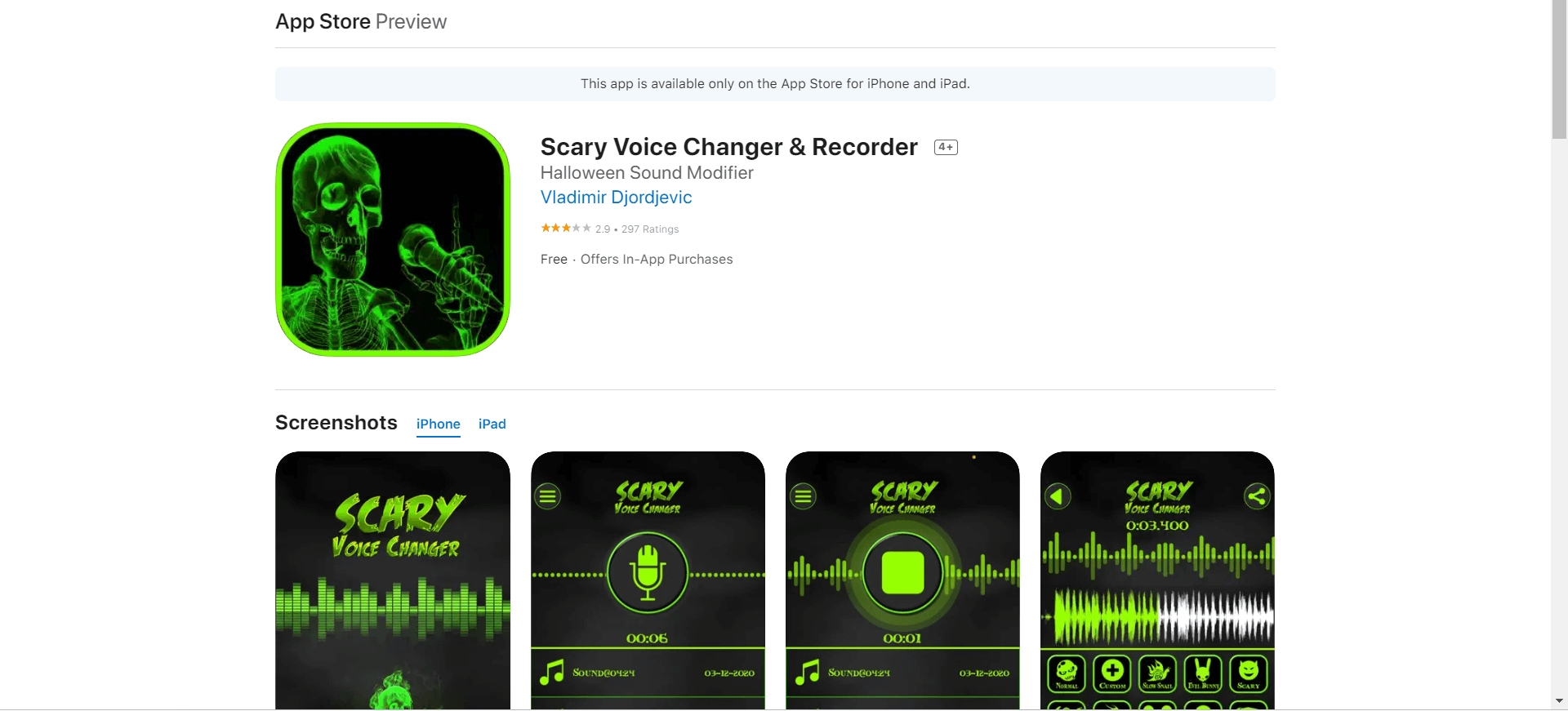 Key Features
Record audio in real-time and adjust with audio pitch, echo, etc., to add voice effects.
Easy to proceed simple 3 steps.
Pros
A plethora of options to add scary effects to recorded audio files.

Modify your voices by adjusting pitch and echo.
Cons
The interface is way too brighter and dazzling.

In-app ads are annoying.

Not available for Android users.
Part 4: Feature Comparison Of Ghostface Scream Voice Changer
Here is a feature comparison of Scream Voice Changers for your references!
| Product Name | OS | Voice Filters | Voice Effects | Main Functions |
| --- | --- | --- | --- | --- |
| TopMediai Voice Changer | Online (All Operating Systems) | 53+ | 200+ | Real-time voice recording, applying voice effects, making custom voice filters, and text-to-speech conversion |
| Scary Voice Changer | (Android) | 8+ | No in-build | Voice changer with voice effects and audio editor |
| iMyFone MagicMic | (Windows & macOS) | 100+ | 300+ | Real-time voice changer, voice studio to customize scary voices, integration with various platforms |
| Scary Voice Changer & Recorder | iOS | 50+ | 20+ | Voice recorder, voice effects, and audio editor |
| MorphVOX Junior | macOS | 3 | Unknown | Voice effects and audio editors |
Part 5: FAQs About Scream Voice Changer
1 Can I get a screaming voice online, and how?
You can get a screaming voice online with TopMediai Voice Changer, which has many voice effects, background sounds, and voice filters to choose from. Besides, you can also create your own scream voice effect to add spice to your audio recordings.
2 How does a scream voice changer work?
A scream voice changer works by changing the pitch and tone of your voice. It usually comes with pre-recorded Ghostface phrases that you can play back with the altered voice.
3 Can I use a scream voice changer on my phone?
Yes, there are several scream voice changer apps available on both the App Store and Google Play. They work by recording your voice and then altering it using pre-set filters. Also you can use the TopMediai to enjoy screan voice changer online.
Conclusion:
In conclusion, a scream voice changer is a fun and versatile tool that can be used for Halloween costumes, pranks, and entertainment. With the ability to alter your voice and sound like the iconic Ghostface, it's sure to be a hit with horror fans and pranksters alike.
Whether you choose a standalone device, app, or software program, a
scream voice changer
is a must-have for anyone looking to add some terror to their life. Here recommend
TopMediai
Voice Changer online.