Do you want to hide your identity by changing your voice on Zoom? Do you want to have fun with your loved ones during meetings? If yes, then read this article thoroughly. We have created this complete guide on the Zoom voice changer. You will find different voice changer for Zoom according to your device compatibility. So, let's start!
Best Free Online Voice Changer You Should Try
TopMediAI Online Voice Changer
TopMediAI Online Voice Changer is an online voice changer from iMyFone. This voice changer is one of the simplest, easiest, and fast online voice converters. It has a strong AI algorithm that accomplishes the whole task independently. Users are just required to give some instructions through a few clicks.
TopMediAI has the power to convert the original sound file into 50+ different voices and sounds. You can find an immense variation in the sound type for clear and realistic conversion of audio clips.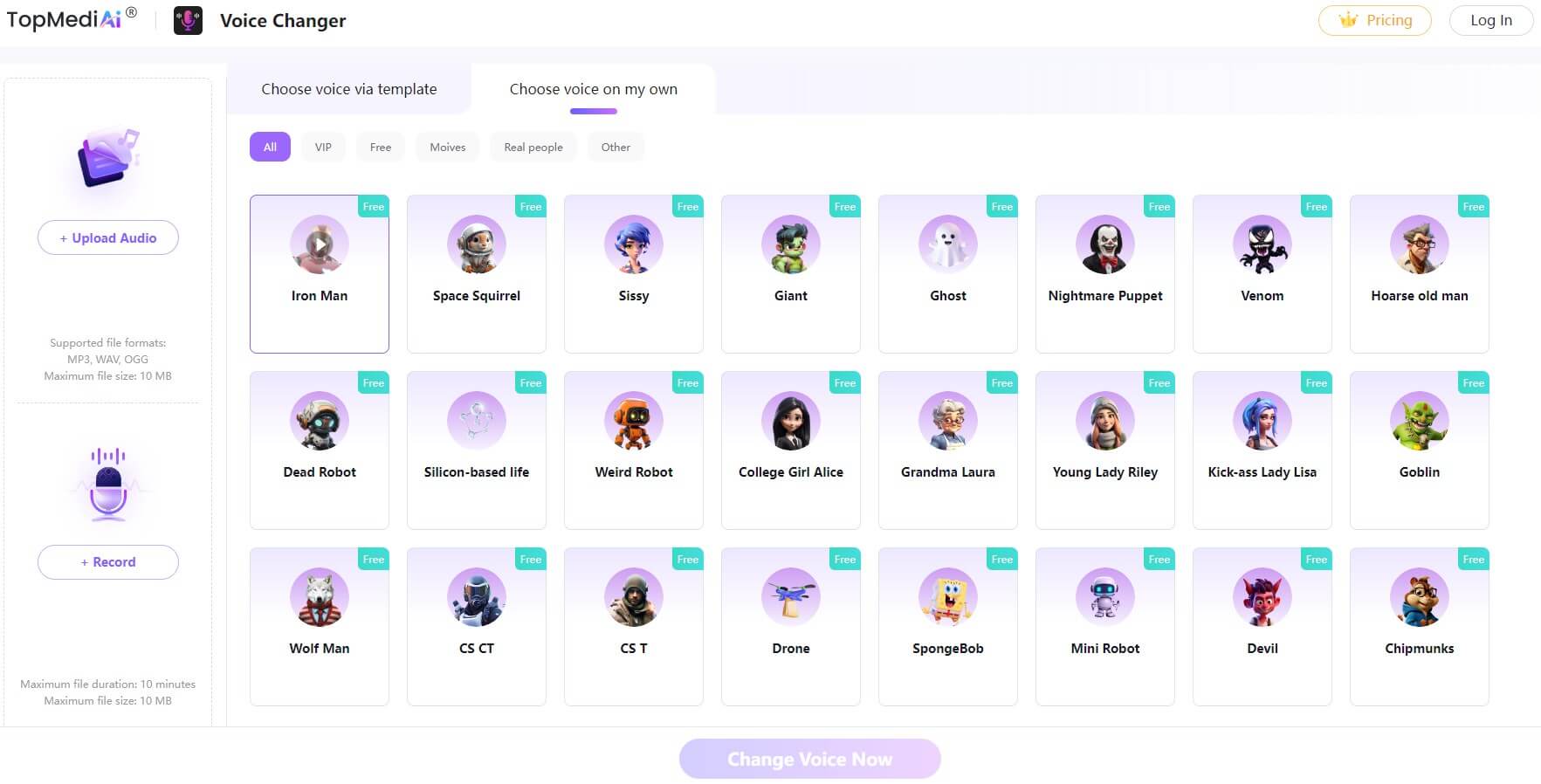 It can change a pre-recorded voice into various voices totally free of cost. After uploading or recording the original soundtrack, just select the voice of your interest, and it will automatically convert the original sound into the selected voice type. Once you convert your voice, you can download it on your device to use later. Moreover, it also has the option to share the final file on different social media platforms for the ease of its users. 
OS: As it is an online tool, it is compatible with all operating systems. You just need an active and good internet connection, and you will be good to go. It is an excellent voice changer for zoom chromebook and mac.
Key Features:
Available for all operating systems.
Offers 50+ different built-in voices.
Allow smooth and fast voice conversion.
Provide sharp, clear, and realistic converted file.
Allow to download and directly share final file on different platforms.
Very simple and digestive user interface.
User Rating: The online product is from iMyFone, which has a user rating of 4.7 / 5 stars on Trustpilot. Moreover, it has an excellent status with 3430 transparent and honest user reviews on Trustpilot.
User Experience: TopMediAI is a very simple and straightforward online tool with a few short steps. Its AI algorithm makes its user experience best for professionals as well as for beginners.
Best Voice Changer for Zoom on Windows & Mac
MagicMic Zoom Voice Changer
MagicMic Voice Changer is another wonderful software that can convert voice effectively and professionally in a very feasible manner. It is professionally and carefully designed for commercial and professional uses. Its impressive library of different voices, voice filters, and voice effects makes it different from other software. MagicMic offers a free version for beginner users, and it also has paid plans with different high-end features and functions.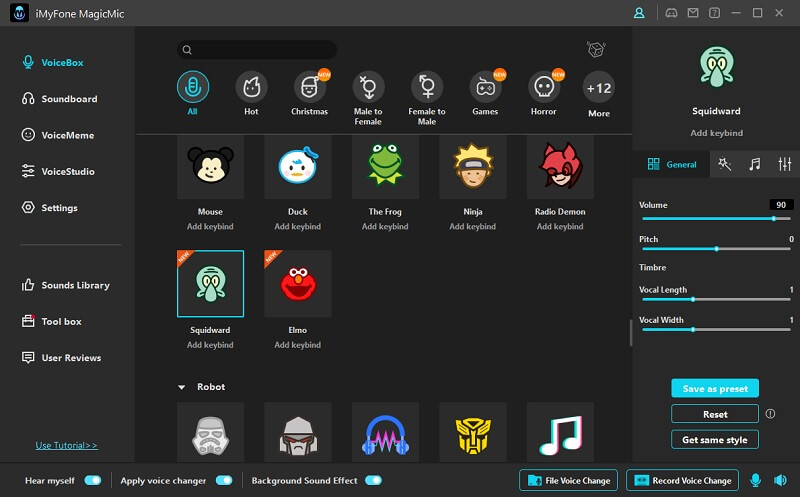 The user interface of this software is designed keeping a modern scheme in mind. Its UI allows it to work calmly and smoothly throughout the procedure. As it can convert real-time voice clearly, anyone can easily use it as the best voice changer for Zoom meetings. Not only on Zoom, but you can also use MagicMic to convert voice on other platforms as well, like during gameplay and online streaming.
Operating System: MagicMic is compatible with Mac OS, Windows, Android, and iOS. It offers a VIP account that can be used on all these platforms.
Key Features:
125+ real-time voice filters,600+ in-built voice memes.
Allows to share the converted sound directly into different platforms and games for voice conversion.
Voice recording and pre-recorded voice changes are supported.
Live voice changer is supported.
Available for Mac, Windows, Android, and iOS.
User Rate: MagicMic bears a good status by the appreciation of 427 great user reviews and 4.5/5 stars user ratings. This software is popular and is loved by a good number of people. Almost 1005113 users have downloaded it till now.
Best Free Voice Changer for Zoom Chromebook
Clownfish Voice Changer
Clownfish Voice Changer is considered one of the most feasible and flexible voice changers because it can be used on platforms having microphones. The software is a very good voice changer for zoom Chromebook users for converting their voices into different sounds in real-time or in recorded form.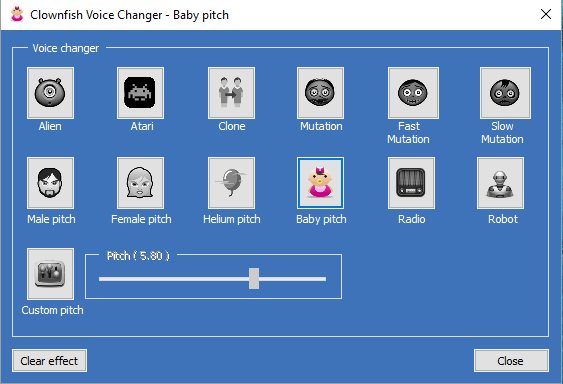 The realistic voice list of Clownfish Voice Changer includes Alien, Atari, Female Pitch, Helium Pitch, Radio, Robot, Silence, Male Pitch, and many more. Other than this, it also offers a Music Player to edit and control audio clips according to the user's choice. Overall, it is a great software to change your voice and have fun during Zoom meetings for Chromebook users.
Operating System: It is compatible with all devices having a microphone or other audio-capturing devices. However, Windows platforms, including Vista/7/8/8.1/10/11 are preferred.
Key Features:
10+ built-in supported voices.
Very easy and simple to use.
Beginner-friendly user interface
Compatible with all Windows versions
Conclusion:
Using Voice Changer is trendy nowadays. There are different platforms and scenarios where people change their voices through professional
Zoom voice changers
to have fun with family and friends. Similarly, Zoom is a platform where people want to use changes in voice for different purposes. In this article, we have shared the multiple
voice changers for Zoom
.
TopMediAi Online Voice Changer
is our choice.