Are you fond of funny content? Do you want to get humorous memes and videos for free?If yes, then you are at the right place. We will share a big and excellent platform (iFunny.co) to generate and download funny content for free. Moreover, we will also let you know how to remove iFunny.co watermark from images/memes using different software and tools.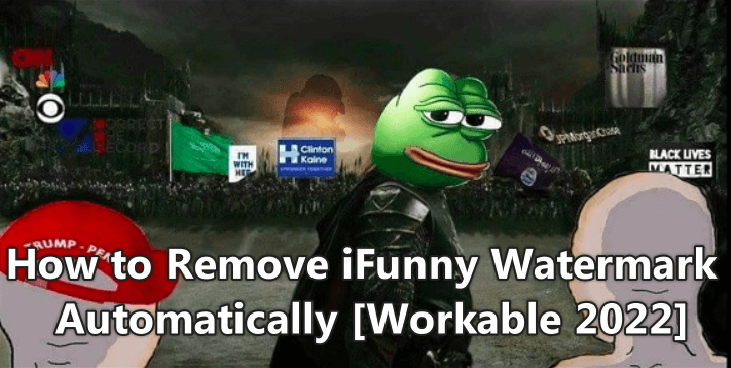 Part 1: What is iFunny and Why Is It Popular?
iFunny.co is a platform that provides a huge collection of humorous ifunny watermark memes, GIFs, images, and videos.
This can also be referred to as a meme generator because it allows users to get different meme catalogs for selecting different varieties and types of memes.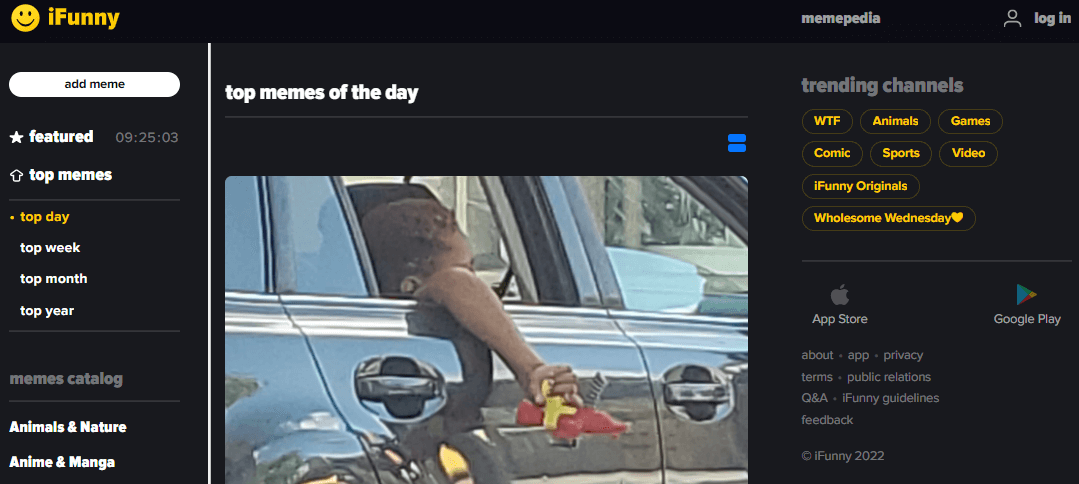 iFunny.co is designed with an interlinking comment section through which different people interact and exchange their content and ideas.
The website does not limit the memes/content to iFunny.co only, but people can also share the website's content on different platforms.
iFunny has a large community all around the globe. It has millions of users, and people love to use this platform immensely. The reasons for its popularity are:
Reasons
iFunny.co offers a huge gallery of digital media.
It offers memes in different categories through multiple catalogs, and this makes it easy to find anything the user wants.
This site allows users to share memes/digital media on different platforms through easy sharing buttons.
This platform allows users to grab digital content free of cost.
iFunny is available for desktops and mobiles (Android & iPhones), due to which it is caught by users from all platforms.
Part 2: How to Use iFunny Watermark Remover?
We are already familiar with the iFunny watermark. Now, it's time to see how to remove iFunny watermark with the iFunny watermark remover.
iFunny Watermark Remover is a software through which you can remove and add watermarks to already saved images. It offers to remove logos, texts, and other unwanted things from images in a very simple way.
The software required no registration and login for downloading it. It is good to use on mobiles, and Android users can get it from the Play Store. Otherwise, its website also allows downloading this watermark remover.Now, we will learn how to remove iFunny watermark using iFunny watermark remover.
Steps to Use:
Step 1. Download iFunny watermark remover from its website or Play Store. Open it after installation and import the meme through the Add Photo option.
Step 2. Highlight the watermark with iFunny watermark remover tool. You can also use the other tool for drawing over the watermark for its selection.
Step 3. After being done with the selection, erase the watermark through the Remove Watermark button.
This will instantly remove the watermark from the meme, and your file will be ready to share, export, or save to your device.
Key Features
Remove watermarks free of cost.
Offers one-click watermark removal.
Simple and less time taking tool.
Easily available to be downloaded.
Part 3: 2 Best Online iFunny.co Watermark Removers
iFunny has its own watermark remover, but this is not the only option to get rid of its watermark. There are some online tools that do not require installation. Just simply go to that online tool and get your task done.
Out of many, we are going to share the 2 best online watermark removers to erase the iFunny watermark in a simple way.
3.1 TopMediai MarkGo Watermark Online
TopMediai MarkGo Watermark Online is one of the fastest and best online watermark removers on the internet. The best thing about this tool is its AI technique, through which it removes watermarks automatically within seconds.
The tool does not require installation and storage space from your device. Moreover, all of its outstanding features regarding watermark removal are free to use.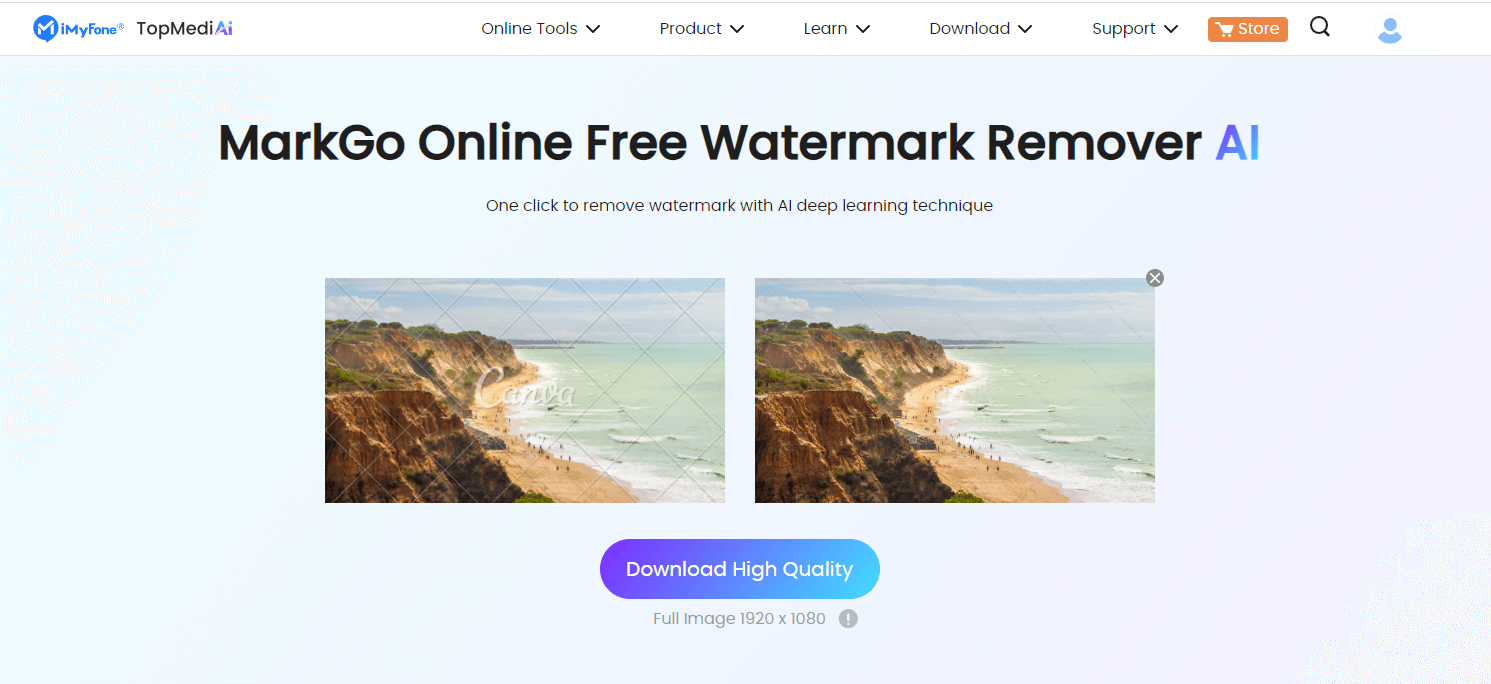 Now, let's have a look at the guide on how to automatically remove the iFunny watermark.
Steps to Use:
Step 1. Open your browser and search for TopMediAi MarkGo Watermark Online.
Step 2.Click on the Upload Image button and import the image/ meme with the iFunny watermark from your device.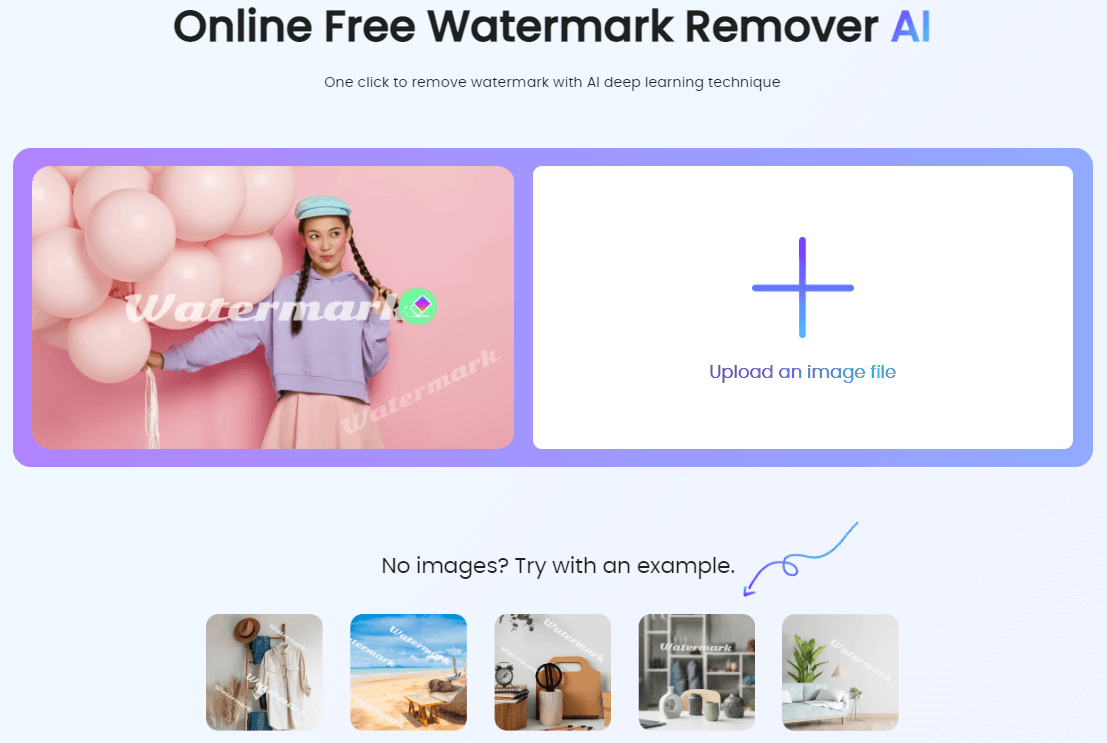 Step 3. After uploading the image, click on the Remove Watermark button.
As it is designed with AI learning techniques, it will detect, manage, and erase the watermark on its own.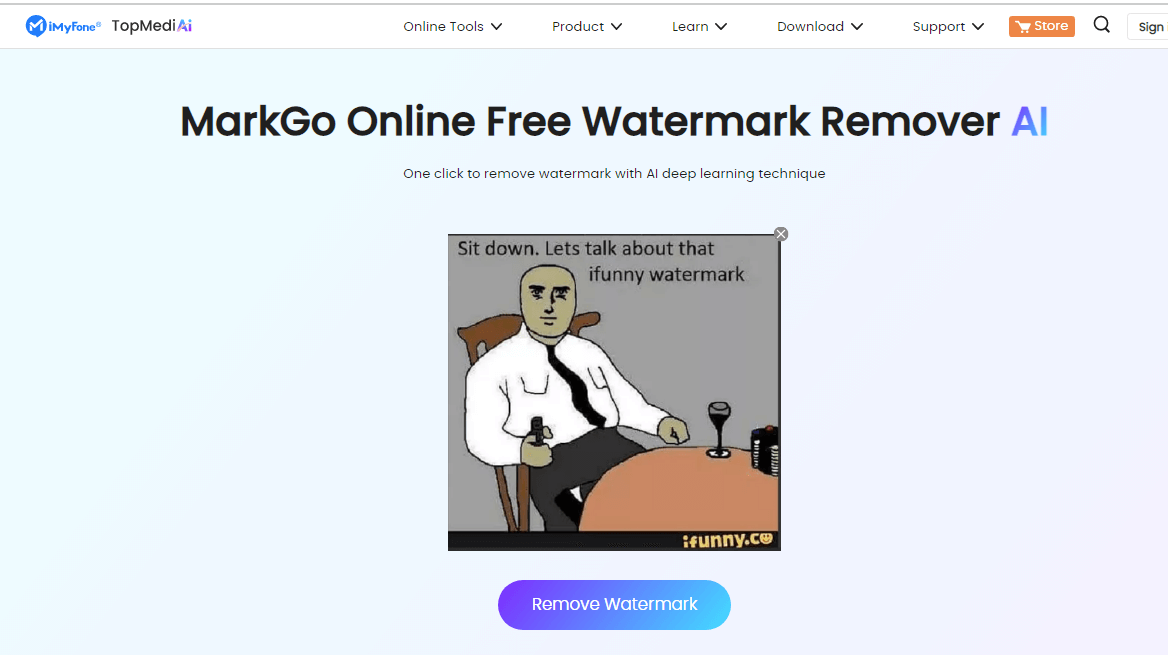 Step 4. Click on the Download button and save your file.
After a few seconds, the TopMediai MarkGo will show you the image without ifunny watermark.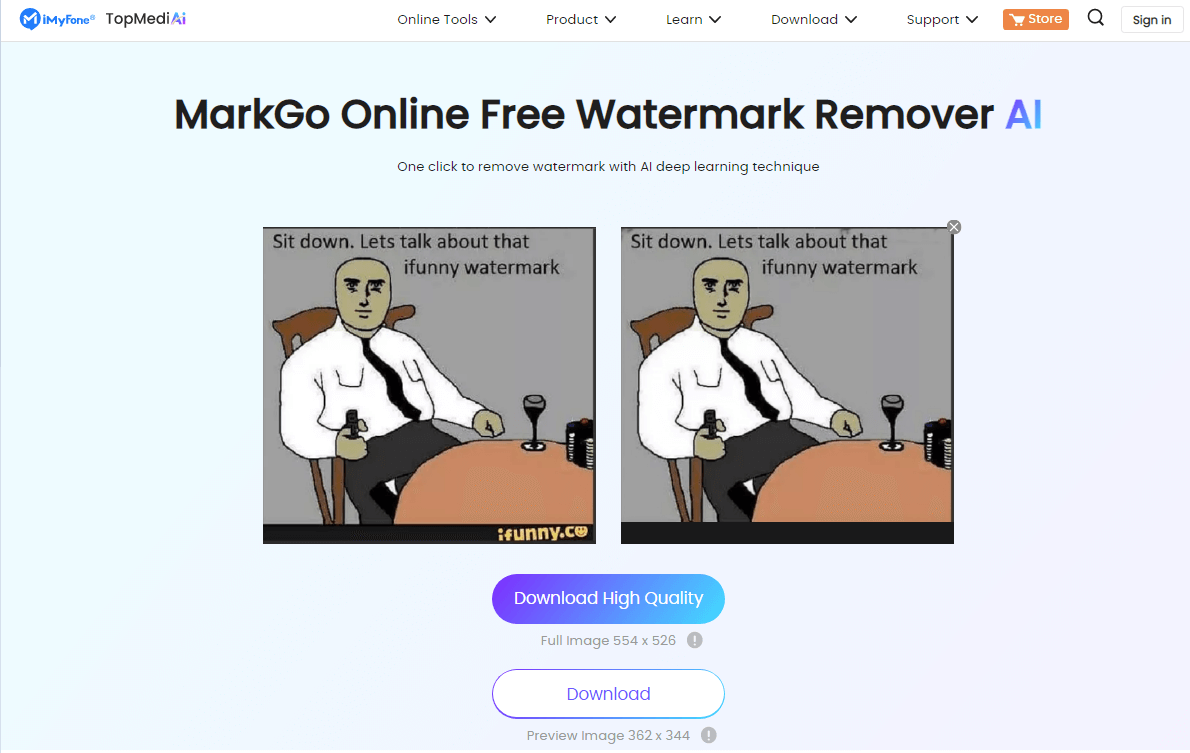 Key Features
Remove watermark automatically.
Show clear results.
Easy to use.
Free of cost.
100% secure tool.
3.2 Apowersoft Online Watermark Remover
Apowersoft online watermark remover also enables users to get quick access to watermark removal without installing any software. This tool is easy to use and has a strong AI algorithm to support one-click watermark removal.
Not only watermarks, but you can also use the tool to remove logos, stamps, unwanted text, and other unwanted things. To remove iFunny watermark, follow the below-mentioned simple steps.
Steps to Use:
Step 1. Follow the link to go to the Apowersoft Online Watermark Remover.
From the first screen, click on the Remove Watermark from Image and upload the meme from your computer.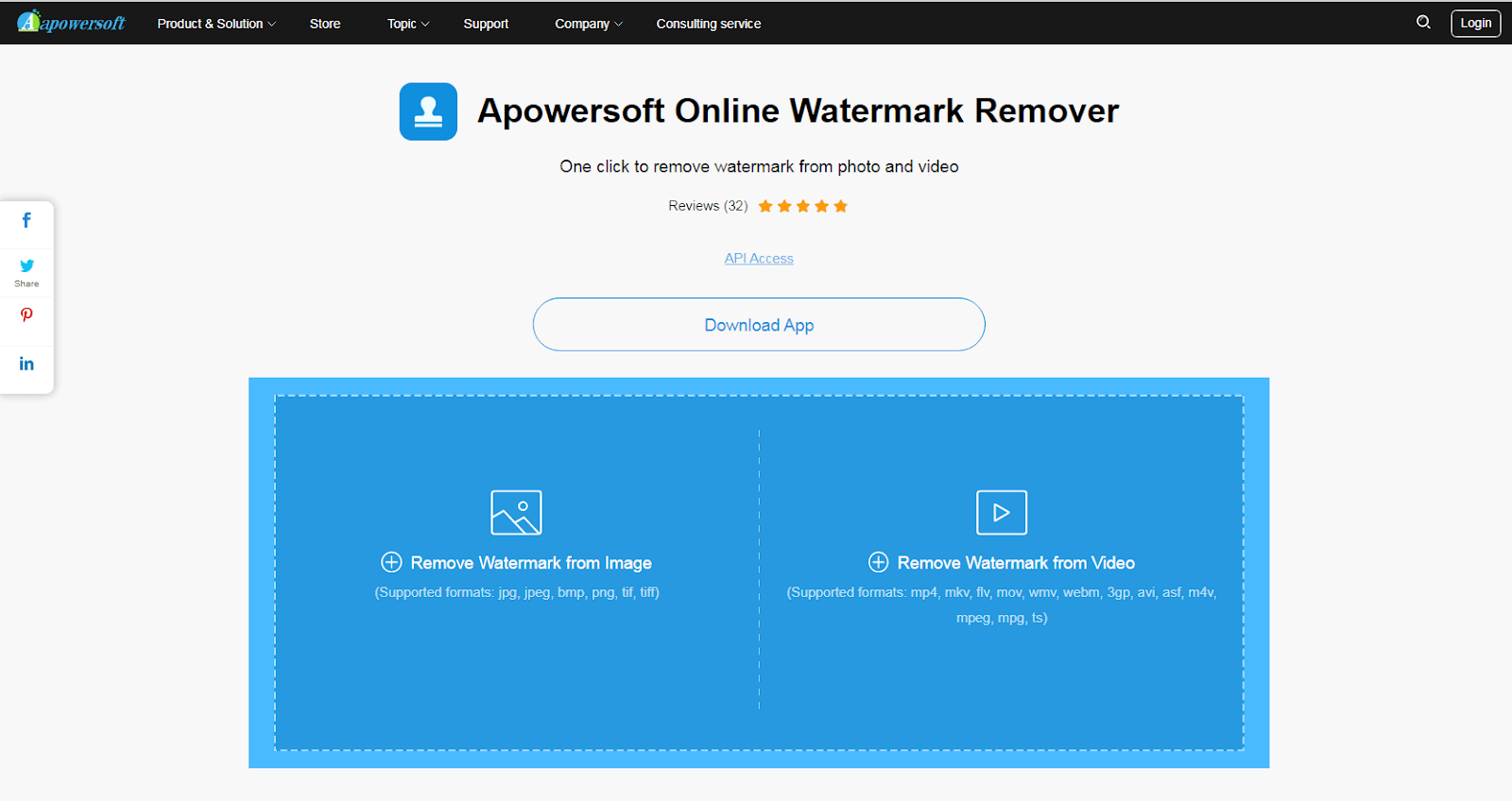 Step 2.Select the watermark with that box and click on the Erase button.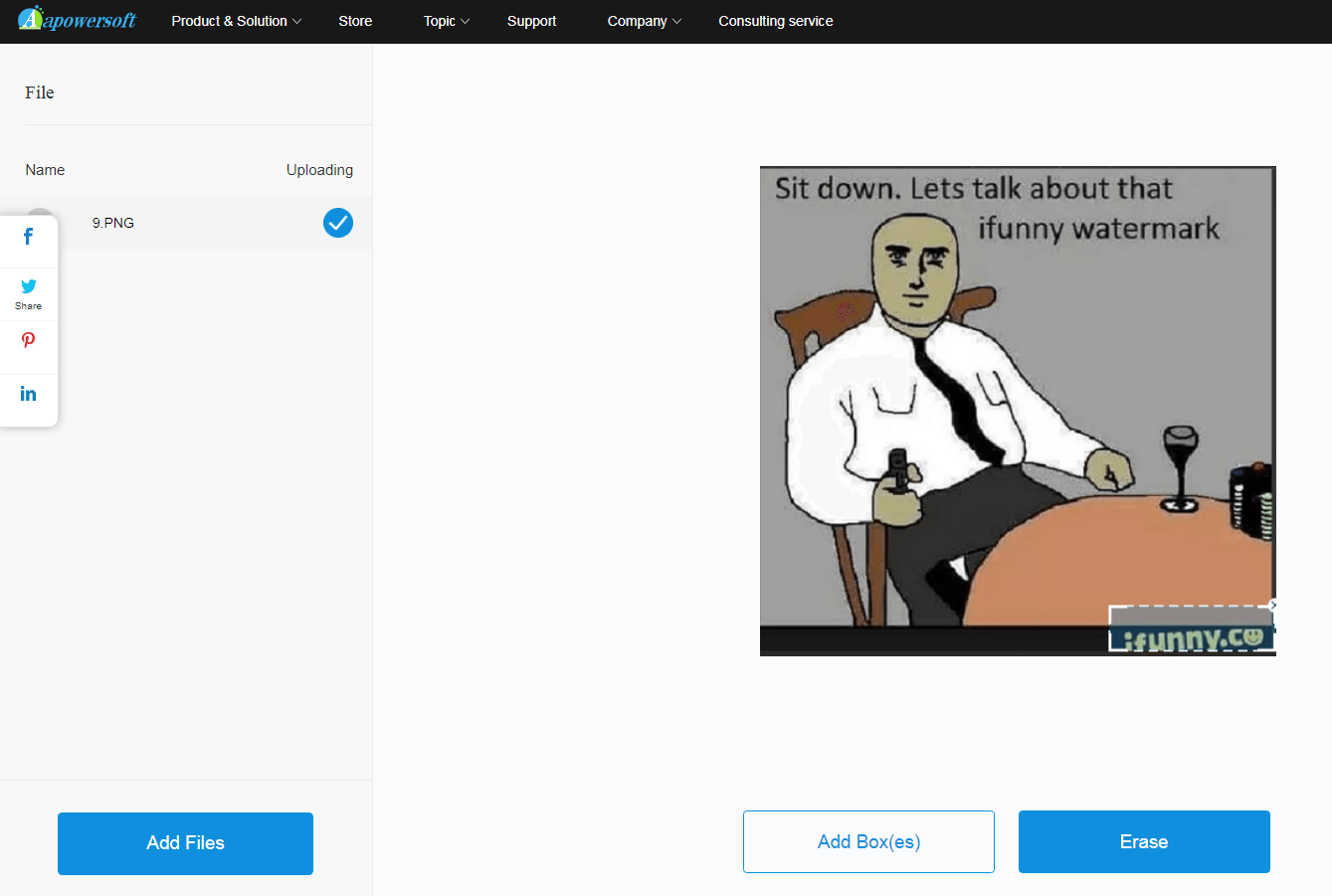 Step 3. After a few seconds, the watermark will be removed. Click on Download Button and save the image/meme to your device.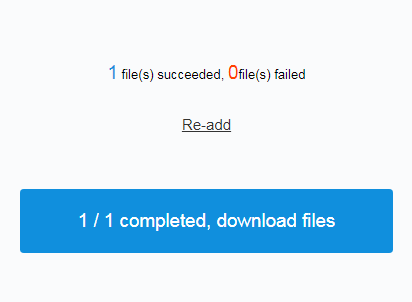 Key Features
Batch processing feature.
Video and image supported.
Free to use.
Simple and intuitive interface.
One-click watermark removal.
Fast and secure site.
Self-explanatory tool.
Part 4: 2 Easy Watermark Remover Software/App for iFunny Watermark
Sometimes, people do not feel comfortable using computers for this kind of task. For such situations, mobile applications are available to remove watermarks on mobile.
In this section, we will share a mobile-based application and a good watermark remover for videos.
4.1 Aiseesoft Video Converter Ultimate
Aiseesoft Video Converter Ultimate is a complete set of basic and extraordinary video editing features. It can remove ifunny watermarks with its multiple extraordinary video editing features. The software is desktop-based and works after installation.
We will list its editing features below, but first, let's have a look at the steps on how to remove iFunny watermark from videos using Aiseesoft.
Steps to Use:
Step 1. Launch Aiseesoft Video Converter Ultimate into your computer and open it.
Go to the Toolbox and select Video Watermark Remover.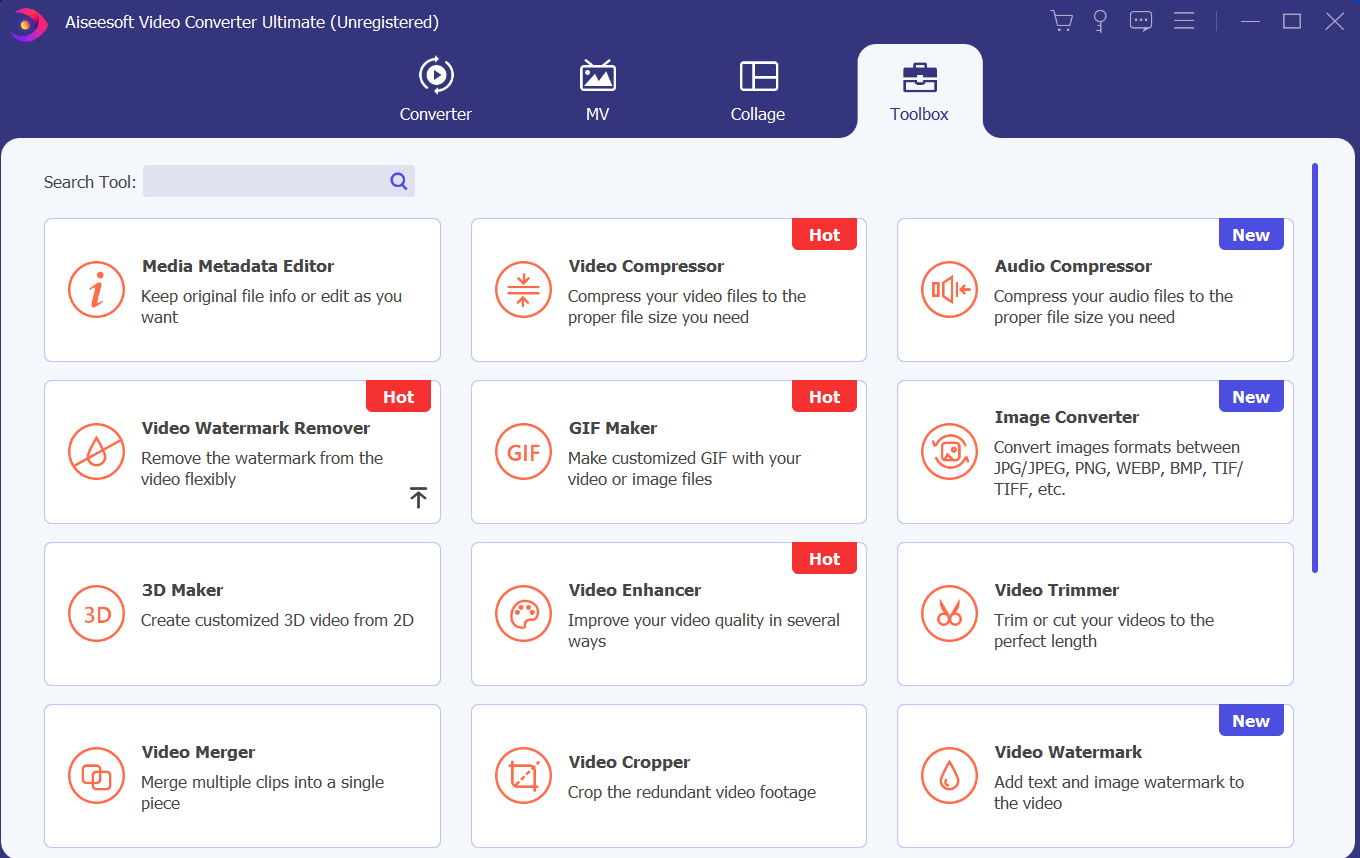 Step 2. Click on the large + sign on the screen to upload the file.
When the file is uploaded, click on the Add watermark removing area. This will add a yellow selection box on the screen.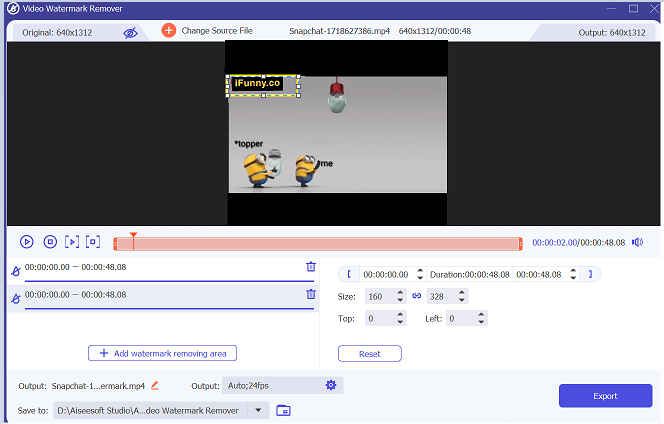 Step 3. Select the watermark with that yellow selection box and click on the Export button. This will let you save your file on your device easily.
Key Features
Powerful video converter.
Provide templates to make your own MV.
A versatile video collage maker.
Its toolbox has all the necessary tools and functions to edit a video like a professional.
4.2. Snapseed
Snapseed is a mobile application for editing photos on mobile screens with ease. It supports both Android and iOS devices to edit photos with its multiple editing features. It offers built-in filters and effects that enhance the photos and make them more enchanting.
Its simple and intuitive user interface is self-explanatory and increases its value for all kinds of users. To remove the iFunny watermark, follow these easy below-mentioned steps.
Steps to Use:
Step 1. First of all, download & install the application from Play Store or App Store.
Open it and tap on the large + sign in the middle of the mobile screen.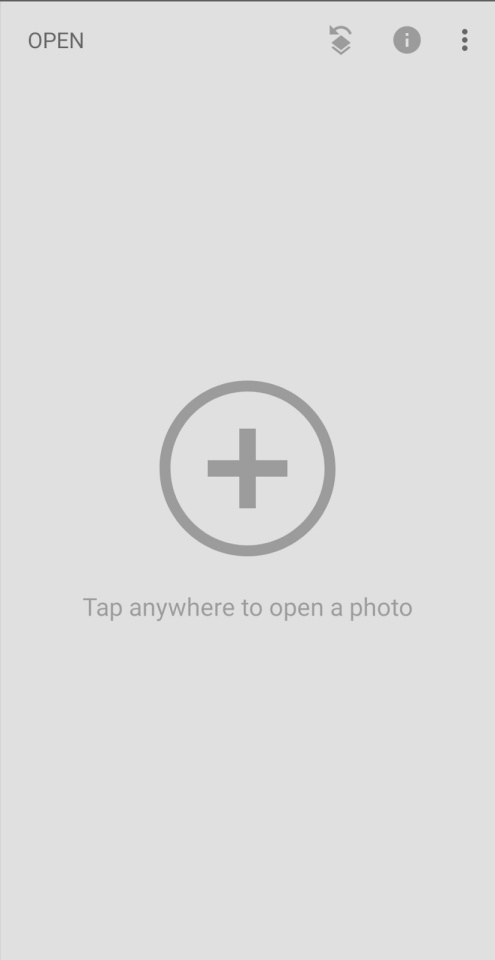 Step 2. A list of images from your mobile storage will appear on the screen.
Select the image and tap on it to upload it. After uploading a photo, go to Tools and choose the Healing tool.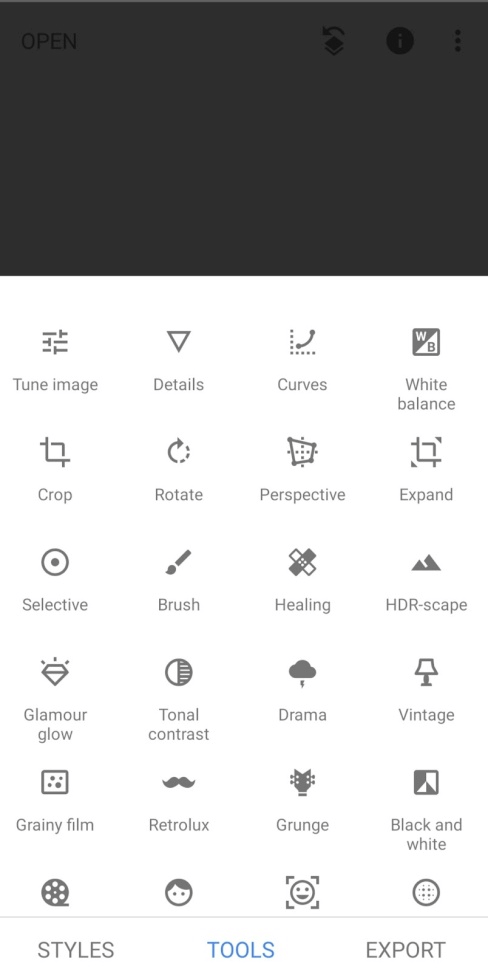 Step 3. Now highlight the watermark through the healing brush and tap on the tick sign.
Tap on the Export > Save button to save the file on your mobile.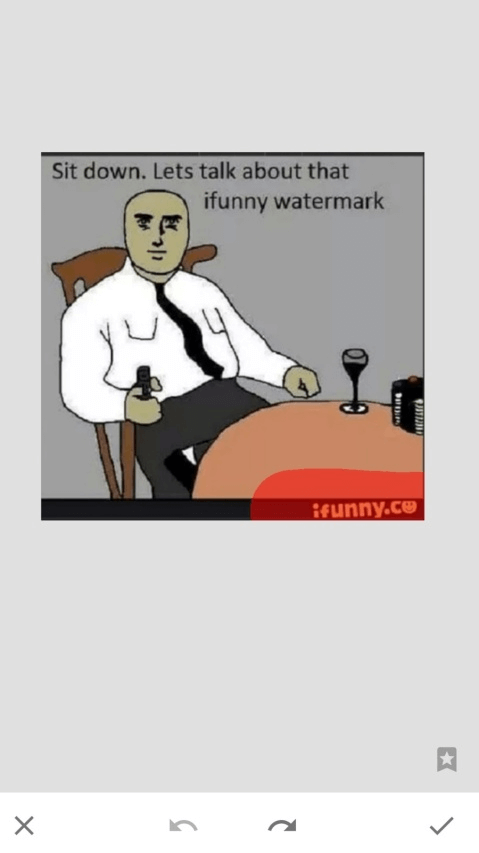 Key Features
Offers built-in effects.
Remove watermark quickly.
Offers face beauty features.
Cut, curve, rotate, crop, tune, heal, and many more editing features.
Different exporting options.
Part 5: FAQs about iFunny Watermark Remover
1How Can I Download A Meme on iFunny without A Watermark?
iFunny doesn't show watermarks on the website, but when you share any video or meme, it shows watermarks. To get a watermark-free image directly from the website, you can use the screenshot and screen recording options.
Otherwise, you will have to remove the watermark through desktop-based or mobile-based watermark removers.
2Is There Any Other Good Meme App?
There are numerous mobile applications that can remove watermarks easily. Images and memes.
We have shared Snapseed because it is an easy-to-use free application and can easily be accessed on both Android and iOS devices.
3Why Do People Need to Remove Watermarks from iFunny?
Watermarks save the official site's data from being stolen. It is for the owner's or creator's media protection and safety, but for users, it is a distraction.
Memes having watermarks usually fail to get viewers' attention on humorous content. That's why people remove iFunny watermarks from memes before sharing them.
Conclusion
iFunny.co has a massive collection of multiple ideas to generate audience-engaging humorous memes.
That iFunny watermark
distracts viewers and causes less user engagement. Now the problem is how to
remove the iFunny watermark
.
For this, we have shared some best desktop-based, mobile-based, and online tools through which you can get iFunny content with its watermark. You can use TopMediai MarkGo Watermark Online for free for this purpose.