Do you ever want to use a great quality image simply as wallpaper or for any other purpose other than selling it for profit? The same is true for GIFs or videos you have seen on social media and want to share with others without showing their origin.
This is where removing watermark from gif tools comes in with the best options in this article. Let's begin and show you how you guys can benefit from these Gif Watermark Remover tools.
Part 1: Easiest Way to Remove Watermark from GIF [ Windows & Mac ]
Below you'll find the four best options for remove gif watermark from your GIF files with ease.
1.1 Video Converter Ultimate - Free Web Service
Originally called the Video Converter Ultimate, it is now under one umbrella of many software known as Wondershare.
You can use their Watermark editor to remove watermark from gif free online when you try it free.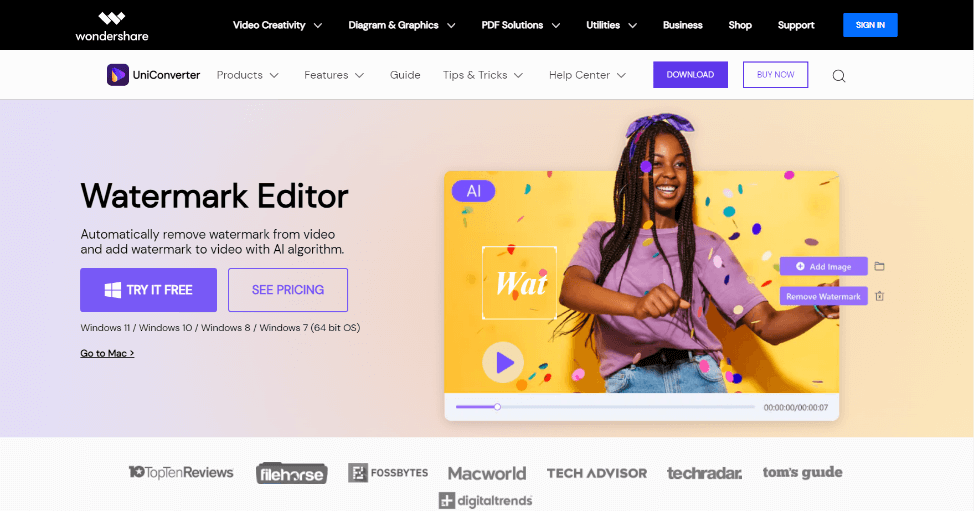 How to remove background from gif:
Step 1. Visit the Wondershare website to reach Watermark Editor.
Step 2. From the Remove Watermark tab, you can select your desired object to be removed.
Step 3. You can also click on the link here to learn more about proceeding further.
Step 4. Upload the video or gif file, select the area from which you want to remove the watermark, and download your converted gif file.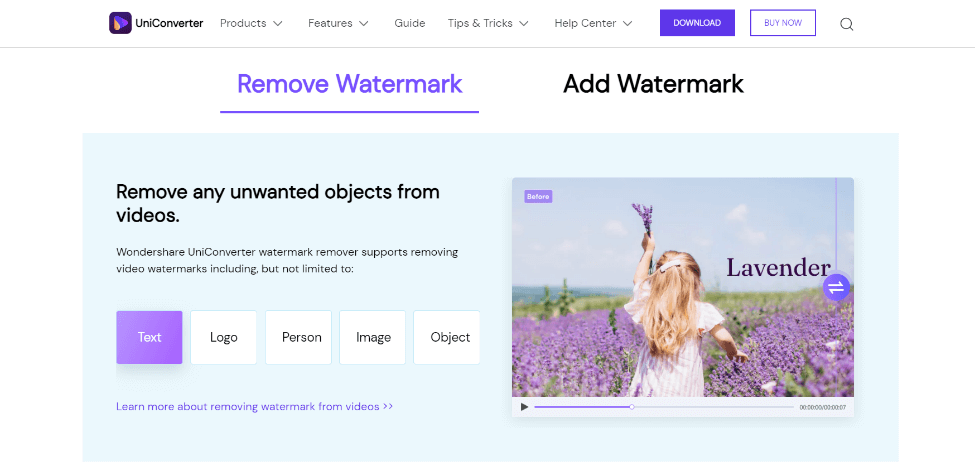 Key Features
Remove watermark from gif or any unwanted object with ease.
Many different object removals are supported.
Wondershare gif watermark remover allows for batch processing of files and can remove multiple watermarks from the video.
You can even remove the watermark from the gif file's specific duration or location.
There are no ads, and it is 100% secure.
Easy steps allow using the watermark remover gif in simple steps.
You can try it for free to use it for some time and then make an informed decision to purchase the full version.
1.2 Pdffiller - Gif Watermark Remover Online Free
Pdffiller is another online tool that allows you to remove gif watermark from a gif file of your choice with easy steps and the best quality, with no need to install any software on your PC.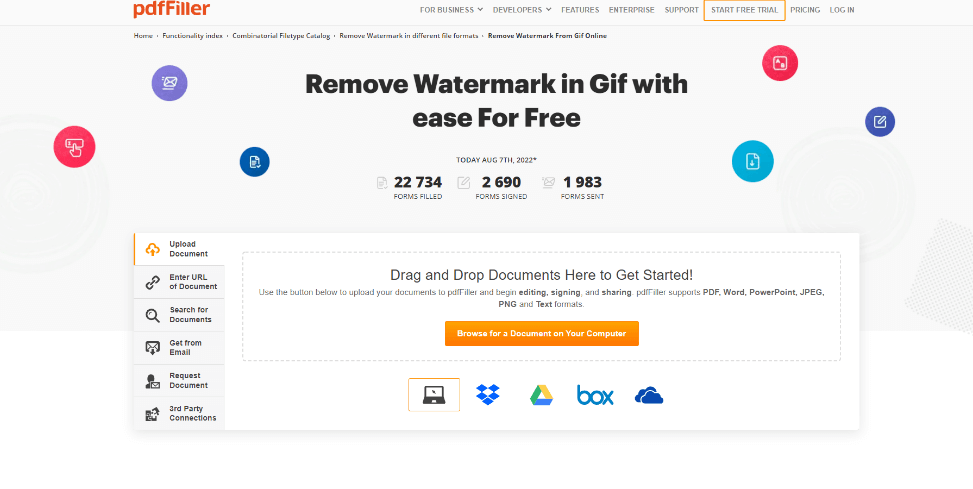 How to remove background from gif:
Step 1. Upload your gif file to the website by clicking on the ADD NEW and selecting the file by browsing your system or mobile.
Step 2. You can also drag and drop to edit your gif file.
Step 3. When you are done with changes, click done and download your new gif file or share it anywhere or with anyone you want.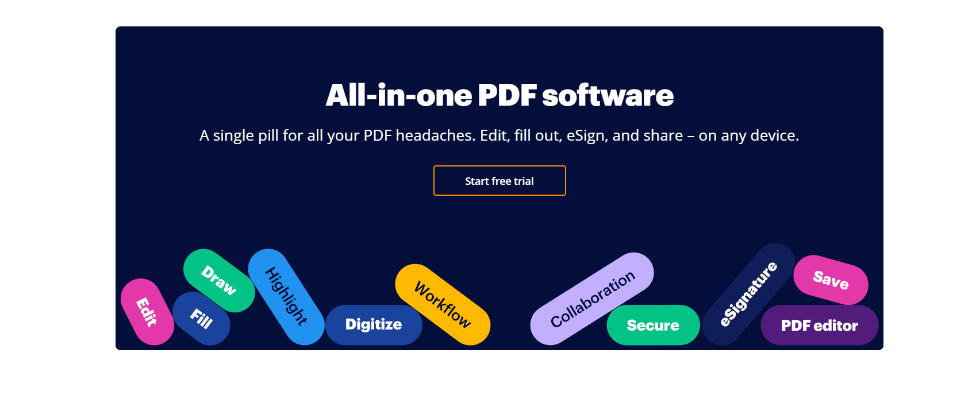 Key Features
Upload Anywhere – All you need is a browser and a device connected to the internet to use this gif watermark remover online free tool.
Single Pill – The website allows you to collaborate your workflow, edit and draw on your file, and save secure file types in simple steps.
Website Based – No software downloads and installation are required; each step is online based with a snap.
Multiple Platforms – If you want more power, you can install the software on PC, Mac, Android, and iOS phones.
Top Rated – Best awards over the years gives it the best pedigree and love around the globe.
1.3 Onlinegiftools
Online GIF Tools is an excellent website for all your GIF editing where each tool and feature is available on the website, whether animated or static GIFs. The website is free of any ads or garbage and provides all the functionalities for its user.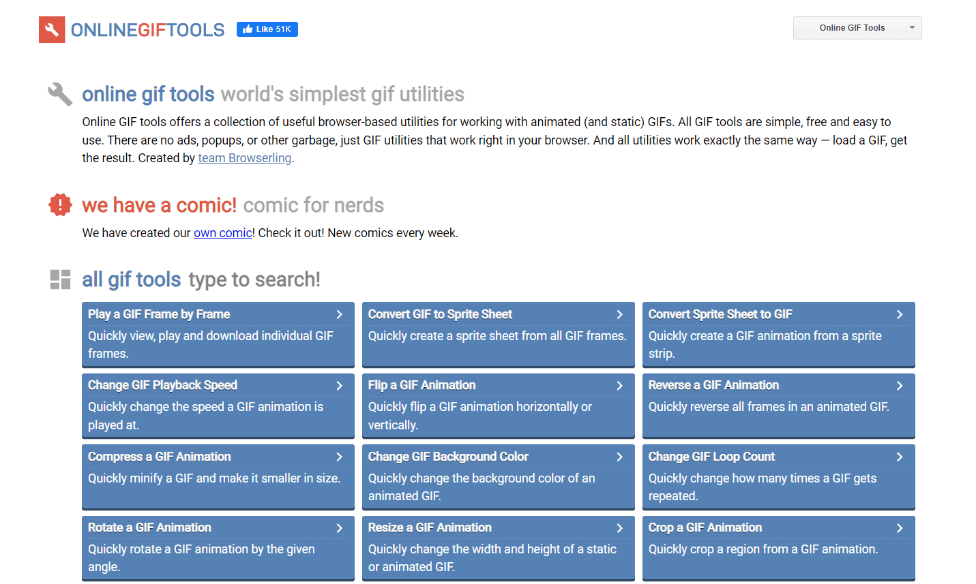 How to remove background from gif:
Step 1. Visit the GIF background website page to learn how to remove watermark from gif, as all the steps are mentioned in detail there.
Step 2. Now you need to specify the area of the watermark and pick a color to replace the watermark.
Step 3. You can also mark multicolor selection to remove it more efficiently.
Step 4. Download your converted file.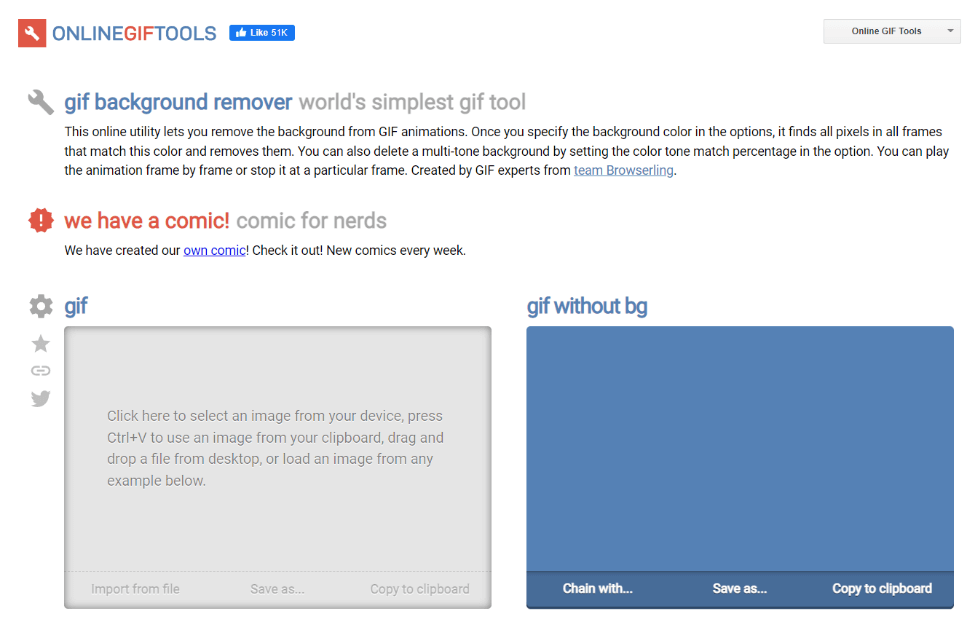 Key Features
Simplest Tool – Online GIF Tool is the world's simplest tool that you can use to remove watermark from gif free of cost and with the best quality.
Multi-colored Removal – Enhance the remove watermark from gif online with a multi-colored tool selection and match percentage to get the best results.
Frame-by-Frame – You can easily change the watermark frame by frame of the gif for enhanced efficiency. This allows to remove watermark from gif online free with the best quality.
Multiple Options – The GIF tool can better remove watermark from gif photoshop with these tools.
Coming Soon – More tools are continually updated, with many new ones on the way to remove watermark from gif free online.
1.4 WatermarkRemoveOnline
Watermark Remove Online is a great tool to remove watermark from gif with ease, and all it takes are just 60 seconds to do your job.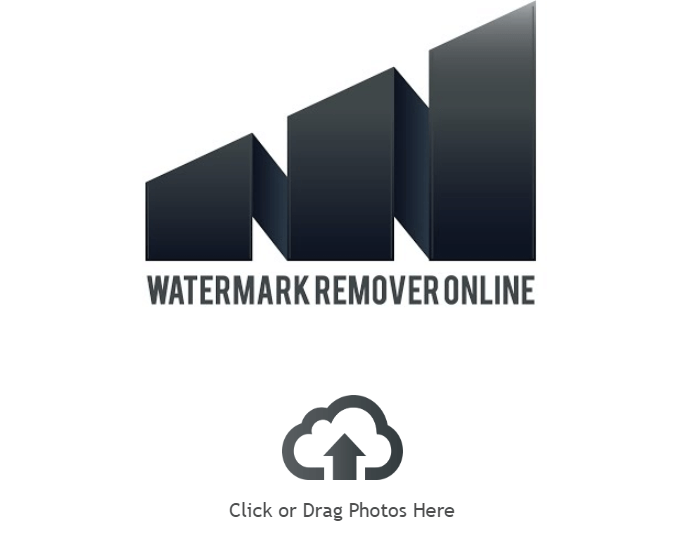 How to remove background from gif:
Step 1. Visit the Watermark Remover Online website to use this simple gif watermark remover tool.
Step 2. Click to select your desired GIF file or drag and drop it on the cloud area to start editing your GIF.
Step 3. After you're done with all the changes watermark remover gif tool, download the required file.
Key Features
Website Based – Online browser-based tool makes it easier to convert gifs to share on social media websites easily from any internet-connected device.
Simple and Easy – No hassle in installation and simple steps to convert any file within 60 seconds.
Magic Wand Tool – This tool makes life easier for those that are not tech-savvy and allows them to make all the necessary changes with a simple click of a button.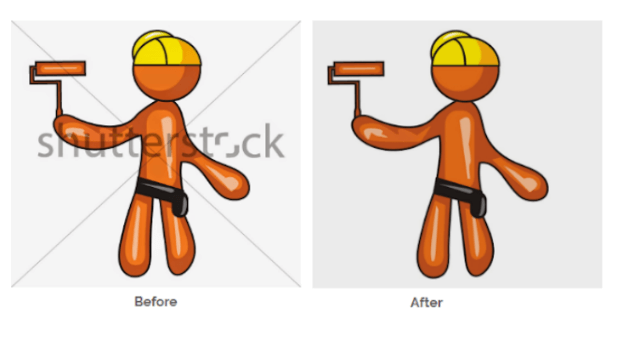 Part 2: Best Web-based Alternative to Remove Watermark for Free
2.1 TopMediai MarkGo Watermark Online
Now we'll look at the best alternative to web-based gif watermark remover online free of charge.
TopMediai is the latest website that will allow you for your query on how to remove watermark from gif by iMyFone to remove a watermark with three easy steps with their amazon-lick AI deep learning technique.
Tips
Hunting for a tool to erase image watermark? Why not try a professional remover TopMediai to remove watermark 100% Auto with AI-powered Technology within 5 secs in 1 click.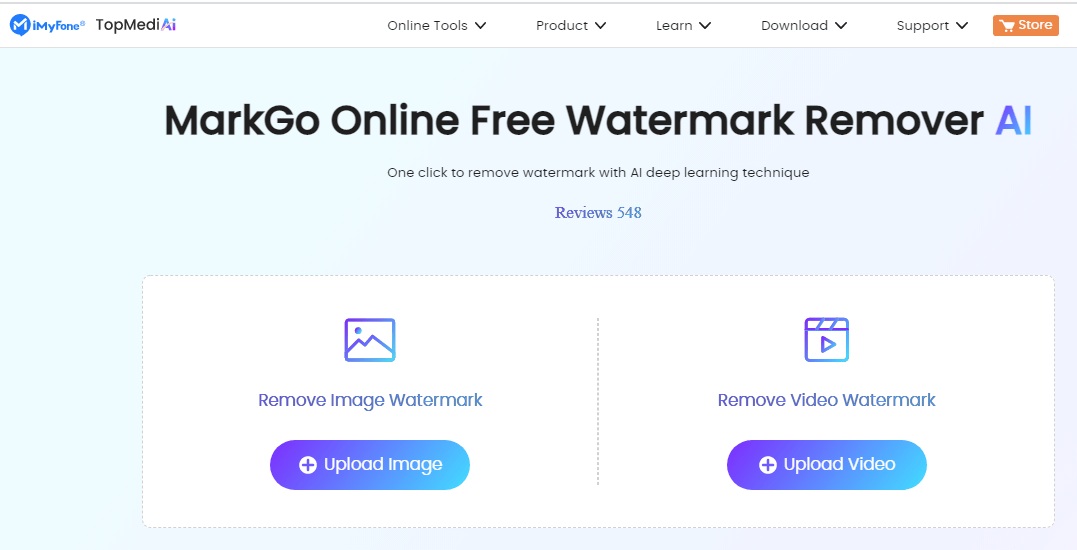 How to remove background from gif:
Step 1. Visit TopMeidia MarkGo Online to remove watermark from gif free.
Step 2. Upload the image by clicking the button under Remove Watermark.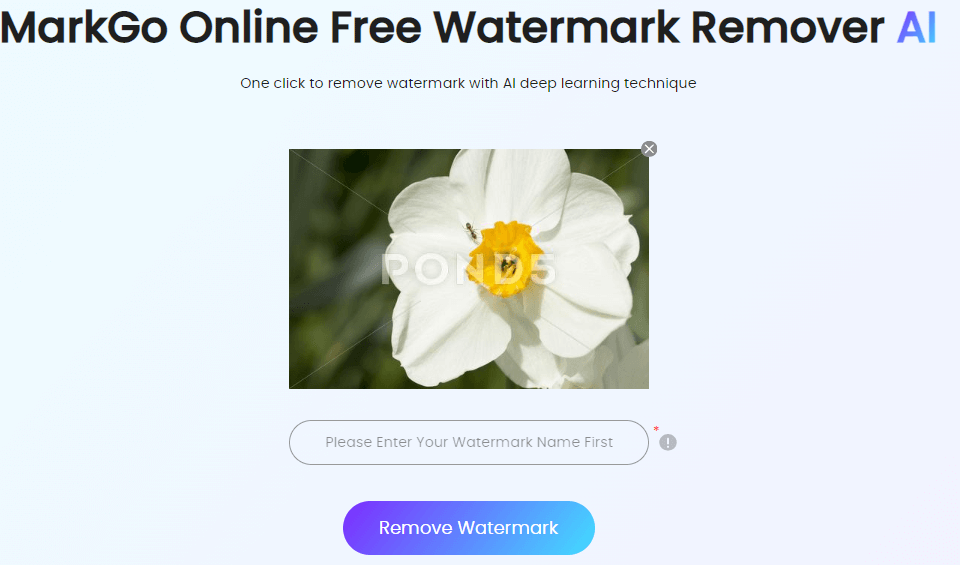 Step 3. Click the remove button and download the required image.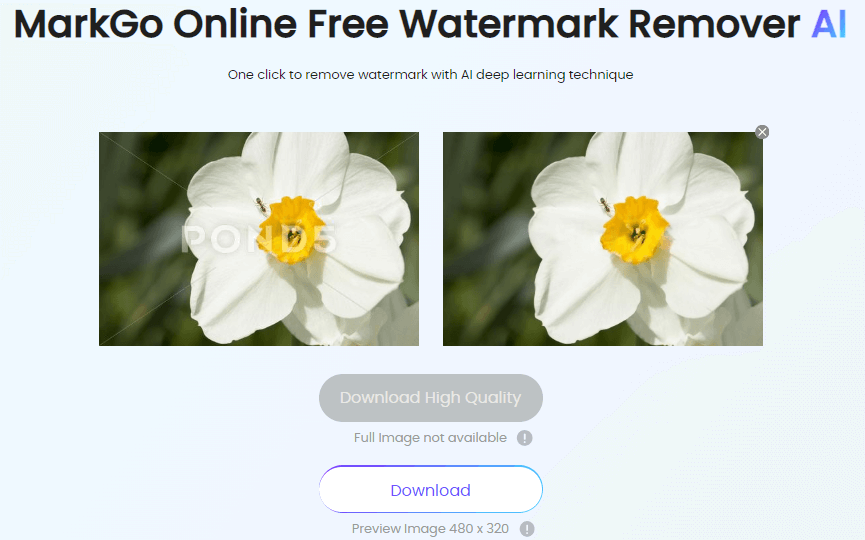 Key Features
Fast and Intelligent Removal – With their remove watermark from gif online technique, you get the best results without pause.
File Security – Your privacy with this remove watermark from gif online free is paramount.
No Installation – Based on web tech, so no risk of viruses
Watermark Removal Using AI – No more worries about using images with watermark and getting the best output quality with AI detection technology.
All File Types Supported – Whether an animated or static GIF file or any other type, TopMediAi can satisfy your job through simple drag and drop functionality.
Large User Base – Over 101,900 customers are satisfied, and more each day.
Fantastic Reviews – With over 500 great reviews and more added daily from our satisfied customers, this remove watermark from gif free online tool is the best online and in the market.
Part 3: FAQs about Removing Watermark from Gif Free Online
1Will the quality of the GIF change after removing the watermark?
No, the quality of your GIF doesn't change when removing a GIF. Most websites allow you to download in the default quality of the actual GIF and compressed version. Some websites charge you a fee to do it.
2Why did my GIF become lower in quality after I removed the watermark?
If heavy processing is involved or using a free website may be the issue. It may also be the case that some websites only allow high-quality GIF downloads for their paid customers.
3Does removing the watermark make the file size smaller?
No, in most cases, if the file size is changed, it can be because it is a free website.
Final Words:
Now that you have read through the article, you are when step closer to sharing your favorite GIF files with your family and friends by using gif watermark remover. On top of that, with so many options, you can always make the best-informed decision by reading our curated list.
If you want our personal recommendations, we think TopMediAi is one of the simplest and best tools to watermark remover gif online, which you can use from anywhere.
Try out TopMediai MarkGo Watermark Remover from here: