With ai music artist voice generation and ai song generator based on artist, you can generate lifelike vocal performances that emulate the style and essence of your favorite music artists.

Get ready to elevate your music productions to new heights and captivate your audience like never before with ai music artist voice generator.

Part 1: How will AI Music Artist Voice Generators Help?
AI music artist voice generators are sophisticated technologies that use artificial intelligence to create lifelike vocal performances emulating specific music artists. They allow musicians and creators to access a wide range of artist voices on-demand, enabling the production of tracks that sound like the actual artists themselves.

While the generated voices are simulated and not actual recordings, AI music artist voice generators provide a powerful tool to enhance music productions and create immersive musical experiences.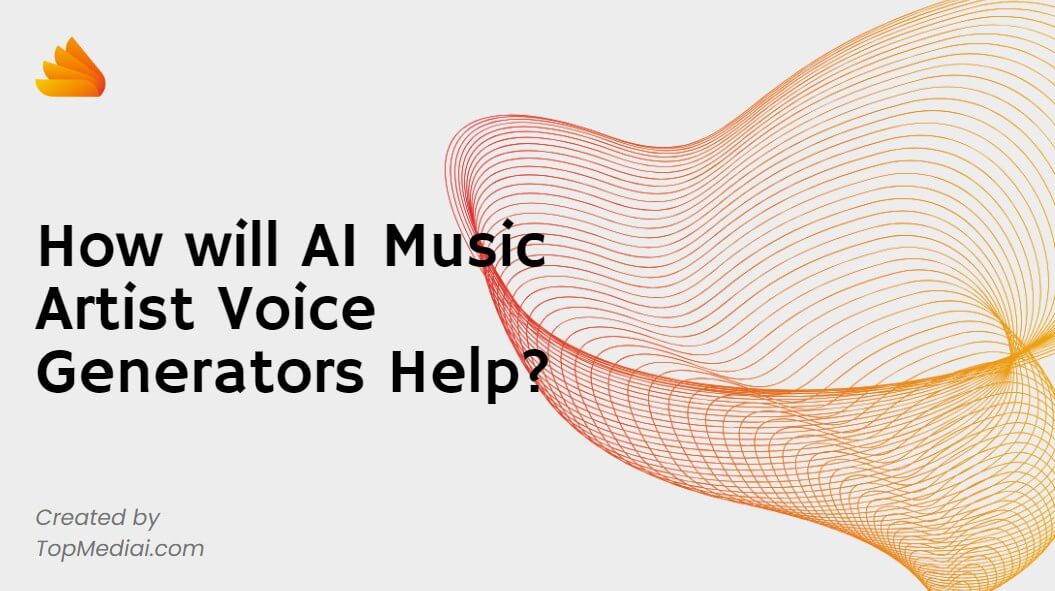 AI Music Artist Voice Generators offer several benefits:
Benefits:
Authenticity: They produce highly realistic vocal performances that emulate specific music artists, enhancing the quality of the music.
Creative Freedom: They allow musicians to explore genres, experiment with artist voices, and create unique compositions.
Time and Cost Efficiency: They save time and resources by eliminating the need for studio sessions or collaborations with specific artists.
Personalization and Adaptability: They can be customized to match an artist's style and preferences.
Exploration and Inspiration: They encourage artistic exploration and inspire musicians to push their creative boundaries.
Part 2: Any AI Music Artist Voice Generator to Try? YES!
1. TopMediai - Easiest Way to Generate Artist AI Voices
TopMediai text to speech, a cutting-edge online tts generator goes beyond conventional capabilities. With its advanced technology, TopMediai serves as not just an ordinary text-to-speech tool, but also as a remarkable AI music artist voice generator.

Whether you're a musician, producer, or content creator, TopMediai provides a unique opportunity to elevate your music productions by harnessing the voices of your favorite music artists.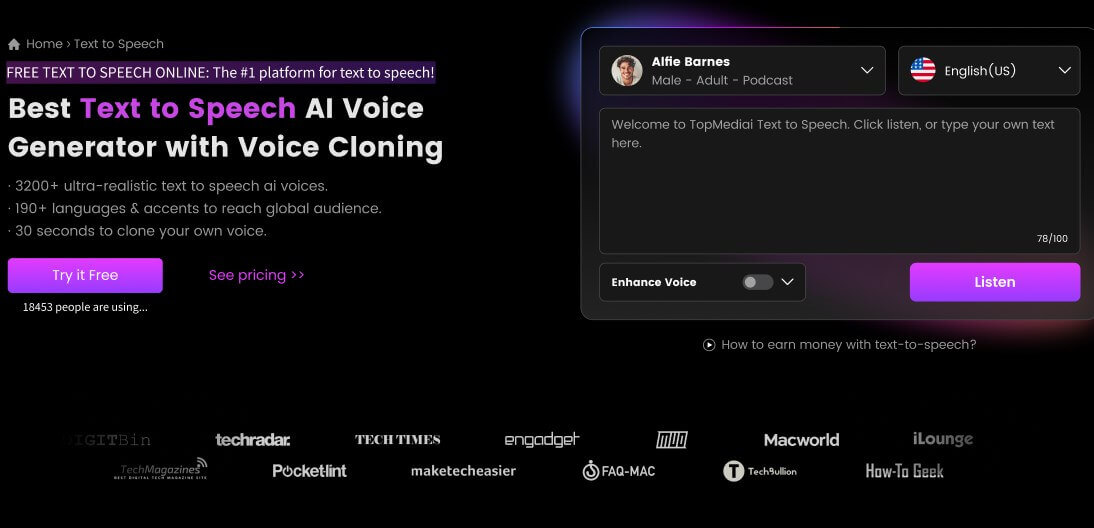 How to generate artist ai voice using TopMediai:
Step 1: Go to TopMediai text to speech.
Step 2: Simply enter the text in the given space.
Step 3: Select the mucis artists'voices you want in the voice types of Musicians, Singers and Others.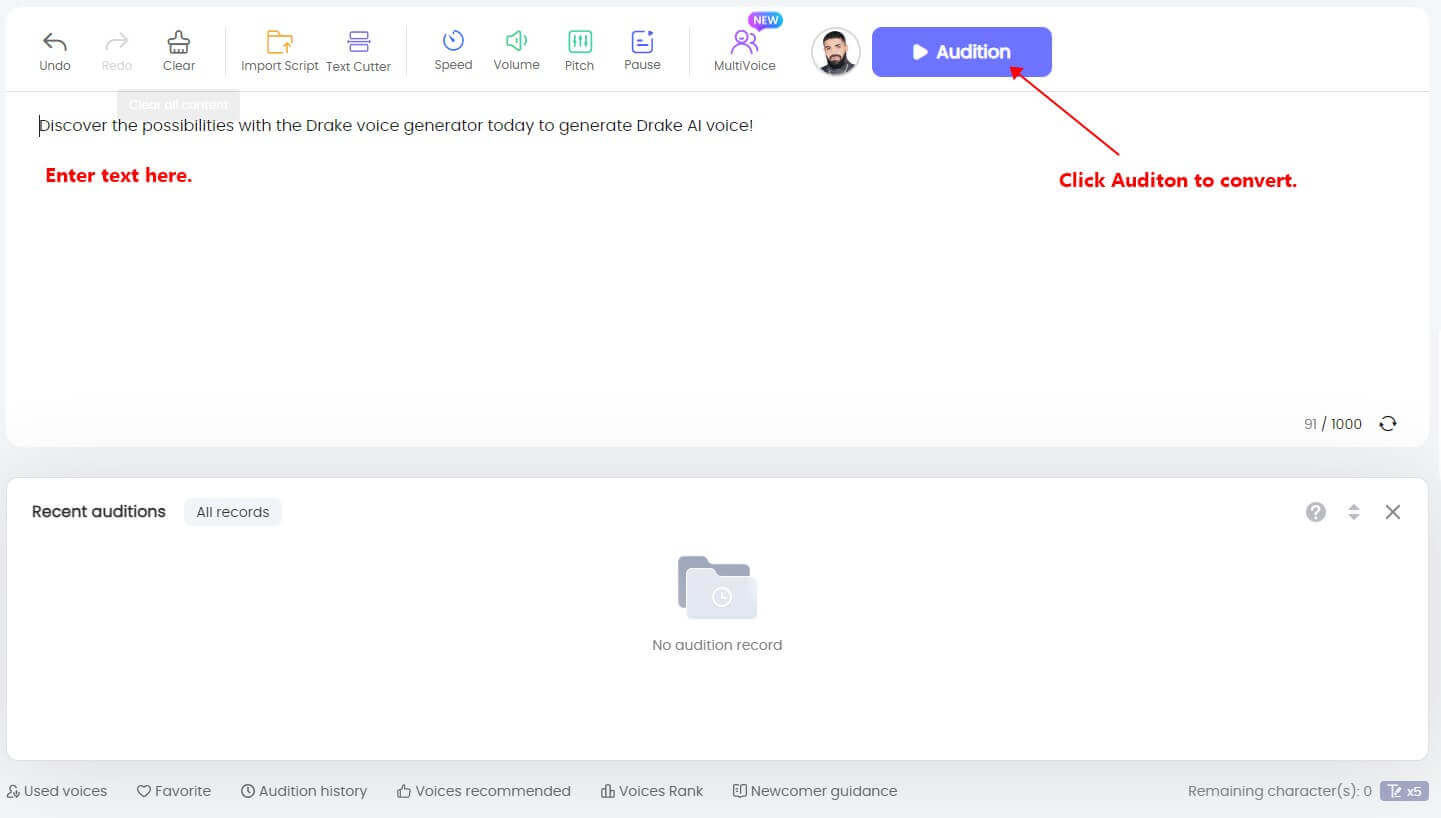 Step 4: Click on Convert and download the generated speech in your favourite music artists'voices.
Key Features:
3200 voices and 70+ languages & accents to choose from.
Quality and reliability.
A large number of singer and musician's voice to select.
API Access: TopMediai provides freetext to speech api.
AI voice cloning is available, even in the basic plan.
2. Uberduck.ai - Make Music with AI Vocals
Uberduck.ai is a platform that offers synthetic singing and rapping vocals created using AI technology. It caters to creative agencies, musicians, and coders who are interested in using AI-generated vocals for their projects.

The platform provides various features including voice-to-voice, text-to-voice conversion, voice cloning, and API access. Additionally, it includes an AI rap generator, allowing users to create rap lyrics with the assistance of ai.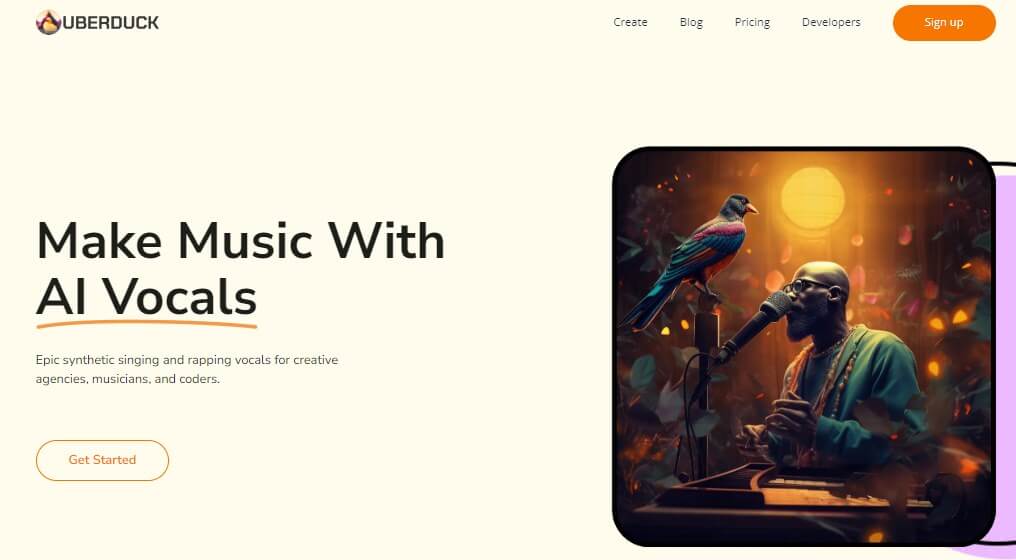 Key Features:
API Access
Best for rapper, singers and vocalists' voices.
Users are allowed to make custom voices.
High-quality voices by synthesizing your text with Uberduck's realistic voices.
3. Beatoven - Royalty-Free, AI Music Generator
Beatoven stands as an exceptional AI music creator, streamlining the intricacies of music production. Its primary aim is to simplify the task of crafting authentic soundtracks for your videos or podcasts.

Beatoven eradicates the necessity for extensive music theory knowledge or substantial production experience. The focus is on providing accessible and pleasurable music composition, catering to various skill levels.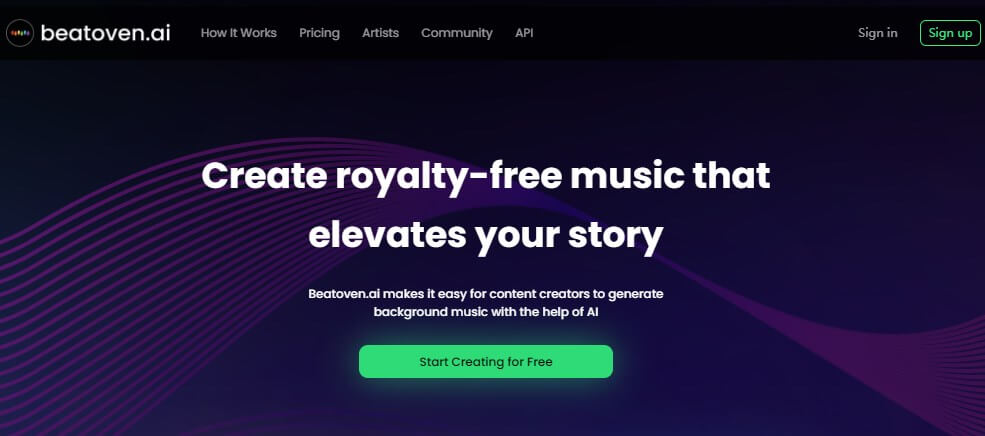 Key Features:
Allows users to compose unique music for your content easily.
Perfect for Youtube creators, Podcast creators, audio books and others.
Provides unique Music for different themes and moods.
Royal-free. So the generated music can be for social media.
Part 3: HOT FAQs about AI Music Artist Voice Generator
1 What is an ai music artist voice generator?
An ai music artist voice generator likely refers to AI technology that mimics a specific artist's singing style and voice, producing new vocal performances similar to that artist.

This could be used for creating virtual performances, experimenting with vocal styles, or aiding in music production.
2 Is there any ai song generator based on artist?
Yes, there are Murbert, Veed.io, Jukebox by Openai, and Soundful and others for your choice.
3 How to get artist ai voices?
If you want to acquire get artist ai voices with ease, here recommend TopMediai text to speech, which offers many selections of popular singer and musician voices. It only takes 3 step to get artist ai voice using it.
4 What are the limitations of AI music artist voice generators?
AI music artist voice generators have certain limitations. While they can generate highly realistic voices, there may still be subtle differences compared to the actual artist's performances.

The generators also require quality training data to accurately replicate a specific artist's voice.
Conclusion The ai music artist voice generator opens up a world of creative possibilities, enabling you to infuse your music productions with the genuine voices of your favorite music artists.

Embrace the power of the ai artist voice and unlock the potential to craft authentic and compelling music that leaves a lasting impact.

Start exploring this innovative technology today and take your music to the next level.