"Exploring how you can bring back the magic of Chester Bennington's voice with Voice Generator."

The enduring legacy of Chester Bennington, the iconic frontman of Linkin Park, continues to resonate through his powerful voice and emotionally charged performances. In a remarkable technological advancement, artificial intelligence (AI) has paved the way to recreate Chester Bennington's voice, allowing fans and music enthusiasts to experience his unique vocal timbre once again.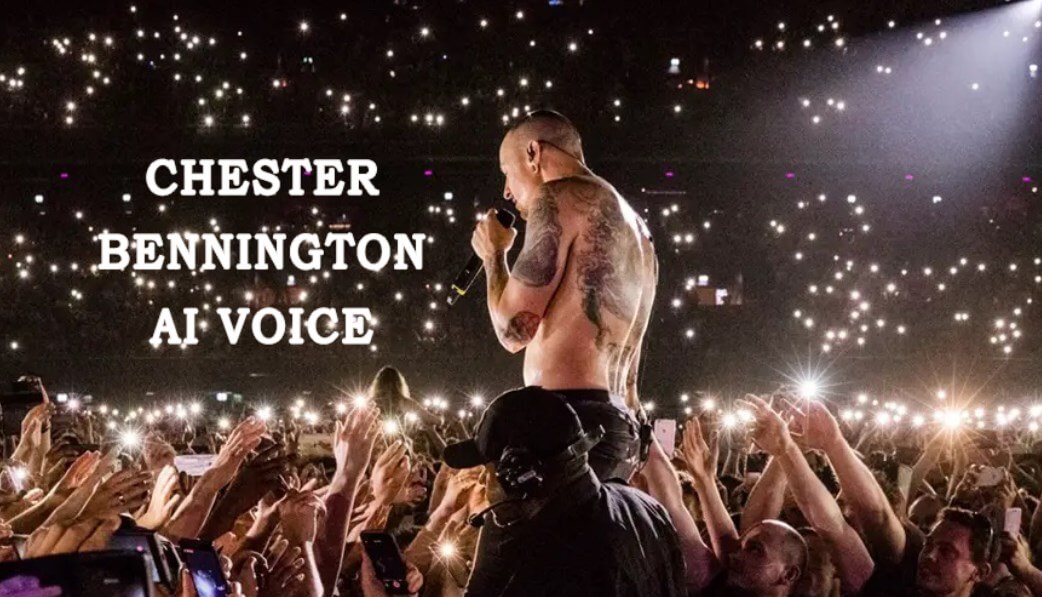 Part 1: Who is Chester Bennington and His Voice Features?
Chester Bennington (1976-2017) was the lead vocalist of rock band Linkin Park, famed for his emotional singing style that blended melodic tones with powerful screams. His impact on the music world was profound, with albums like "Hybrid Theory" and "Meteora" achieving immense success. Bennington's tragic passing in 2017 left an enduring void, but his iconic voice and contributions continue to influence and inspire fans globally.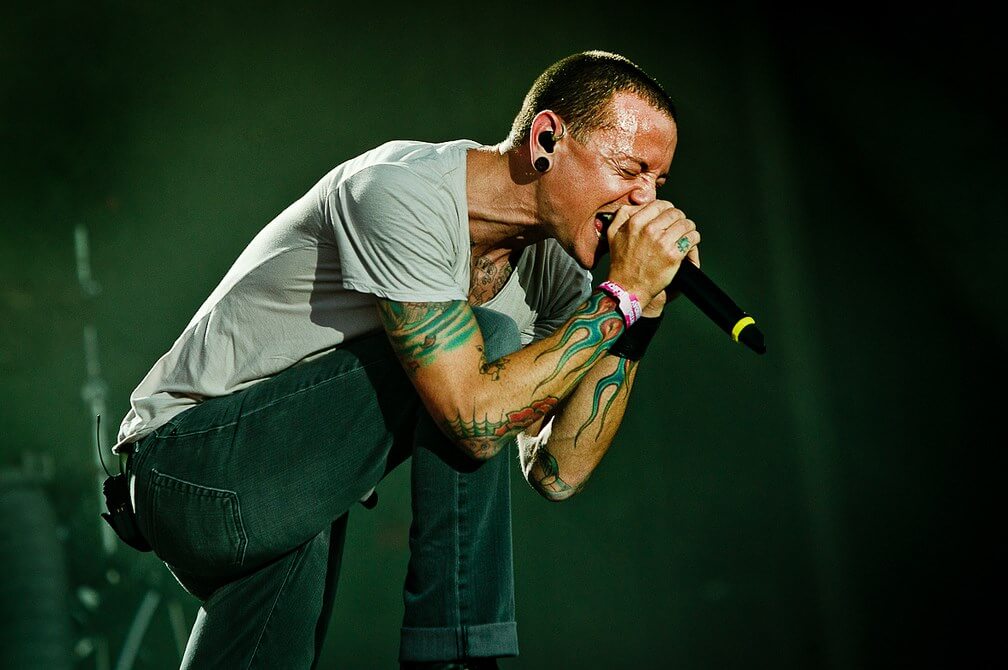 Chester Bennington's voice was characterized by its dynamic range, raw emotion, and unmistakable tone. His ability to effortlessly shift between melodic harmonies and guttural screams made his performances stand out in the music industry.
Part 2: Recreate Chester Bennington AI Voice with Voice Generator
"Latest and Easy"

One prominent player in the realm of AI-generated voices is TopMediai Text to Speech. Leveraging state-of-the-art deep learning models, this platform specializes in recreating voices of various personalities, including Chester Bennington. Through a comprehensive dataset of his vocal nuances, intonations, and inflections, TopMediai brings forth a tool that resonates with authenticity.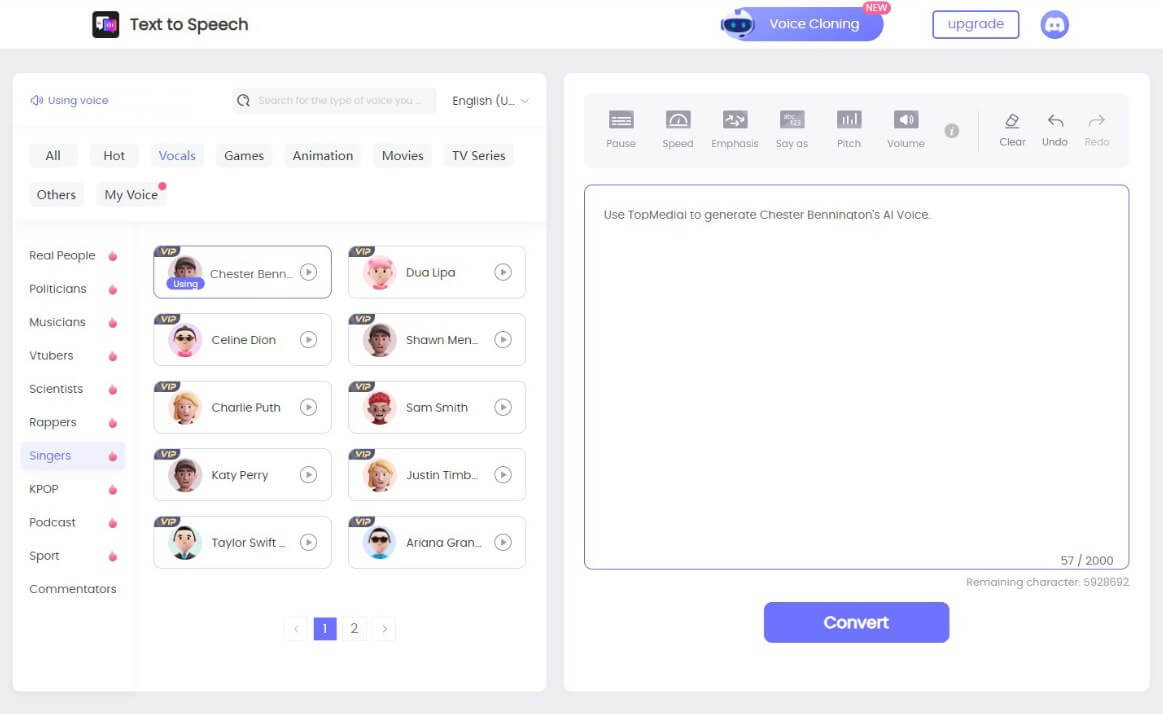 How to Generate Chester Bennington AI Voice with Text to Speech?
Step 1. Go to the TopMediai Text to Speech platform.
Step 2. Choose the Chester Bennington AI voice model.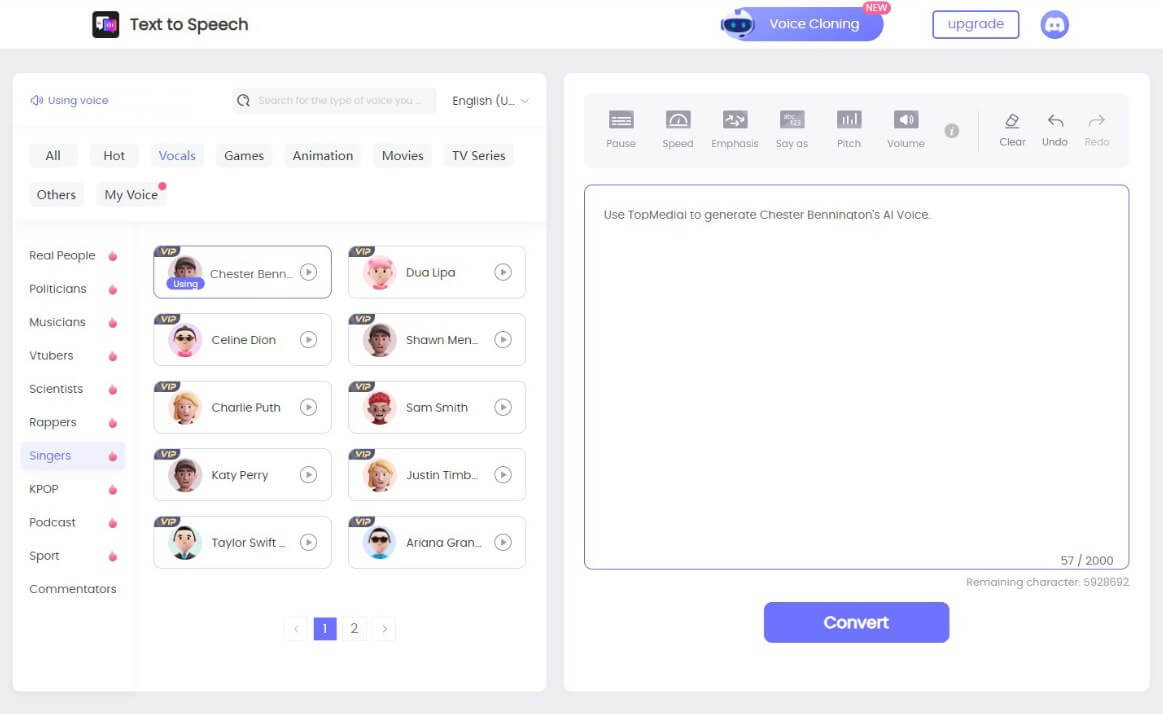 Step 3. Enter the text you want in Chester's voice.
Step 4. Adjust settings like pitch and tone if available.
Step 5. Click "Convert" to create the AI-generated speech.
Step 6. Listen to the output and evaluate its resemblance to Chester's voice.
"Functional diversification"

Voicify.ai stands as another remarkable contender, boasting a robust AI system capable of simulating human-like voices. This technology has been fine-tuned to capture the essence of Chester Bennington's vocal style. By inputting text, users can witness their words being articulated in a manner reminiscent of the legendary artist himself.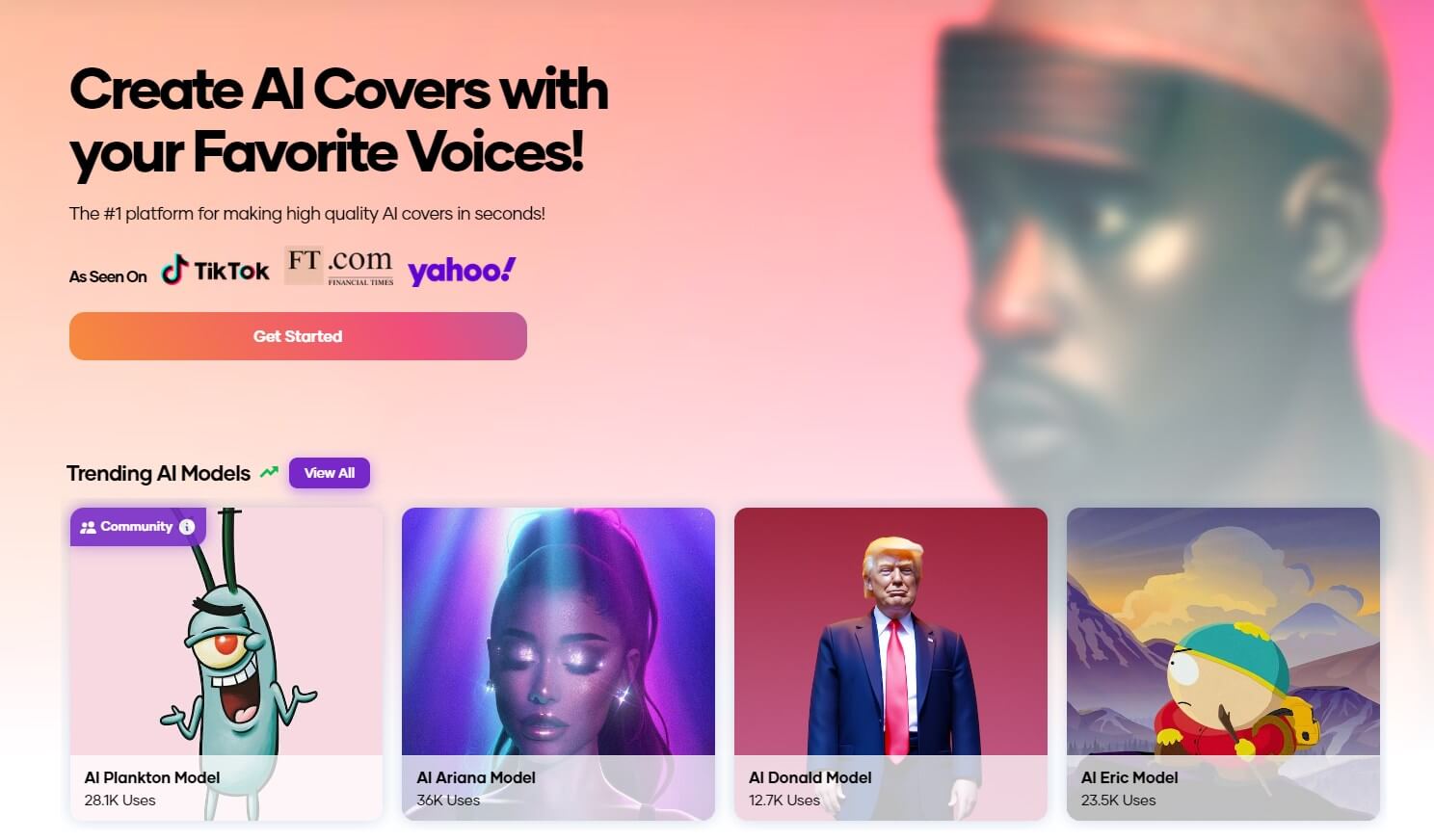 How to Use Voicify.ai?
Step 1. Access to Voicify.ai
Step 2. Select Chester's model and click to open it.
Step 3. Switch to Text to Speech Mode.
Step 4. Input your text (Minimum 20 characters)
Step 5. Waiting for processing.
Features&Price Comparison:
| Features | TopMediai Voice Generator | Voicify.ai |
| --- | --- | --- |
| Diverse Voice Options | 3200+ | 200+ |
| Multiple languages | 70+ | Only English |
| Customization Capabilities | Support for adjusting | Not supported |
| Real-time Preview | No, but free audition | No |
| Multiple Output Formats | MP3,MAV | MP3,WAV |
| High-Quality Audio | Only High Quality | Need to Pay for different Quality |
| Processing Speed | Without Waiting | Wait for 30 seconds or more |
| Character Limit | At least 1 words | Minimum 20 characters |
| Price&Plan | 12.99/month for all voices | 24.99/month for all voices |
Don't miss: How to Use Voice Generator to Change Frank Sinatra AI Voice.
Part 3: How to Ensure Voice Generator restores the authenticity of Bennington's voice to more than 90%?
Emotional Nuances: Understand the emotional nuances that characterized Chester's singing. Adjusting the AI model's parameters to convey these emotions accurately can enhance authenticity.
Fine-Tuning: Many AI voice generators allow fine-tuning of parameters. Experiment with settings that reflect Chester's vocal range, pitch, and delivery style.
Continuous Improvement: Regularly update the AI model as more data becomes available. This iterative process helps refine the generated voice over time.
Part 4: FAQs about Chester Bennington Voice AI
1 What was Chester Bennington's vocal style?
Chester was known for his versatile vocal style, which ranged from melodic singing to intense screams. He often blended emotional vulnerability with a powerful presence, creating a unique and impactful sound that resonated with fans.
2 When and how did Chester Bennington pass away?
Tragically, Chester Bennington died by suicide on July 20, 2017. His passing shocked fans and the music industry, as he was beloved for his contributions to music and his advocacy for mental health awareness.
3 What were some of Linkin Park's popular songs?
Linkin Park produced several hit songs, including "In the End," "Numb," "Crawling," "Somewhere I Belong," and "Breaking the Habit." These tracks showcased Chester's vocal prowess and the band's ability to fuse rock, alternative, and electronic elements.
Conclusion The marriage of AI and music has unlocked extraordinary possibilities, including the recreation of iconic voices like that of Chester Bennington. While achieving a complete replica may be challenging, the technology brings fans closer to the emotional resonance of his performances. We may find ourselves in a future where the boundaries between the past and present blur, allowing us to relive the magic of legendary artists like Chester Bennington.

"Linkin Park Never Be End".