Whitney Houston, known for her unparalleled talent and iconic voice, captivated audiences around the world with her soulful performances. Even though she is no longer with us, advancements in technology now allow us to recreate her voice using AI-powered text to speech voice generators.
In this article, we will explore the way to generate a realistic Whitney Houston AI voice and how it can be used for various applications.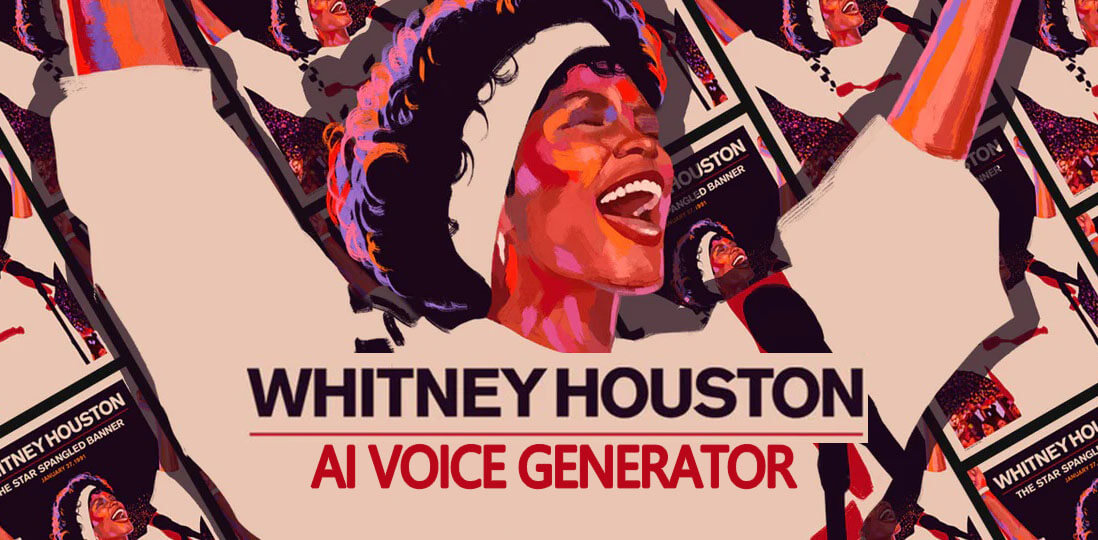 Part 1: How to Generate Whitney Houston AI Voice?
One of the top voice generators for creating a Whitney Houston AI voice is TopMediai. This free online platform allows users to convert text into a synthesized voice that closely resembles Whitney Houston's signature vocal style.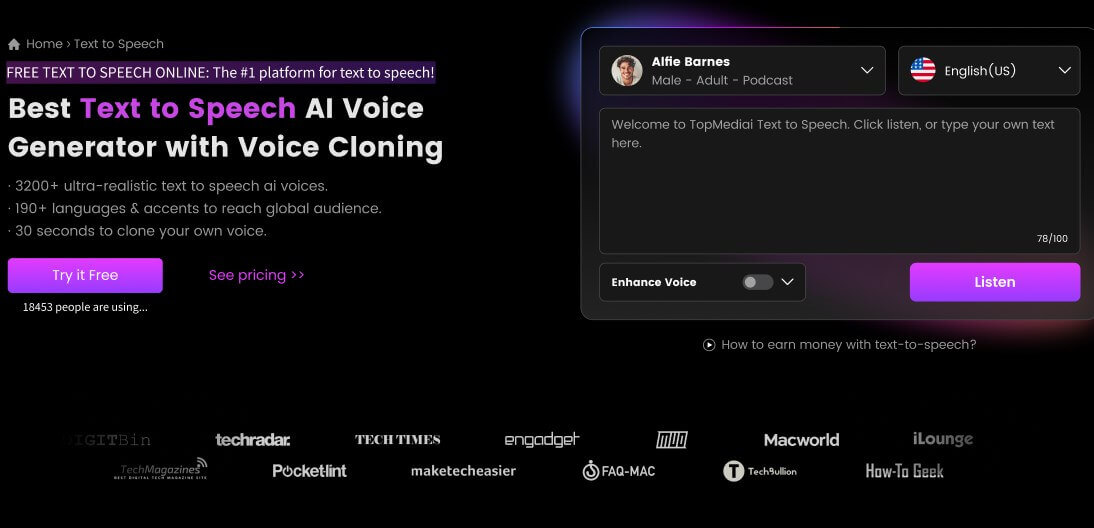 By simply typing in the desired text, the generator will process it and produce a high-quality AI-generated voiceover in a matter of seconds. Whether you're a content creator, musician, or simply a fan, TopMediai provides an accessible and powerful tool to harness the essence of Whitney Houston's voice.
Step 1: Go to the TopMediai Text to Speech.
Step 2: Upload or copy-paste the text that you want to convert into speech.
Step 3: Choose the Whitney Houston AI Voice on the \strong>"Musicians" Option.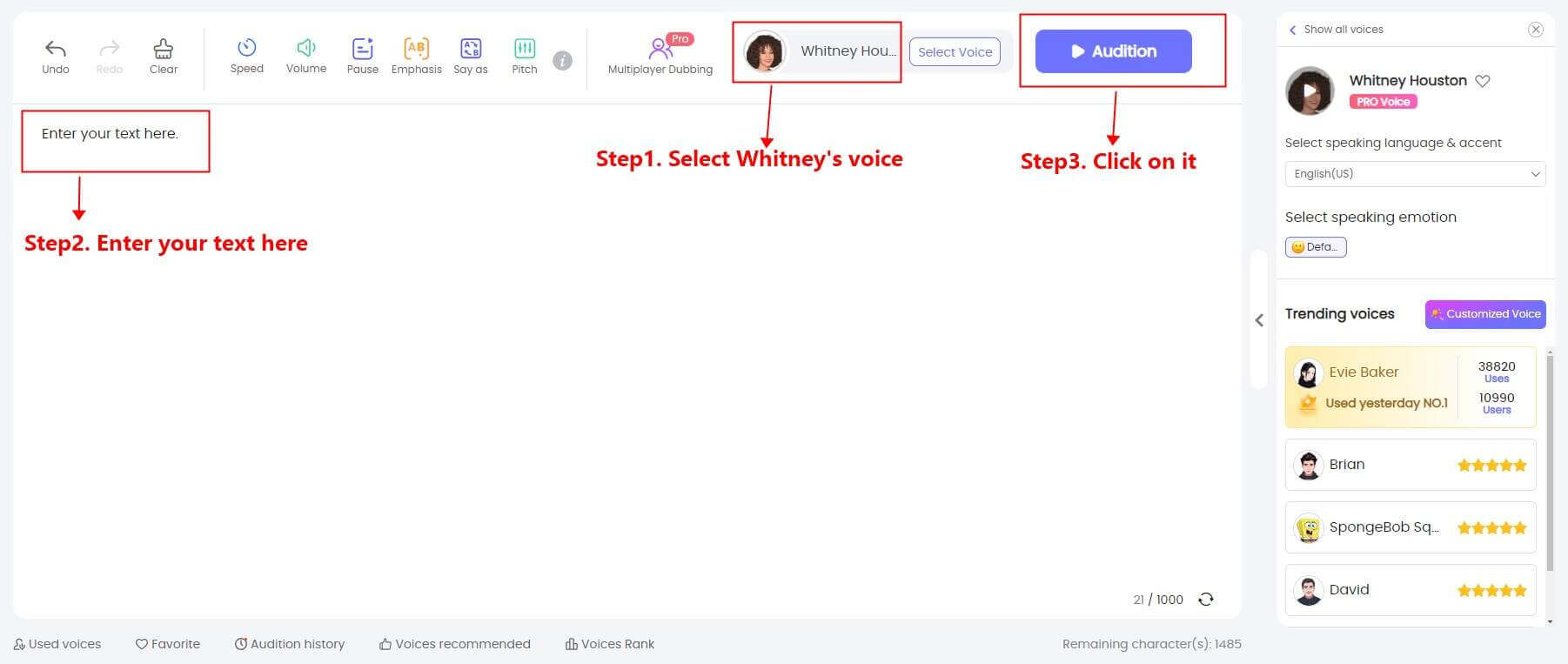 Step 4: Choose the language, voice, and other settings that you prefer.
Step 5: Download the final speech output as an audio file.
Key Features:
We have an extensive range of over 3,200 voices spanning across 70 languages.
Utilizing advanced AI technology, users can personalize the speech speed and tone according to their preferences.
Our voice generator creates a remarkable collection of lifelike and top-notch voices that closely mimic human speech.
The audio output can be saved in multiple formats including MP3 and WAV for convenience.
Our service is offered to users completely free of charge, enabling them to utilize it without any cost.
Part 2: Who is Whitney Houston?
Whitney Houston was an American singer and actress who rose to prominence in the 1980s and 1990s. With a vocal range and power that few could match, she became one of the most successful and awarded musicians of all time. Houston's voice touched the hearts of millions and left an indelible mark on the music industry.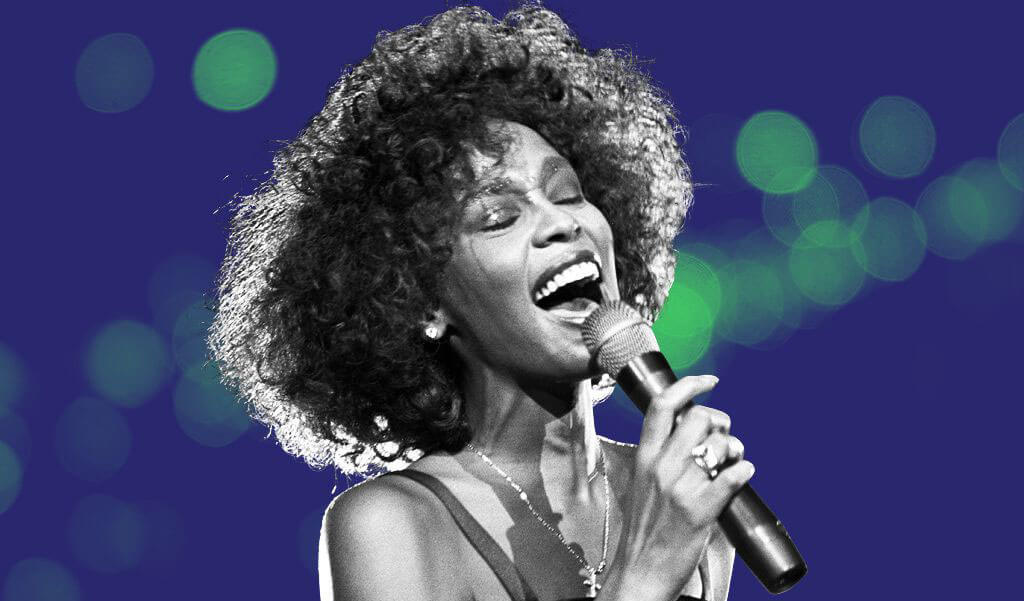 In addition to her success in the music world, Whitney Houston also ventured into acting. She starred in films such as "The Bodyguard" (1992), "Waiting to Exhale" (1995), and "The Preacher's Wife" (1996). Houston's acting abilities showcased her versatility as an artist and further solidified her status as an entertainment icon.
Part 3: How did Whitney Houston Die?
While it's important to celebrate Whitney Houston's remarkable talent, we must also address the tragic end to her life. Whitney Houston passed away on February 11, 2012, at the age of 48.

Her death was attributed to accidental drowning in a hotel bathtub, with heart disease and cocaine use listed as contributing factors. Despite her untimely departure, Houston's music continues to inspire and touch the lives of people worldwide.
Part 4: FAQs about Whitney AI Voice
1 What are the popular Whitney Houston Songs?
"I Will Always Love You", "Greatest Love of All", "I Wanna Dance with Somebody (Who Loves Me)", "Saving All My Love for You", "How Will I Know", "I Have Nothing", "One Moment in Time", "Didn't We Almost Have It All", "So Emotional", "Where Do Broken Hearts Go".
2 What are the famous Whitney Houston Movie?
1. "The Bodyguard" (1992) - Houston starred opposite Kevin Costner in this romantic drama, which also featured her iconic rendition of "I Will Always Love You."
2. "Waiting to Exhale" (1995) - Houston played one of the main characters in this film adaptation of Terry McMillan's novel, showcasing her acting skills alongside an ensemble cast.
3. "The Preacher's Wife" (1996) - Houston starred alongside Denzel Washington in this heartwarming film, which also featured her powerful vocal performances.
4. "Cinderella" (TV Movie, 1997) - Houston played the Fairy Godmother in this adaptation of the classic fairy tale, bringing her charm and talent to the small screen.
5. "Sparkle" (2012) - Houston's final film role, where she also served as an executive producer. It was a musical drama that showcased her acting and singing abilities.
Conclusion By utilizing free Text to Speech voice generator like TopMediai, fans and artists alike can tap into the timeless magic of Whitney Houston's voice, bringing it to new audiences and ensuring that her impact on the world of music remains everlasting.
Let us embrace these technological advancements responsibly and honor the memory of one of the greatest vocalists of all time.