Imagine being able to harness the power of one of Hollywood's most iconic voices for your own creative endeavors. In this comprehensive guide, l'll explore the fascinating world of Harrison Ford AI voice generation and show you how to unlock the magic of his captivating voice.
Get ready to embark on a journey that combines text-to-speech technology with the timeless charisma of Harrison Ford himself.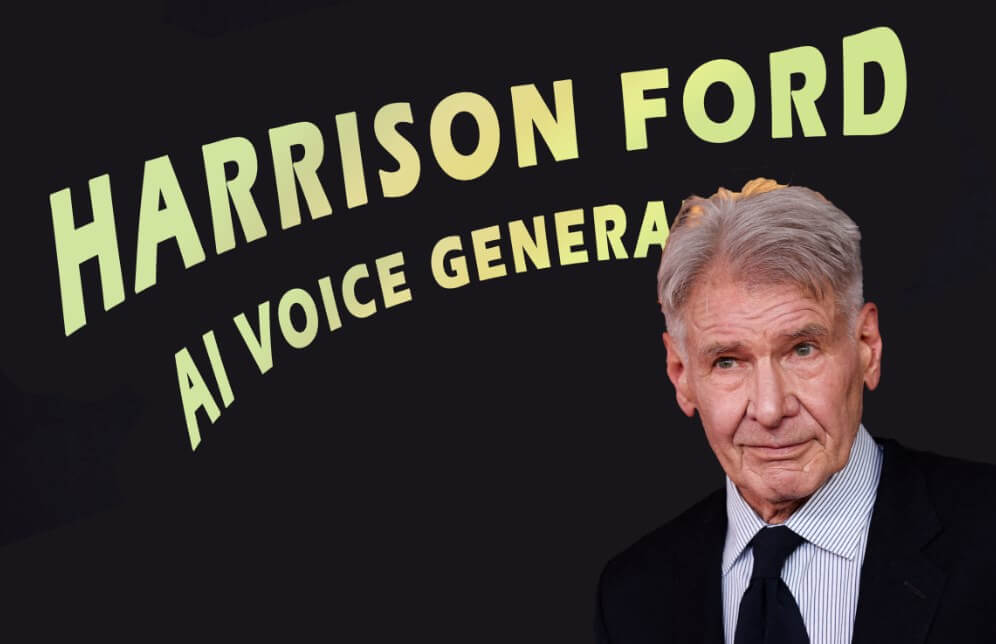 Part 1: How to Generate Harrison Ford Voice?
One notable tool for generating Harrison Ford ai voice is TopMediai Voice Generator. This cutting-edge AI platform utilizes state-of-the-art technology to replicate the nuances and inflections of Harrison Ford's voice, giving you the ability to create compelling voice-overs or memes that resonate with audiences.
With a few simple steps, you can transform text to speech that resemble the legendary actor's voice.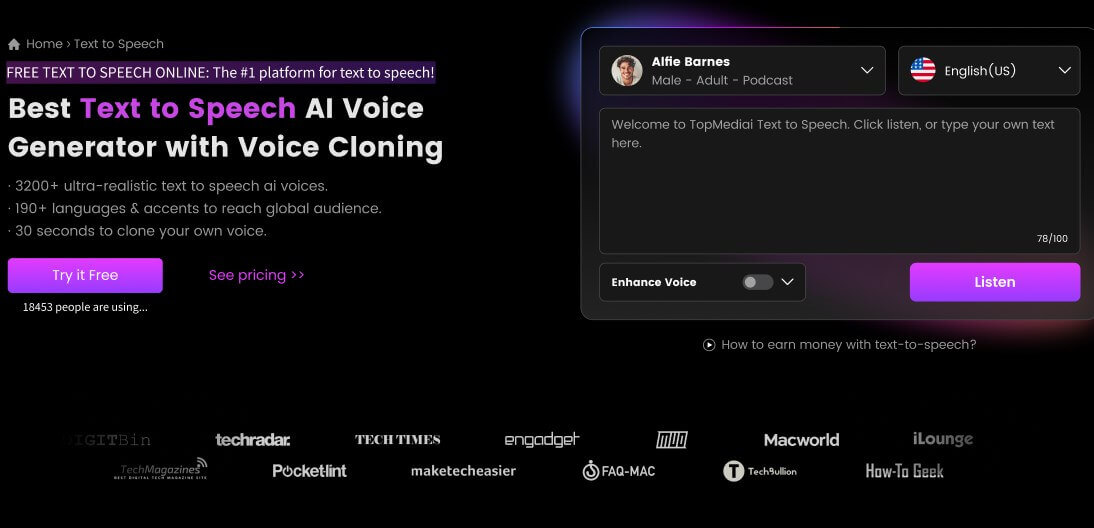 How to Make Stunning Harrison Ford AI Voice?
Step 1. Visit TopMediai voice generator and sign up or log in.
Step 2. Choose your language and select Harrison Ford AI Voice on "Actors" option.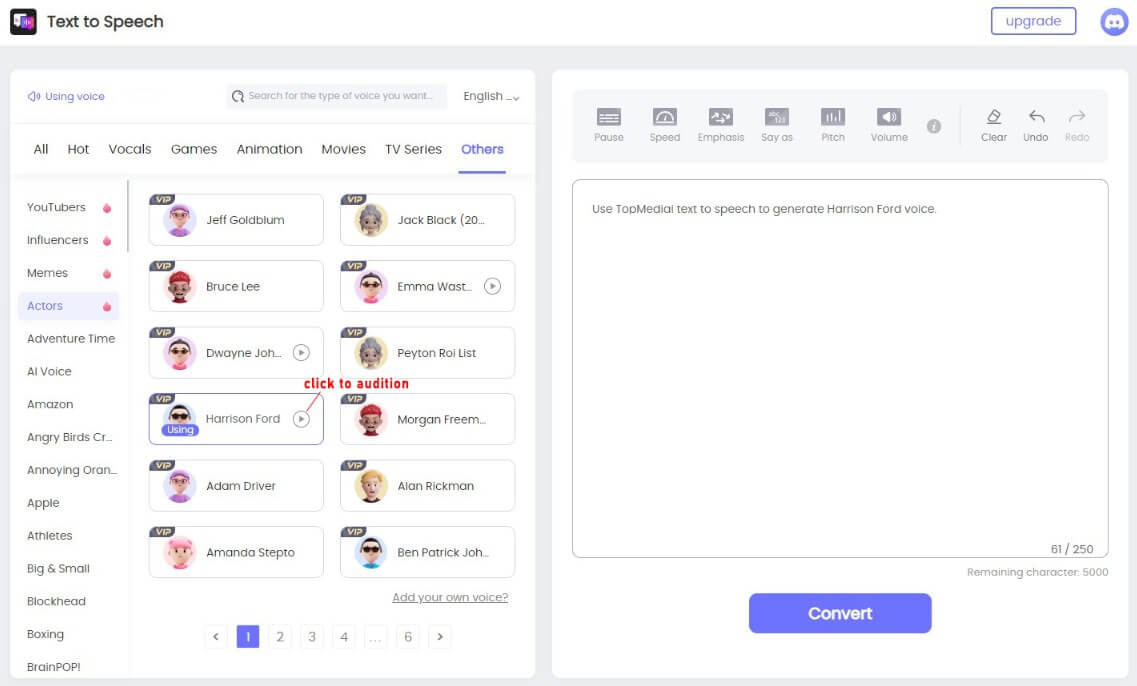 Step 3. Enter the text you want the AI voice to speak.
Step 4. Customize voice settings if desired.
Step 5. Convert the voice-over and download the audio file.
Step 6.
Preview and listen to the generated voice.
Want to Change your voice into Harrison Ford in real-time? Look no further!
Here is a full guide of online free voice changer.
Key Features:
Choose from over 3200 voices tailored to your needs.
Access a convenient online text-to-speech platform.
Enjoy natural-sounding Harrison Ford voice generators available in multiple languages.
Explore celebrity voices, including Morgan Freeman and Harrison Ford.
Create cost-effective and professional-grade audio content.
Experience a user-friendly interface for seamless access to the voice generator.
Guess you like: Get Realistic Voiceover Sound Like Morgan Freeman Text to Speech [AI].
Part 2: Who is Harrison Ford?
Harrison Ford is a renowned Hollywood actor who has starred in numerous blockbuster films, including the Indiana Jones and Star Wars franchises. His deep, gravelly voice has become synonymous with characters like Han Solo and Indiana Jones, making him a beloved figure in the entertainment industry.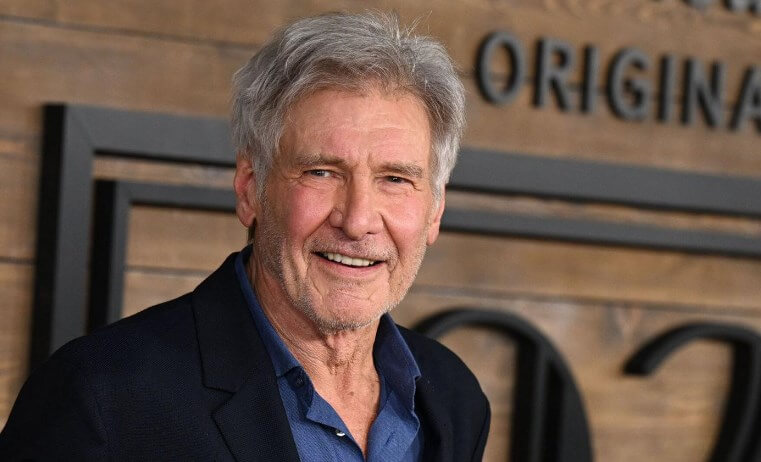 Part 3: Worth Watching: Harrison Ford for Indiana Jones 5
As fans eagerly await the release of Indiana Jones 5, Now is on air! The prospect of hearing Harrison Ford's voice once again in the role of the adventurous archaeologist is highly anticipated.
The film promises to continue the thrilling saga with Ford reprising his iconic role, allowing fans to immerse themselves in the world of Indiana Jones and experience his captivating voice on the big screen.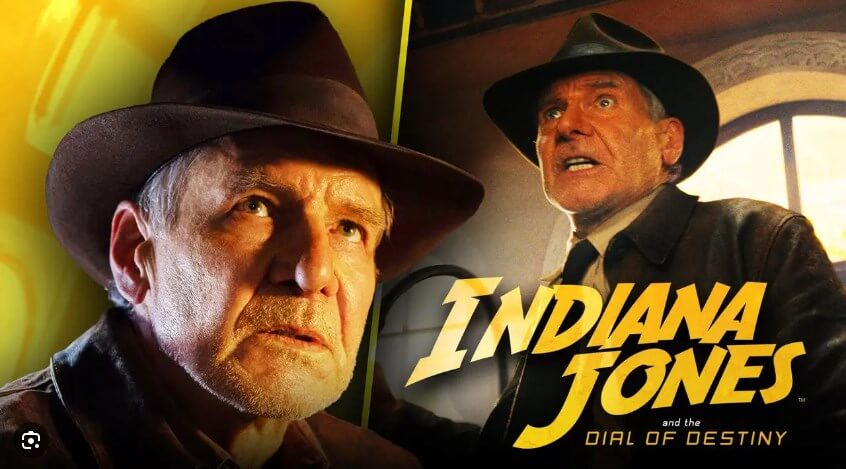 Part 4: FAQs about Harrison Ford Voice AI
1 What are some of Harrison Ford's most famous movies?
Harrison Ford is known for his roles in iconic movies such as "Star Wars" (as Han Solo), "Indiana Jones" (as Indiana Jones), "Blade Runner" (as Rick Deckard), and "The Fugitive" (as Dr. Richard Kimble), among others.
2 Is Harrison Ford returning for the fifth Indiana Jones movie?
Yes. It has been confirmed that Harrison Ford will be reprising his iconic role as Indiana Jones in the fifth installment of the Indiana Jones franchise, which is currently in production.
3 Has Harrison Ford done voice-over work?
Yes. Harrison Ford has lent his voice to several projects. Notably, he provided the voice for the character of Rooster in the animated film "The Secret Life of Pets 2" and also narrated the documentary "Dalai Lama Renaissance."
4 Was Harrison Ford a carpenter before becoming an actor?
Yes. Harrison Ford worked as a carpenter before his breakthrough in acting. He took on carpentry jobs to support his family while pursuing his acting career.
Conclusion Incorporate Harrison Ford's AI-generated voice to elevate your content. Leverage advanced AI voice generation technology like TopMediai Voice Generator text-to-speech tech to captivate audiences with Harrison Ford ai voice. Whether you're a filmmaker, game developer, or fan, explore AI voice generation for limitless possibilities. Unleash Harrison Ford's voice for authentic and powerful creations.

Trust me, it is absolutely a nice try!