Voice generation technology has taken significant strides, allowing users to create engaging AI voices that resemble renowned personalities. One such notable figure is the legendary rapper Ice Cube.
So, l will explore how you can generate an Ice Cube AI voice using a voice generator, providing you with an opportunity to experience the unique vocal style of this iconic artist.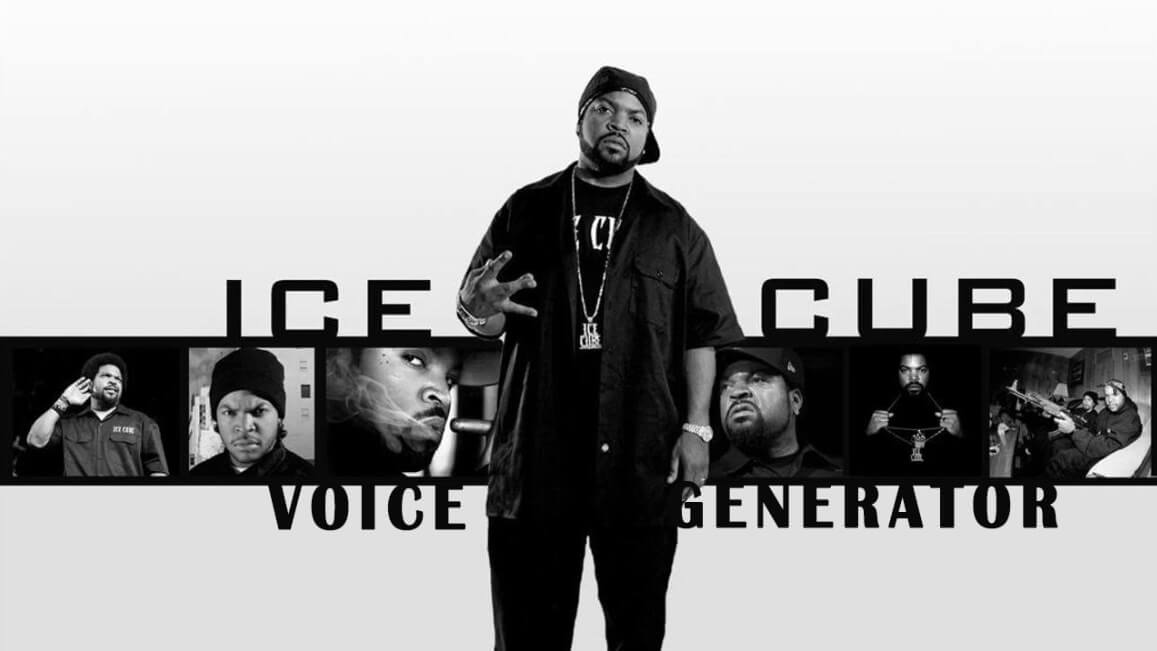 Part 1: How to Get Ice Cube AI Voice?
If you're an aspiring artist, content creator, or simply an Ice Cube fan, utilizing the Ice Cube Voice Generator AI can add an extra layer of authenticity and creativity to your projects. TopMediai Voice Generator specializes in replicating Ice Cube's distinct vocal tone, enabling you to infuse his signature style into your own audio productions.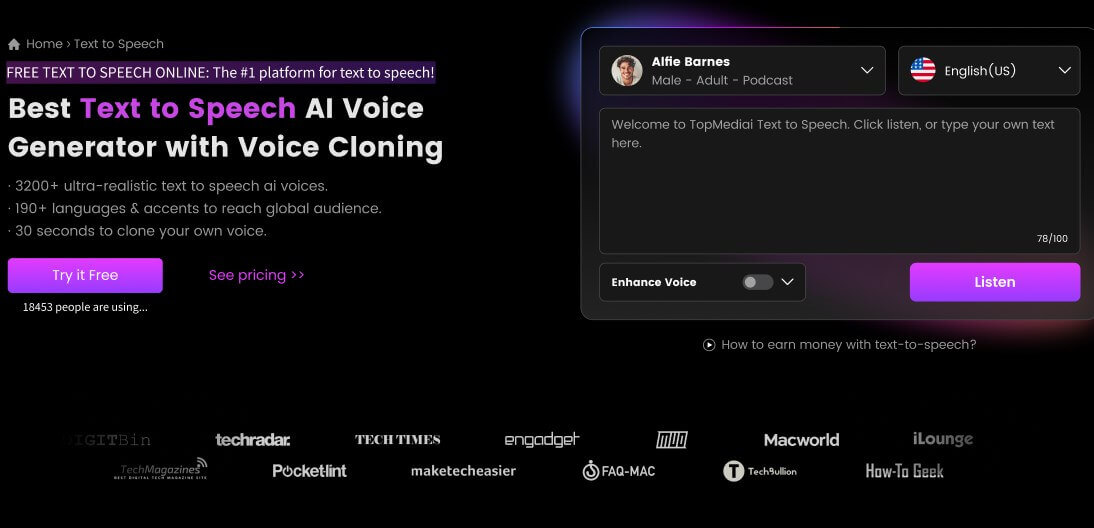 And it has mastered the nuances of Ice Cube's ai voice, ensuring that each generated voice sample captures the essence of his iconic delivery.
How to Generate Ice Cube AI Voice?
Step 1. Visit TopMediai website and access voice generator section.
Step 2. Select the Ice Cube ai Voice from the "Rappers" options.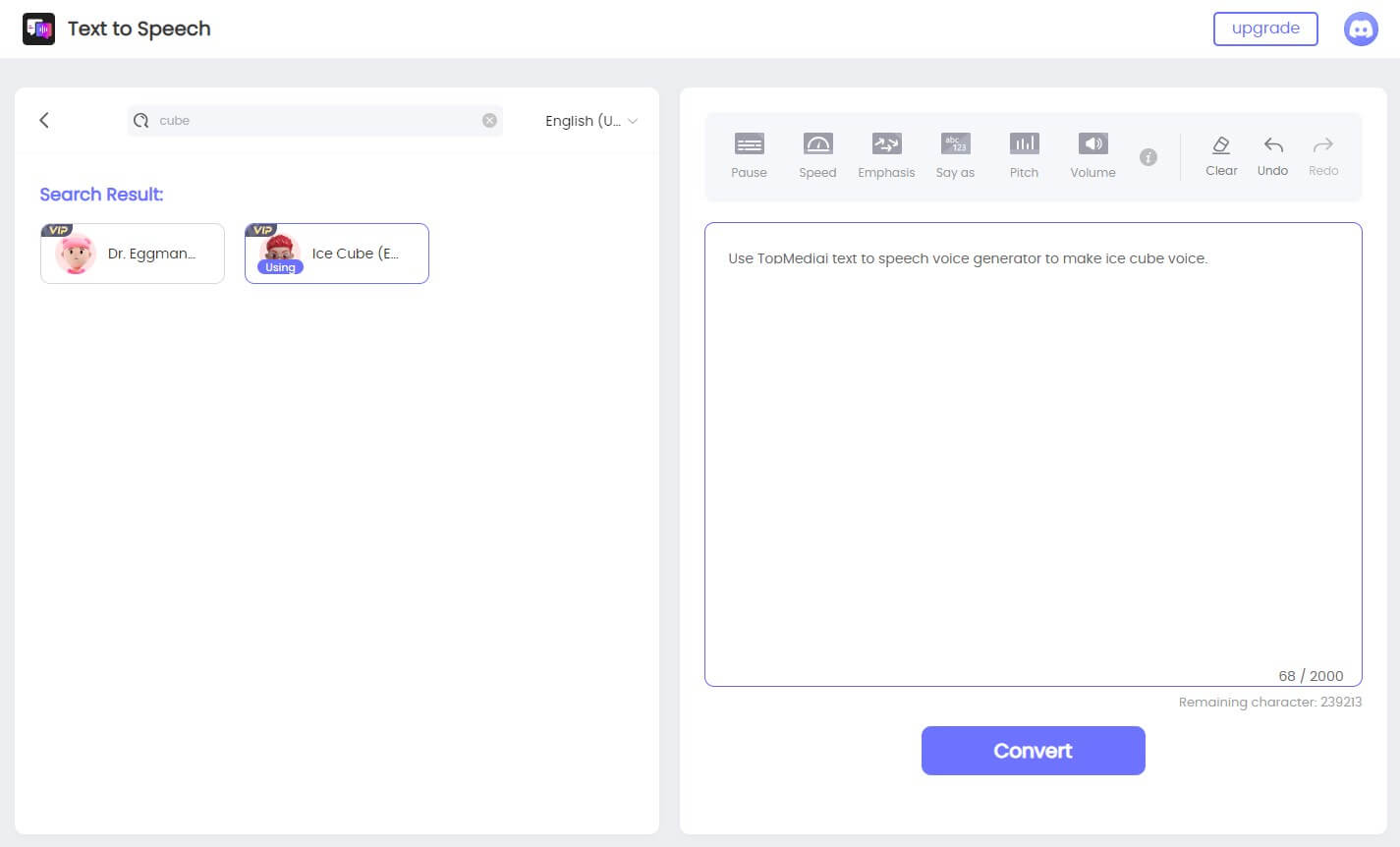 Step 3. Input your text into the provided text field.
Step 4. Click on the "Convert".
Step 5. Preview the generated voice clip and download.
Step 6. Integrate the voice clip into your desired projects.
Focus on:
Access a wide range of high-quality soundtracks and customizable voice effects.
Utilize the rapper text-to-speech feature, allowing you to generate text in the voice of various rappers.
Enjoy a vast selection of over 70+ languages and 3200+ voices for text-to-speech conversion.
Create AI voices for rappers known for their deep voices, such as Ice Cube, Kanye West, and Drake.
Explore its capabilities as an AI rap generator, assisting you in generating rap lyrics and compositions.
Don't miss: How to Make Drake AI Voice FREE with Drake Text to Speech Voice Generator
Part 2: Who is Ice Cube?
Ice Cube, born O'Shea Jackson, is a renowned American rapper, actor, and filmmaker. He emerged as a prominent figure in the late 1980s as a member of the influential rap group N.W.A. (Niggaz Wit Attitudes). Known for his bold and socially conscious lyrics, Ice Cube has released numerous successful albums throughout his career, earning him a place among the pioneers of gangsta rap.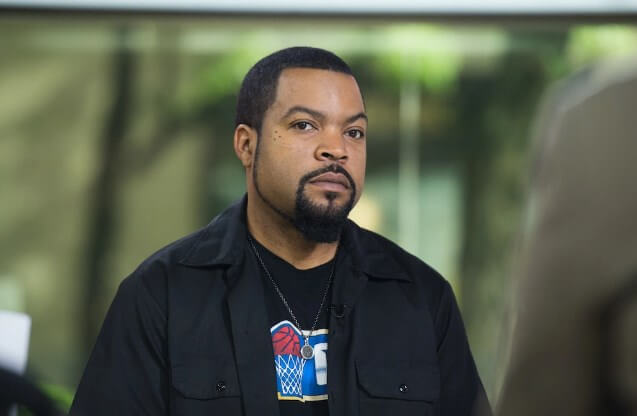 Part 3: Why did Ice Cube Change His Name?
Ice Cube's decision to change his name from O'Shea Jackson to Ice Cube was a strategic move reflecting his desire to create a distinct and memorable persona. The name "Ice Cube" conveyed a sense of toughness and resilience, aligning with the image and lyrical themes prevalent in his music. This transformation allowed him to establish himself as a solo artist and expand his creative endeavors beyond music.
Part 4: FAQs about Ice Cube Voice AI
1 What are some of Ice Cube's biggest hits?
Ice Cube has several notable hits, including "It Was a Good Day," "Check Yo Self," "Today Was a Good Day," "You Can Do It," and "Gangsta Rap Made Me Do It." These songs helped solidify his status as a prominent figure in hip-hop.
2 Has Ice Cube received any awards for his work?
Yes, Ice Cube has received numerous awards throughout his career. He has won awards such as BET Hip Hop Awards, MTV Movie Awards, and NAACP Image Awards for his contributions to music and film.
3 Has Ice Cube ventured into other business endeavors?
Yes, Ice Cube has ventured into various business endeavors. He co-founded the hip-hop group N.W.A and later formed his own record label, CubeVision, which has produced several successful films. He has also been involved in the Big3, a professional 3-on-3 basketball league.
Conclusion Ice Cube ai Voice Generator offers an exciting opportunity to harness the power and charisma of one of hip-hop's most iconic voices. TopMediai text-to-speech voice generator is a game-changer that could unleash your creativity and transform your words with the Ice Cube Voice Generator to captivate and engage your audience in a truly legendary style.