If you're a fan of the beloved animated character Lightning McQueen from Disney-Pixar's "Cars" franchise, you're in for a treat. In this article, l'll explore how you can use a Lightning McQueen voice generator to bring this iconic character to life through text-to-speech technology.

Whether you want to add some Lightning McQueen flair to your videos or just have some fun, we've got you covered.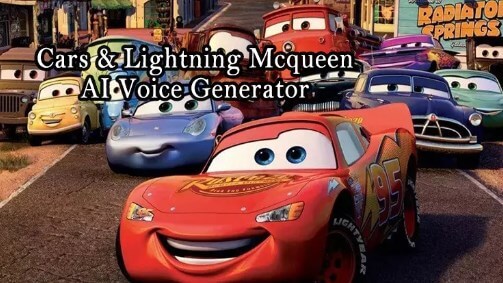 Part 1: Who is Lightning Mcqueen?
Lightning McQueen is a fictional character and the main protagonist in the animated movie franchise "Cars," produced by Pixar Animation Studios and distributed by Walt Disney Pictures. He is a red racing car who becomes a racing legend throughout the course of the movies.
Lightning McQueen is known for his catchy catchphrase "Ka-chow!" and his journey from being a self-absorbed rookie racer to a more humble and caring character. The "Cars" franchise includes several films, TV shows, and merchandise, making Lightning McQueen a well-known and beloved character among both children and adults.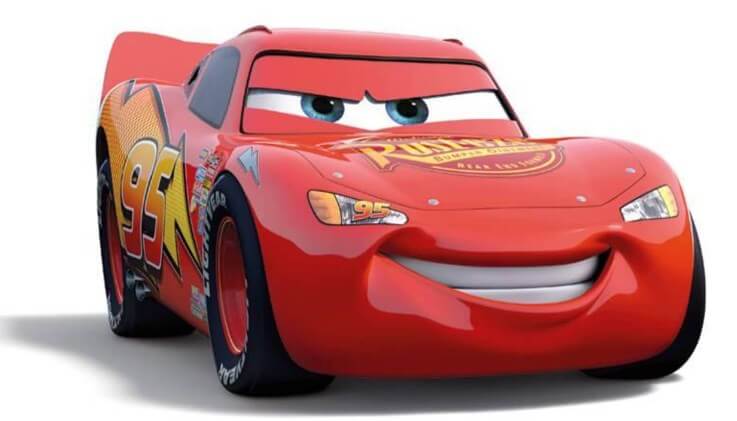 Part 2: Who Voices Lightning Mcqueen?
Lightning McQueen is voiced by the talented actor Owen Wilson. Wilson's distinct voice and delivery have become synonymous with the character, contributing significantly to Lightning McQueen's popularity.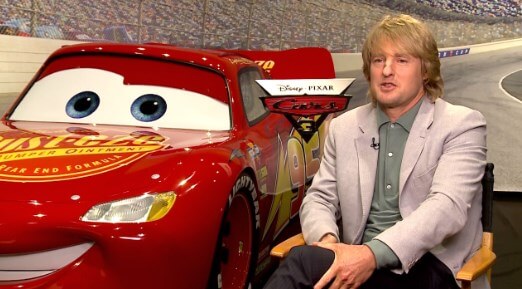 Part 3: How to Do a Lightning Mcqueen AI Voice?
There are now AI voice generators that can mimic Lightning McQueen's speech patterns and tone. One such tool is the TopMediai Lightning Mcqueen Voice Generator for Cars, specially designed to bring that automotive charm to your voice projects.
TopMediai Voice Generator for Cars is a cutting-edge AI tool that allows you to generate voices similar to Lightning McQueen's. With this AI, you can input text, and it will transform it into a voice that captures Lightning McQueen's essence or other popular cartoon characters. Whether you want to create a fun video, a personalized message, or anything else, this AI tool can help you achieve that iconic sound.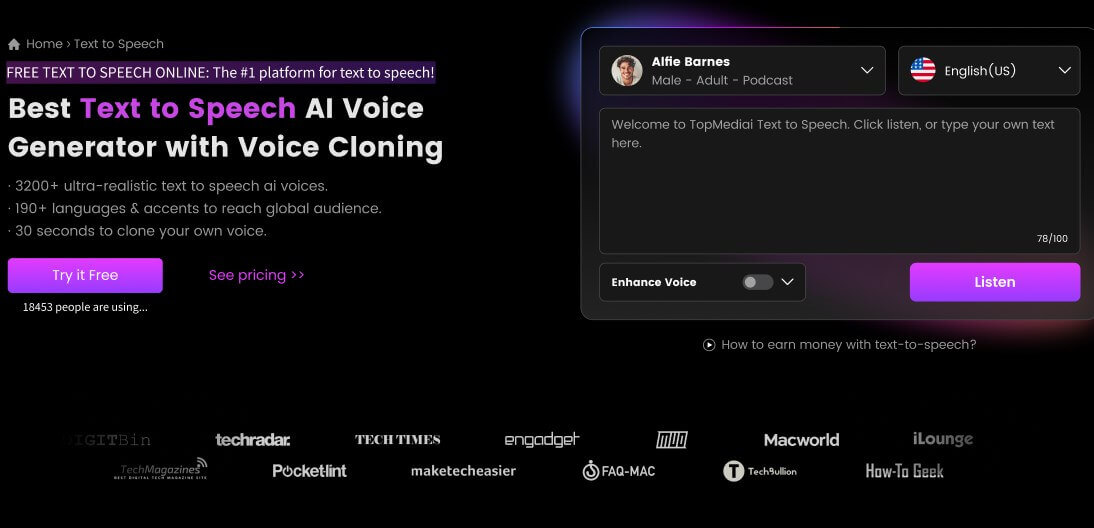 How to Use Lightning Mcqueen Voice Generator to Make Mcqueen AI Voice?
Step 1: Visit the TopMediai Lightning Mcqueen Voice Generator website.
Step 2: Select the Lightning McQueen ai voice option from the available characters.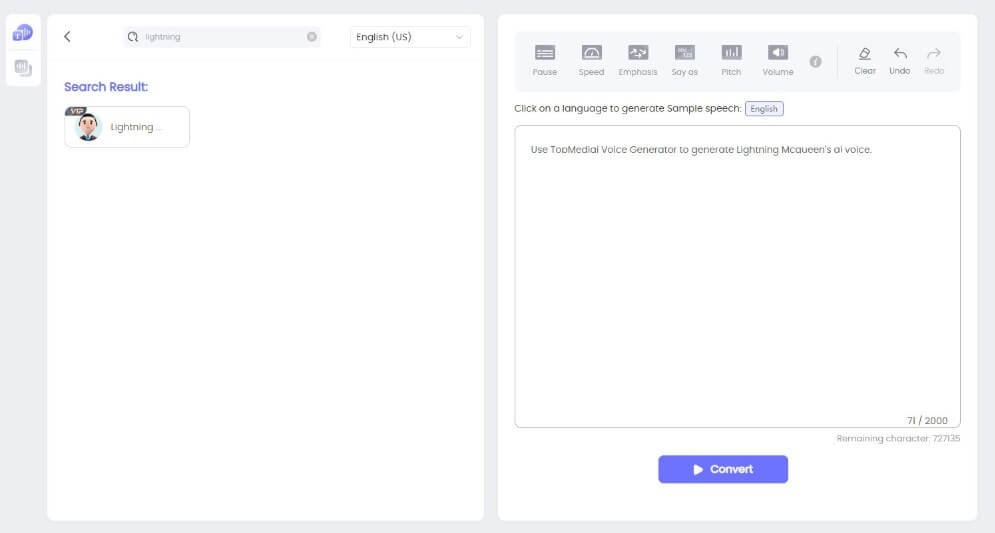 Step 3: Input the text you want Lightning McQueen ai voice to say.
Step 4: Generate the audio and download your McQueen-inspired speech.
API Integration: Offers integration for developers and businesses.
Multiple Languages and Accents: Supports 130+ languages and accents.
Privacy and Data Security: Ensures user data privacy and security.
Affordable Pricing: Offers various pricing plans, including free trials.
High-Quality Audio Output: Generates clear and professional-quality audio.
Try Lightning Mcqueen Text to Speech Online >>
Part 4: Other Characters and Voice Actors of Cars
Mater, voiced by Larry the Cable Guy
Sally Carrera, voiced by Bonnie Hunt Doc Hudson, voiced by Paul Newman Luigi, voiced by Tony Shalhoub Guido, voiced by Guido Quaroni
Part 5: Hot FAQs about Lightning Mcqueen AI Voice
1 What is the Lightning McQueen Voice Generator?
The Lightning McQueen Voice Generator is an AI-powered tool designed to replicate the distinctive voice of Lightning McQueen, the iconic character from the "Cars" movie franchise.
2 How does the Lightning McQueen Voice Generator work?
The generator uses AI algorithms to analyze Lightning McQueen's voice patterns and speech characteristics. Users input text, and the AI transforms it into a voice that resembles Lightning McQueen's.
3 What is the Lightning McQueen AI Voice?
Lightning McQueen AI Voice is a synthetic voice generated using AI technology to mimic the distinctive voice of the popular animated character Lightning McQueen from the "Cars" franchise.
Conclusion Achieving a Lightning McQueen AI voice is just one example of the exciting opportunities that technology offers. Whether you're a fan looking to pay homage to Lightning McQueen or a content creator seeking to infuse a bit of automotive magic into your work, Lightning Mcqueen AI voice generator like TopMediai are here to help you achieve your creative goals.

So rev up your engines and let Lightning McQueen's iconic voice inspire your next project!
TopMediai Text to Speech
AI-powered text to speech generator with voice cloning