Are you a fan of the hilarious and charismatic King Julien from the beloved cartoon series, Madagascar? Imagine being able to bring his iconic voice to life with a realistic AI voice generator.
In this article, l will explore the exciting world of King Julien voice generation and how you can enjoy endless entertainment with a King Julien voice generator.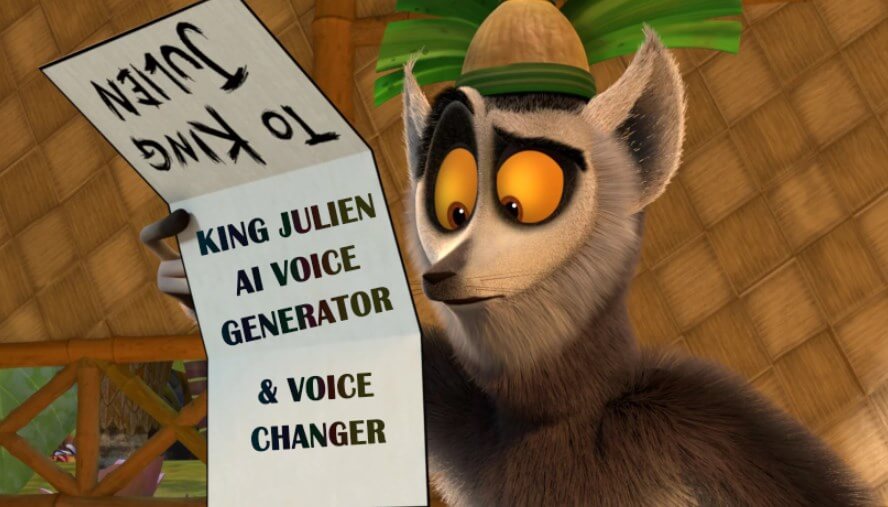 Part 1: How to Create Realistic King Julien AI Voice?
One of the leading voice generator tools on the market is the TopMediai Voice Generator, which specializes in providing realistic AI voices of famous characters from popular cartoons. With this powerful tool, you can access a wide range of voices, including the energetic and amusing voice of King Julien.
TopMediai Voice Generator utilizes advanced AI algorithms to ensure the generated voice captures the essence of King Julien's unique tone, accent, and mannerisms.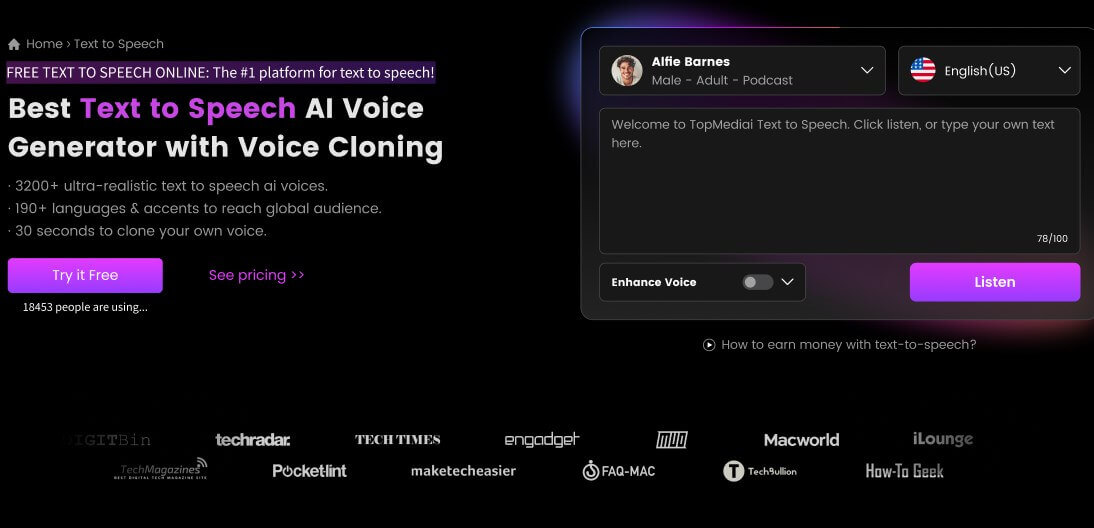 How to Generate Julien' AI Voice?
Step 1. Visit TopMediai AI Collection website and access to the Voice Generator feature.
Step 2. Choose King Julien ai voice from the cartoon series voice AI options.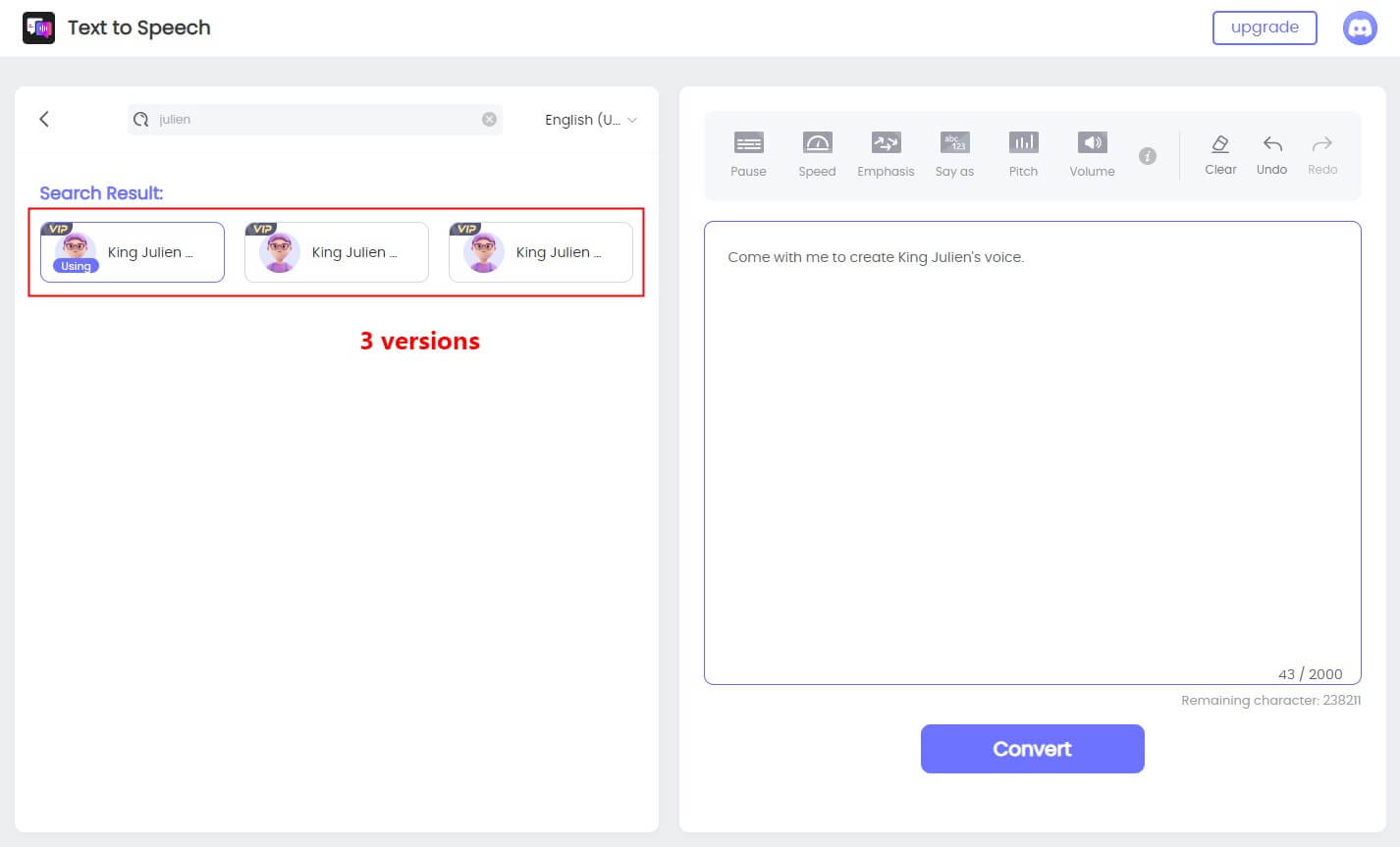 Step 3. Enter or upload the desired text.
Step 4. Adjust voice parameters if available.
Step 5. Click "Convert" to generate the AI voice.
Step 6.
Download or save the voiceover in your preferred format.
If you're looking to have some fun with your friends or add a playful twist to your voice recordings, TopMediai Online Free Voice Changer is the perfect solution. This user-friendly tool allows you to modify your voice in real-time, offering various presets and effects to choose from.
Among its wide selection, you'll find the King Julien voice changer, enabling you to speak like the animated lemur and bring a touch of humor to your conversations.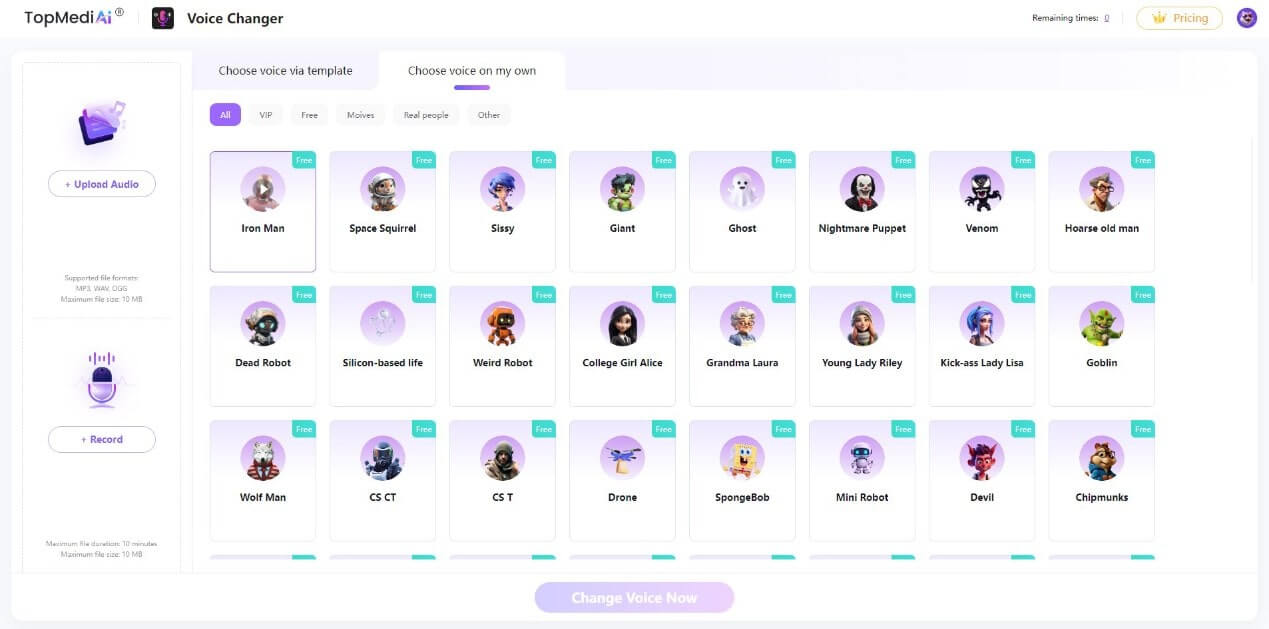 How to Use Voice Changer to Change Julien's voice?
Step 1. Visit the official TopMediai Voice Changer by opening your preferred web browser(Both PC and Mobile).
Step 2. Upload a audio file or record online what you want to say (available for songs).
Step 3. Choose King Julien Voice Model.
Step 4. Then voice changer will automatically change.

Step 5. After changing, Click "Download" button to save it.
Highlights of TopMediai
Free Voice Changer: Modify your voice with AI algorithms and effects.
Voice Generator with translation: Access realistic AI voices, including popular cartoon characters.
Text-to-Speech (TTS): Convert written text into natural-sounding speech.
Audio Effects: Apply various effects to enhance audio recordings.
Image Editing: Manipulate images using AI algorithms(Watermark remover and blackgroung remover).
AI Art Generator: AI Prompts generate Pics.
Accessibility Tools: Improve accessibility with features like closed captioning and text-to-speech.
Part 2: Who is King Julien?
King Julien is a lovable and flamboyant character from the animated franchise "Madagascar." He is a ring-tailed lemur known for his energetic personality, catchy dance moves, and unforgettable catchphrases.
Julien serves as the self-proclaimed king of the lemurs and brings a vibrant and comedic presence to the screen. His hilarious antics and distinctive voice have made him a fan favorite among both children and adults.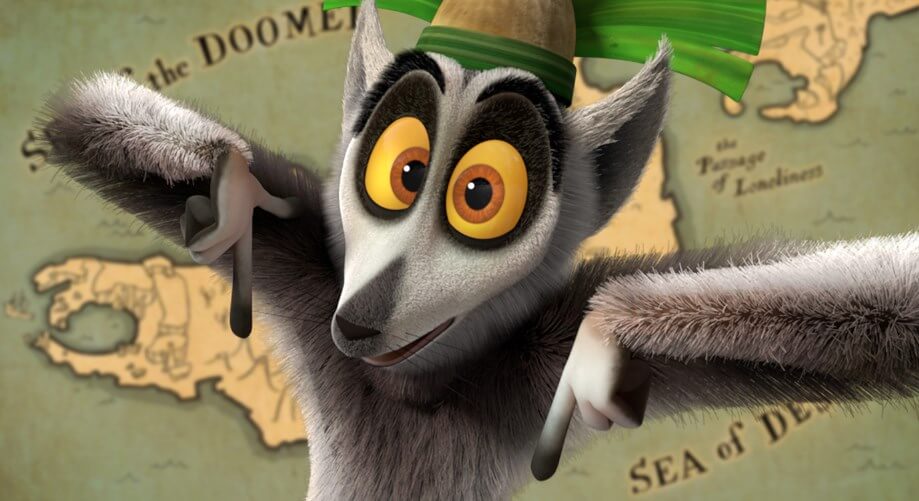 Part 3: Who is the Voice of King Julien?
1. Sacha Baron Cohen: Sacha Baron Cohen voiced King Julien in the first two "Madagascar" films, "Madagascar" (2005) and "Madagascar: Escape 2 Africa" (2008).
2. Danny Jacobs: The voice behind the iconic King Julien(2014-2017) is none other than actor and comedian Danny Jacobs. His portrayal of King Julien has been a key factor in the character's popularity and has contributed to the success of the "Madagascar" franchise.
3. Keith Ferguson: Andre Sogliuzzo took on the voice of King Julien in the recent TV series "All Hail King Julien: Exiled" (2017-2018).
Part 4: FAQs about King Julien Voice AI
1 How many seasons does the "All Hail King Julien" TV series have?
The "All Hail King Julien" TV series has a total of five seasons. It premiered in 2014 and concluded in 2017, with "All Hail King Julien: Exiled" serving as a spin-off mini-series.
2 What are some of King Julien's memorable quotes?
Aside from his famous catchphrase, King Julien is known for his humorous and memorable quotes, such as "The king, she is not pleased!" and "I've got the moves like Jagger!"
3 Is King Julien a popular character among fans?
Yes, King Julien has become a fan favorite character due to his entertaining personality, comedic moments, and infectious energy. His popularity has led to the creation of multiple spin-off projects centered around the lemur king.
Conclusion TopMediai ai Voice Generator and online free voice changer open new doors of possibilities, allowing you to create immersive experiences, entertaining content, or simply indulge in the joy of channeling the spirit of King Julien.
So, seize the opportunity and unleash your creative prowess, as you embark on a thrilling adventure ruling the jungle with King Julien's AI voice.