In the era of AI, voice assistants have become ubiquitous in our daily lives. Voice AI technology has revolutionized the way we interact with our devices, making tasks like setting reminders, playing music, and answering questions effortless. In this article, we'll explore the Best Prime Voice AI and learn how to make realistic Voice that you want.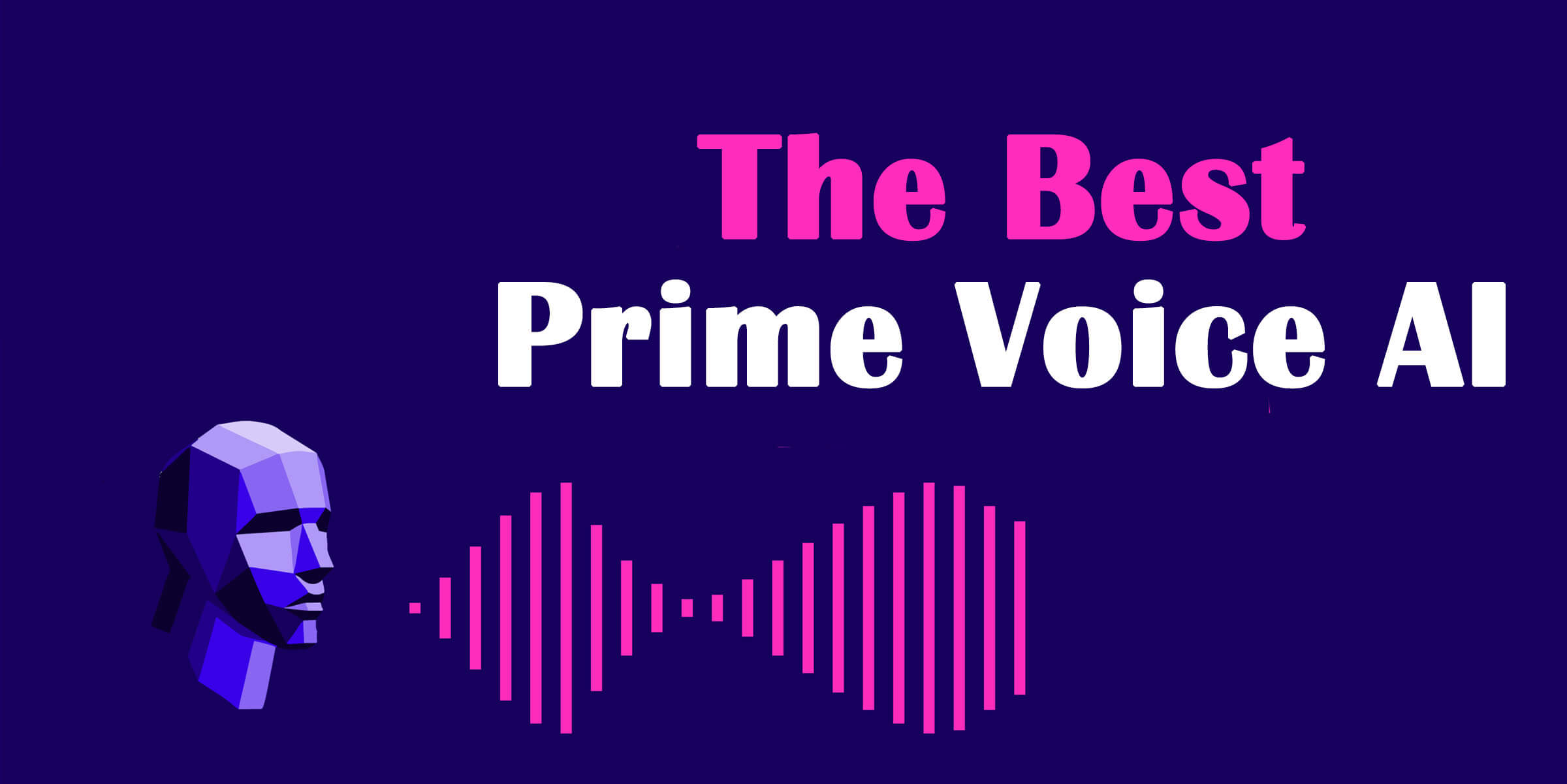 Part 1: Why We need Voice AI?
The demand for voice AI is increasing at a rapid pace as more people use virtual assistants to interact with their devices. Voice assistants have made our lives more convenient, and they continue to become more sophisticated with the use of natural language processing (NLP) and machine learning algorithms.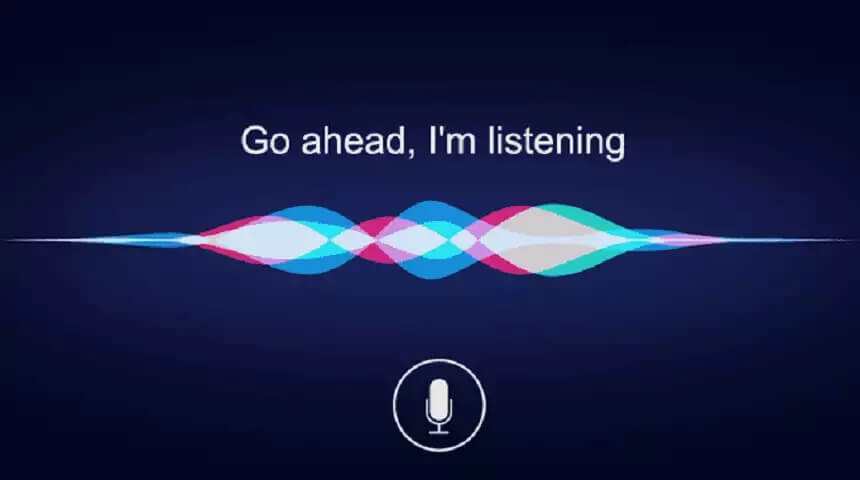 Voice AI technology has also become a vital tool in industries such as healthcare, education, and customer service, where it can improve efficiency and provide better experiences for users.
Part 2: 2 Best Prime Voice AI: Make the Most Realistic Voice
TopMediai Prime Voice AI is a top-rated text-to-speech (TTS) online tool that uses advanced AI and natural language processing (NLP) technologies to convert text into high-quality speech and change voice. It is widely considered as the best Prime Voice AI due to its exceptional features, ease of use, and affordability.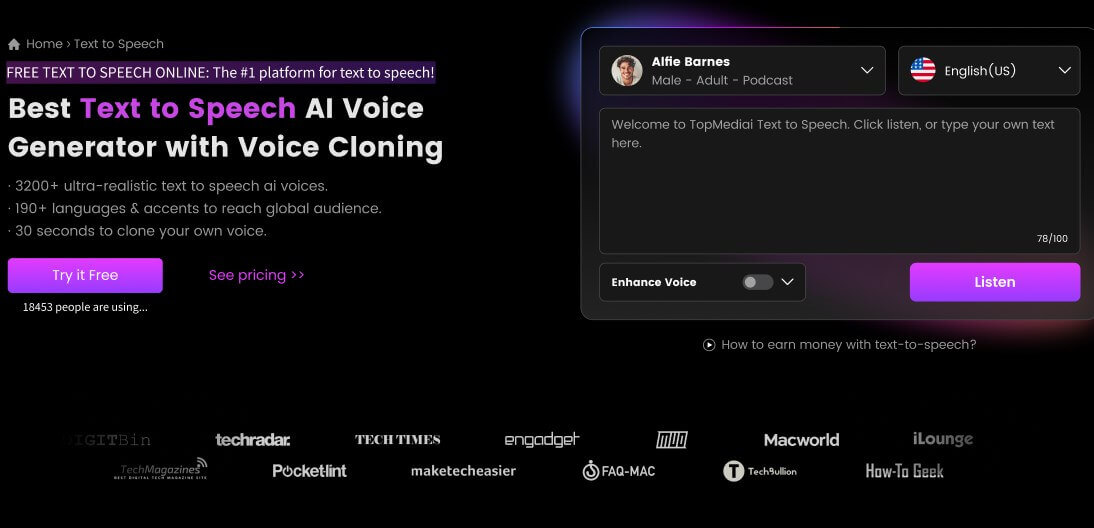 TopMediai Prime Voice AI includes two tools:
By using TopMediai text to speech generator, you have the ability to create unique audio clips featuring the beloved voices of your favorite characters from the show.
You can either write your own scripts or input existing dialogue and let the generator take care of the rest, providing you with a fun and personalized experience.
Step 1: Go to the TopMediai Text to Speech.
Step 2: Upload or copy-paste the text that you want to convert into speech.
Step 3: Choose the Voice Type and Voice.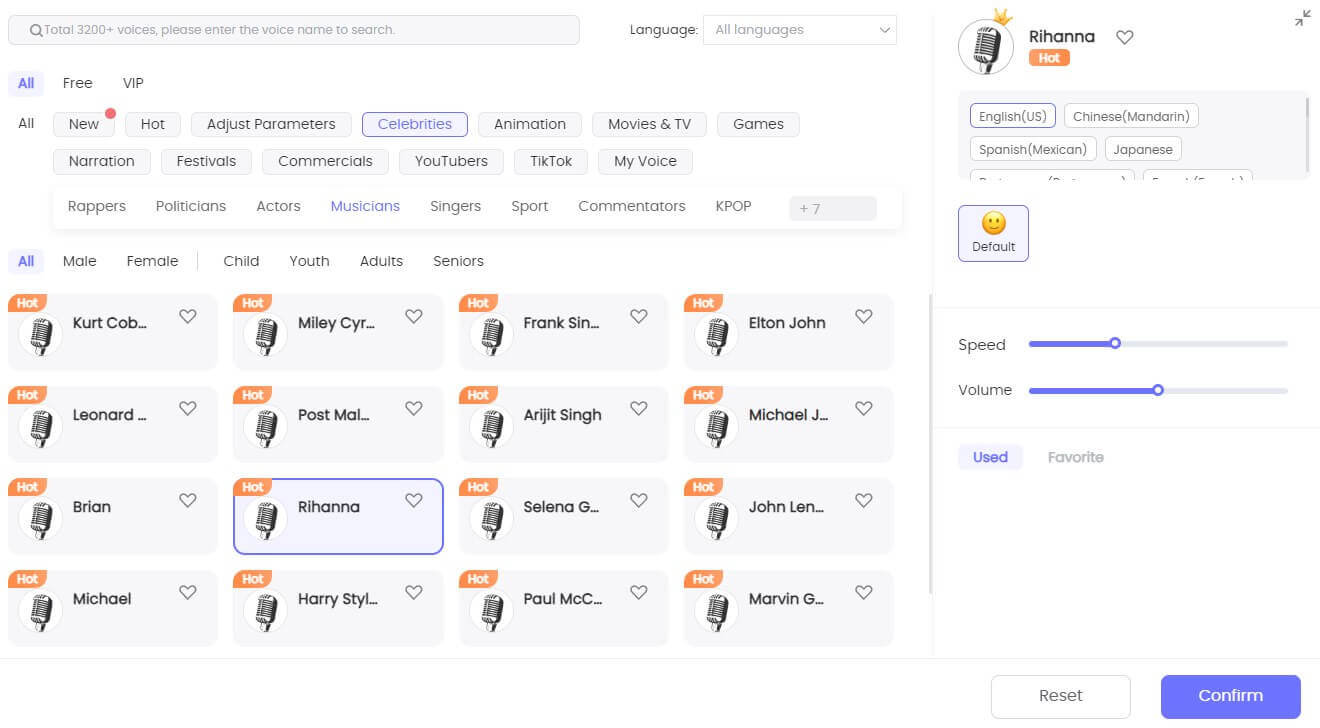 Step 4: Choose the language, voice, and other settings that you prefer.
Step 5: Download the final speech output as an audio file.
Step 6: Insert the downloaded the voice into your video. You can also add background music and sound effects to enhance your video further.
TopMediai Voice Changer is a free online voice changer that you can utilize to convert your voice into any voice of your choices. Whether you are recording or vocalizing in real time, you can convert existing sounds into any sound you want.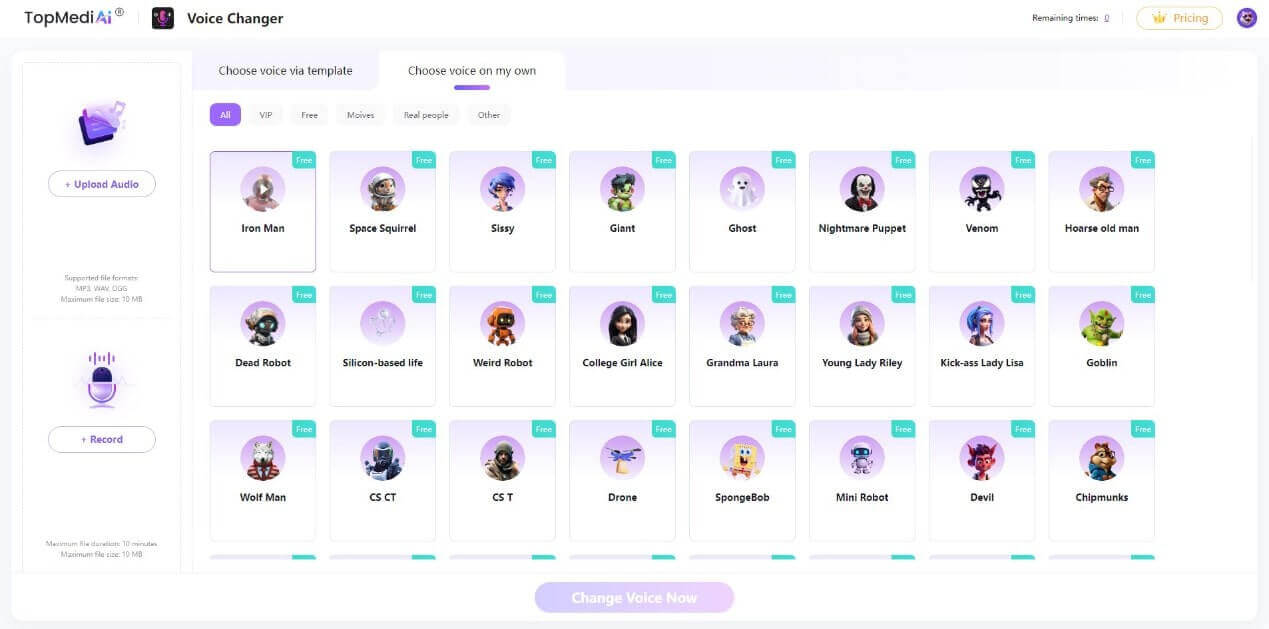 How to Use TopMediai Voice Changer?
Step 1. On opening the website, you will see two options on top; "Upload Audio", "Use Audio File," or "Generate speech from the text".
Step 2. If you want to opt for the "Use Microphone" option, you first have to enable the microphone, and your recording will begin.
Step 3. Record whatever you want and then click on "Stop Recording".
Step 4. Scroll below and click on the icon of the voice effect you want to apply.
Step 5. You can customize your voice effects too.
Step 6. A popping window will start playing your recording in a changed voice.
Step 7. Now, click on the three dots option and select "Download".
Key Features:
Utilizing cutting-edge algorithms to produce lifelike human speech.
Adjust speech speed, pitch, and pronunciation according to your preferences.
Choose from a vast selection of over 3200 voices, including AI-generated rapper voices.
Access a variety of other AI-generated voices, ranging from famous rappers to political figures.
Seamlessly convert text to speech in over 70+ different languages.
Enjoy a wide selection of celebrity text to speech voices.
Elevenlabs is an impressive AI-based tool that can instantly transform text into speech, and clone voice.
With just several easy steps, you can convert your text to speech and add it to your audio projects and clone the voice you provide.
Elevenlabs Prime Voice AI concludes two tools:
Elevenlabs' tts can convert text to a specific voice, adjust volume levels, and output file size, but the selection of voices is too small and there are very few features to experience for free.

2. Voice Clone
Voice cloning is a nice feature that converts any text into the sound of the voice you upload. However, this is a paid feature and you need to top up to use it.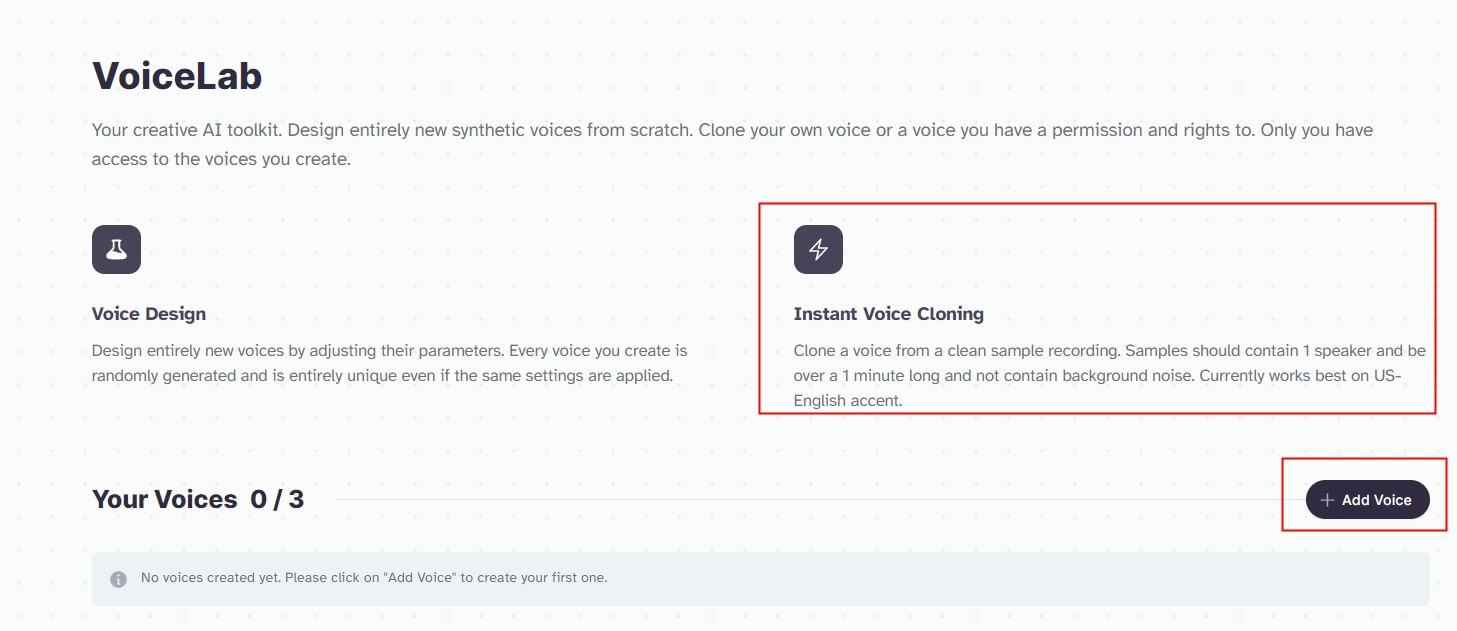 Key Features:
All app developers can access APIs that are affordable.
There are over 5,000 voiceovers available that are free from royalties.
The workshop is comprehensive and includes all necessary features.
The voice or sound of Chance the Rapper can be customized and modified.
It is easy to operate and user-friendly.
Conclusion Voice AI technology has transformed the way we interact with our devices, and Prime Voice AI(Text to Speech&Voice Changer) by TopMediai is at the forefront of this innovation. With its advanced neural networks, Prime Voice AI creates the most realistic and customizable voices for your needs. Try TopMediai today and experience the power of realistic and personalized voices.