If you want to Make a Rihanna Video, creating Rihanna AI Voice or Voiceover for your videos is an essential part of content creation. It adds a personal touch to your videos and makes them more engaging. With advancements in technology, it is now possible to create voiceover using AI technology.
This article will discuss how to use the Rihanna AI Voice Generator to create a Rihanna voiceover video and Generate Rihanna Voice.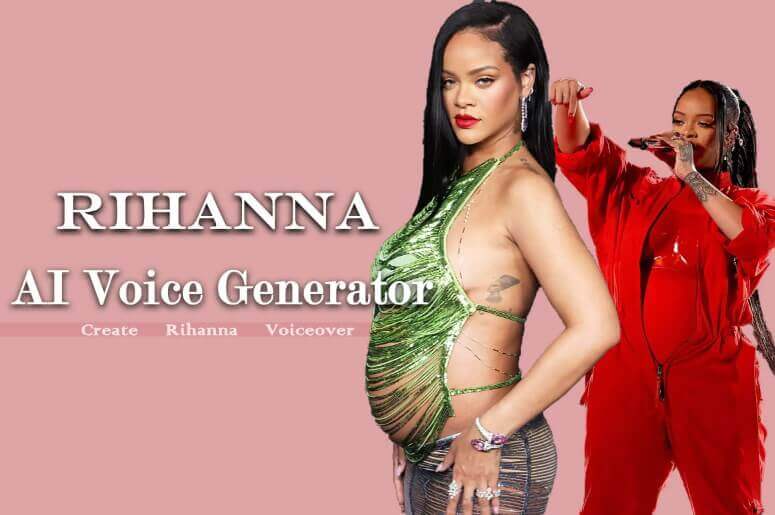 Part 1: Who is Rihanna?
Rihanna is a world-renowned singer, actress, and entrepreneur. She has sold over 250 million records worldwide and won numerous awards for her music. Rihanna's unique voice is recognizable and has made her one of the most successful artists of our time.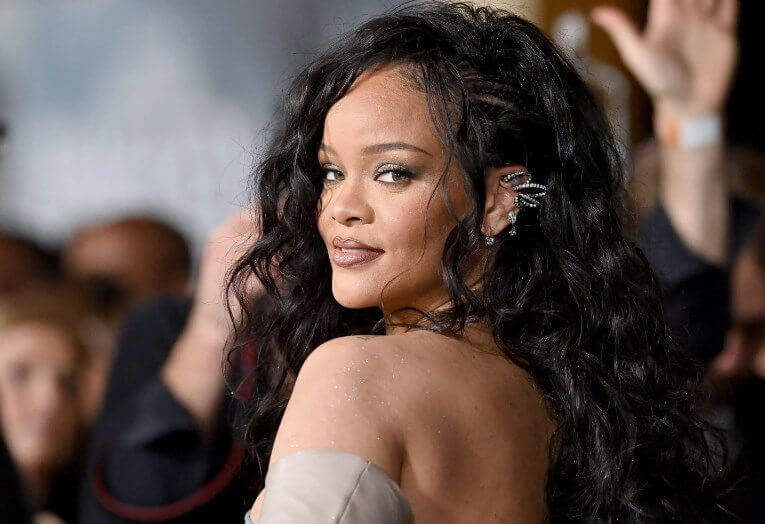 In addition to her music career, Rihanna has also pursued acting, appearing in films such as "Battleship" and "Ocean's 8." She has also ventured into the business world, launching several successful beauty and fashion brands, including Fenty Beauty and Savage X Fenty.
Part 2: How to Generate Rihanna AI Voice with Ease?
TopMediai is an AI-based online tool that enables users to convert text into speech using natural-sounding singers' voices. It is regarded as one of the best text-to-speech generators available, offering a vast selection of voice settings, such as pitch, speed, and volume, that can be customized according to preference.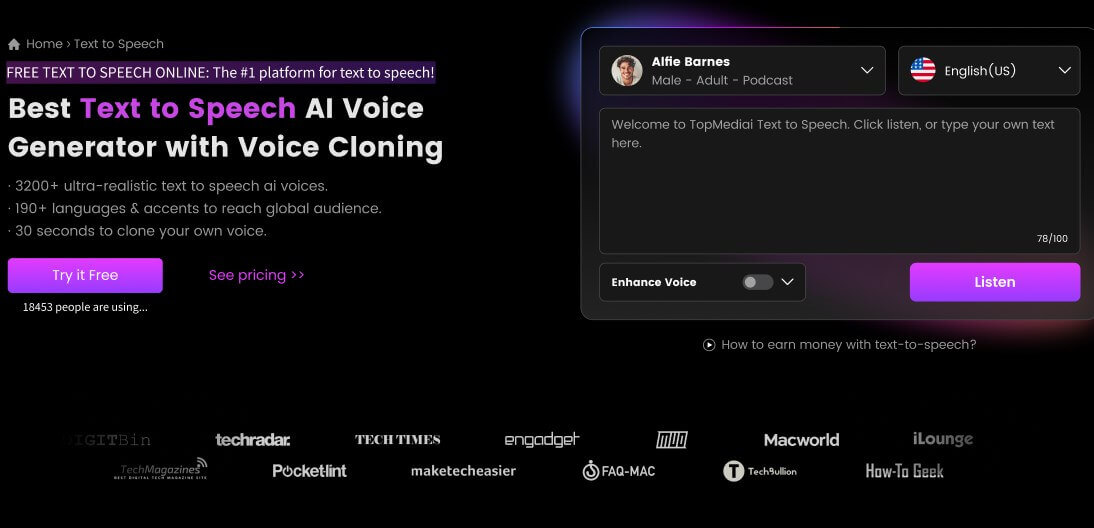 It also supports multiple languages, making it a popular choice for individuals and organizations looking to create engaging multimedia projects, presentations, or voice-overs.
How to Use Rihanna AI Voice Generator:
Step 1: Go to the TopMediai Text to Speech.
Step 2: Upload or copy-paste the text that you want to convert into speech.
Step 3: Choose Rihanna Voice in the Musicians voice type .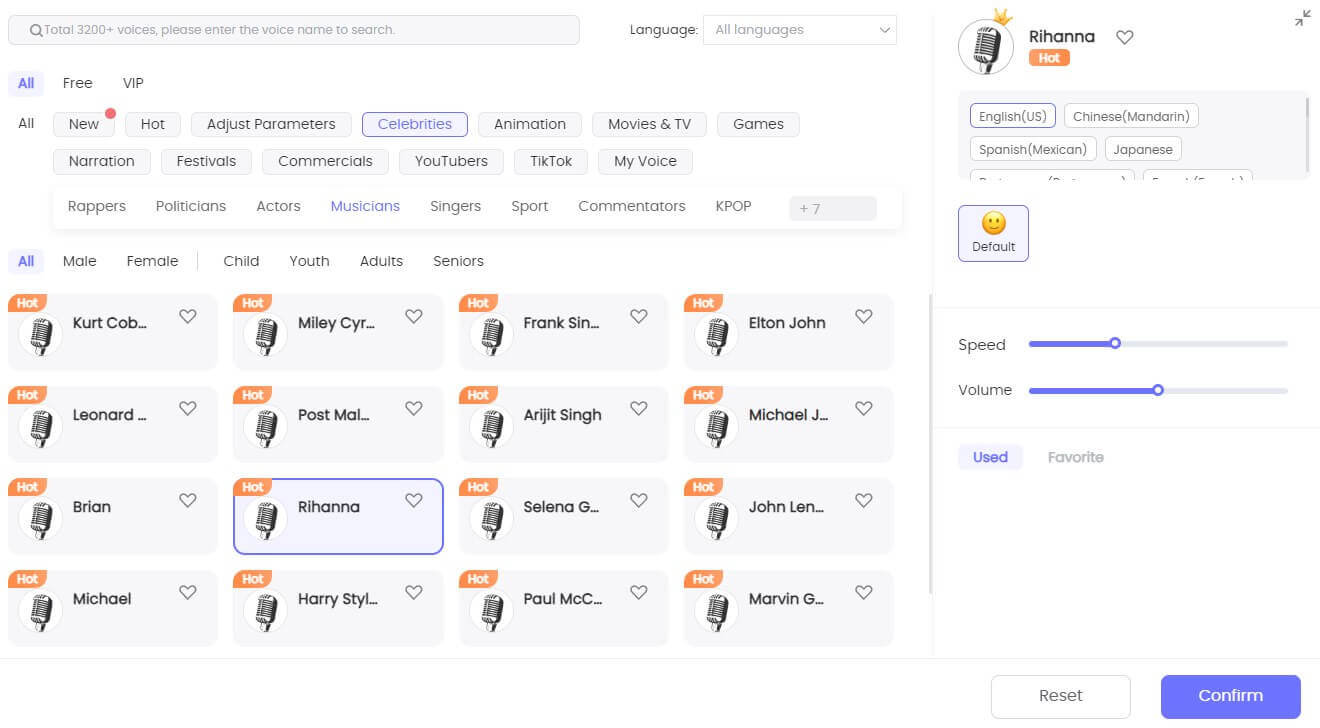 Step 4: Choose the language, voice, and other settings that you prefer.
Step 5: Download the final speech output as an audio file.
Step 6: Insert the downloaded Rihanna voice into your video. You can also add background music and sound effects to enhance your video further.
Key Features:
Provides support for over 70+ languages and offers more than 3200+ voices to choose from.
Offers a variety of high-quality and natural-sounding celebrity voices, making it an ideal choice for generating Singers AI voices.
Allows users to customize voice settings like speed, volume, and pitch to their liking.
Users can easily import and export audio content in various formats, making it easy to integrate with other audio editing tools.
Supports multiple output file types, providing users with flexibility in their audio conversion needs.
Pros
Produces top-quality, natural-sounding voices.

Users can customize a wide range of voice settings to their preferences.

Provides support for multiple languages.

Users-friendly.
Cons
Part 3: FAQs about Rihanna AI Voice
Finally, we come to the most asked questions for Rihanna AI Voice .
1 What is Rihanna Voice Type?
Rihanna predominantly showcased her light lyric soprano voice; however, she seems to have recently transitioned into a mezzo-soprano. As for her vocal range, Rihanna can sing three octaves and a major third, which spans from the note C3 to G5, and extends up to the note E6.
2 What Songs did Rihanna Sing at the Super Bowl?
'B**** Better Have My Money'/'Where Have You Been?'/'Only Girl in the World'/'We Found Love'/'Rude Boy'/'Work'/'Wild Thoughts'/'Pour It Up'/'All of the Lights'/'Run This Town'/'Umbrella'/'Diamonds'.
3 Is Rihanna Pregnant Again?
During her Super Bowl halftime performance on February 12, 2023, Rihanna announced her second pregnancy, but she hasn't disclosed her official due date yet.
Conclusion Creating a Rihanna voiceover video using TopMediai is a great way to add a personal touch to your content. It's also a unique way to pay homage to one of the most successful artists of our time. By following the steps outlined in this article, you can create a professional-quality Rihanna voiceover video or generate Rihanna voice that is sure to engage and entertain your audience.