Samuel L. Jackson's iconic acting and voice has captured the hearts of audiences worldwide. Imagine having the ability to hear your favorite AI assistant or voiceover narration in the unmistakable voice of Samuel L. Jackson.
l will share the voice generator and methods to bring Samuel Jackson ai voice to your fingertips.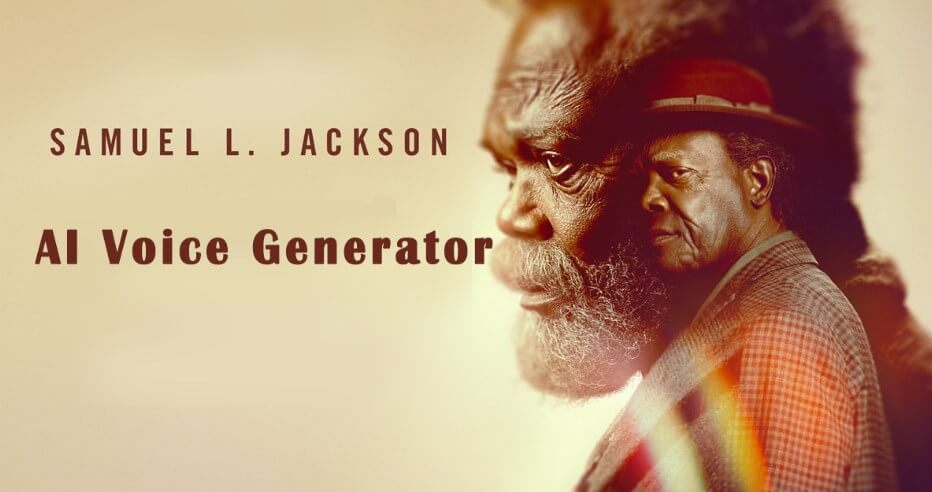 Part 1: How to Create Your Own Samuel L. Jackson Voice?
One effective way to make your voice sound like Samuel L. Jackson's is by using a text-to-speech voice generator. TopMediai is a powerful tool that allows you to convert written text into spoken words using a wide range of voices, including Samuel L. Jackson's distinctive tone.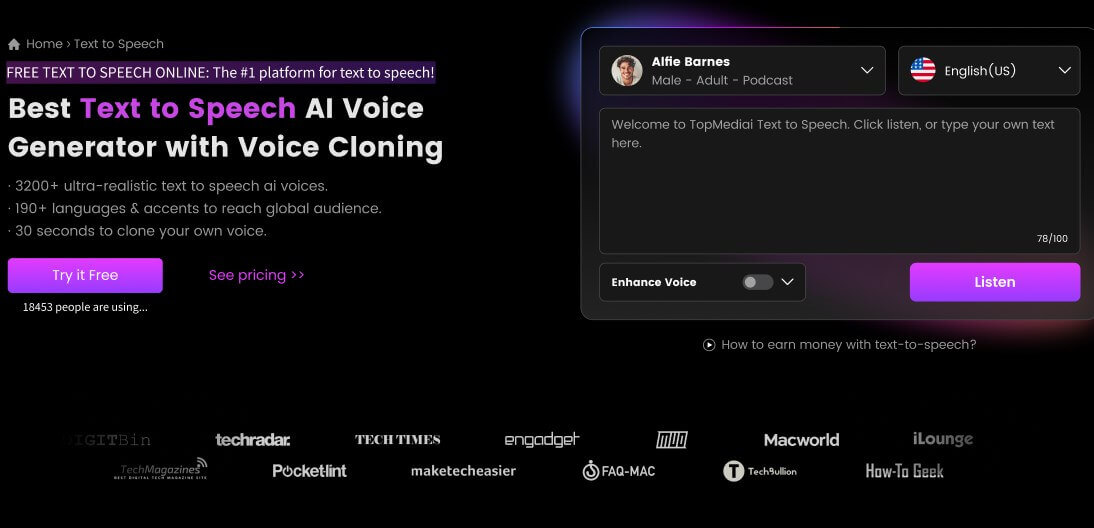 By typing your desired text into the generator and selecting the appropriate voice, you can instantly transform your words into a voice that closely resembles that of Samuel L. Jackson.
How to Generate Samuel L. Jackson AI Voice?
Step 1: Visit the TopMediai Text to Speech website.
Step 2: Select Samuel Jackson's voice from the "Actors" options.
Step 3: Enter your text in the provided input area.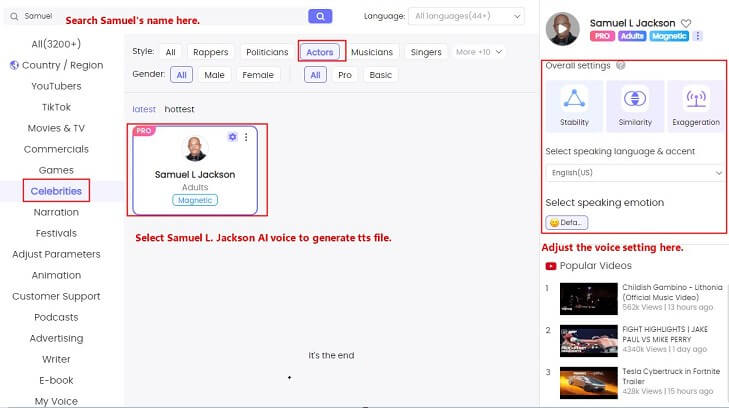 Step 4: Click on the "Convert" button.
Step 5: Listen to the generated audio on the website.
Step 6: Download the audio file if desired.
Ours
TopMediai offers 3200+ voiceover options.

Users can create character voices using the feature-rich character voice generator text-to-speech.

It supports 70+ languages and dialects for text-to-speech movie star voice generation.

TopMediai provides additional features like voice background remover and voice recorder.

Users can generate voices for popular cartoon characters such as Biden, Mickey Mouse, Yasuo, or Hatsune Miku.
Others
Uberduck offers a wide range of templates for gaming, sales, education, and more.

You can choose from 300+ sound effects for your character's voice.

It supports 70+ languages and dialects for text-to-speech character voice generation.

Uberduck makes content and character voice creation effortless, eliminating the need for tutorials.
Another option to achieve a Samuel L. Jackson ai voice is by utilizing the Uberduck Soundboard. This software provides a wide range of audio clips and sound bites from various Samuel Jackson movies and interviews. By playing and manipulating these samples, you can create your own unique Samuel Jackson voice recordings.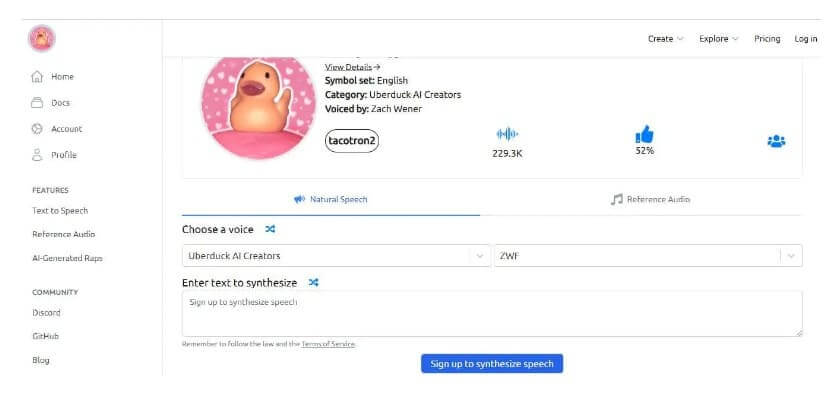 Guess you like: Get Realistic Voiceover Sound Like Morgan Freeman Text to Speech [AI].
Part 2: Popular Contemporary Actors—Samuel L. Jackson
Who is Samuel L. Jackson?
Samuel L. Jackson is a highly acclaimed American actor known for his captivating performances in movies and TV shows. With a career spanning several decades, he has established himself as one of the most influential actors in contemporary cinema.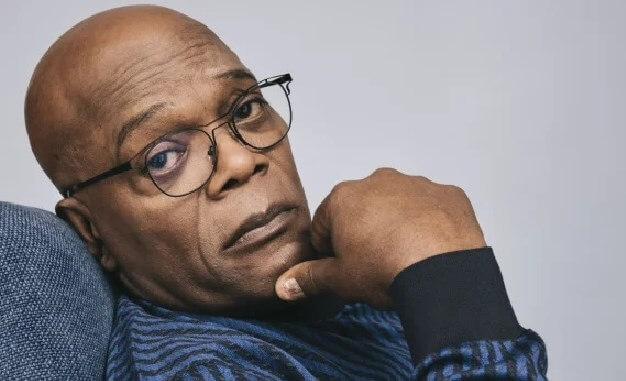 What are the Famous Samuel's Moives and TV Shows?
Samuel L. Jackson has appeared in numerous iconic films, including "Pulp Fiction," "The Avengers" series, "Django Unchained," "Snakes on a Plane," and "Shaft," among many others. His remarkable performances have earned him critical acclaim and a dedicated fan following.
Bonus: How to change any voice to Samuel Jackson?
Step 1: Make sure you have an Alexa-enabled device.
Step 2: Open the Alexa app on your smartphone or tablet.
Step 3: Go to the Skills & Games section.
Step 4: Search for the "Samuel L. Jackson" skill.
Step 5: Follow any additional setup instructions.
Step 6: Use voice commands as usual, and you'll hear Samuel Jackson's voice responding.
Part 4: FAQs About Samuel L. Jackson Voice AI
1 What is Samuel L. Jackson's most famous role?
Samuel L. Jackson is widely recognized for his portrayal of the character Jules Winnfield in the movie "Pulp Fiction" (1994). It is considered one of his most iconic roles.
2 How many movies has Samuel L. Jackson been in?
Samuel L. Jackson has appeared in over 150 movies throughout his career, showcasing his versatility as an actor.
3 Does Samuel L. Jackson have any other talents besides acting?
In addition to his acting prowess, Samuel L. Jackson is known for his distinctive voice. He has provided voiceovers for animated films, documentaries, and even portrayed characters in video games.
4 Who voices Chef in South Park?
Chef was originally voiced by Isaac Hayes, but after he left the show, his character was written out.
Conclusion With the above introduction, it has become increasingly accessible to recreate iconic voices like that of Samuel L. Jackson. Whether you're a fan looking to have fun or a content creator seeking to add a distinct touch to your projects, exploring Samuel Jackson AI voice Generator can elevate your experience.