Instagram Reels have taken the social media world by storm. They are short, engaging video clips that allow you to showcase your creativity, entertain your audience, and grow your online presence.
With the introduction of Instagram Reels, users can create short video clips set to music, adding a unique twist to their content.

To make your Reels stand out, Instagram offers Text to Speech and Speech to Text features, which can be used to add voiceovers or subtitles to your videos. And how to customize text to speech Instagram reels? Follow me.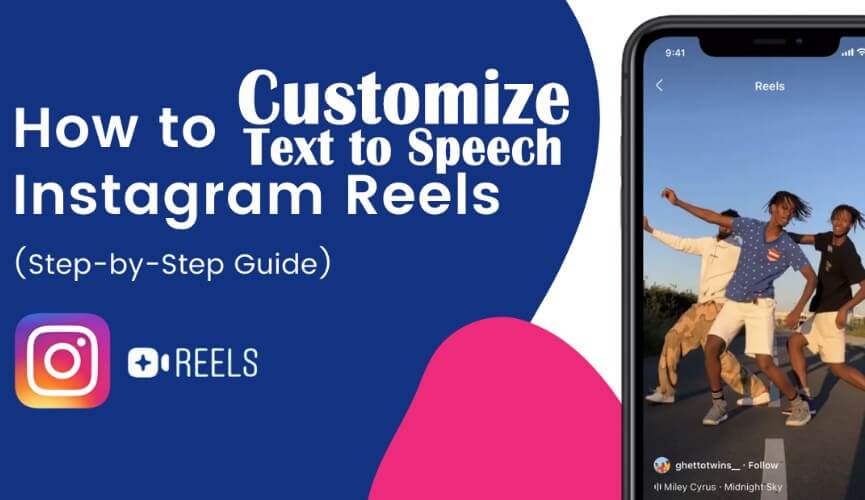 Part 1: What are Instagram Reels?
Instagram Reels are 15 to 60-second video clips that you can create and share on your Instagram profile or explore page. These short videos are a fantastic way to share your talent, entertain your audience, or convey a message in a fun and engaging manner and offering a fantastic opportunity to reach a wider audience and connect with people through visually appealing content.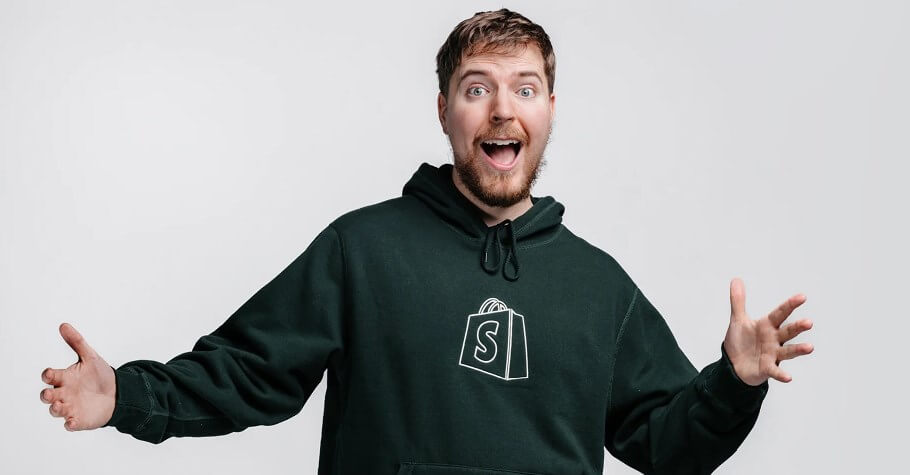 Part 2: How to Make Text-to-Speech Instagram Reels?
Adding a voiceover to your Instagram Reels can enhance the storytelling aspect of your content. Here's how to create Text-to-Speech Instagram Reels:
Step 1: Open Instagram: Launch the Instagram app on your mobile device and tap the '+' button at the bottom to create a new post.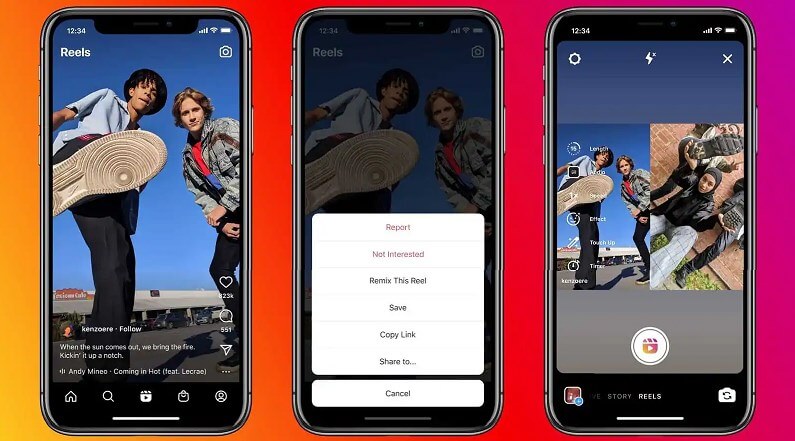 Step 2: Select Reels: Choose the "Reels" option from the available formats.
Step 3: Record Your Video: Record or upload the video you want to use for your Reel.
Step 4: Add Text: After you've recorded your video, tap the text icon to add the text you want to be converted to speech.
Step 5: Text-to-Speech: Once the text is added, tap on it and select the Text-to-Speech option. Instagram will automatically convert your text to speech.
Step 6: Edit and Share: Customize the voiceover as needed, then proceed to edit your Reel with music, effects, and other creative elements. Finally, share your Text-to-Speech Instagram Reel with your followers.
Part 3: How to DIY Text to Speech Instagram Reels?[Customize by Yourself]
Customizing Text to Speech Instagram Reels with different voices can add a unique and engaging dimension to your content. While Instagram's built-in Text to Speech feature provides a default voice, you can use third-party tools to achieve more voice customization. Here are a couple of options:
TopMediai is a versatile tool that allows you to generate high-quality Text-to-Speech voiceovers with various accents and languages. Simply create your voiceover using TopMediai and then add it to your Instagram Reel.
TopMediai is here to simplify the process. Join our community of users and explore the world of customizable, high-quality Text-to-Speech technology to bring your creative visions to life.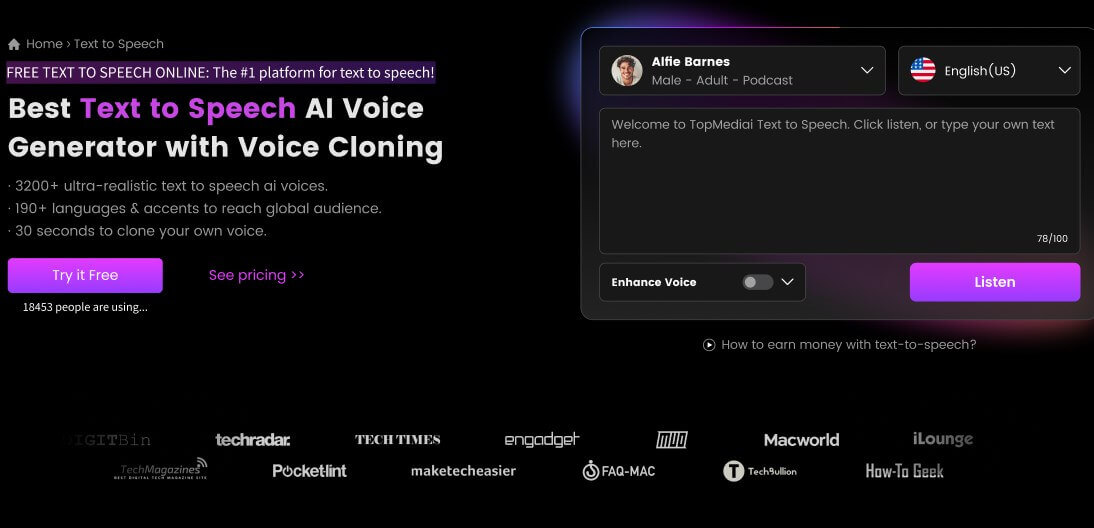 How to Use TopMediai Text to Speech to Customize Instagram Reels:
Step 1: Visit the TopMediai Website and Access Text to Speech.
Step 2: Choose any one voice model, such as Ariana, Taylor.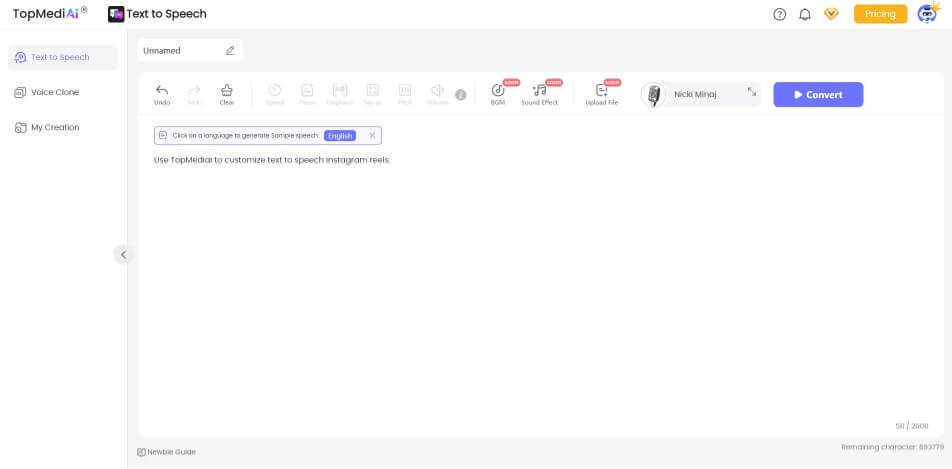 Step 3: Enter Your Text.
Step 4: Generate the Voice: Click "Convert" button.
Step 5: Preview and Download the audio file.
Step 6: Put the audio file into your Instagram reels!
Speech Synthesis Markup Language (SSML) Support: SSML support enables more fine-grained control over the generated speech, including pauses, emphasis, and pronunciation.
API Access: For developers, an API (Application Programming Interface) allows for programmatic access to the TTS service, enabling integration into websites and applications.
Pricing and Plans: Clear pricing models and plans, including free trials or a free tier, are essential for users to understand the cost structure.
Natural-Sounding Voices: High-quality TTS feature offers 3200+ natural-sounding voices that can mimic human speech with clarity and expression for your Instagram reels.
Voice Cloning: Allow users to create custom voices based on their recordings.

TopMediai Text to Speech - Realistic AI Voice Generator
No need to hire a voice actor anymore! Built for content creators, our text to speech saves your time and money.
Try It Free
Speechify is another excellent tool for converting text to speech. It offers a user-friendly interface and supports multiple languages. Generate your voiceover with Speechify and incorporate it into your Instagram Reel for a personalized touch.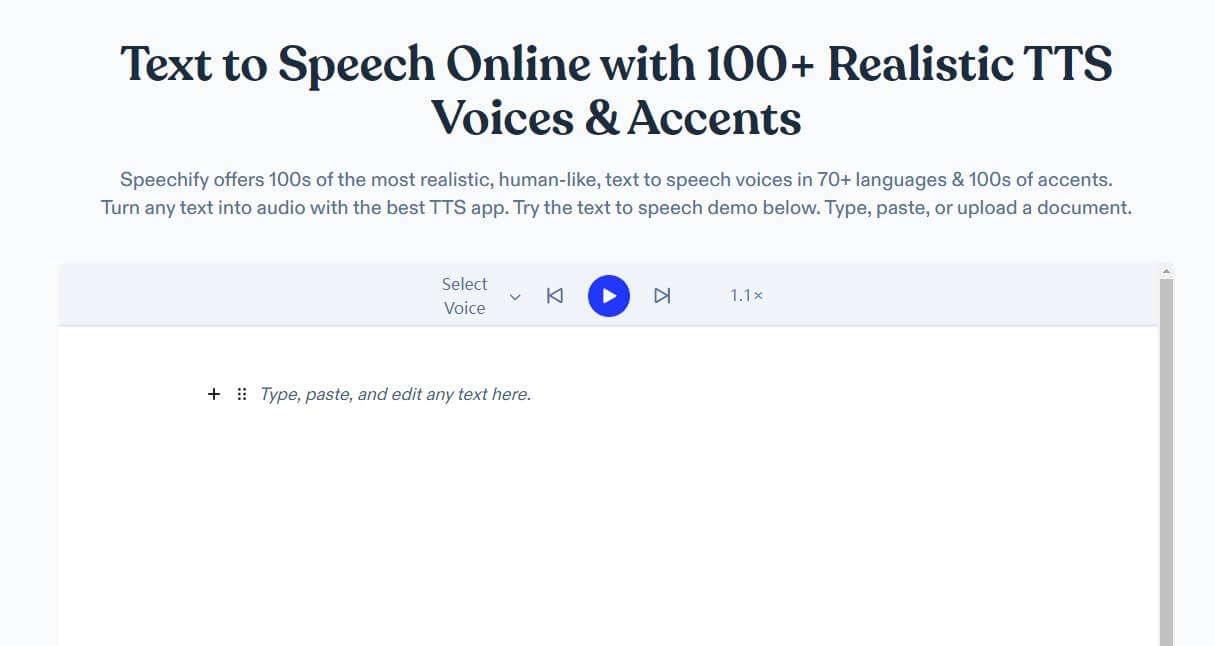 Celeb Voices: Enjoy Snoop Dogg & Gwyneth Paltrow's official voices, with more celebrities to come.
Speedy Listening: Speechify's AI reads up to 9x faster, helping you learn more in less time.
Device Flexibility: Sync your Speechify library across devices for on-the-go listening.
Free Audio Downloads: Convert text to audio and use it for voiceovers or any purpose.
Easy Document Conversion: Quickly turn large documents into speech with our online tool.
What are the Pricing&Plans of these 2 Text to Speech?
| Pricing&Plans | TopMediai | Speechify |
| --- | --- | --- |
| Monthly | $12.99-39.99 | $59-79 |
| Per Day | $0.433-1.333 | $1.966-2.633 |
| Free to Try? | Yes. | Yes. But not for free download |
| Other Licenses | Voice Cloning | Limited time Translation |
Part 4: New Creation: Speech to Text on Instagram Reels
Conversely, if you want to add subtitles or captions to your Instagram Reels, you can use the Speech to Text feature. Here's how:
Step 1: Record or upload your video in Instagram Reels.
Step 2: Tap on the text icon and select "Speech to Text."
Step 3: Instagram will automatically transcribe your spoken words into text captions, which you can further customize.
Step 4: Edit your Reel as desired, and then share it with your followers.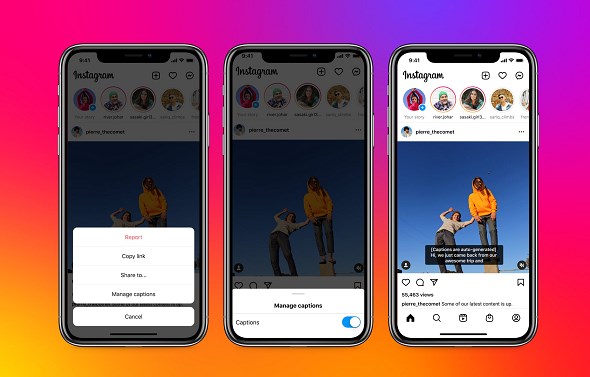 Part 5: Bonus: Convert Photos into Instagram Reels
Don't limit your creativity to just one format. Instagram Reels also allow you to convert photo or story into Reels. This flexibility opens up a world of possibilities for your content.
1. Select 3-5 photos on your phone.
2. Set the duration of each photo to 1 second.
3. Add music or audio.(recommend TopMediai Text to Speech)
4. Add some effects what you like.
Part 6: Hot FAQs about Text-to-Speech Instagram Reels
1 Can I use multiple TTS voices in a single Instagram Reel?
Yes, you can switch between multiple TTS voices in a single Instagram Reel to create engaging and dynamic content.
2 Do Instagram Reels support Speech-to-Text as well?
Yes, in addition to Text-to-Speech, Instagram Reels also support Speech-to-Text functionality, which automatically generates captions for your spoken words.
3 Are there any creative ways to use Text-to-Speech in Instagram Reels?
Text-to-Speech can be used creatively for storytelling, tutorials, informational content, and even humor or promotion. Experiment with different styles to see what resonates with your audience.
4 Can I use Text-to-Speech for music lyrics or song covers in Instagram Reels?
Yes, Text-to-Speech can be a fun way to add lyrics or commentary to song covers or music-related Reels. Also you can put your lyrics on TopMediai Text to Speech and use celebrity's voice to singing.
Conclusion Incorporating text-to-speech functionality into your Instagram Reels can significantly boost your engagement and reach. Whether you opt for user-friendly apps like TopMediai Text to Speech and Speechify or choose to customize, this guide equips you with the knowledge and tools you need to create captivating Text to Speech Instagram Reels.
Explore this exciting feature, experiment, and watch your content stand out in the ever-evolving world of social media.
Stay creative, stay connected, and enjoy your Instagram Reels journey!