TikTok has become a powerful platform for creative expression and content creation. One exciting feature that has gained popularity among TikTok users is the ability to add voiceovers to your videos.
Whether you want to narrate a funny story, provide informative commentary, or make a ASMR video, knowing how to do a voiceover on TikTok can be a game-changer.

In this article, l'll guide you through the process of adding voiceovers and changing them to suit your creative needs.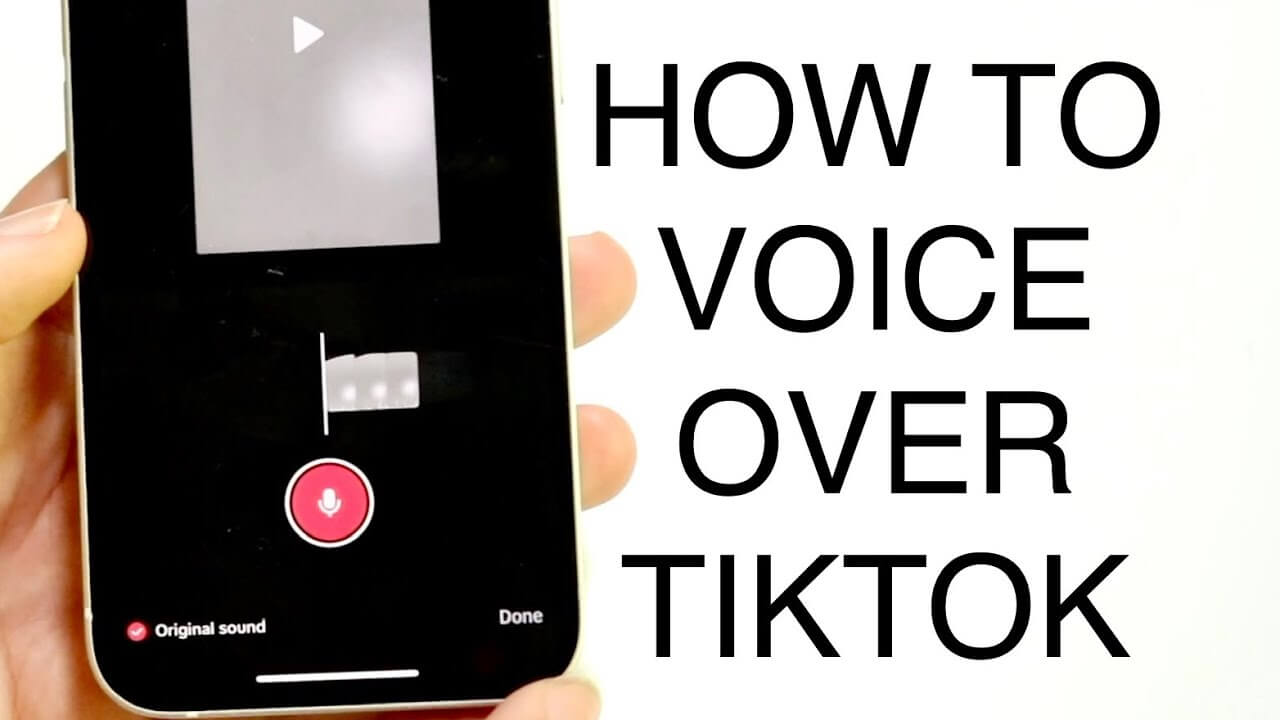 Part 1: What is TikTok Voiceover?
Voiceover stands out as one of TikTok's premier features. In essence, it empowers content creators to infuse their TikTok videos with a distinct touch by adding supplementary recorded audio over the original voice. This versatile tool can serve various purposes, such as narrating video events, expressing viewpoints, joining TikTok trends, or simply injecting humor into the content.
Such as, a TikTok voiceover proves exceptionally valuable in instructional DIY videos or workout routines. Its effectiveness is equally pronounced in creating an immersive makeup tutorial with a hypnotic flair, akin to a storytelling voice guiding the audience through the experience.
Part 2: Where can l Find the Voiceover Tool on TikTok?
You can locate the voiceover tool right on the video editing screen while crafting your TikTok content.
Step 1: Launch your TikTok mobile app.
Step 2: Tap the '+' icon located at the bottom of the screen to initiate a new video.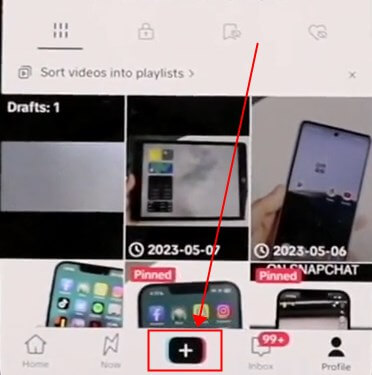 Step 3: Record your content on the spot or upload an existing video from your phone.
Step 4: On the right-hand side, expand the editing menu, and you'll find a microphone icon. That's your 'Voiceover' tab!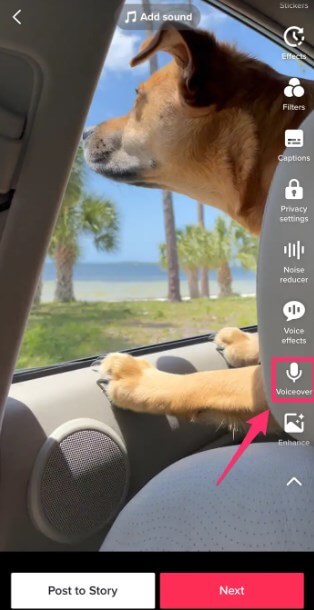 Part 3: How to Do a Voiceover on TikTok?
Now that you've entered the Voiceover tab, let's explore how to start recording your voiceover.
Step 1: After reaching the voiceover tab, choose an emotion that you want to use for the voiceover.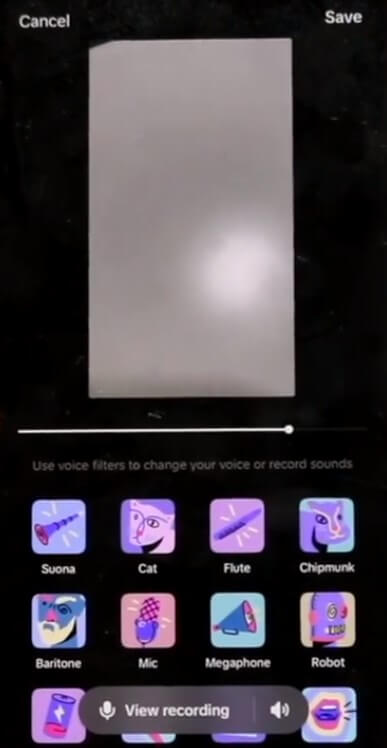 Step 2: To conclude your recording, release or tap the button once more.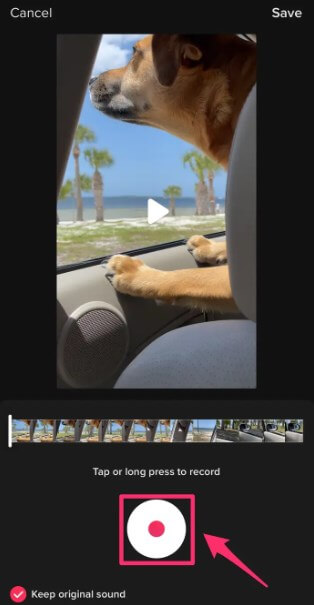 Step 3: Review your voiceover by pressing the 'Play' button on your video.
Step 4: If you want to mute the original sound in your TikTok, simply tap the 'Original sound' button at the bottom.
Step 5: Once you're content with your creation, click 'Done,' followed by 'Save.'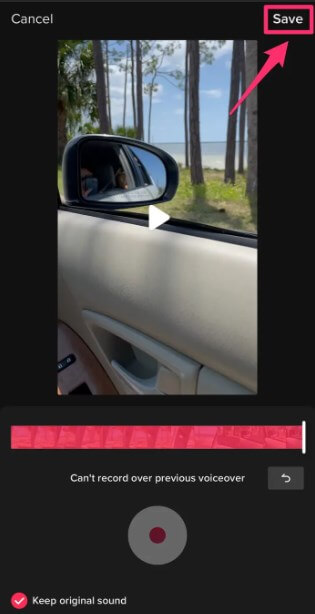 Step 6: Your voiceover is now complete! Proceed by selecting 'Next,' adding a description, relevant tags, and any other details, and then hit 'Post' to share it!
Part 4: How to Change Voiceover on Tiktok?
If you decide you want to change your voiceover or add a different one, you can easily do so by following these steps:
Step 1: Open your TikTok video in the editing interface.
Step 2: Tap on the "Voiceover" option again.
Step 3: This time, you can either re-record the voiceover or choose a new audio source from your device's library.
Part 5: You Guide to Add Unique Voiceover to TikTok[DIY]
To take your TikTok voiceovers to the next level, consider these additional tips:
Beyond the basics, l'll explore a creative tool. Whether you want to narrate stories, provide informative commentary, or create humorous dialogues, TopMediai Text to Speech can be your creative companion, making your TikTok content truly unique and engaging. Even, you can use celebrity's voice for your content!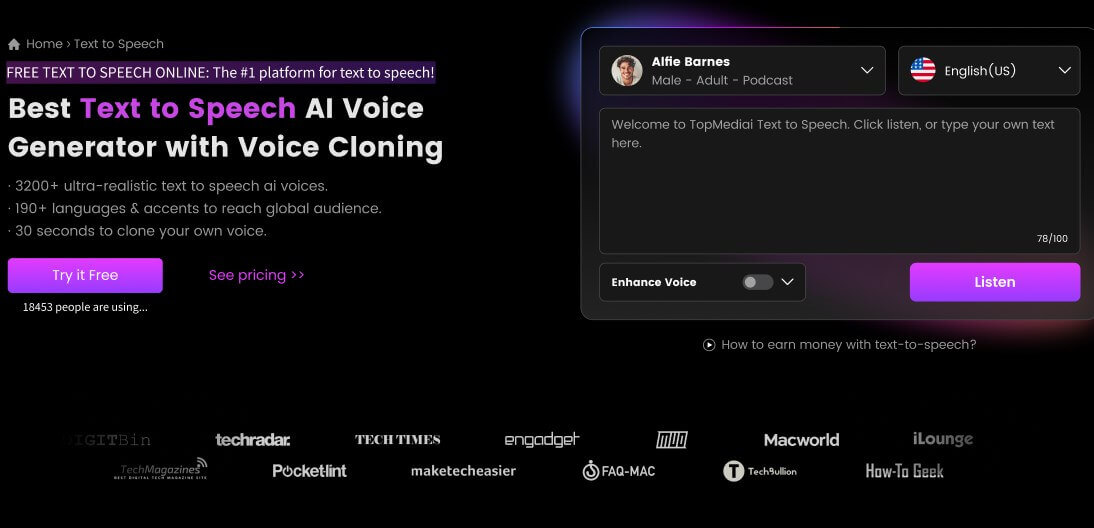 How to steps:
Step 1: Visit the TopMediai Website and Access Text to Speech.
Step 2: Choose any one voice model, such as Biden, Nicki Minaj.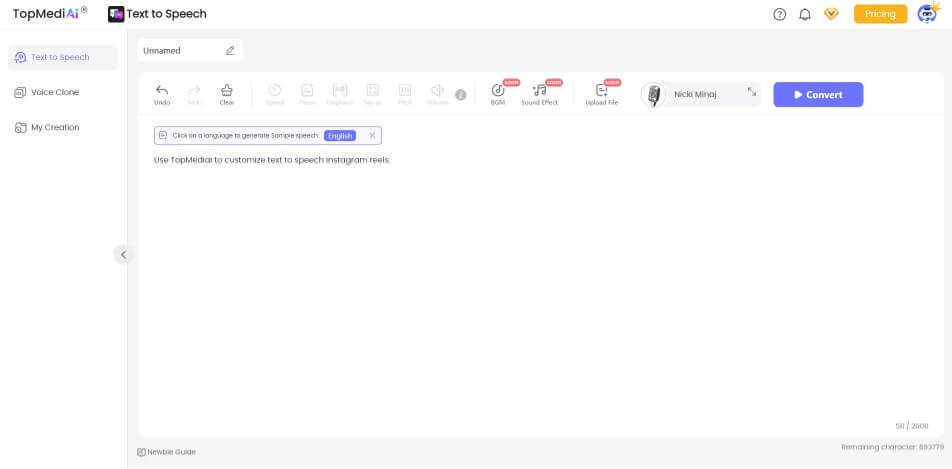 Step 3: Enter Your Text.
Step 4: Generate the Voice: Click 'Convert' button.
Step 5: Preview and Download the audio file.
Step 6: Add voiceover to TikTok.
API Access: For developers, an API (Application Programming Interface) allows for programmatic access to the TTS service, enabling integration into websites and applications.
Pricing and Plans: Clear pricing models and plans, including free trials or a free tier, are essential for users to understand the cost structure.
Natural-Sounding Voices: High-quality TTS feature offers 3200+ natural-sounding voices that can mimic human speech with clarity and expression for your Instagram reels.
Voice Cloning: Allow users to create custom voices based on their recordings.
Part 6: Hot FAQs about TikTok Voiceover
1 How do I change the volume of the voiceover on TikTok?
While editing your video, you can adjust the volume of the voiceover in the sound settings. This allows you to balance the voiceover with other audio elements.
2 Can I use music for a voiceover on TikTok?
Yes. You can use music as a background for your voiceover. Choose a song from TikTok's vast music library, adjust the volume, and record your voiceover over it.
3 Can I change the voiceover language on TikTok?
Yes, you can change the voiceover language by selecting a different language in the voiceover settings before recording.
4 Can I use text-to-speech technology for my TikTok voiceovers?
Yes. You can use third-party text-to-speech tools like TopMediai Text to Speech to generate voiceovers and then upload them to your videos.
Conclusion Knowing how to do a voiceover on TikTok is a valuable skill that can elevate your content and help you stand out in the crowded TikTok landscape. By using this feature and TopMediai creatively and effectively, you can engage your audience, share your message, and create memorable TikTok moments that leave a lasting impact.

Go go go, create your new voiceover TikTok video!