In recent years, artificial intelligence (AI) has made significant strides in various fields, including music. One fascinating application of AI technology is the development of AI Singer Generators, which enable users to create their own AI-generated singing voices.
This article will explore the concept of AI Singer Generators, highlight some user-friendly platforms.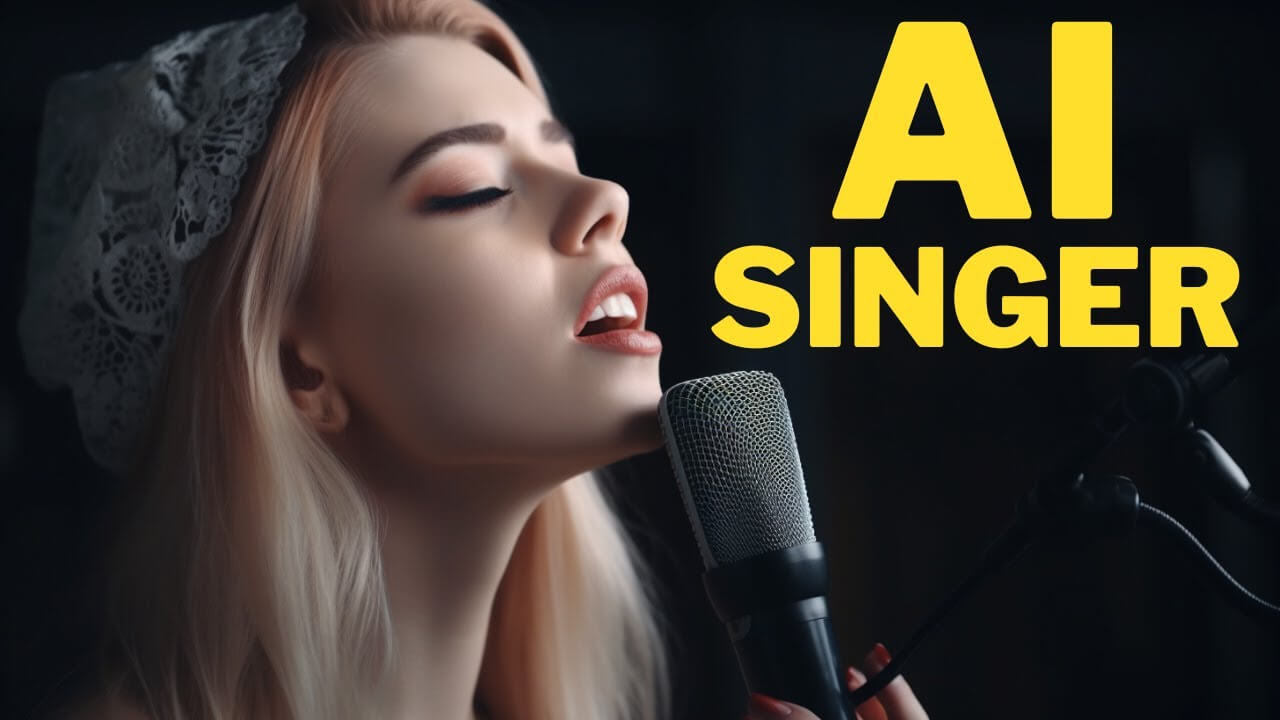 Part 1: What is AI Singer Generator?
AI Singer Generators are advanced programs that utilize AI algorithms to generate realistic and expressive singing voices. These powerful tools have revolutionized the music industry by providing artists, content creators, and enthusiasts with a unique way to explore their creativity and produce AI-generated songs.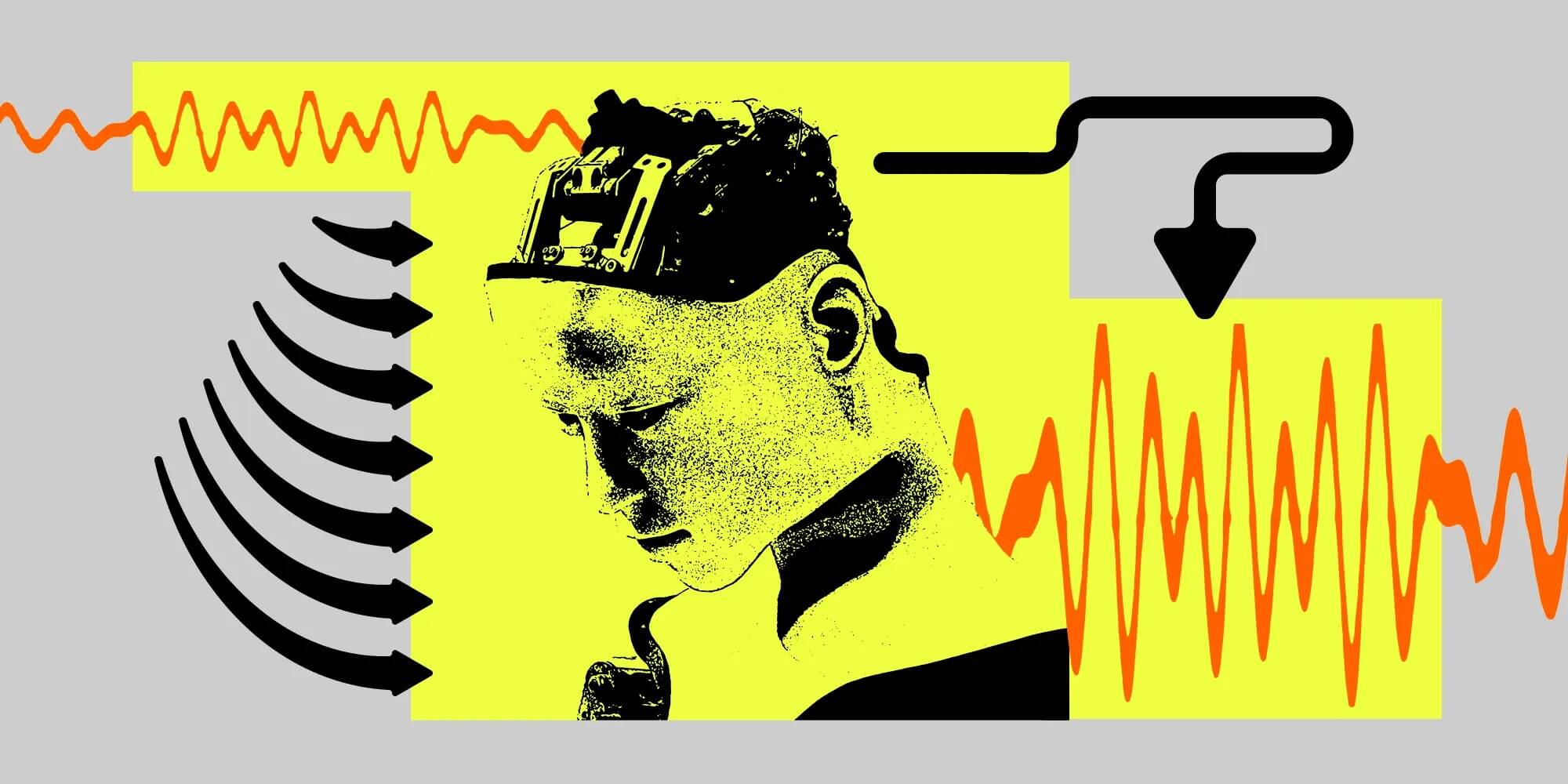 By leveraging machine learning techniques and extensive voice training datasets, AI Singer Generators are capable of producing remarkably convincing vocal performances.
Part 2: Use Super Easy AI Singer Generator to Be a AI Singer
One notable platform for AI Musician Generation is TopMediai. It offers a user-friendly interface that allows even beginners to create their own AI-generated singing voices effortlessly.
With a vast library of pre-trained AI models and customization options, TopMediai provides artists with an array of vocal styles and tones to choose from(such as AI Ariana Grande singing).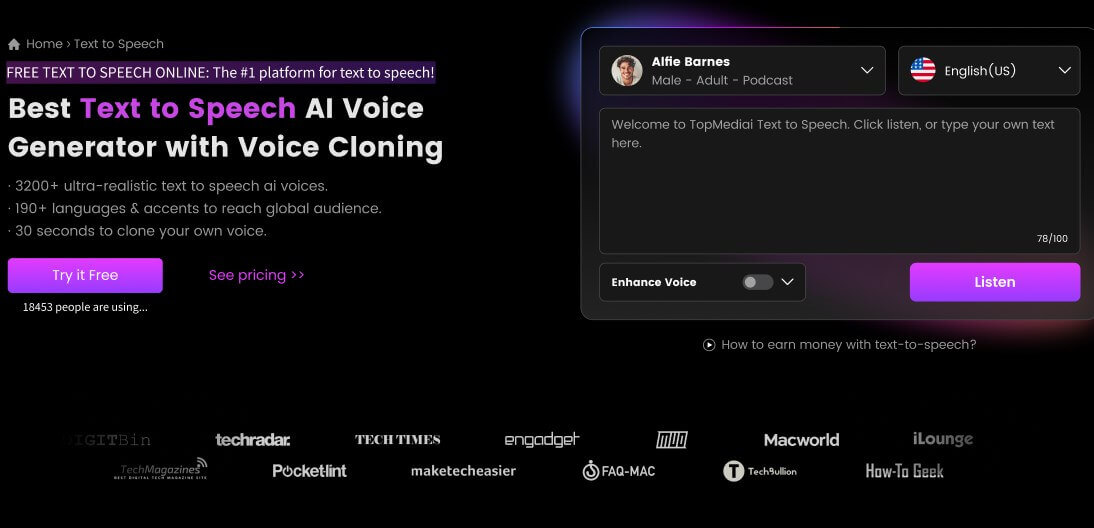 Whether you want a soulful ballad or an energetic pop anthem, TopMediai has the tools to bring your musical ideas to life.
Easy steps to Use AI Musician Generator:
Step 1: Open TopMediai AI Singer tool.
Step 2: Enter your desired text into the text box provided and select the Singer AI voice from the available options or Choose in the "Musicians" or "Singers" Type.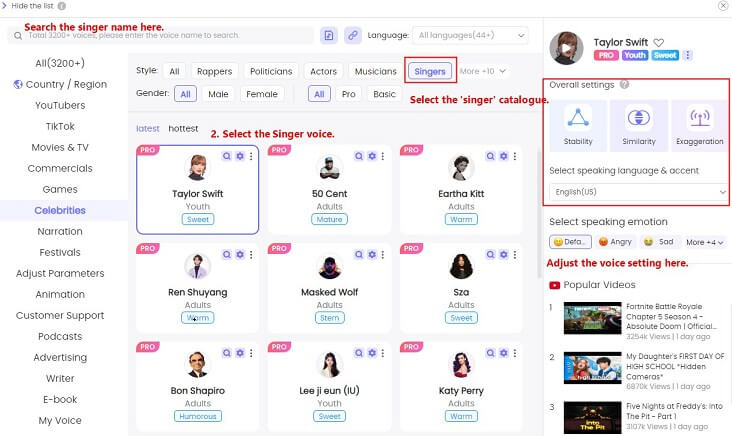 Step 3: Adjust the speed, pitch, and volume of the voice to your desired settings.
Step 4: Click the "Convert" button to generate your AI Singing audio file.
Key Features:
Vocal Style Customization: Customize vocal style with options like pitch, timbre, vibrato, and dynamics.
Diverse Voice Selection: Choose from a variety of voices including male, female, and different vocal ranges.
Real-Time Playback and Editing: Instantly hear and make real-time edits to AI-generated vocals.
MIDI and Music Production Integration: Seamlessly integrate AI-generated vocals into music compositions.
Harmonization and Vocal Arrangement: Create harmonies and backing vocals based on the primary AI-generated voice.
Natural Language Processing (NLP) Capabilities: Generate singing voices based on text inputs.
Part 3: Other Ways to Make AI Singing
With Voice Changer, you have the freedom to manipulate your voice in a multitude of ways. Whether you're looking to add a touch of whimsy, create a deep and resonant tone, or even mimic popular characters, our intuitive interface makes it easy to achieve the desired effect with just a few clicks.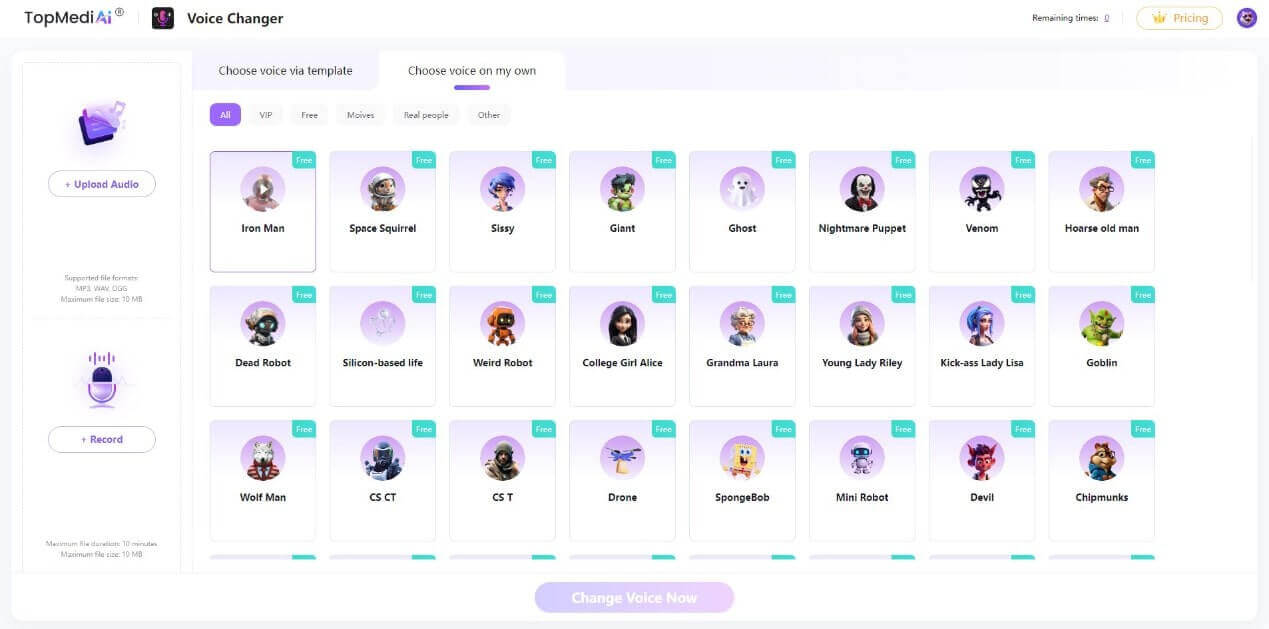 Simple Steps:
Step 1: Either upload your audio file or use the mic to record your voice in real-time.
Step 2: Click an voice icon below to listen.
Step 3: If you're satisfied about the voice change, you can download it for free directly.
Step 4: If you want to change it into another voice, click the fork in the upper right corner and then click a new voice as you like.
Key Features:
Advanced AI Algorithms: AI Musician Generators use sophisticated AI algorithms for realistic and expressive singing voices.
Cloud-Based or Local Processing: Choose between cloud-based or local processing options.
Export and Sharing Options: Export AI-generated vocals as audio files and share them with others.
Continuous Updates and Improvements: Regular updates enhance performance and introduce new features.
Part 4: FAQs about AI Singer Generator
1 How to Make AI Sing?
To make AI sing, users need to choose a character or voice, add their song lyrics to the platform, and adjust the emotions and tone, speech pace, intonation, tempo, and pitch before downloading the audio file to publish to their desired platform. However, the initial audio output may need pitch shifting and vocal effects for improvement. Additionally, these tools have inspired a growing community of AI users on their Discord servers, allowing users to collaborate and share their AI-generated tracks.
2 Can I really sing like a singer with AI Singer Generator?
Yes, you can create AI-generated songs or raps with singing and rapping styles that sound like a human singer in AI Musician Generator. These tools have inspired a growing community of AI users on their Discord servers, allowing users to collaborate and share their AI-generated tracks.
Conclusion AI Singer Generator is changing the way we create music. With TopMediai, you can unleash your creativity and produce truly unique tracks that stand out from the crowd. Whether you're a professional musician or just starting out, AI Singer Generator has something to offer.
So why not give it a try and see where your imagination takes you?