Have you ever dreamt of becoming an AI singer and changing your voice effortlessly?

Well, now you can, and it's free for fun to make ai singing! In this article, l'll explore the exciting world of AI singers, AI singer voice changers, and how you can use them to create your own AI singing experience. One such fascinating advancement is AI Singer Changer, easily become an AI singer!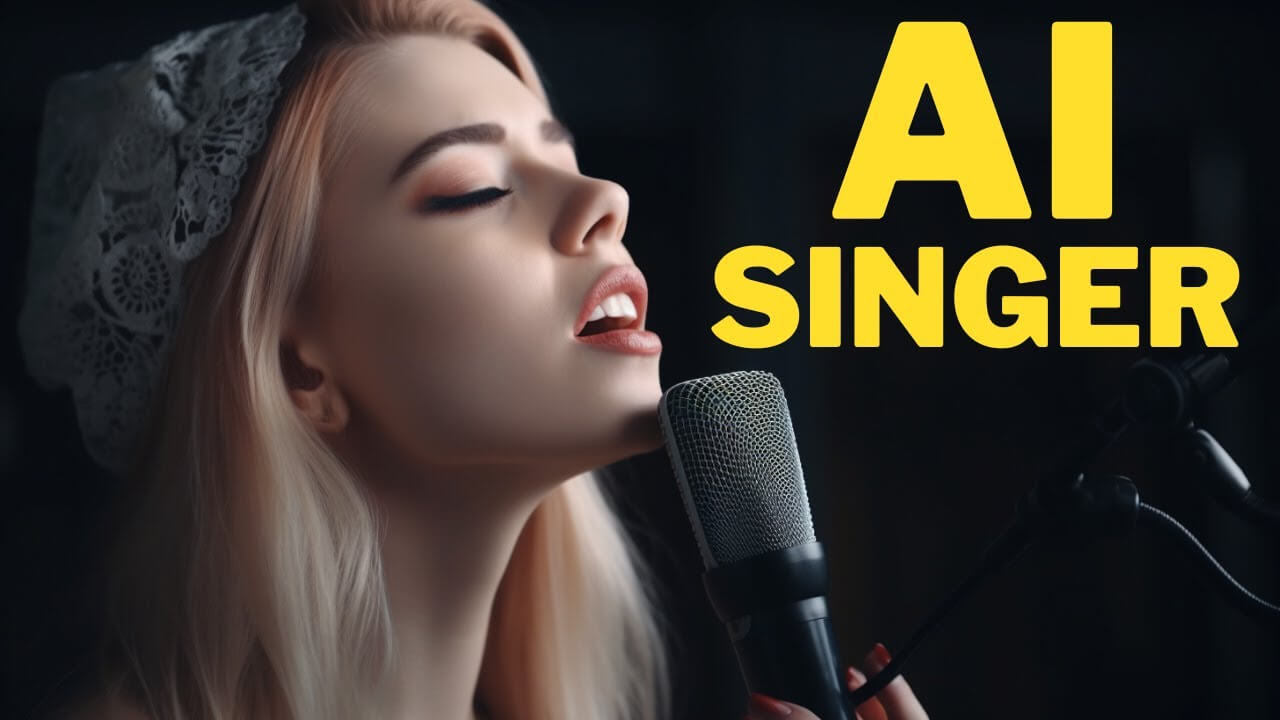 Part 1: What is AI Singer Generator?
AI Singer Generator is a cutting-edge technology that utilizes artificial intelligence to replicate human singing voices and, in some cases, generate entirely new ones.
This innovation has opened up a world of possibilities, allowing individuals to transform their voices into something entirely different, all while singing along to their favorite tunes. It's like having your very own virtual vocal coach at your fingertips.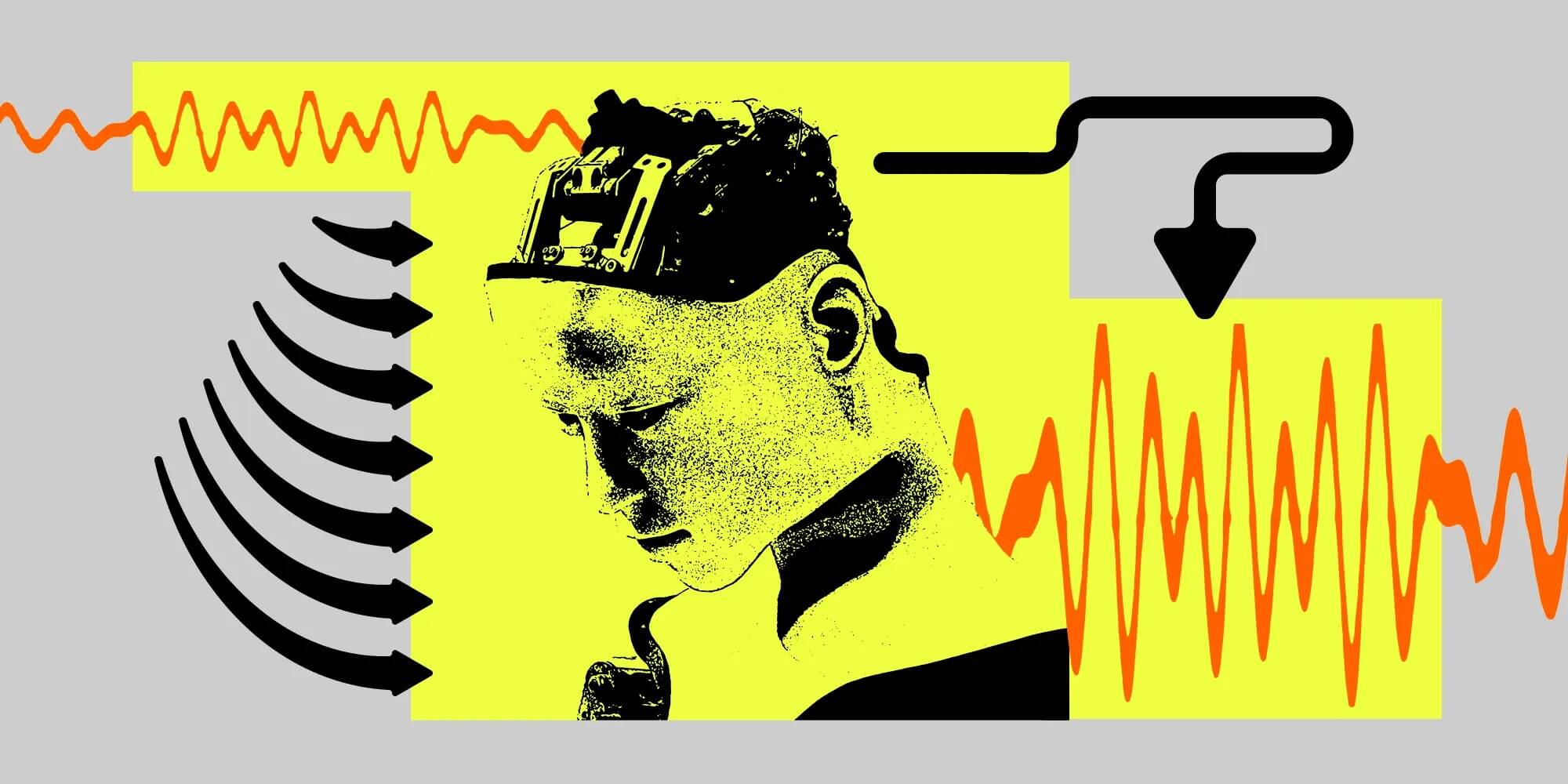 Part 2: Use Super Easy AI Singer Changer to Be an AI Singer
TopMediai offers a remarkable singer change AI that's not only easy to use but also completely free. With just a few simple clicks, you can modify your voice and sing like an AI-generated superstar. Whether you want to sound like your favorite pop icon or experiment with entirely new vocal styles, TopMediai's AI singer changer has got you covered.
With a vast library of pre-trained AI models and customization options, TopMediai provides artists with an array of vocal styles and tones to choose from(such as AI Drake singing).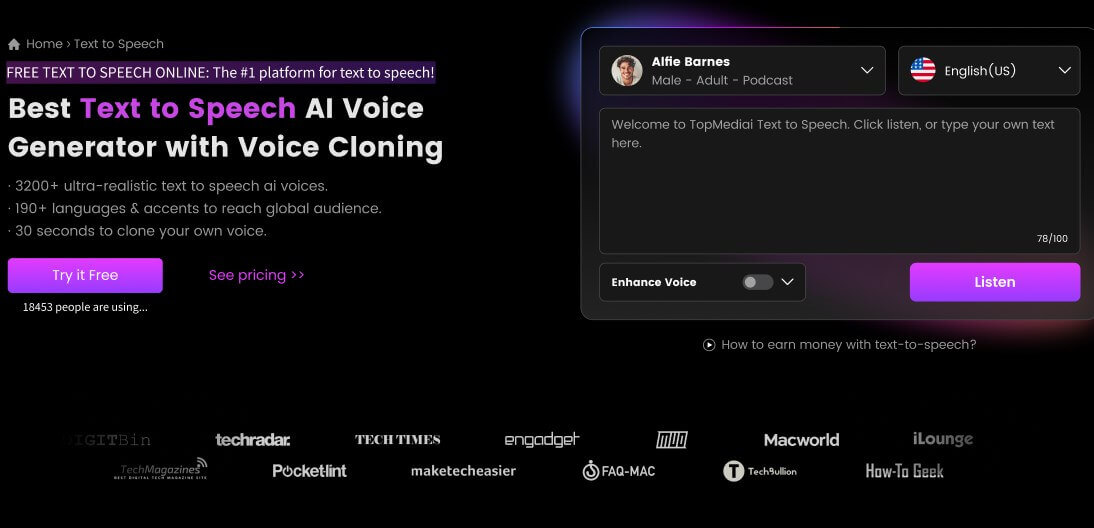 Unlock more musical ideas on TopMediai, with its latest music tools!
Easy steps to Use Song Singer AI:
Step 1: Open TopMediai Singer voice changer ai tool.
Step 2: Enter your desired text into the text box provided and select the AI Song Singer from the available options or Choose in the "Musicians" or "Singers" Type.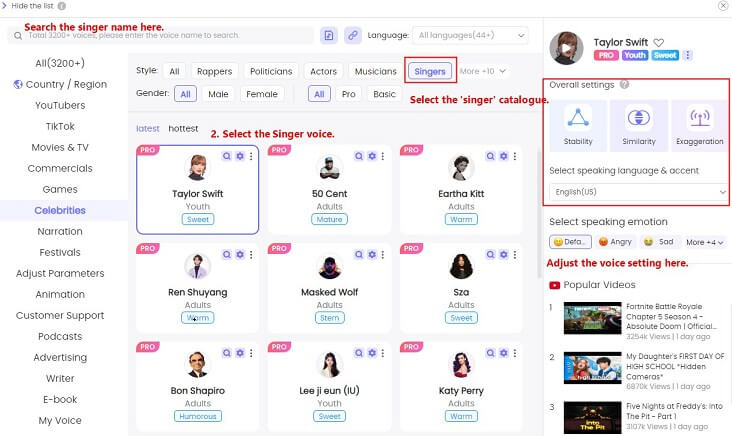 Step 3: Adjust the speed, pitch, and volume of the voice to your desired settings.
Step 4: Click the "Convert" button to generate your AI Singing audio file.
Vocal Style Customization: Customize vocal style with options like pitch, timbre, vibrato, and dynamics.
Diverse Voice Selection: Choose from a variety of voices including male, female, and different vocal ranges.
Real-Time Playback and Editing: Instantly hear and make real-time edits to AI-generated vocals.
Privacy and Data Security: Details on how user data is handled and protected, especially if sensitive or personal information is involved.
MIDI and Music Production Integration: Seamlessly integrate AI-generated vocals into music compositions.
Harmonization and Vocal Arrangement: Create harmonies and backing vocals based on the primary AI-generated voice.
Natural Language Processing (NLP) Capabilities: Generate singing voices based on text inputs.
Another fantastic option for transforming your voice into an AI singer's is Voicify.ai. This user-friendly platform lets you harness the power of AI to create your own unique singing persona. You can explore various singing styles, from soulful ballads to energetic rock anthems, all with a few adjustments on Voicify.ai.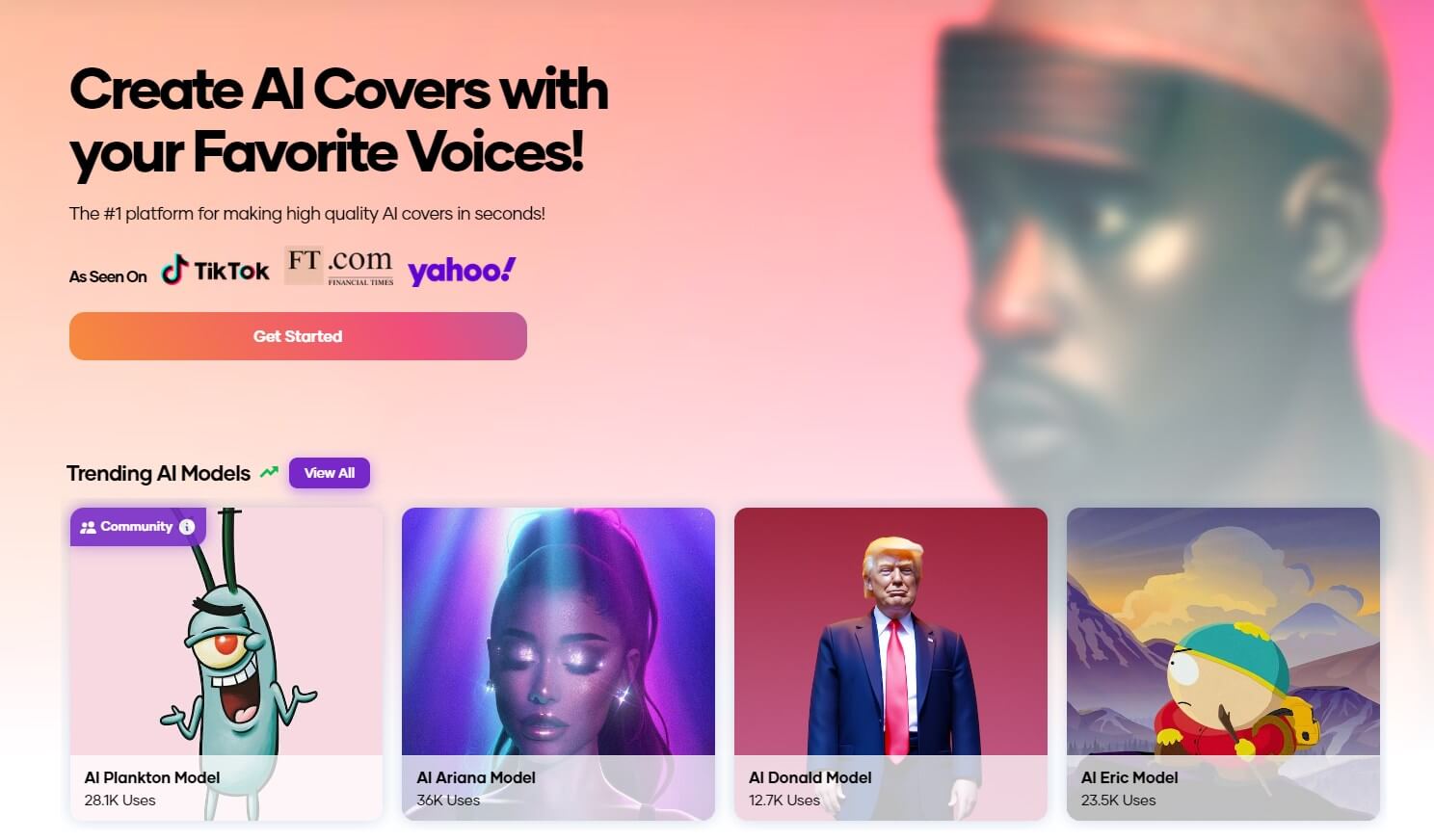 Part 3: Other Ways to Make AI Singing
With Voice Changer, you have the freedom to manipulate your voice in a multitude of ways. Whether you're looking to add a touch of whimsy, create a deep and resonant tone, or even mimic popular characters, our intuitive interface makes it easy to achieve the desired effect with just a few clicks.
With this change singing voice ai, you can modify your voice for various purposes, from creating funny videos to experimenting with unique vocal effects.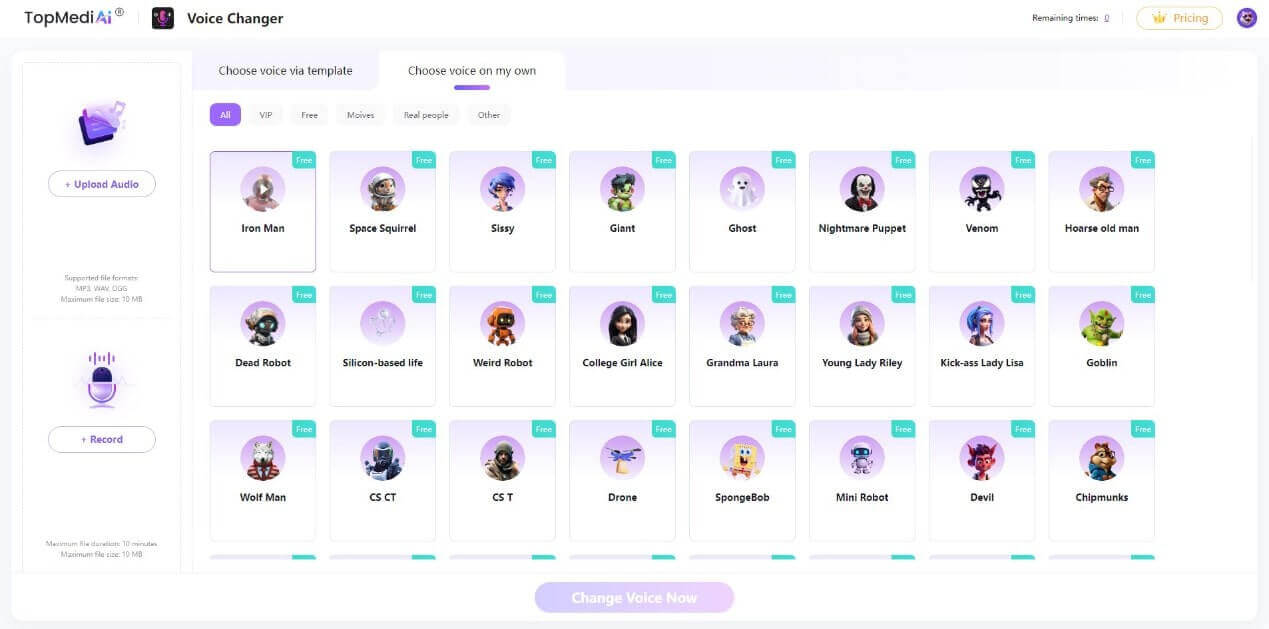 Simple Steps:
Step 1: Either upload your audio file or use the mic to record your voice in real-time.
Step 2: Choose an voice model and then click convert button.
Step 3: If you're satisfied about the voice change, you can download it for free directly.
Step 4: If you want to change it into another voice, click the fork in the upper right corner and then click a new voice as you like.
Key Features:
Advanced AI Algorithms: AI Musician Generators use sophisticated AI algorithms for realistic and expressive singing voices.
Cloud-Based or Local Processing: Choose between cloud-based or local processing options.
Export and Sharing Options: Export AI-generated vocals as audio files and share them with others.
Continuous Updates and Improvements: Regular updates enhance performance and introduce new features.
Unleash your creativity by using TopMediai's AI Cover feature. It allows you to generate AI-powered cover versions of your favorite songs, giving you the chance to put your unique spin on timeless classics. No matter what style of music you can cover successfully, it will satisfy your desire to be a ai singer.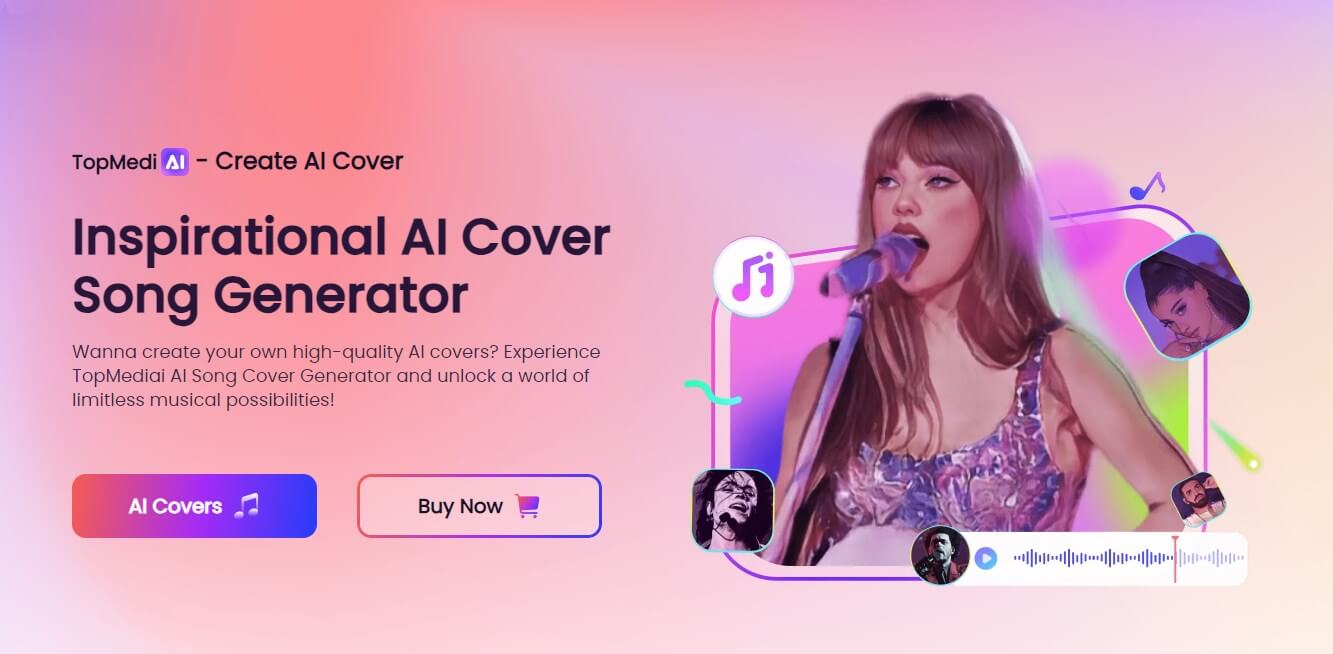 Part 4: FAQs about AI Singer Voice Changer
1 How to Make AI Singing?
To make AI sing, users need to choose a character or voice, add their song lyrics to the platform, and adjust the emotions and tone, speech pace, intonation, tempo, and pitch before downloading the audio file to publish to their desired platform. However, the initial audio output may need pitch shifting and vocal effects for improvement. Additionally, these tools have inspired a growing community of AI users on their Discord servers, allowing users to collaborate and share their AI-generated tracks.
2 Can I really sing like a singer with AI Singer Generator?
Yes, you can create AI-generated songs or raps with singing and rapping styles that sound like a human singer in AI Musician Generator. These tools have inspired a growing community of AI users on their Discord servers, allowing users to collaborate and share their AI-generated tracks.
3 What are the popular ai singer voice?
Drake ai voice: Drake, born Aubrey Drake Graham in 1986, is a Canadian rapper, singer, and actor. His genre-blending music and introspective lyrics have made him a global music icon.
Ariana Grande ai voice: Ariana Grande is an American singer, songwriter, and actress. Born on June 26, 1993, in Florida, she's known for her powerful vocals and has achieved immense success in the music industry.
Juice WRLD: Juice WRLD was an influential American rapper and singer known for blending hip-hop and emo styles. His untimely death left a lasting mark on music.
Unlock all singers ai voice on TopMediai.
4 Which AI Singer Voice Changer tools are popular?
Popular AI Singer Voice Changer tools include Voicify.ai, TopMediai, and several mobile apps, each offering unique features and effects.
Conclusion Whether you're looking to experiment with new vocal styles, impersonate your favorite artists, or simply have a blast with friends, AI singer generator like TopMediai are your ticket to a world of musical fun.

So, why wait? Dive into the AI singing experience today and let your creativity shine as you become an AI singer to make ai singing for free!