There are many ai voice generators tools and websites that use advanced AI technology to help you convert text to ai voice you want. A new website called Elevenlabs.io is one of the most popular text to speech voice generator out there. So let's find out how it is and its key features without further ado!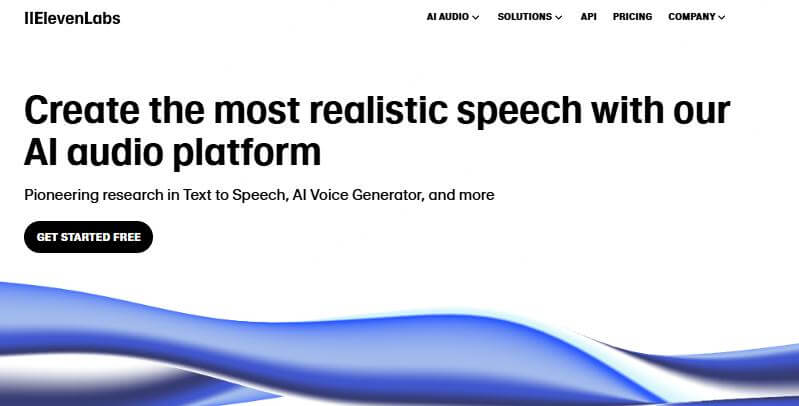 Part 1: What is ElevenLabs.io - Prime Voice ai?
Elevenlabs.io advocates its Prime Voice AI. It is the most realistic and versatile AI speech software ever. Eleven delivers the most engaging, rich, and lifelike voices for authors and publishers looking for the ultimate storytelling tools.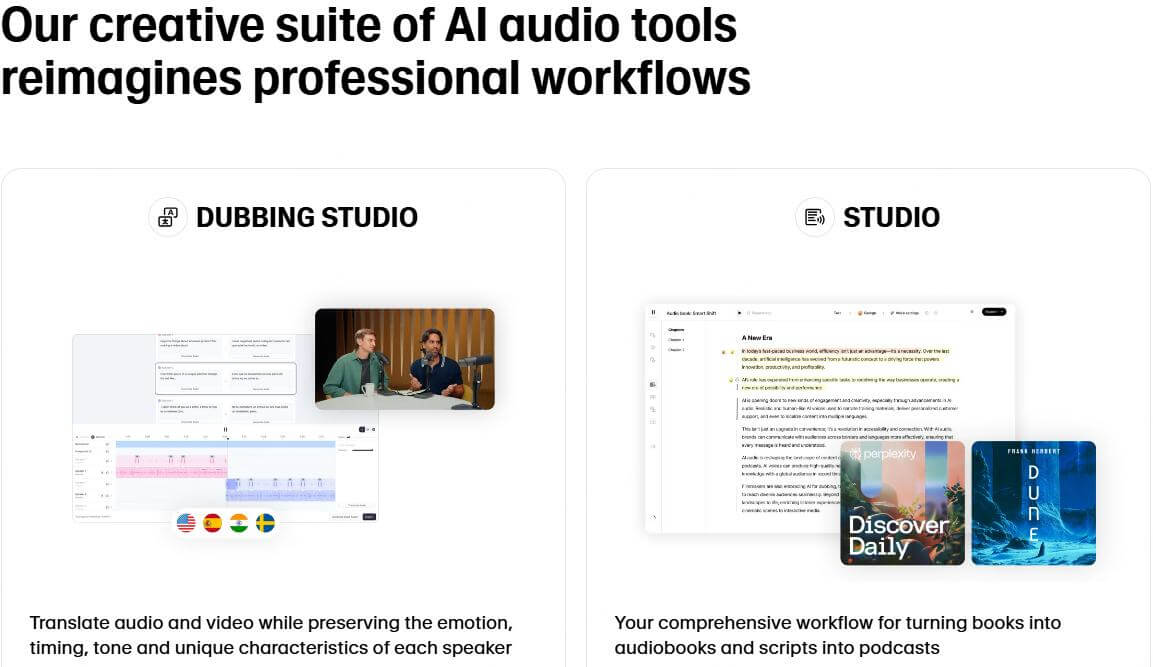 Uses are allowed to generate top-quality spoken audio in any voice and style with the most advanced and versatile AI speech tool available. Our deep-learning model reproduces human intonation and tone with unprecedented accuracy and adapts playback to context.
Key Features:
Rich and lifelike voice creation if you are a content creator or full-time publisher.
Enhanced features for storytelling.
ElevenLabs has one of the first AI voice generator profiles that can laugh when needed.
Use the tool for many different scenarios like storytelling, news casting, and making audiobooks.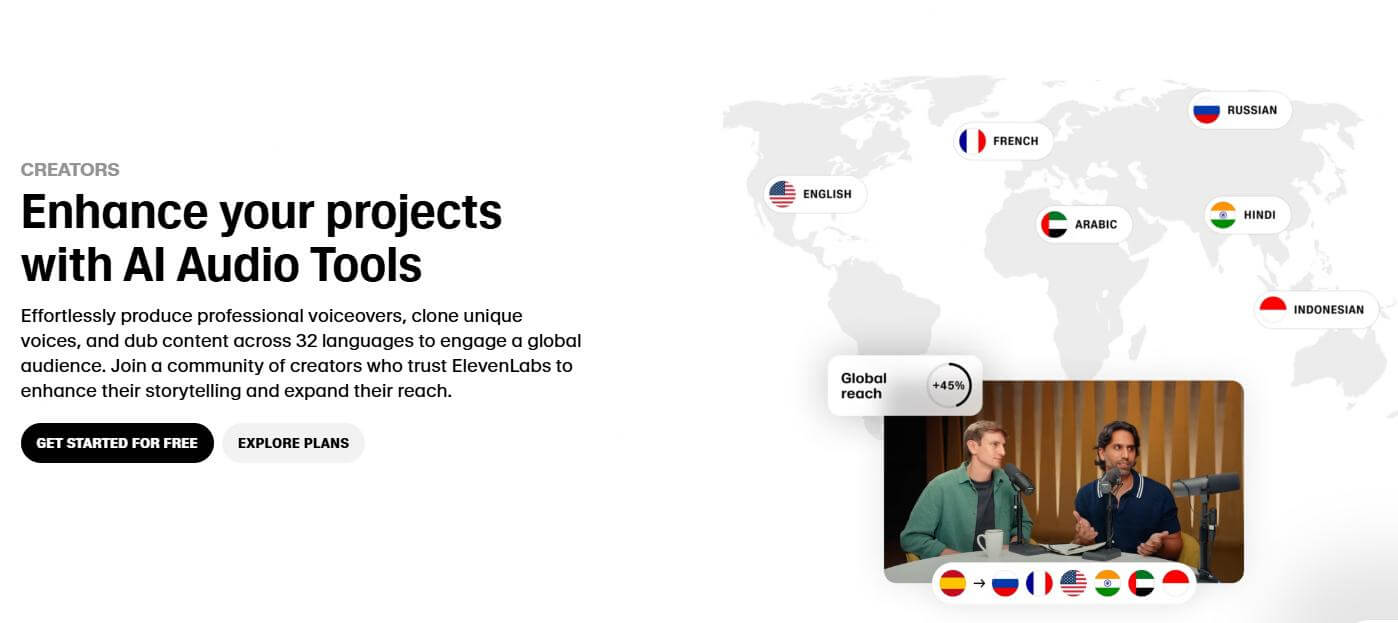 Pros
Easy voice conversion - Making one person speak in the voice of another

Deploying its own generative model which lets users design entirely new synthetic voices.

You can listen its demos for free now.
Cons
It's still in the Beta phase.
Pricing:
The pricing plan of Elevenlabs is as follows.
Part 2: Best AI Text to Speech Alternative to Elevenlabs.io
If you want to make your voice sound like other characters or celebrity in ai voice, you can give TopMediai Text to Speech Online a free try. It emerges as an advanced ai text to speech voice generator online recently.
TopMediai AI Text to Speech Online
TopMediai Text to Speech is a unique online text to speech generator that is quite fun to use. It allows users to enter text of their choice of up to 25.000 characters and turn it into a dynamic speech format using a vast catalog of ai voices of an exceptional number of celebrities including the former President, Donald Trump .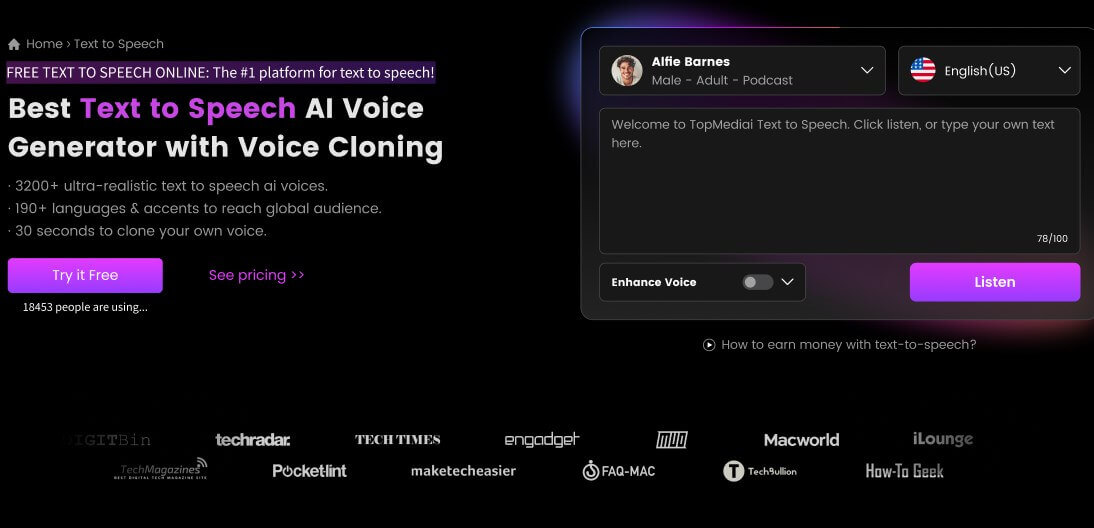 Key Features:
Once you've finished the Joe Biden text to speech converter, you can choose from having multiple languages and 3,200 voice effects.
Advanced algorithms to generate realistic Joe Biden voice.
70+ languages available to work with, including Spanish, Japanese, Arabic, French and so on.
Use the tool for many different scenarios like storytelling, news casting, and making audiobooks.
Tons of vivid voiceover options for your videos.
Many president ai voice generators choices.
AI Voice Cloning comming soon!
Pros
Time-Saving – Converting any ai voice within seconds is now easy.

Best Voice Modulation – Text to speech (TTS) technology from TopMediai Text to Speech Online has a fantastic output quality.
Cons
Still a new tool, and more features are added regularly.
Part 3: FAQs about Elevenlabs.io
1 What does Elevenlabs.io do?
The company opens access to Beta platform designed to let creators and publishers narrate long-form content.
2 Can I get a quote for my project on beta.elevenlabs.io?
Yes, clients can request a quote for their project on beta.elevenlabs.io. The website has a "Get a Quote" section where clients can provide project details, and the Eleven Labs team will respond with a quote.
3 Does beta.elevenlabs.io have a blog section?
Yes, beta.elevenlabs.io does have a blog section on their website. And here is its blog.
4 Is elevenlabs.io Safe?
For now, yes. You can use the elevenlabs.io with confidence to make ai voice.
Conclusion In conclusion, the use of text to speech voice generators is a fascinating development in the field of AI and natural language processing. These generators are designed to mimic unique ai voice and speech patterns, making them a useful tool for various applications, such as podcasts, audiobooks, and even customer service chatbots. Visit ElevenLabs.io or TopMediai Text to Speech to enjoy the ai voice for fun!