Eminem AI Voice Generator can expect even more sophisticated and immersive AI voice experiences that push the boundaries of creativity.

Eminem Text-to-Speech technology is revolutionizing the way we interact with AI voices, giving rise to a new wave of creative possibilities.

Experience the Eminem AI voice and explores the tools available to integrate this unique feature into your projects with my detailed steps below now!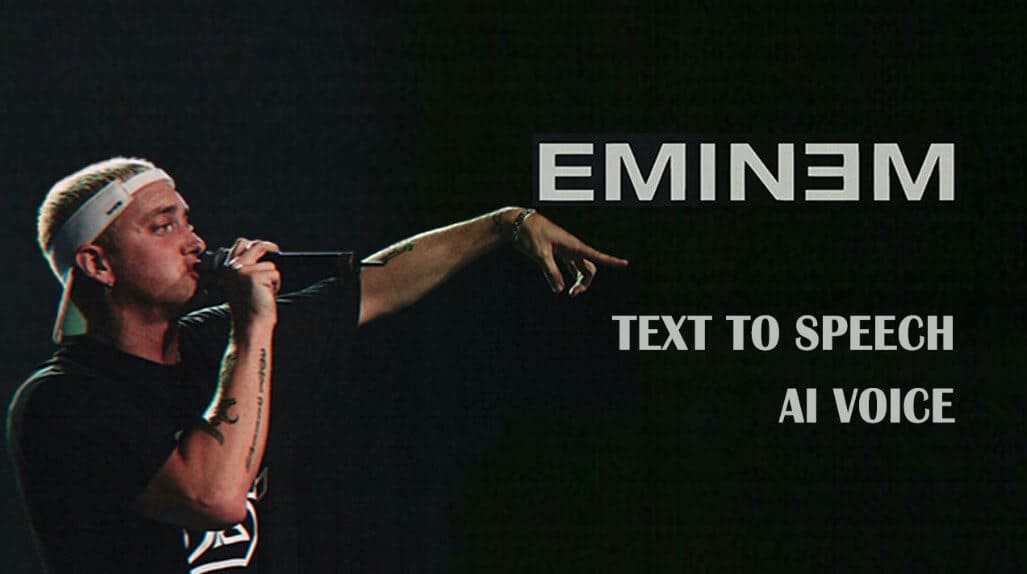 "I say what I want to say and do what I want to do. There's no in-between. People will either love you for it or hate you for it."
Part 1: What Can Eminem Text to Speech Do?
Welcome to the world of Eminem text-to-speech, where the power of rap meets the versatility of voice-driven projects. This groundbreaking technology enables you to generate lifelike audio in the distinct style of Eminem, the legendary rapper.

Whether you're a content creator, voice-over artist, or simply an enthusiast looking to add a unique flair to your projects, this tool allows you to tap into the spirit of Eminem and create audio experiences that are truly extraordinary.
Don't miss out! Try out the Eminem text to speech generator for free by yourself today.

Text to Speech
3 Free Trials of The Selected Voice Below

Eminem
Conversion failed.
Please check out if there are special characters or multiple languages in your text.
Eminem Text to Speech offers several benefits:
Creative Content Creation: It allows creators to generate audio in Eminem's distinctive style, bringing energy and lyrical prowess to projects.
Voice-over Projects: The tool enables voice-over artists to deliver engaging performances with Eminem's iconic voice for various media projects.
Unique Voice Identity: Eminem AI voice offers a distinctive and instantly recognizable vocal identity. Integrating this voice into your projects sets them apart, creating a memorable and engaging experience for users, listeners, or consumers.
Accessibility and Inclusion: The technology improves accessibility by converting written content into spoken words in Eminem's voice, benefiting those with visual impairments or reading difficulties.
In summary, Eminem Text to Speech empowers users to create captivating audio content, enhances voice-over projects, adds impact to presentations, and promotes accessibility and inclusion.
Part 2: Who is Eminem? Or Slim Shady Evil?
Eminem, whose real name is Marshall Mathers, is a globally renowned rapper, songwriter, and record producer. His exceptional lyrical prowess, distinctive flow, and emotional depth has left an indelible mark on the music industry.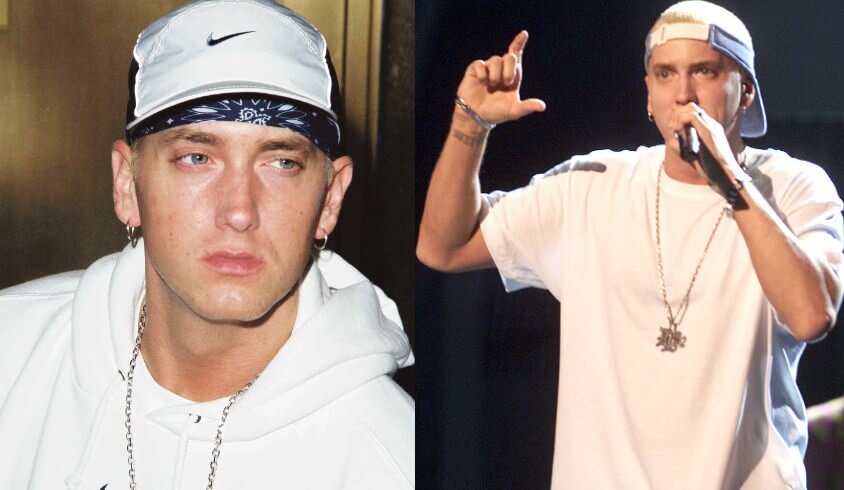 Eminem rose to fame in the late 1990s with his debut album 'The Slim Shady LP' and has since released numerous chart-topping albums and singles.
Known for his raw and honest lyrics, as well as his rapid-fire delivery and distinctive flow, Eminem has won numerous awards, including 15 Grammy Awards. He is widely considered one of the greatest and most influential rappers of all time.
Part 3: Eminem Text to Speech Online Tools for Free
If you're looking for a free and easy to use Eminem voice generator, TopMediai Text to Speech online is an excellent choice. It brings together the artistic appeal of Eminem ai voice and the potential of AI-driven voice technology.
It offers users an opportunity to infuse their projects with the energy, emotion, and uniqueness associated with the rap icon's voice. Explore more than 50+ rappers ai voice (such as Kanye, Drake, XXXTentacion) on TopMediai!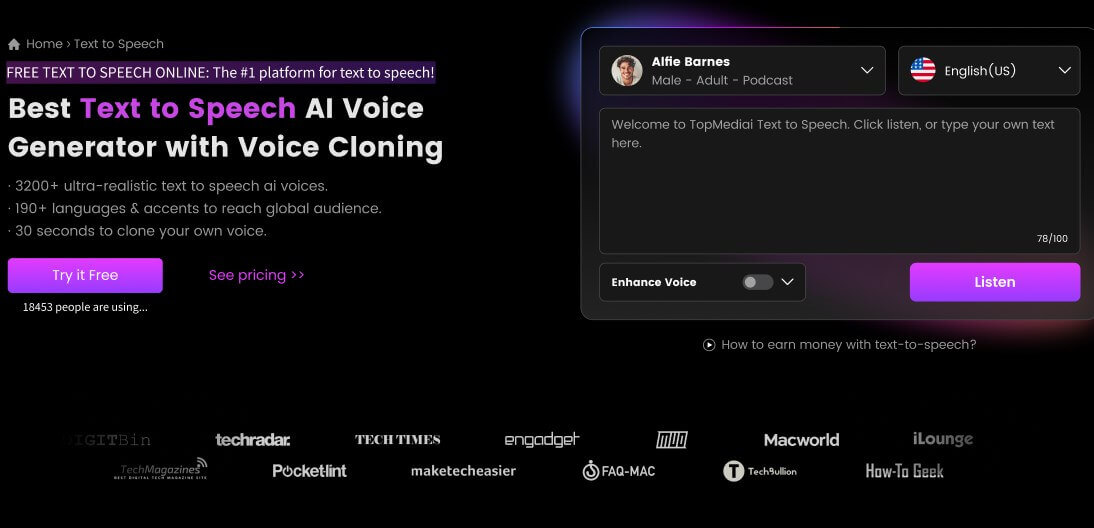 Step-by-step guide on how to use Eminem voice generator:
Step 1: Go to TopMediai online site.
Step 2: Type or paste the text you want to be converted into Eminem's ai voice.
Step 3: Select the 'Eminem voice' from the type of rappers' voices.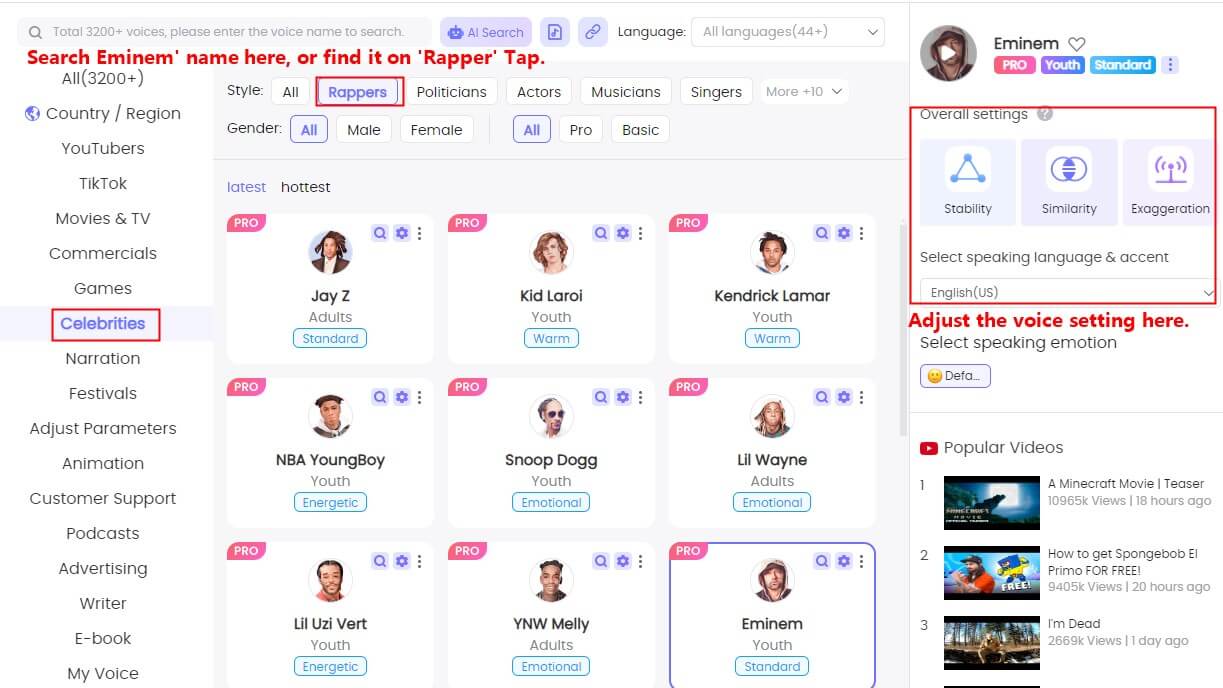 Step 4: Click on 'Convert' to create the audio.
Step 5: Download or save the audio file in eminem ai voice.
More than 50 realistic rappers ai voice options.
Adjustable pitch, speed, and pauses.
Quick results and reliable performance for eminem text to speech generation.
Multiple languages (70+ global languages) available.
Many celebrity text to speech voice are stunning to help you make video voiceover.
Thousands of character voices on offer including eminem ai voice.
High quality output that the generated voice clips suitable for a wide range of applications.
Pros
Wide range of voiceover options.

Play with pitch, punctuations and emphasis to make the AI voices with ease.

Multi-output and input formats, including MP3 and WAV.

With over 3200 voices to choose from, users can create highly realistic and expressive audio that is tailored to their specific needs.
Cons
PC version is not available yet.
Fakeyou's Eminem Text-to-Speech tool boasts high-quality voice replication. It captures the nuances of Eminem's voice, from his signature delivery style to his emotional intensity.

The tool offers multiple Eminem voice variants, such as Eminem (Angry Freestyle), Eminem (Eminem Show), and Eminem (Marshall Bruce Mathers III). The tool is designed to be easy to use, and it can be accessed from any device with an internet connection.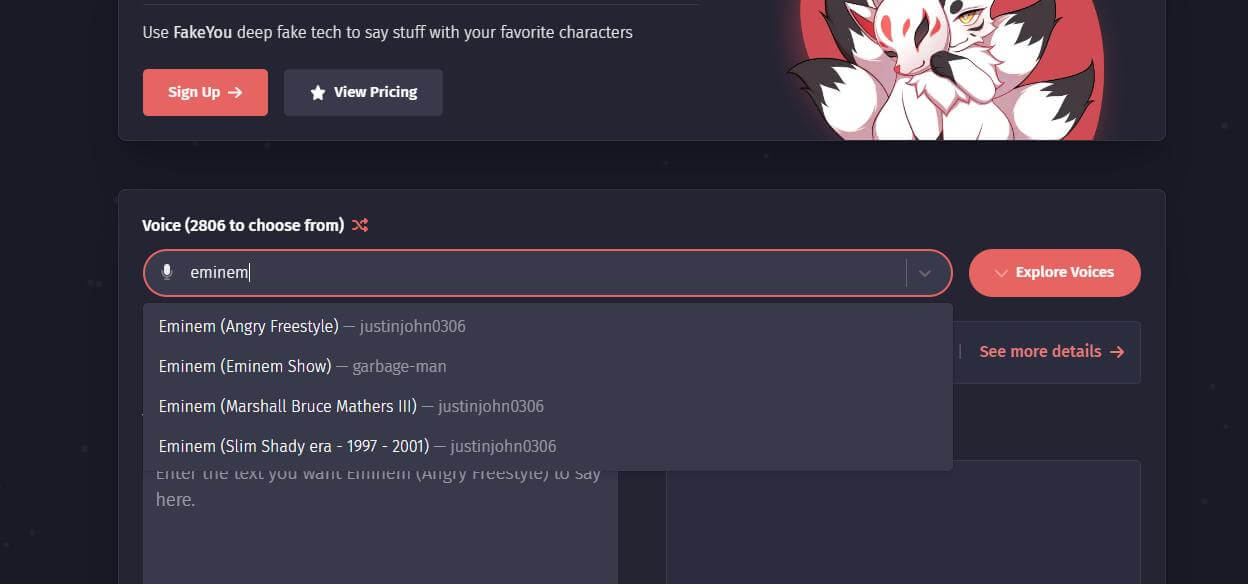 Multiple Eminem voice variants.
Easy to use.
Offers both free and paid subscription plans.
Pros
Users can choose from free or paid subscription plans, providing flexibility and choice.

Users can choose from several Eminem voice variants to suit their preferences.
Cons
Some of the Eminem and other voice variants have poor ratings, such as Eminem (Angry Freestyle), which has a rating of just 1.3.

Limited features.

Users must create an account and sign up to access the tool.
Uberduck offers an AI-driven Eminem voice generator that caters to a wide range of creative projects. Whether you're developing a gaming character, animated video, or even a unique ringtone, Uberduck's tool can infuse the spirit of Eminem's rap into your creation.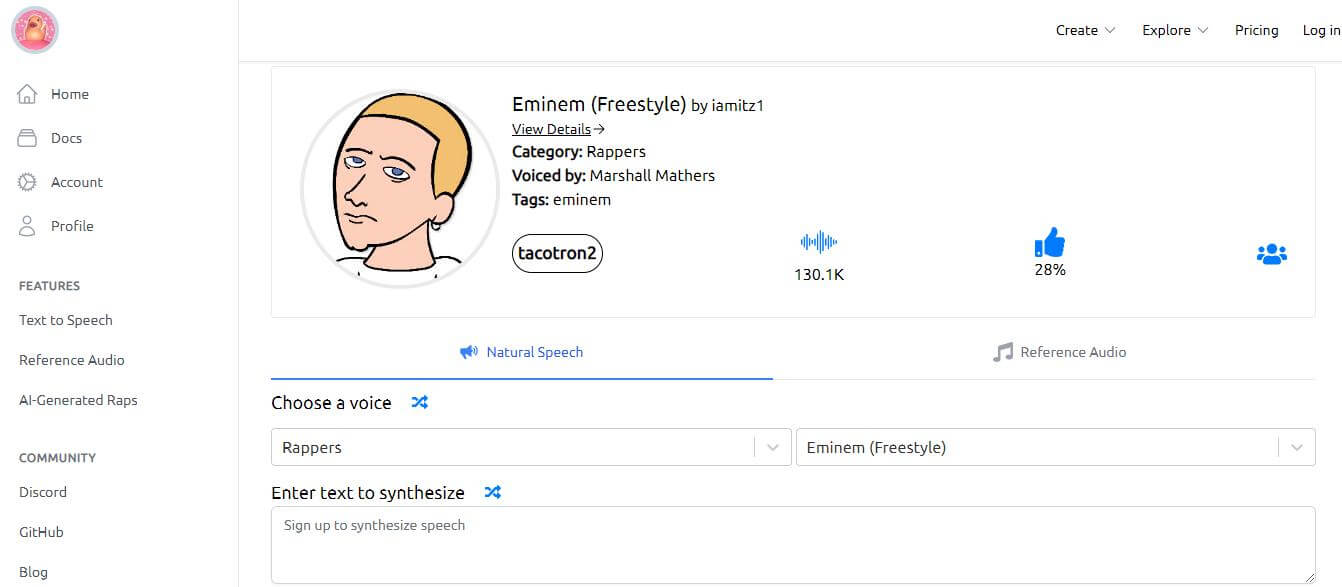 Eminem voice text to speech generator.
1,000+ expressive voices.
Different Eminem variants available such as Eminem (freestyle) and Eminem (1996).
Pros
Various Eminem variants.

Large selection of voices.

Users can try the tool for free.
Cons
Less voice options for free plan.
Price Comparison:
| Pricing&Licenses | TopMediaiText to Speech | FakeYou | Uberduck.ai |
| --- | --- | --- | --- |
| Monthly | $12.99 | $25 | $9.99 |
| Per Day | $0.43 | $0.83 | $0.33 |
| Available Voices | 3200 | 3400 | 1000 |
| Other Licenses | Voice Cloning by Your Own | 2 mins video converter | Voice to Voice |
Part 4: Explore: Text to Eminem AI Voice Software You May Want
Utilizing state-of-the-art text-to-speech advancements and sophisticated voice replication methods, VoxBox impeccably mimics Kanye's unique vocal quality. Whether you're a dedicated self-media creator or a fervent video game lover, VoxBox stands as an influential tool for creative voiceovers, promising to enhance your content with unparalleled authenticity in audio expression.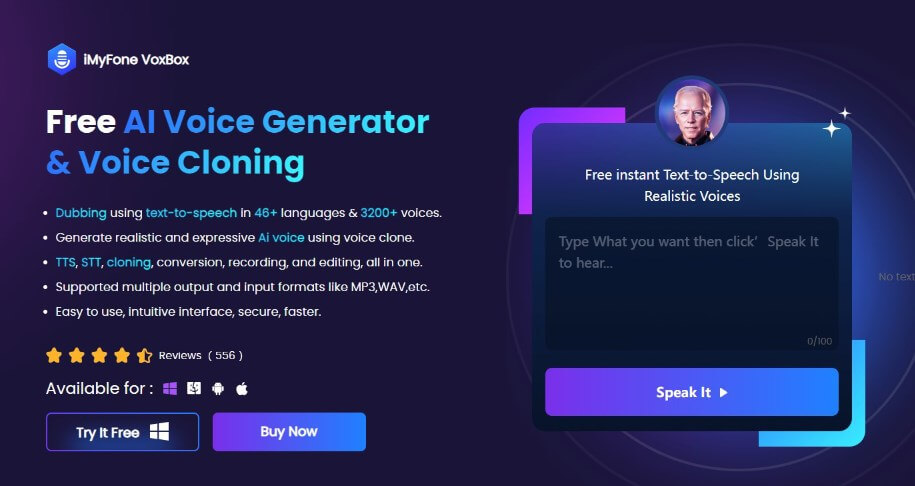 Key Features:
3200+ realistic and expressive voices.
Multi-in-1 functions for TTS, STT, convert, record, and edit.
Pros
VoxBox offers a wide range of features and tools for creating high-quality audio.

The software is easy to use and has an intuitive interface, making it accessible to beginners and experts alike.

VoxBox is a versatile tool that can be used for a variety of purposes, including TTS, STT, recording, and editing.
Cons
Some features are only available with paid version of VoxBox.
Part 5: [FAQs] Know more about Eminem Text to Speech
1 Is there a text to speech online tool that sounds like Eminem?
Yes, there are text-to-speech online tools that offer a voice that sounds like Eminem's. While there are several options available, TopMediai is a popular choice as the most powerful Eminem text-to-speech voice generator.
2 Can I make a rap voiceover with eminem text to speech voice?
Yes, you can use TopMedia's text-to-speech service to generate a rap voiceover using an Eminem-style voice. TopMedia offers a range of high-quality, natural-sounding voices, including voices that are specifically designed for rap and hip-hop genres.
3 Why did Eminem retire?
Eminem has openly discussed his battle with addiction and how it impacted both his musical career and personal life. Additionally, he has undergone several surgeries, including a recent one in 2020 to address a back injury.

It is conceivable that his health condition could play a role in his contemplation of retirement.
ConclusionEmbracing the Eminem Text to Speech tools signifies more than just a collaboration between art and AI; it's a gateway to innovation that amplifies the potential of voice-driven projects.

Eminem ai voice generator will take your creations to new heights of excitement and engagement.Explore Eminem ai voice on TopMediai, the symphony of AI-generated rap has only just struck its first chord.