If you've ever wanted to sound like Eminem, the rap superstar known for his unique flow and wordplay, now you can, thanks to Eminem text to speech technology. This innovative technology allows you to input any text and have it spoken in Eminem's signature style, complete with his trademark inflections and emphasis. In this article, we'll detail the best free Eminem text to speech generator with step by step guide to use. So, let's get started!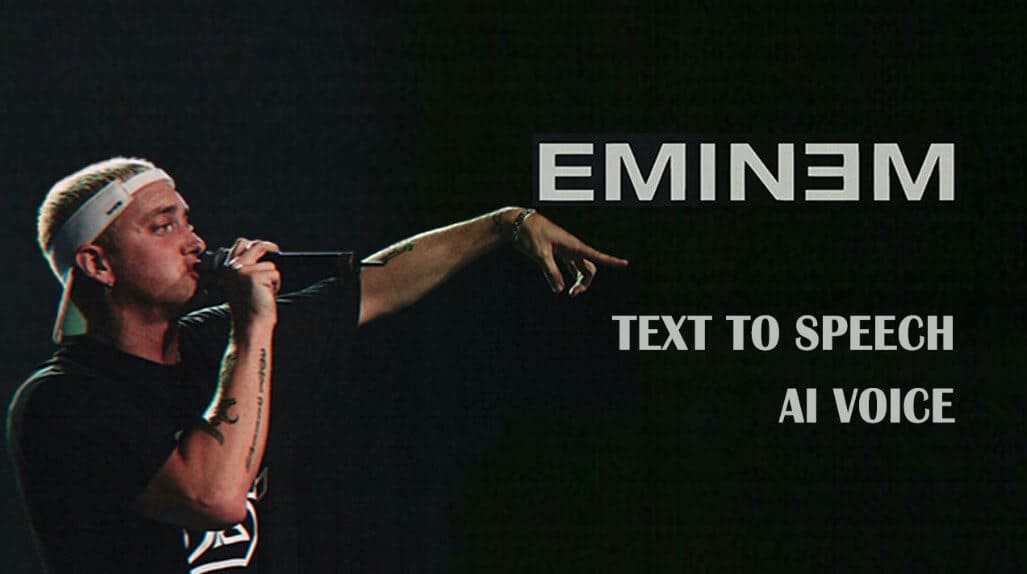 Part 1: Who is Eminem?
Eminem, born Marshall Bruce Mathers III in 1972, is an American rapper, songwriter, and record producer. He is one of the best-selling music artists of all time, with over 150 million records sold worldwide.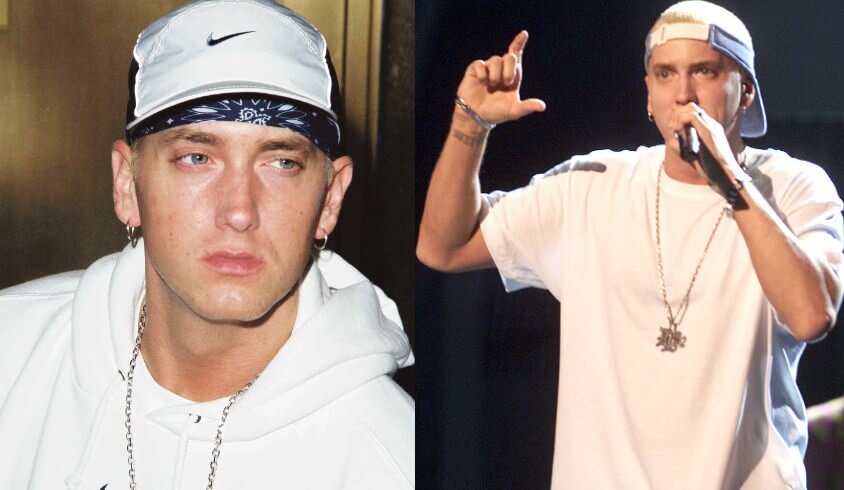 Eminem rose to fame in the late 1990s with his debut album "The Slim Shady LP" and has since released numerous chart-topping albums and singles.
Known for his raw and honest lyrics, as well as his rapid-fire delivery and distinctive flow, Eminem has won numerous awards, including 15 Grammy Awards. He is widely considered one of the greatest and most influential rappers of all time.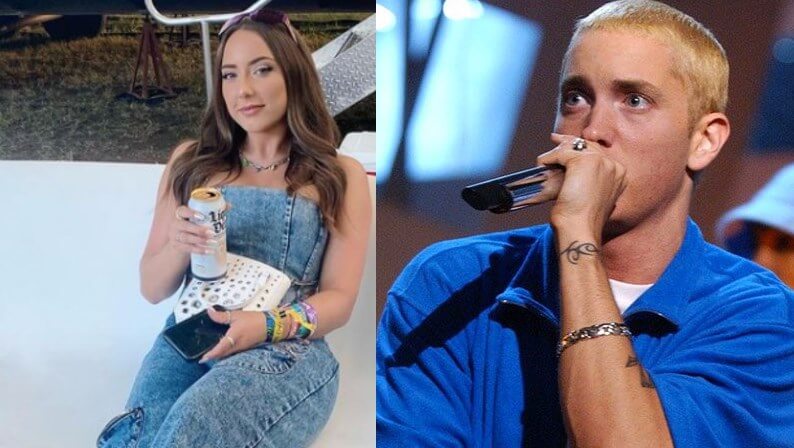 Part 2: Free Eminem Voice Generator Online Websites
If you're looking for a free and easy to use Eminem voice generator, TopMediai Text to Speech Online is an excellent choice. This innovative tool offers a range of character voices, including an Eminem ai voice and Kanye West Voice, that you can use to bring your text to life.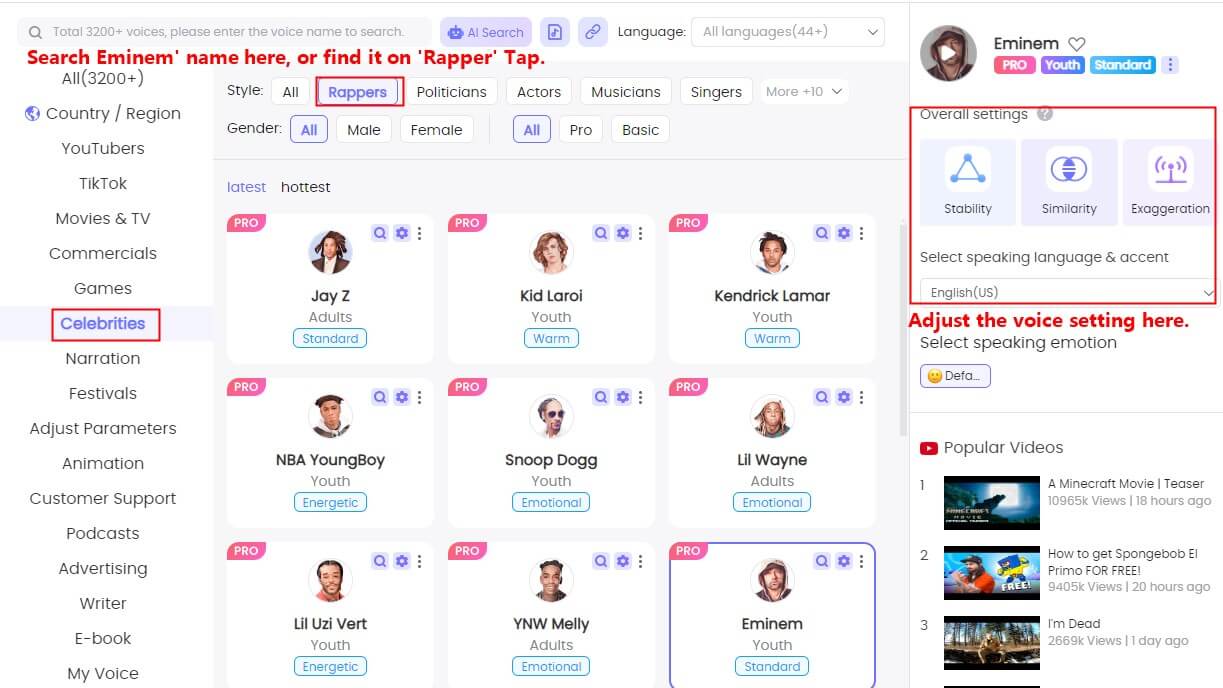 Highlight:
Lifelike AI voices for podcasts, videos, and all your professional presentations.
Multiple languages (70+ global languages) available.
Adjustable pitch, speed, and pauses.
Choose from over 3200+ text to speech voices in 70+ languages
Quick results and reliable performance for eminem text to speech generation.
Many celebrity text to speech voice are stunning to help you make video voiceover.
Thousands of character voices on offer including eminem ai voice.
Reputed text to speech online tool.
Step-by-step guide on how to use Eminem voice generator:
Step 1: Go toTopMediai online site .
Step 1:Type or paste the text you want to be converted into Eminem's voice.
Step 3: Select the "Eminem voice" from the character voices. Adjust the pitch, speed, and pauses as needed.
Step 4: Click on "Convert" to create the audio.
Step 5: Download or save the audio file.
Pros
Users can use it on PC browser or mobile phones.

Offers an Eminem voice generator with high quality.

Wide range of voiceover options.

Play with pitch, punctuations and emphasis to make the AI voices with ease.

Multi-output and input formats, including MP3 and WAV.

With over 3200 voices to choose from, users can create highly realistic and expressive audio that is tailored to their specific needs.
Cons
PC version is not available yet.
Fakeyou.com is another online tool that offers an Eminem voice text to speech generator. With this tool, users can generate audio clips of text that are spoken in the voice of Eminem.
The tool offers multiple Eminem voice variants, such as Eminem (Angry Freestyle), Eminem (Eminem Show), and Eminem (Marshall Bruce Mathers III). The tool is designed to be easy to use, and it can be accessed from any device with an internet connection.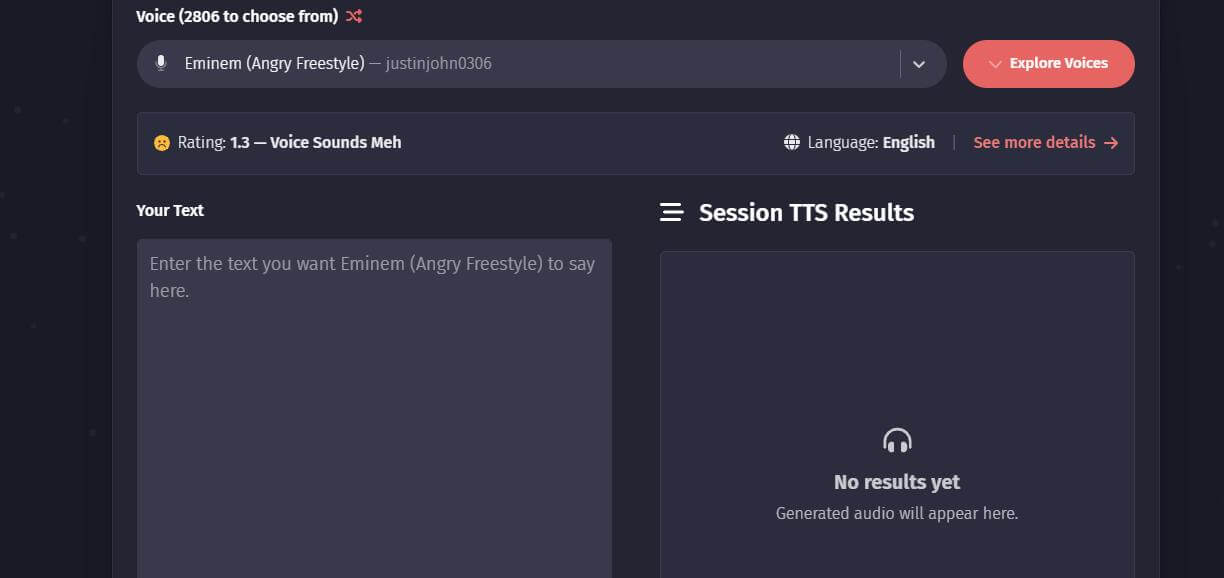 Key Features:
Multiple Eminem voice variants
Easy to use.
Offers both free and paid subscription plans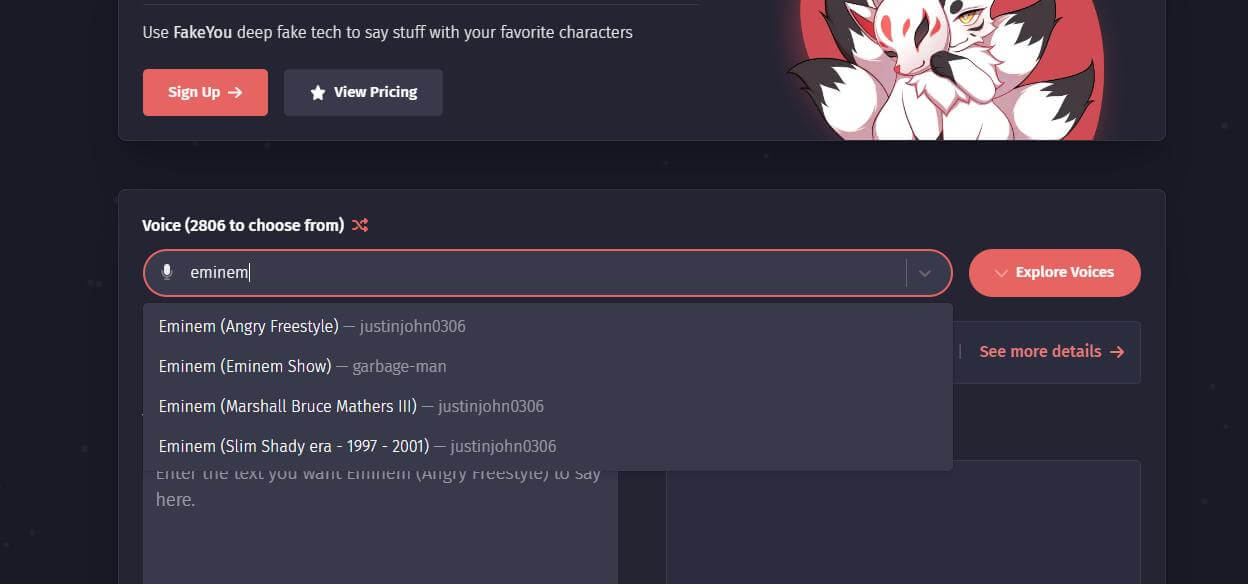 Pros
Users can choose from several Eminem voice variants to suit their preferences.

Users can choose from free or paid subscription plans, providing flexibility and choice.
Cons
Some of the Eminem and other voice variants have poor ratings, such as Eminem (Angry Freestyle), which has a rating of just 1.3.

Users must create an account and sign up to access the tool.

Limited features.

The free version of the tool has limited features and options, making the paid subscription plans necessary for those who require more functionality.
Uberduck.ai is also an online tool that offers an Eminem voice text to speech generator, allowing users to convert their text into audio clips using one of the 5,000+ expressive voices available. With its quick results and various Eminem variants, users can create audio clips in minutes.
Key Features:
Eminem voice text to speech generator.
5,000+ expressive voices.
Different Eminem variants available such as Eminem (freestyle) and Eminem (1996).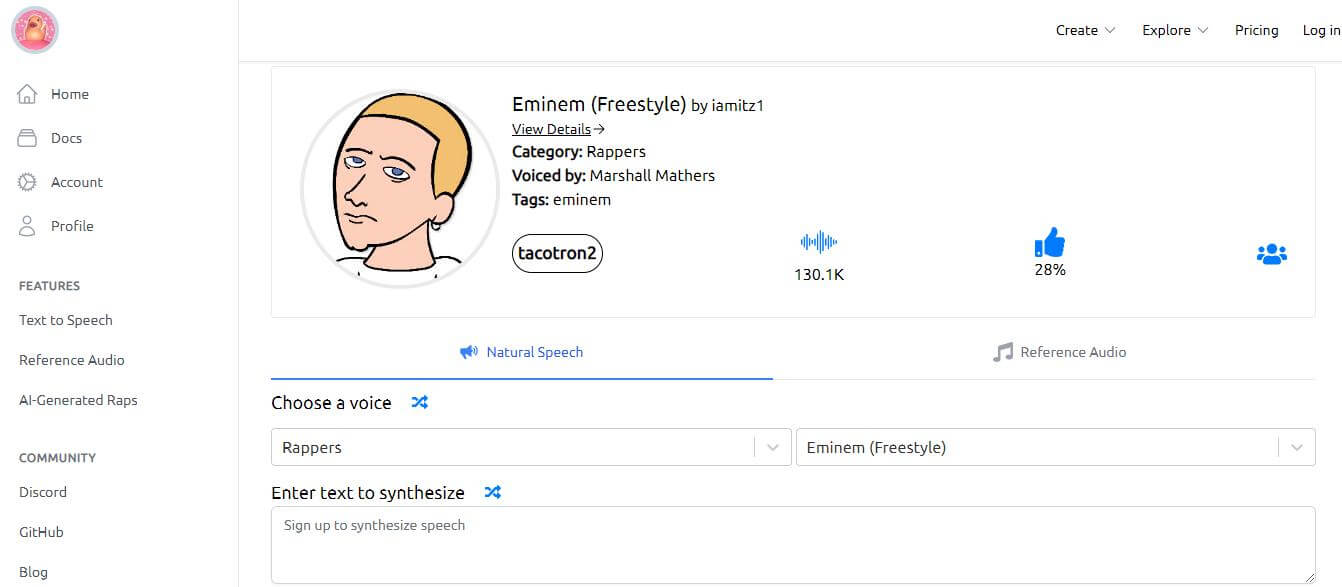 Pros
Various Eminem variants.

Large selection of voices.

Users can try the tool for free.
Cons
Users must sign up before using any of the Eminem text to speech options.
Part 3: Ai Eminem Text to Speech Software
iMyFone VoxBox is an online AI text to speech software that utilizes advanced technology to generate realistic and expressive audio providing over 3200 voices including that of Eminem text to speech. With multi-in-one functions like TTS, STT, convert, record, and edit, VoxBox is a versatile tool for creating high-quality audio in a variety of formats.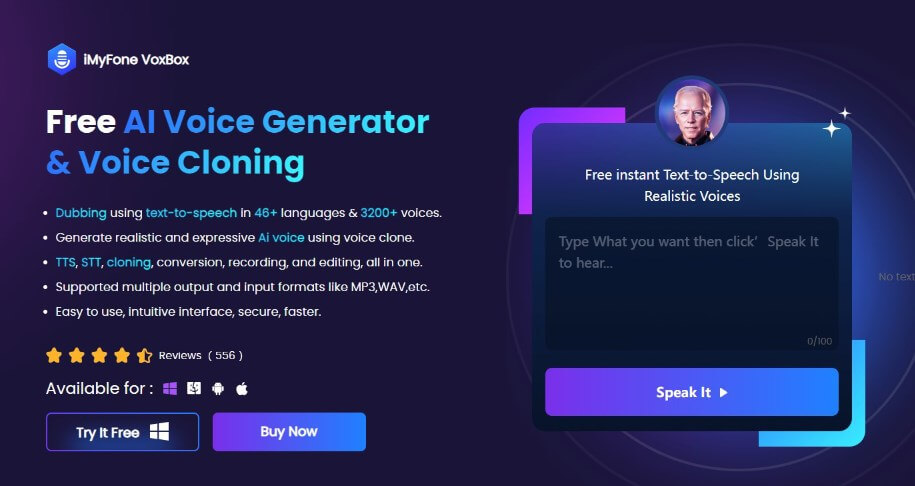 Key Features:
3200+ realistic and expressive voices.
Multi-in-1 functions for TTS, STT, convert, record, and edit.
Pros
VoxBox offers a wide range of features and tools for creating high-quality audio.

The software is easy to use and has an intuitive interface, making it accessible to beginners and experts alike.

VoxBox is a versatile tool that can be used for a variety of purposes, including TTS, STT, recording, and editing.
Cons
Some features are only available with paid version of VoxBox.
Part 4: FAQs about Eminem Text to Speech
1 Is there a text to speech online tool that sounds like Eminem?
Yes, there are text-to-speech online tools that offer a voice that sounds like Eminem's. While there are several options available, TopMediai is a popular choice as the best Eminem text-to-speech voice generator.
2 What is the most realistic eminem text to speech tool?
TopMedia's Eminem text to speech voice generator is a highly realistic and customizable text-to-speech tool that synthesizes speech closely resembling Eminem's voice. It utilizes advanced AI and natural language processing algorithms to generate speech, and allows for tone, speed, and volume adjustments.
It's a convenient and cost-effective option for anyone looking to use Eminem's voice in their content without copyright issues or licensing fees.
3 Can I make a rap voiceover with eminem text to speech voice?
Yes, you can use TopMedia's text-to-speech service to generate a rap voiceover using an Eminem-style voice. TopMedia offers a range of high-quality, natural-sounding voices, including voices that are specifically designed for rap and hip-hop genres.
With TopMedia's text-to-speech technology, you can enter your lyrics and have them converted into an audio file in a matter of seconds.
Conclusion:
In conclusion, using
Eminem text to speech
can be a fun and entertaining way to emulate the unique sound and style of this iconic rapper. While it may not be the same as actually rapping yourself, it can provide a fun way to experiment with different lyrics and delivery styles. If you're interested in trying it out for yourself, be sure to check out TopMedia's text to speech online tool, which offers a variety of
rappers voices
and customization options.