Breaking Bad has become a cultural phenomenon due to the characters and fantastic story during its 8 season run. Even now, memes and shorts are always coming up on the internet.

Walter White AI voice technology and Walter Wthite text to speech voice generator allows you to experience the essence of Walter White's voice in various applications. Read more to find out how to generate Walter White AI voice!

Text to Speech
3 Free Trials of The Selected Voice Below

Walter White
Conversion failed.
Please check out if there are special characters or multiple languages in your text.
Part 1: Who is Walter White?
Walter White is a fictional character from the TV series "Breaking Bad," played by Bryan Cranston. He starts as a mild-mannered high school chemistry teacher diagnosed with cancer. To secure his family's future, he turns to making and selling methamphetamine.
As the series progresses, he becomes more ruthless and morally conflicted, earning him the nickname "Heisenberg." His character's transformation and ethical struggles are central to the show's acclaim and legacy in popular culture.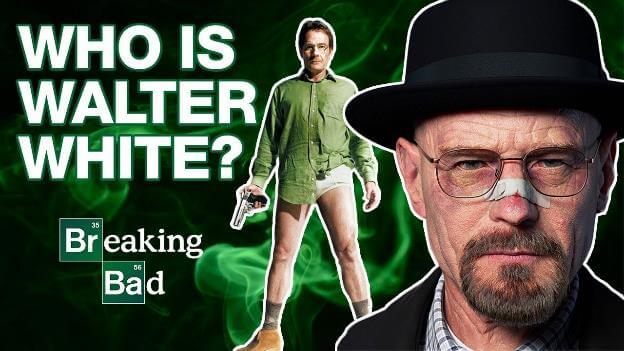 Part 2: Best Walter White Text to Speech Voice Generator
The emergence of AI-powered text-to-speech technology has brought fictional characters' voices to life like never before. Among these voices, Walter White's resonates powerfully, enabling enthusiasts to use it in creative ways.
1. TopMediai for Walter White Voice Text to Speech
Have you always wanted to say the most famous lines from Breaking Bad in your streams or send as voice notes to friends and family like "Say My Name!" or "I'm the one who Knocks!"
TopMediai stands out as a leading AI voice generator platform. With its Walter White text-to-speech feature, users can seamlessly convert written text into Walter White's distinct vocal rendition. This tool offers a user-friendly interface and high-quality voice output, making it a top choice for content creators and fans alike.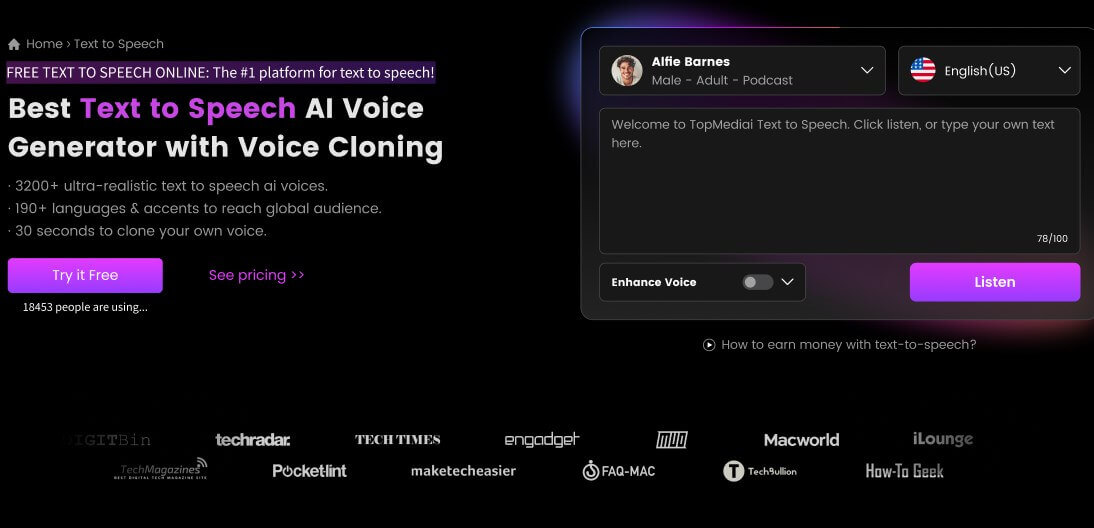 TopMediai for the win:
More than 70 languages and 3,200+ voiceover options are available.
Excellent results you can download in any file type you like.
Wide range of voice options including male, Jenna Ortega, and Cave Johnson.
Many more features to come, like text to song, so stay tuned.
How to Generate Walter White AI Voice with Text to Speech:
Step 1: You can start by going to TopMediai text to speech Online.
Step 2: Go to the text to speech function and type your text in the text box.
Step 3: Select the Walter White voice from the list and press convert.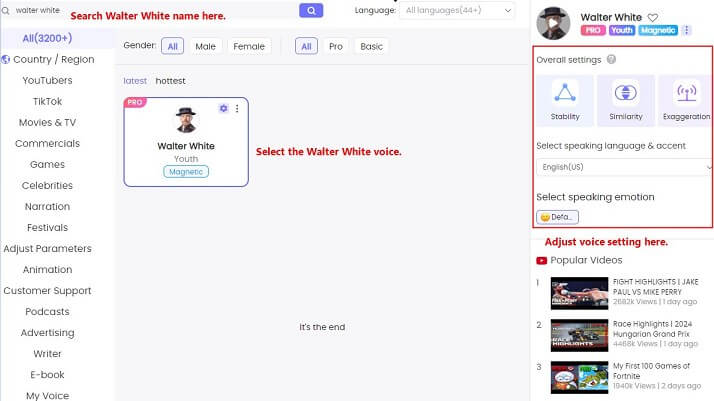 Step 4: Save the converted file on your device.
Pros
Used as a Walter White text to speech ai tool.

No installation is required, and no prior experience is required.

All-in-one AI tool website, one-stop to meet the needs of media content creation.
Cons
You need an internet connection, which comes with an online-only tool.
FakeYou is a free, community-supported, online-only tool that can help you generate the best Walter White text to speech with just a few clicks. ensuring an authentic and immersive experience. From video narration to creative projects, Fakeyou.com brings Walter White's voice to your fingertips.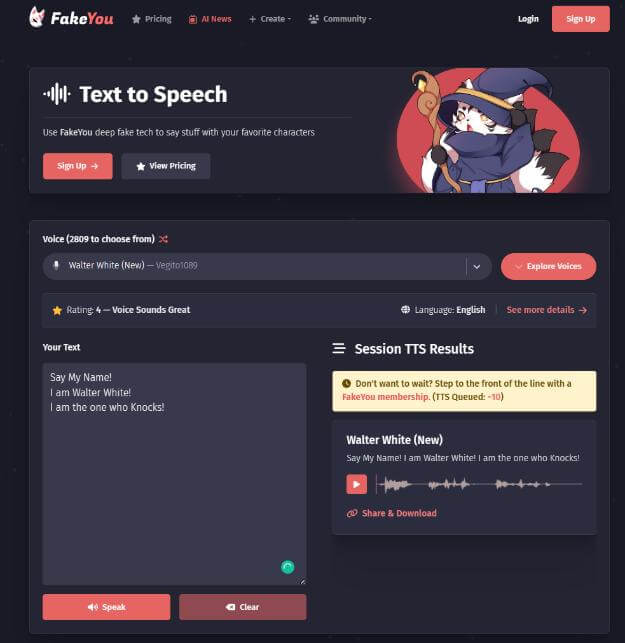 Key Features:
Power users streamline all the generated-able voices using their innovative AI tech that delivers hyper-realistic Walter White voice generator filters.
Simple to use but with powerful results.
FakeYou offers TTS features alongside the capacity to generate voiceover videos.
You can create content up to 12 seconds in length by using one of their 32 video templates based on Wav2Lip.
Known for its extensive collection of soundboards, 101Soundboards introduces the Walter White AI voice to its repertoire. Users can explore a range of pre-recorded Walter White phrases or generate new ones, infusing his distinctive voice into their multimedia endeavors.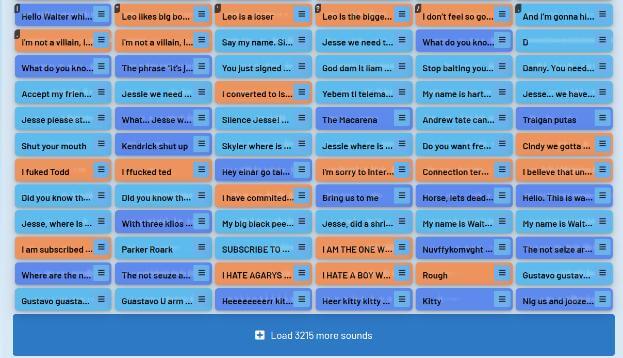 Key Features:
Users can pick and choose from over 4000 voices already available on this online tool.
Utilizes technology from other online generators so you can find the best-generated voice.
Bruhhh created Walter White voice generator soundboards using machine learning tech from Uberduck.
Ability to install the web page on your desktop or mobile using Google Chrome.
Price Comparison:
| Pricing&Licenses | TopMediai Text to Speech | FakeYou | 101 Soundboards |
| --- | --- | --- | --- |
| Monthly | $12.99 | $25 | $19.99 |
| Per Day | $0.43 | $0.83 | $0.66 |
| Available Voices | 3200 | 3400 | 1000 |
| Other Licenses | Voice Cloning by Your Own | 2 mins video converter | Voice to Voice |
Part 3: Applications of Walter White AI Voice
Online Gaming
Within the expansive realm of online gaming, the utmost importance lies in crafting immersive experiences. Players are no longer content with mere visual allure; they yearn for auditory dimensions that intricately amplify the authenticity of the virtual realm. This is precisely where the utilization of the Walter White AI voice becomes a pivotal factor.
Voiceovers
The Walter White voice generator has ushered in a revolutionary wave across the landscape of voiceovers. From advertisements to presentations, from comedic sketches to educational narratives, and spanning all the way to the expanse of YouTube content, these tools hold the power to exert a profound influence, leaving an indelible mark across a plethora of domains.
Streaming
The landscape of live streaming has swiftly risen as a favored avenue for entertainment, with countless enthusiasts congregating to witness their treasured content creators' daily endeavors. Within this fiercely competitive arena, the distinctive and captivating application of the Walter White AI voice has the potential to elevate streamers into a league of their own.
Part 4: FAQs about Walter White Voice Text to Speech
Let's answer some of the most asked questions on the internet regarding Walter White voice text to speech solutions.
1 How to Generate Breaking Bad Walter White's Voice?
Due to many Walter White text to speech generators online, it has become effortless these days to generate a clear and perfect voice of any character or personality with a few simple steps.
In this article, we have mentioned 3 of the best tools to generate Breaking Bad Walter White's voice in a few seconds. All you need to do is write the text you want to say out loud and press generate, and you will have the best Walter White from Breaking Bad voice.
2 Is There a Text-to-Speech or Voice Generator for Walter White I Can Use?
Yes, there are quite a few, but instead of looking and trying to find them, just read the information we have provided in the article of three of the best Walter White voice generator'tools available online without needing to download any software. You can find TopMediai, FakeYou, and 101soundboards for this purpose in this article.
3How Can I Sound Like Walter White Without Downloading Software?
If you want to avoid the trouble of downloading and installing software, you can use one of the three online tools mentioned in this article. These online Walter White voice text to speech tools can easily make you sound like Walter White with easy steps.
Conclusion The Walter White AI voice generators mentioned above serve as a testament to this phenomenon.Walter White AI voice will enrich our digital experiences, paying homage to an unforgettable character that continues to captivate audiences worldwide.

"I Only Had You In My Heart," Hope there is a Walter White AI Voice Generator really suits you.