If you are a fan of the popular video game "Portal 2" then you are probably familiar with the character Cave Johnson. His distinct voice and witty one-liners have made him a fan favorite. But did you know that you can now create your own Cave Johnson AI voice with the help of an AI voice generator?
In this article, we will introduce you to the Cave Johnson AI Voice Generator and how it can be used to create realistic text to speech for your content.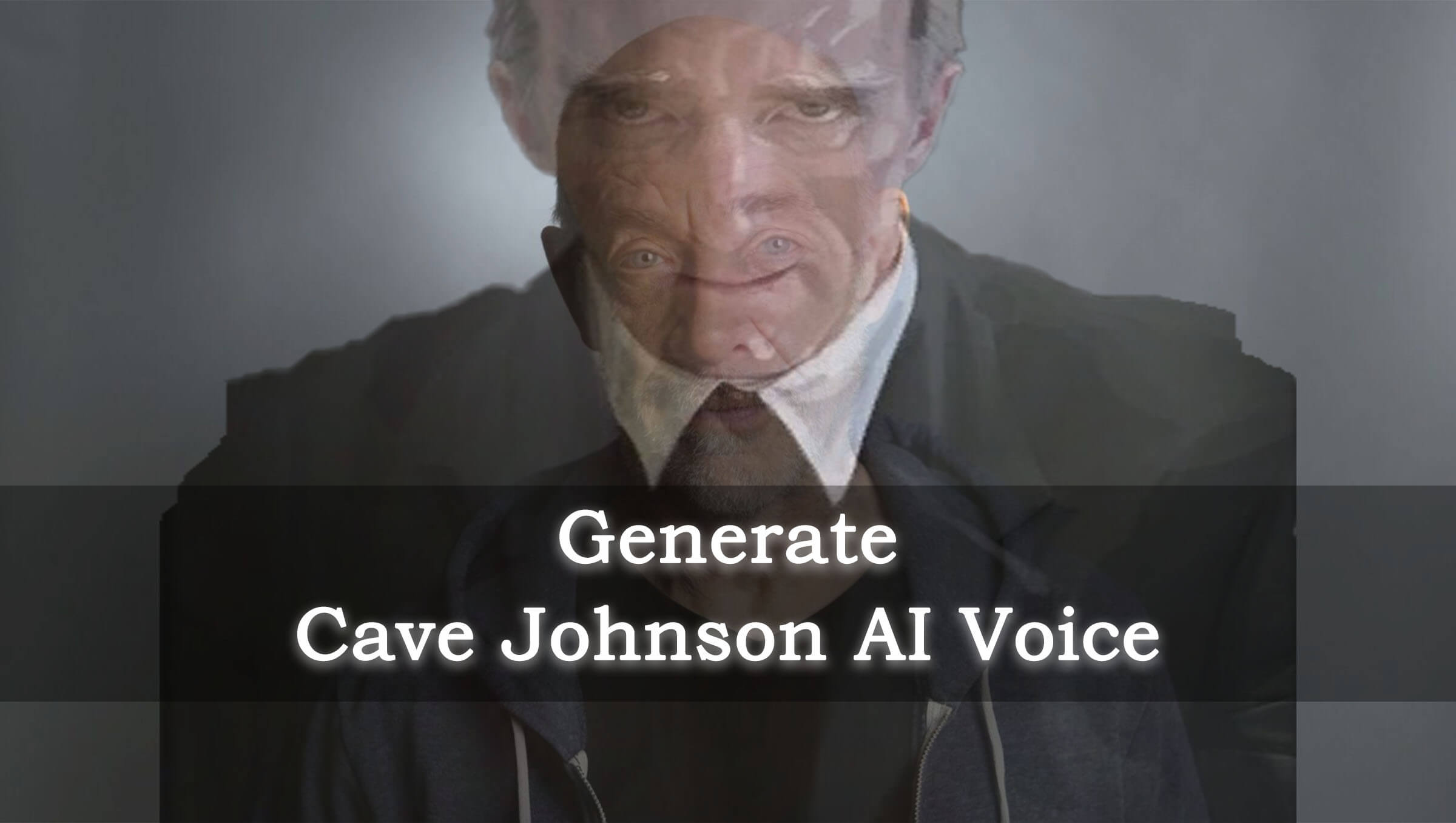 Part 1: Who is Cave Johnson?
Cave Johnson is a fictional character from the video game "Portal 2" developed by Valve Corporation. He is the founder and CEO of Aperture Science, a fictional research facility that serves as the setting for the game. Cave Johnson is known for his humorous and sarcastic personality, as well as his iconic voice.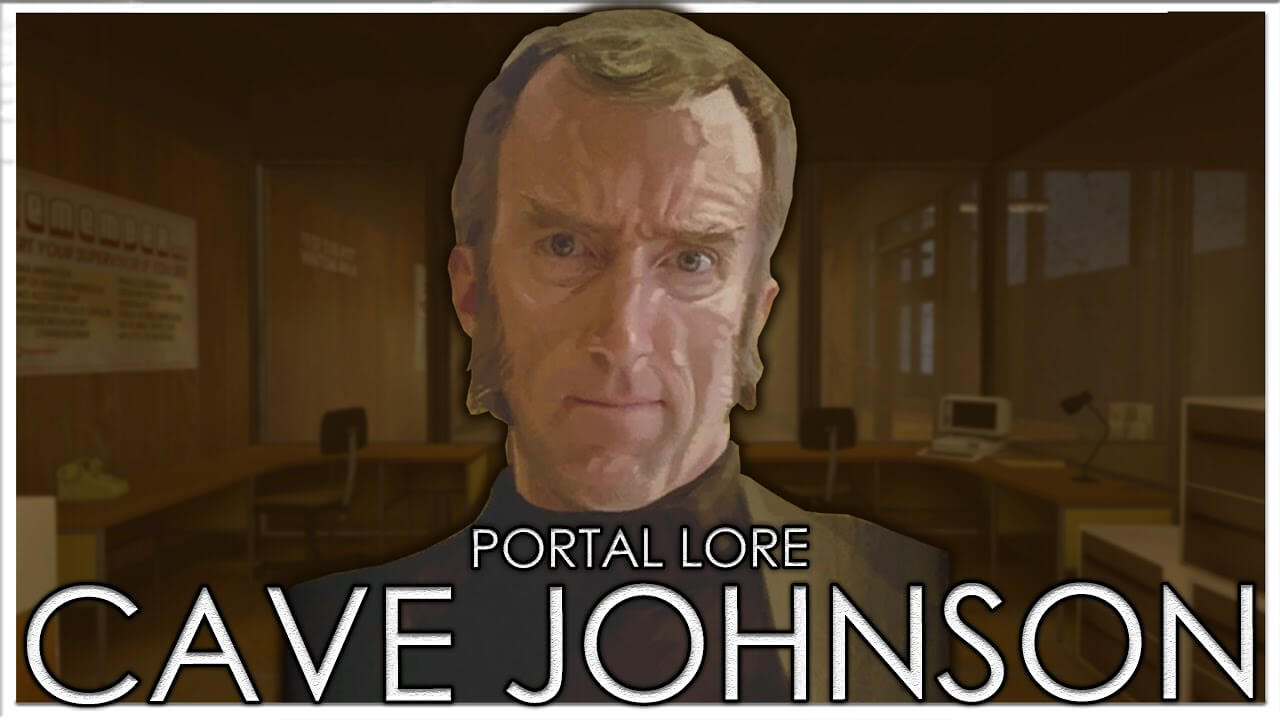 Part 2: Who Voices Cave Johnson?
Cave Johnson's voice was originally performed by J.K. Simmons, a renowned actor who has appeared in numerous films and TV shows. Simmons' performance as Cave Johnson was widely praised by fans and critics alike, and has become one of his most iconic roles.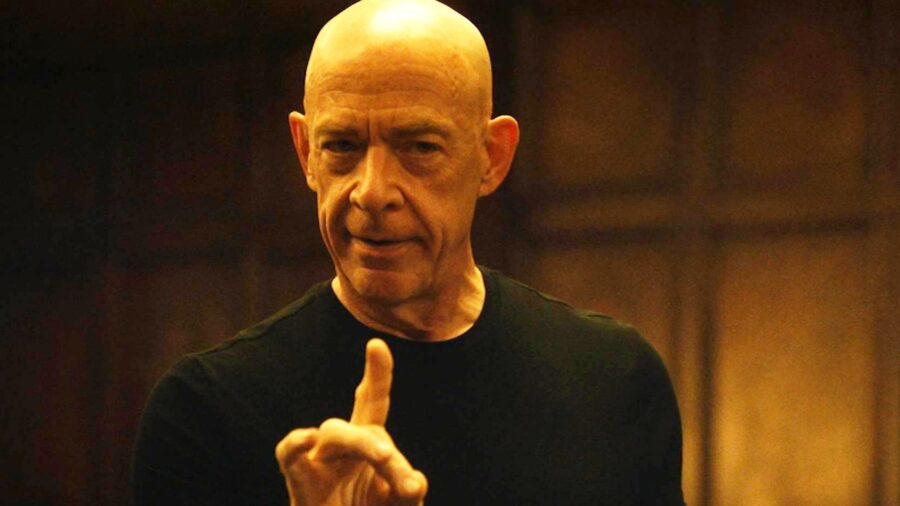 Simmons' voice is recognized for its deep, commanding tone and versatility. He has lent his voice to many other notable characters, including the yellow M&M in M&M's commercials, Tenzin in "The Legend of Korra," and J. Jonah Jameson in the "Spider-Man" films.
Part 3: Highly Recommended: Use AI Voice Generator to Create Cave Johnson Voice
TopMediai Text to Speech is a secure and user-friendly generator that caters to both tech-savvy and inexperienced users. With TopMediai, users can generate a diverse range of actor, rapper, singer, president or other voices, including the coveted Cave Johnson AI voice. Additionally, TopMediai offers the ability to record, mix, and digitize recordings, making it a versatile platform for all types of audio projects.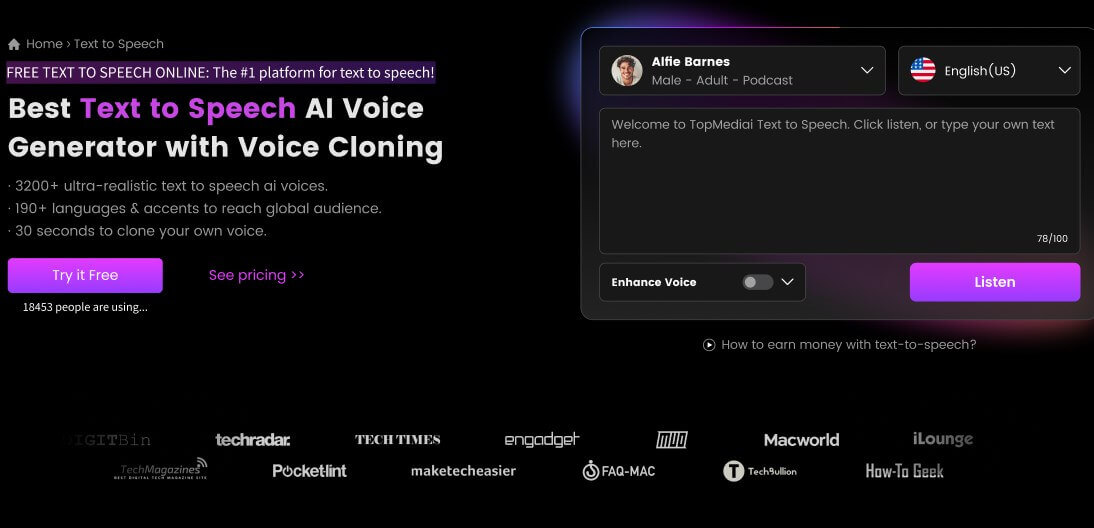 How to Use Cave Johnson AI Voice Generator:
Step 1: Go to the TopMediai Text to Speech.
Step 2: Upload or copy-paste the text that you want to convert into speech.
Step 3: Choose Cave Johnson Ai Voice in the Portal voice type .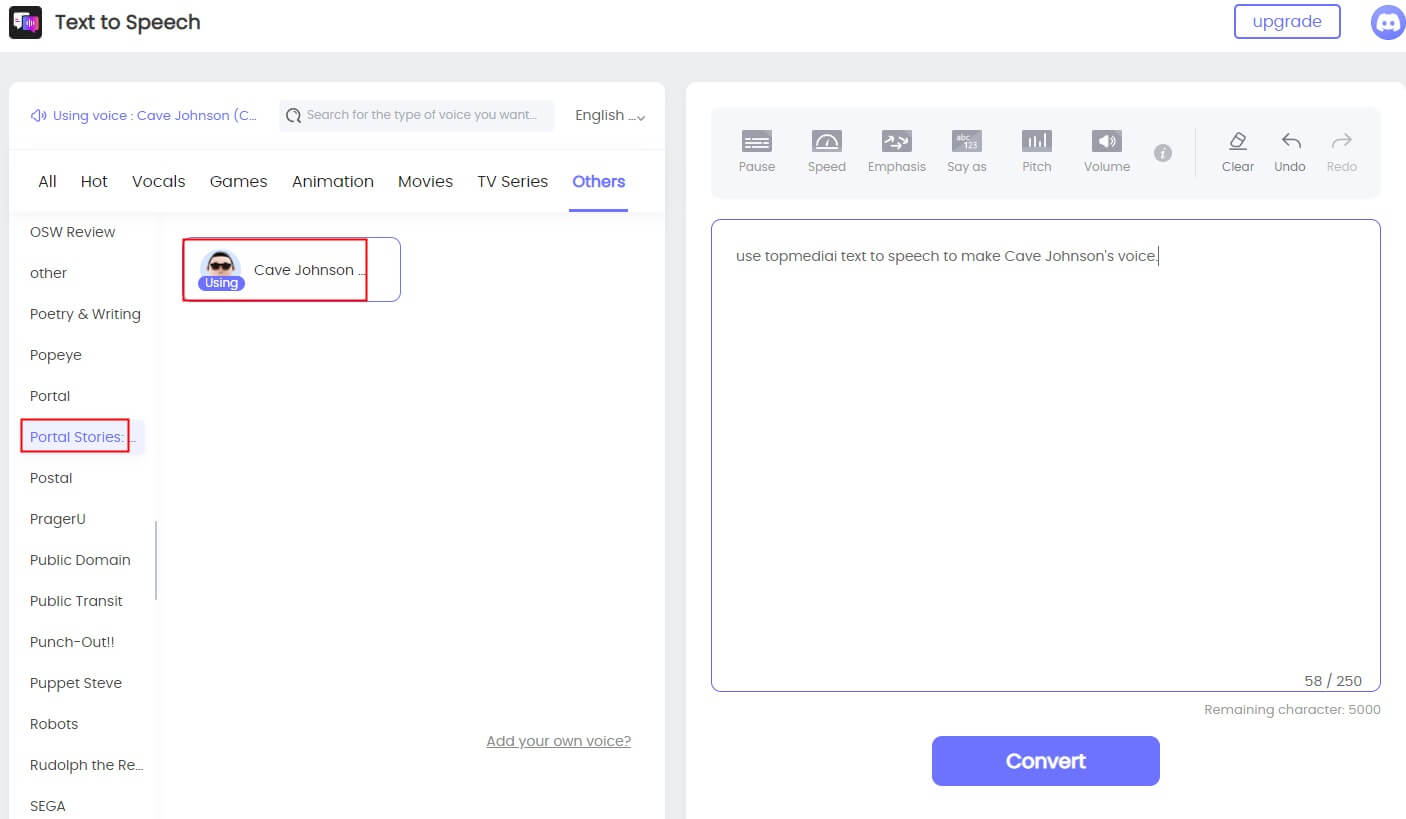 Step 4: Choose the language, voice, and other settings that you prefer.
Step 5: Download the final speech output as an audio file.
Key Features:
This TTS tool provides a vast selection of more than 3200+ unique voices to choose from, giving users extensive options for customization.
With support for 46+ local languages, this tool allows users to easily switch between different languages according to their needs.
Apart from the popular Cave Johnson voice, this software also includes President AI voice.
The tool is suitable for global users as it supports over 100 native dialects, making it accessible to a wide range of individuals.
This tool offers versatility to users as it is compatible with various platforms, including YouTube.
Provides features such as speech recognition, voice recording, and audio editing, enhancing its functionality and usability.
Pros
Not require to download app.

No ads.

The software is compatible with both PC and mobile devices.

High-quality Cave Johnson AI voice to get.

Customizable speech speed and pitch.
Cons
Part 3: FAQs about Cave Johnson Voice Generator
Finally, we come to the most asked online questions for Cave Johnson Voice Generator.
1 What Other Characters has Cave Johnson Voice Actor—Simmons Voiced?
Besides Cave Johnson, J.K. Simmons is also known for voicing other characters such as Tenzin from The Legend of Korra, Stanford Pines from Gravity Falls, and J. Jonah Jameson from the Spider-Man movies.
2 Can I use Cave Johnson AI voice to create music or other audio content?
Of course you can. Just sign up and log in at TopMediaiz to Generate Cave Johnson AI voice for free, in addition to the many rappers, presidents and singers whose voices you can choose and use.
3 Can I customize Cave Johnson AI voice generated by the AI text-to-speech Generator?
Yes. TopMediai is a text-to-speech tool that provides a plethora of customization options, including the popular Cave Johnson voice. Users can modify the speed, tone, and pitch of the voice as well as add accents and effects. This feature makes TopMediai stand out among other AI text-to-speech tools.
ConclusionIn that case, generating a Cave Johnson AI voice is an excellent option worth considering. With TopMediai TTS, generating high-quality Cave Johnson AI voice is a breeze. You can customize them to your liking and export them in different formats. Whether you're a content creator, musician, or simply a fan of Cave Johnson AI voice, TopMediai is the perfect tool to bring your creative ideas to life.