Voice changer for gaming has become a necessity for Youtubers and live streamers nowadays. Voice Changer for gaming is used to entertain the audience, mimicry, and make the videos fun. These softwares allow you to recreate your voice, record your voice while doing a live session, and add some audio or voice effects. Moreover, you can add a pre-recorded audio clip to your live stream. People use gaming voice changer mainly to gain more views and to make their video theme coherent with their voice.
Part 1: 6 Best Gaming Voice Changers on PC
Though the market is overflowing with high-quality and easy-to-use voice-changing softwares, we have picked some of the favorite ones for you here.
1.1 Voicemeeter Voice Changer
Voicemeeter is the best voice changer for PC gaming. It benefits live streamers who must output audio to additional devices. Interestingly, it is known for its advanced skill in mixing audios professionally and smoothly. Most pro gamers use gaming headset with voice changer for gaming to add more fun and views to their games. Every player can mix the audio according to their style.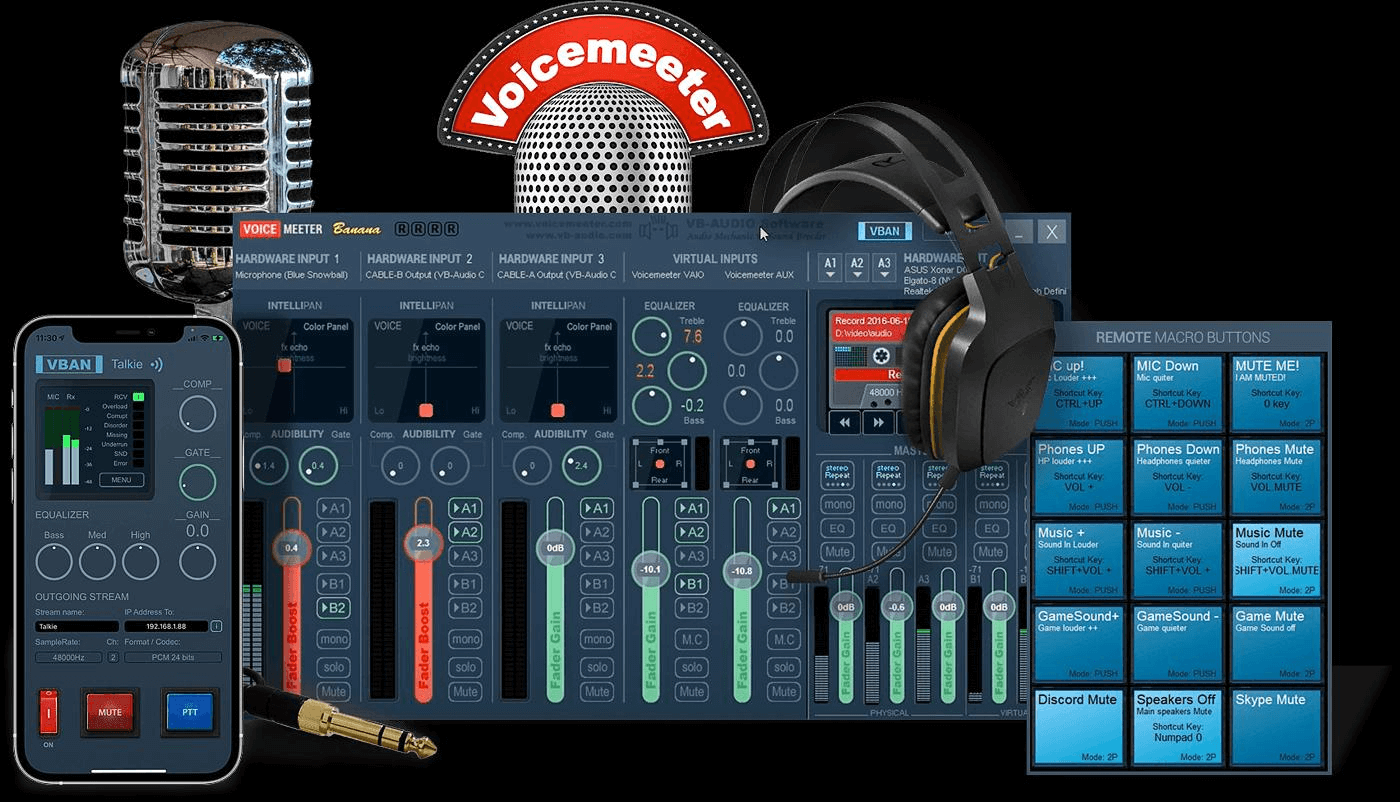 Voicemeeter comprising of gaming headset with voice changer has several profitable features to offer its user. Some of the main ones are:
Key Features
Voicemeeter can play the role of a virtual soundcard in your system.
Voicemeeter voice changer has skilled and advanced audio mixer software. It marks its style in audio mixing.
The voicemeeter never compromises the quality of audio. The audio effects are always smooth and thrilling.
The streamers get to use voicemeeter solely for its network audio streaming feature.
Voicemeeter voice changer for gaming comes in three variations. A standard one, banana version, and then comes the potato version.
voicemeeter-voice-changer-gaming-2
Pricing: Fortunately, Voicemeeter is completely free of cost! Such amazing offers and no money in return. You can pay for the license if you are a pro player desiring a pro version.
Supported system:
Voicemeeter can work for all the audio interfaces, including MME, KS, Direct-X, WASAPI, and WaveRT. It supports ASIO to connect any musical instrument.
1.2 MorphVOX Voice Changer
MorphVOX voice changer is popular among YouTubers for its splendid offers and ease of use. Along with being easy to work with, the best quality offered by MorphVOX made it stand out. It allows you to choose any version of it according to your level.
A junior version or a MorphVOX Pro version. The junior MorphVOX will be okay for some casual gamers, but the pro version has many advanced features.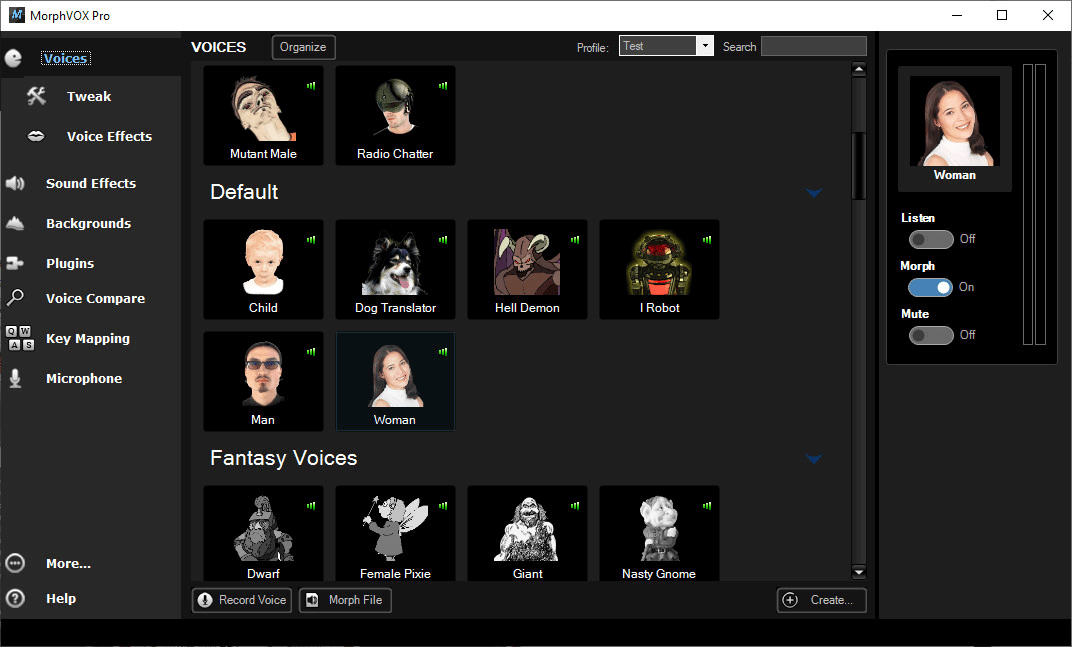 Some features that make MorphVOX distinguishable from other voice changer apps are:
Key Features
MorphVOX voice changer for gaming is known for its integration skills and chat programs.
Having high-quality audio software makes it the best voice changer for gaming android.
It is one of the few softwares that have low CPU usage and bandwidth among the software used for gaming voice changer.
Interestingly, it can change the voice easily of men, women, or children.
It has a gaming Nvcj cj with a voice changer that ensures the sound quality of your voice.
Pricing: You can get it free if you are up for a MorphVOX junior version. In the case of the Pro version getting your hands on the premium features will cost you $39.99.
Supported system:
The MorphVOX supports a system with 2GB memory for Windows 7. It requires a CPU with Intel Core i5-650 and 180 MB file size.
1.3 Voicemod Voice Changer
The Voicemod Voice Changer is the best voice changer for gaming specifically. It has an in-built skill to transform the voices, add some audio effects, and combine them. The splendid use of AI makes it the best voice changer for gaming. Interestingly, it can change any voice into the voice of your desired character! Yes, this feature has impressed most of its users making it a popular gaming voice changer app.
The picked-up features of Voicemod gaming voice changer that attract its users are:
Key Features
The comfort provides by being easy to install, and its setup doesn't require a lot of effort making it a best gaming voice changer.
The "Live" voice-changing option is doing great. It requires no pre-recording.
You get a gaming mic with voice changer, making it produce high-quality sound.
Record your voice and add some sound effects to make it fun.
It provides an advanced integration to its users.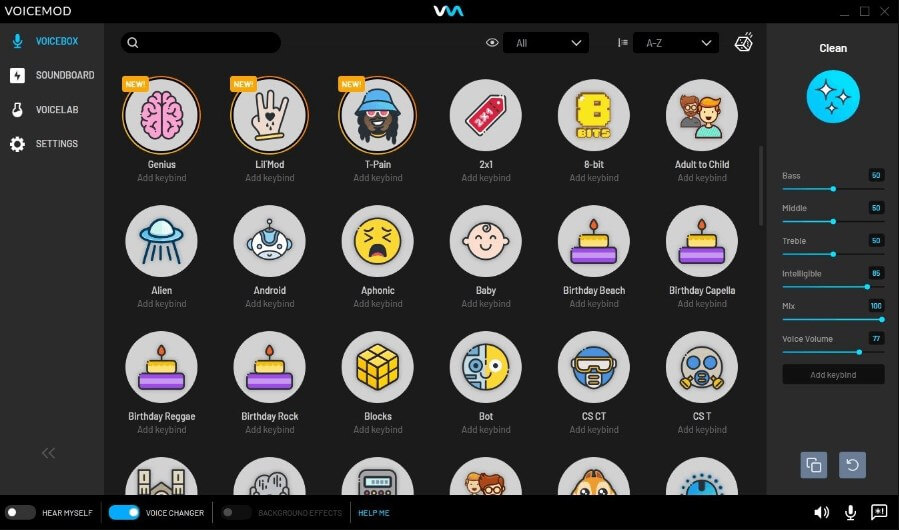 Pricing: If you want all the premium features and an updated version, you will have to pay $20 for a lifetime license. At the same time, you will cost nothing for the casual version with some basic features. You can also get one-time-only access to software for $4 or $10.
Supported system:
Voicemod Voice Changer, designed for Windows, can be supported by most of the programs in the market. Some of them are Discord, Rocket League Among Us, Skype, Minecraft, TimeSpeak, and many more!
1.4 Clownfish Voice Changer
It is a PC gaming voice changer installed on the whole system. So, all of the audio softwares in your system will get modified voices. It can include Skype, Viber, Discord, TeamSpeak, and Hangouts. It is popular for its high-quality converted audio with smooth effects.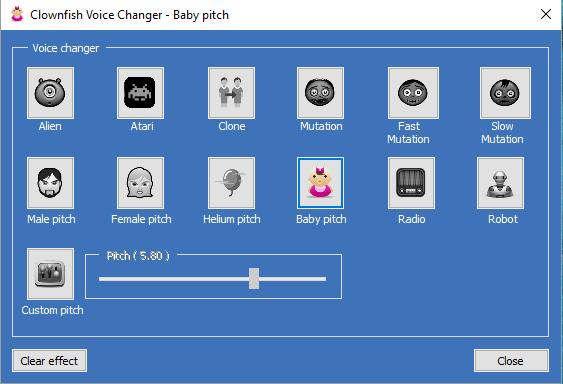 Some of the main features of Clownfish Voice Changer for gaming are as follows:
Key Features
It has an installed sound player with better audio and many built-in soundtracks.
It has the plugin support for Virtual Studio Technology.
The Clownfish has a gaming headset with in-built voice changer ensuring high-quality sound.
The system produces no noise.
Clownfish Voice Changer for gaming offers a male-pitched sound to transform most audio tracks.
Pricing: Clownfish Voice Changer for gaming is completely free of cost! You can use it to convert, cut or edit your audio tracks for free. Moreover, you can add different sound effects to make your audio more fun and engaging to attract more audience.
Supported system:
Get one of the best gaming voice changer installed on a Mac PC, iOS, Android, or any of your Windows. You can use it with your music player, Skype, Discord, Hangouts, Google meet, or TeamSpeak.
1.5 Audition
Besides gaming, good quality audio is necessary to ensure that your video is not irritating. Most of the good content videos lack proper sound software installed! Audition comes first if you prefer to make your work more professional.
It improves your voice, adds some effects, and reduces the background noise. In short, make your audio all set to go either for a podcast, a gaming stream, or a YouTube video.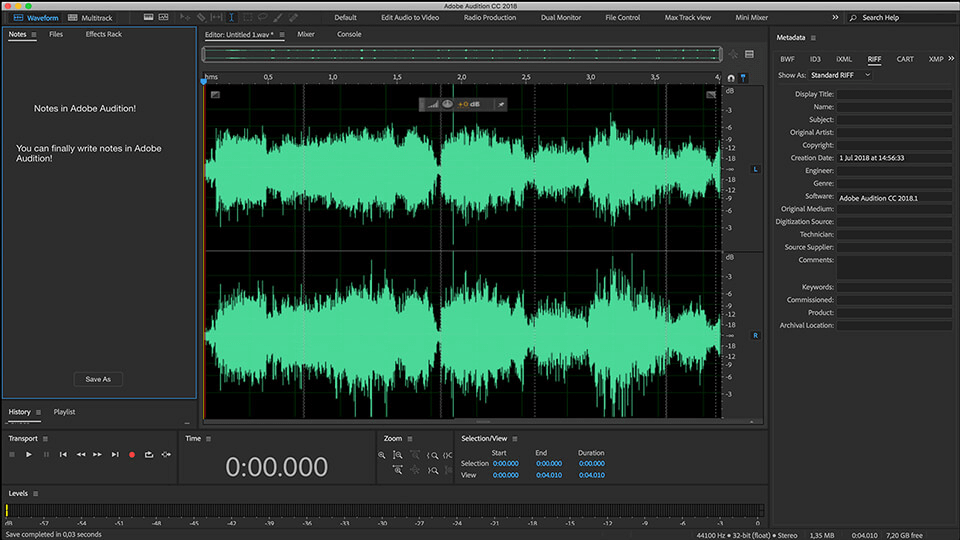 The beneficial attributes of Audition voice changer for gaming attract a huge number of buyers. It is known as the gaming mic voice changer for its quality of mic. Some of the mentionable ones are:
Key Features
It offers you all the tools to create professional audio without sound glitches.
Audition can add the echo to your sound, making it more soothing.
The pitch of the sound can be completely transformed through Audition.
You can add the Reverb effect to your audio to enhance sound quality.
To check out the frequency of your sound, you can get to the Vocal Enhancer effect in-built into it.
Pricing: You can opt for a free version to try Audition and build trust in it. After trying and gaining satisfaction, you should go for the premium version with advanced tools for $29.99/month.
Supported system:
It can work best on Windows or macOS with 3-6 GB RAM per CPU core. You can use a CPU core with 8 GB RAM if you want to add more instruments to your software.
1.6 NCH Voxal Voice Changer
NCH Voxal Voice Changer for gaming allows you to optimize your track according to your desired frequency, pitch, and echo. Moreover, you can use the audio-mix option to create a perfect combination of all the effects. It is the best voice changer app for gaming. It includes voice changer g9000 gaming headset for best quality.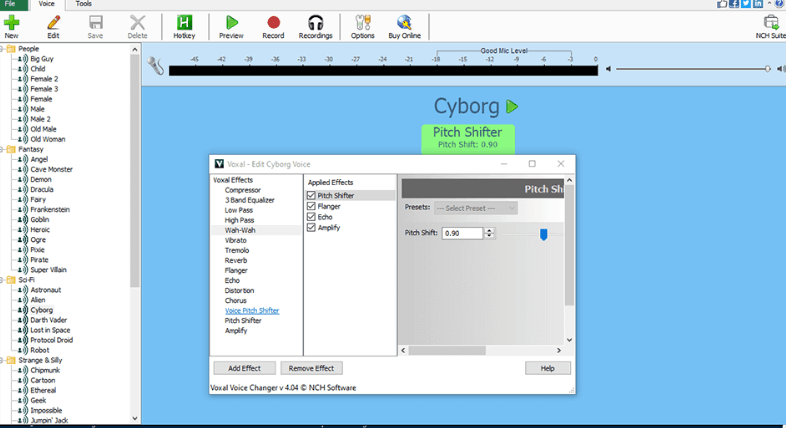 NCH Voxal Voice Changer for gaming provides incredible benefits, including:
Key Features
Ensuring maximum performance by reducing the usage of the processor.
Having the download size small makes it easy to save.
Offering the real-time conversion of your soundtrack.
Making you hear the converter sound with speakers and making it more fun.
Being able to work with the other applications and software in the system.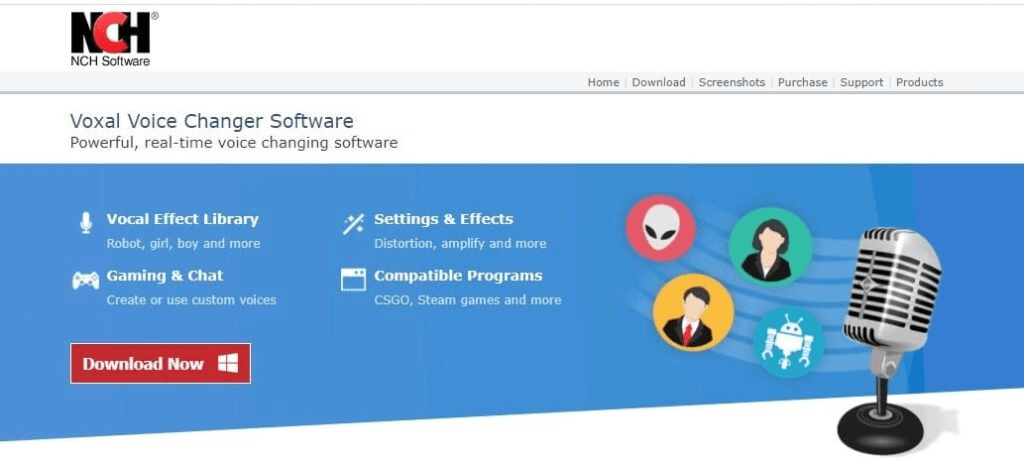 Pricing: You can always download a free version of Vocal Voice Changer for gaming if you are a casual player at home. Meanwhile, to get your hands on some ultimate and updated features, you will have to buy them. Get a pro version for commercial use for $50.
Supported System:
NCH Voxal Voice Changer for gaming can successfully operate on Microsoft Windows TeamSpeak, Steam Games, and Rainbow Six Siege.
Part 2: Comparison of the 6 Best Voice Changers for Gaming
You might be processing the information about all the six different softwares. Let's compare their features to make it a bit easier for you. It will help you choose one!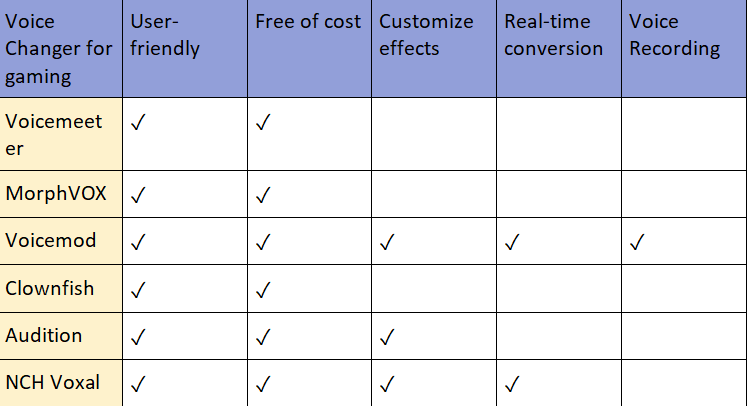 Part 3: TopMediai Voice Changer - Best Online Alternative
TopMediai Online Voice Changer for gaming is one of the best online platforms where you can edit your soundtracks in no time. It will add different effects to your sound, adjust the echo of it and enhance its quality.
You only need to visit the website, record a sound if you want to, or else choose to unload
an audio file
. After adding effects and transforming it, download it on your phone!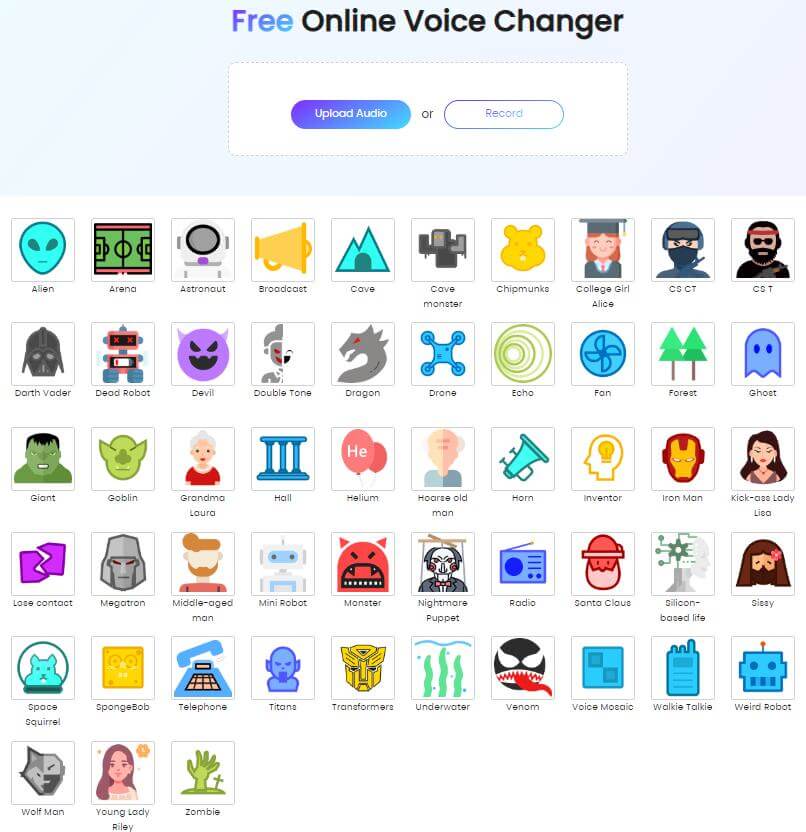 Though TopMediai Voice Changer for gaming has an endless number of features to benefit its user, the best ones are:
Key Features
The immediate result. No other software or app will provide you with the transformed file in minutes.
You can choose from hundreds of sound effects to make your audio more fun.
The effects added by it are not dramatic and make the audio mimic the real.
Allows you to download your designed audio on your phone free of cost.
It lets you customize your voice effects too. You can make your tracks more engaging through this feature.
Pricing: The best of all features is that it's free. Yes, you can enjoy changing your voice, editing, and downloading it free of cost.
Supported System:
TopMediai Voice Changer for gaming can convert any file if it's MP3, AU, MOV, MP4, M4A, MTS, or VOB. It works incredibly for both audio and video content online.
Part 4: FAQs about Voice Changer for Gaming
1Are there any voice changer apps for gaming?
Yes, there are many voice changing apps for gaming. Some of them offer gaming headsets with voice changer along. A few are Voicemod, Clownfish, Voxal, Voicemeeter, and MorphVOX.
2What is the best voice-changing software for gaming?
When it comes to the ranking of voice-changing softwares for gaming, Voicemod comes first. The use of Artificial intelligence makes it more skilled and easy to handle than the other ones.
3Can I change my voice online for free?
Yes, you can change your voice online for free through TopMediai. Visit the website, upload your file and get your converted file downloaded instantly. People prefer an online platform to change their voices immediately instead of downloading and buying the apps.
Final Words:
You need a
good high-quality voice changer
for gaming to get more views on your live streams. Alongside sound, the quality of pictures and graphics in your live streaming videos plays a great role in making them more engaging. Remove the unnecessary background of your professional pictures by using
TopMediai Voice Changer Online
.