You must get the video clip in a format that can be viewed easily across many platforms; MP4 is the most common. With this in mind, we must get specialized software that will not only download YouTube videos but will also convert YouTube video to mp4 in best quality.
With the exception of YouTube Premium, not all YouTube videos are available for download. There is, however, another option: use third-party YouTube to mp4 converters and downloaders. This article features some of best YouTube to mp4 converters that are online and provide best quality results.
Part 1. 4 Best Youtube to MP4 Converters
4k Quality Ad-Free YouTube to Mp4 Converter
4k video downloader is one of the best YouTube to mp4 converter in the business. It is absolutely ad-free, so there are no bells or popups; just a professional, adaptable software that will collect the clips you want with the least amount of fuss.
Millions of people use 4k video converter to download their videos from various platforms. The ability to download videos and subtitles in 4k really distinguishes it from its competitors. In addition to that, the feature of downloading a whole playlist of up to 24 videos from YouTube to mp4, adds a cherry on top.
This software is simple and does not try to upsell you or include any extra software that isn't essential.
Pros:

batch downloading mode

best quality video resolutions (up to 8k)

ideal for downloading YouTube videos, 360 videos, 3D videos, playlists, and even Virtual Reality (VR) videos

Smart mode - auto-apply preferable settings to all future downloads.

Video subtitle support for more than 50 languages

Absolute ad-free experience
Cons:

Limited availability of conversion types
Price
Any Video Convertor is available for Windows, Linux, and Mac. It comes with four available plans:
free

Personal (costs $15)

Pro (costs $45)

Bundle (costs $65)
The Most Customized and Feature Loaded YouTube to Mp4 Converter
Any Video Converter, often known as AVC, is the best YouTube to mp4 converter available to consumers. It can download and convert media from practically any source including: CDs, Facebook, locally saved files, Vimeo, and of course, YouTube.
If you want fast conversion speeds while maintaining video quality, this is the best YouTube to MP4 converter tool to use. Because of the integrated hardware acceleration capability, it has been proved to perform 30 times quicker than comparable functional YouTube to mp4 converter applications.
Pros:

Sleek interface - The user interface of the Any Video Converter is very sleek and sophisticated.

Batch conversion mode

Download the MP4 files in 4K Ultra HD quality

Supports a rich range of video inputs

Video cutting, editing, and customization are all supported.

Free from spyware and malware

Free trial period for its premium plans
Cons:

Limited trial version - When using the free trial version, you will not have access to all of the features.

No manual settings once you have selected a preset

3D video conversion is not available.
Price
Any Video Convertor is available for both Windows and Mac. It is available with three price plans:
Any Video Convertor free,

Any Video Convertor Pro (pro plan costs $39.95)

Any Video Converter Ultimate (ultimate plan costs $49.95)
Simple and Secure YouTube to Mp4 converter
Y2Mate is one of the finest YouTube downloader and converter for video or audio URLs. Free Y2mate tool is an easy YouTube to mp4 converter online, which only gives the conversion option to mp4. If you want to convert and download your video into formats other than mp4, you might want to check other converters of the list.
There are many languages option support on the website. Despite it being a free online tool, it provides great security against malware and viruses. In order to download your selected video, you just need to paste the video URL in the type box and click on start button. It will start downloading.
Using Y2mate, you can download videos from Facebook, Dailymotion, YouTube and many other platforms. And the best part is that there is no limit to the number to downloaded and converted videos.
Pros:

Simple interface

Multi-language support

Unlimited downloads

Secure

No need of registration or downloading any additional software.
Cons:

Only convert into mp4
Price
Y2mate is available for both Windows and Mac, and it is completely free.
Free YouTube to Mp4 Converter with Screen Recording, Audio Capture and Downloading Features
aTube Catcher is among the best YouTube to mp4 converters due to its efficiency and simpleness. Being one the oldest video converters, it has over 120 million downloads. Users can also utilize its built-in screen recorder to capture on-screen footage such as video chat sessions from Windows Live Messenger, DVD movies, webinars, and more.
This program's primary role is to ensure that any output video or audio file may be played without issue on the target platform or device. Furthermore, you can be confident that the highest quality will be supplied at all times for any work you do.
aTube Catcher can convert your desired video into a wide variety of formats including: PSP, MOV, MPEG, FLV, MP4, 3GP, AVI, MPEG, DVD, FLAC, FLV and many others. Furthermore, if you wish to convert a sequence of movies into a single video file, you may use the video merge/join tool. Even better, you may select your favorite output directory.
Pros:

Batch processing - aTube Catcher allows you to convert and download numerous files at the same time, saving you a significant amount of time and work.

Simple and effective - Each function is on its own tab, and the user design is simple enough, making aTube Catcher effective and easy to use.

Video resizing - Gives you the flexibility of resizing your video before downloading

DVD burner - in order to eliminates the need to search for additional apps, aTube Catcher comes with a built-in DVD burner.
Cons:

Slow converts - The conversion speed is a little slower when comparing with other YouTube to mp4 converters.
Price
ATube Catcher is available on both Windows and Mac. Every user has complete access to aTube Catcher for free.
Part 2. Best Alternative to Convert YouTube Videos to MP4 - iMyFone Filme
iMyFone Filme is a popular option that converts Mp4 video files to Mp3 audio files and offers a variety of
Downloading YouTube videos to mp4 and editing them from separate apps is inconvenient and time consuming. There is however a way to do both of those things and many more using only one application containing a ton of professional video-editing and modification tools.
iMyFone Filme is a wonderful programme for video editing that uses several effects, filters and editing tools to make the movie spectacular. The video editor is very versatile and includes an advanced video converter. You can also convert one video format to another using this software. There are enough conversion types available at iMyFone Filme for your videos that you'll ever need.
Key Features
Simple and Sleek interface of iMyFone Filme makes it easy-to-use and very versatile

High-quality video editing and professional videography filters makes it a must have video editor.

Amazing conversation and exporting speed makes this software superior to its competitors.

Supports a rich range of video inputs

Equipped for personalized editing with 170+ amazing video effects, 50+ modes of audio, 110+ sleek transitions, and 20+ quick modes.

Supports Ultra HD
Free customer support, 30-days money back guarantee, 100%safe to use
How To Edit and Convert Your Video to Mp4 Using iMyFont Filme
Editing your videos and exporting them into your required file type can be a tricky task sometime. This user-friendly and easy-to-use software can help editing your videos in the way you want, and can also help in converting them into the format you want.
Here is a quick tutorial on how to edit and convert your video to mp4 using iMyFont Filme
Step 1: Uploading Video
In editing a YouTube video, the very first step is to post it. Upload your video to the launch film once you download iMyfone Filme. After that, the material you wish to add must be imported. It may be done by copying or drag and drop.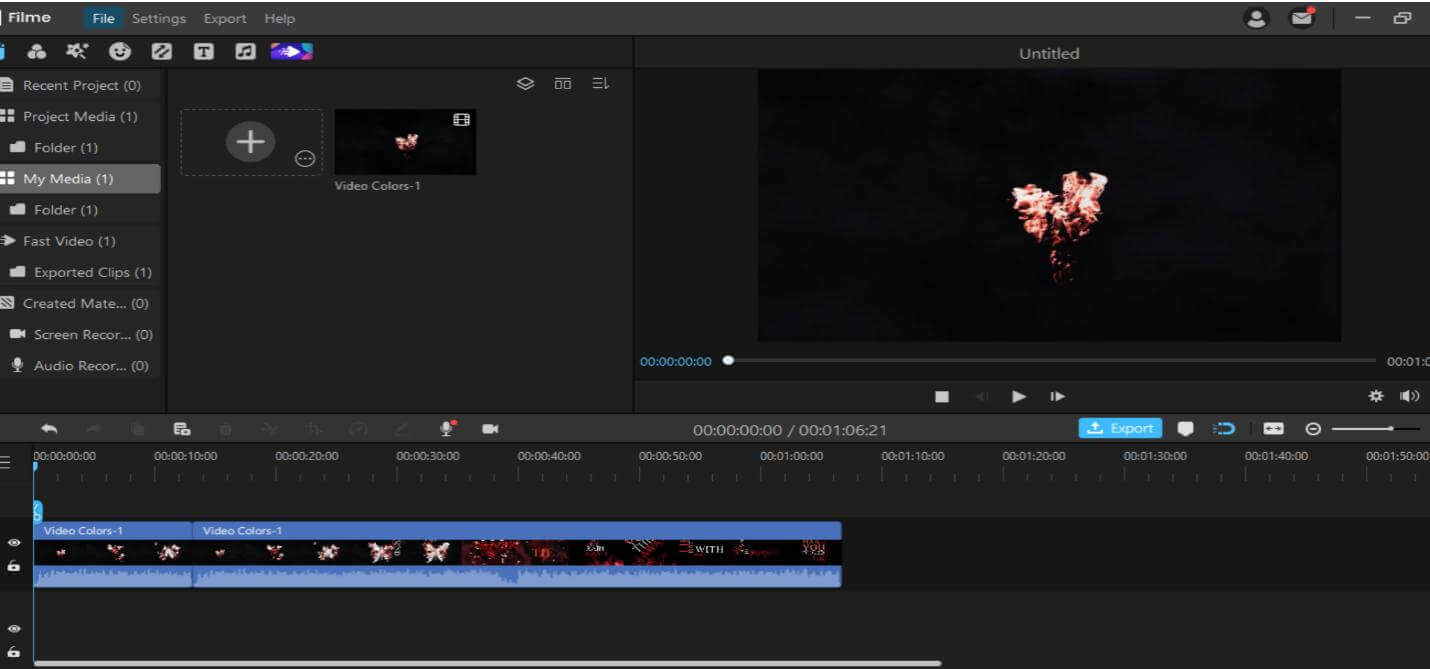 Step 2: Modification
You may then enhance your video by including a transition, a track, text and other effects. You may modify your video with numerous choices in the iMyFone movie. You may add music from your library or from your film library. Adjust the video background music to the words shown. There are a ton of editing options and even templates to choose from.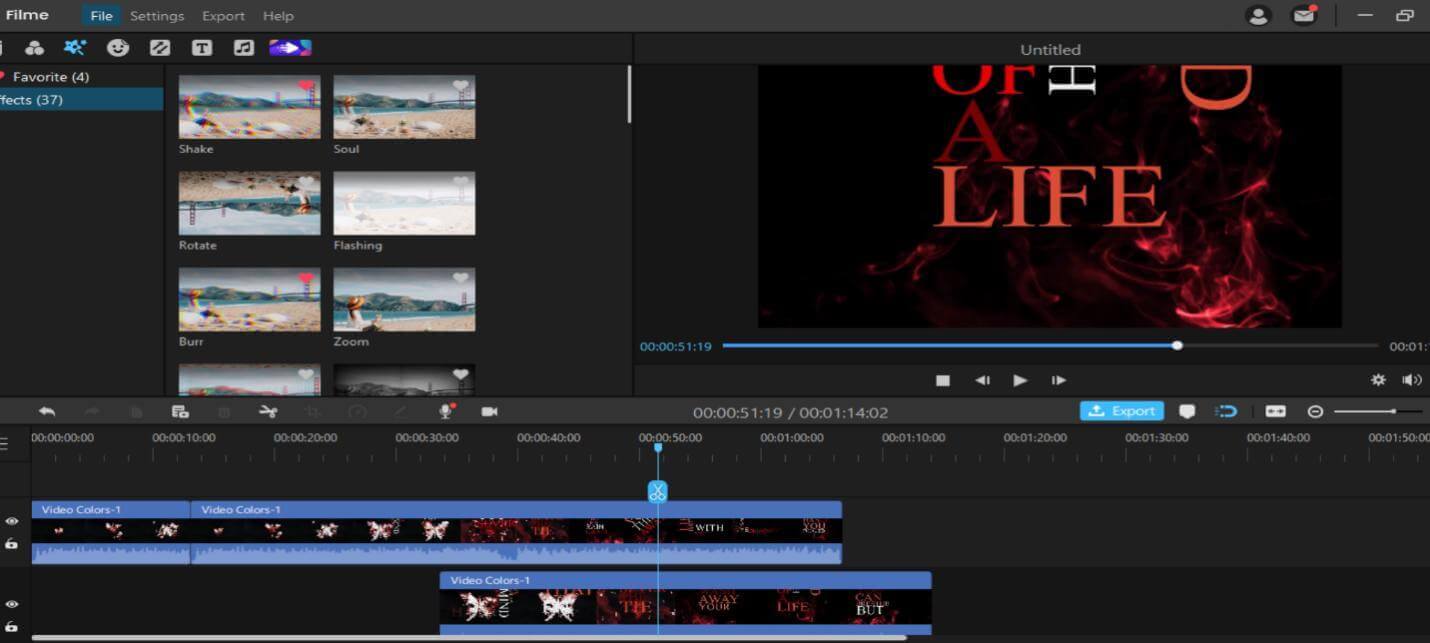 Step 3: Exporting in the Required Format
You have to export your video from your gallery to your programme after all the editing is done. You must browse "Exports" on the top toolbar for this purpose. You may choose the format you want your video to acquire.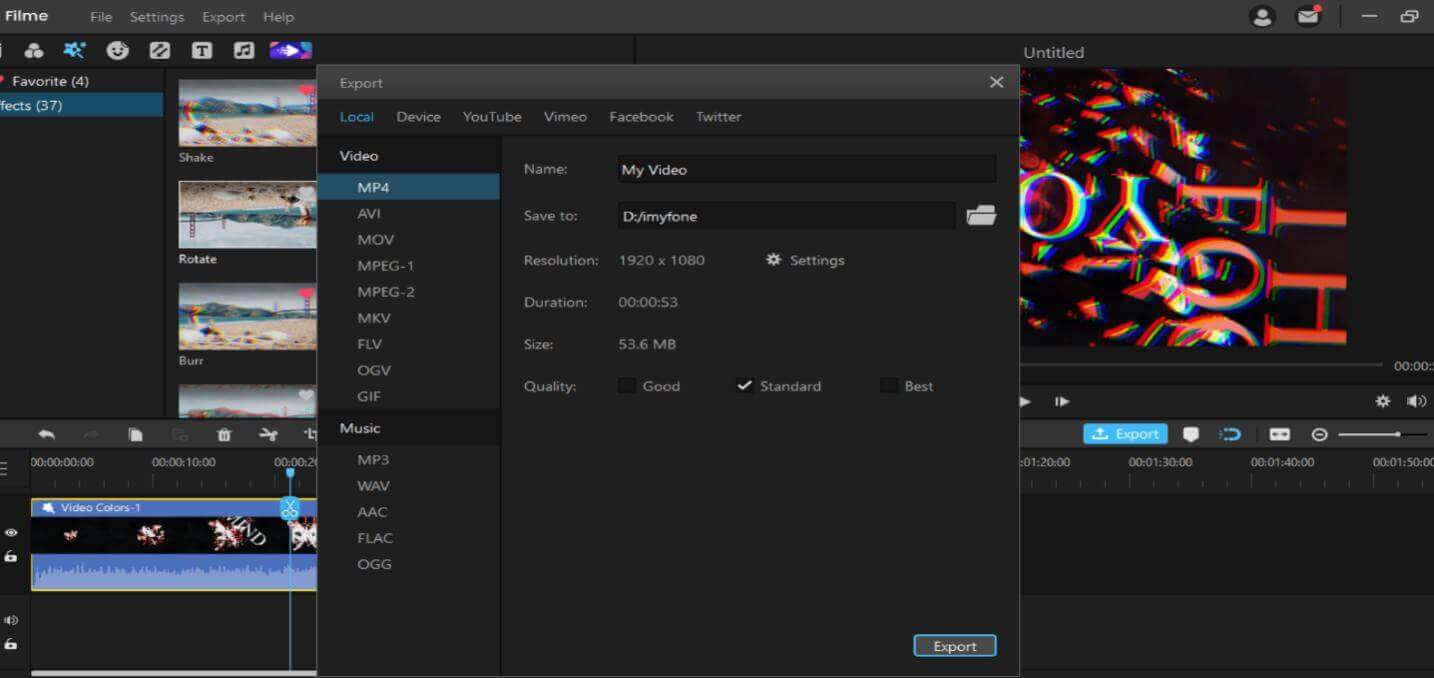 Watch this video to see using Filme to convert videos to MP4:
Part 3. People Also Ask about Downloading YouTube Videos
Q1: Where is the YouTube video URL?
The URL of the video is located in the address bar of your browser.
Q2: How to download YouTube videos?
First of all, you must find out the video URL of YouTube. Then, you should copy the URL to the tab by clicking the Share option of the YouTube video.
After that, open the YouTube to mp4 convertor, to download the video in the steps below:
Click Add URLs button and paste the YouTube URLs into a pop-up box, or download the Youtube Video.
To confirm and initiate the procedure, click Start Download!
Q3: YouTube has several URLs, what should I use?
There are now several URLs in one YouTube video. Similar to the following links:
Smaller link: http://ywew3ws8
Long link: https://www.youtube.com/watch?v=qq2BsdwQHoY
HD Link: http://www.youtube.com/watch?v=3weeTiTtry5&hd=1
With either YouTube URL link, you can download the video.
Q4: How do I find the video I have downloaded?
Right-click YouTube video in the main panel once the downloading procedure has completed and select open-source file location, and a popup will appear to show you the downloaded file location.