As a fan or creator of Archer projects, you may be interested in adding an extra layer of authenticity to your creations by giving Archer's characters their own AI-generated voices.
Next, l'll explore how you can accomplish this using an Archer Voice Generator and revolutionize your Archer-based ai voice projects.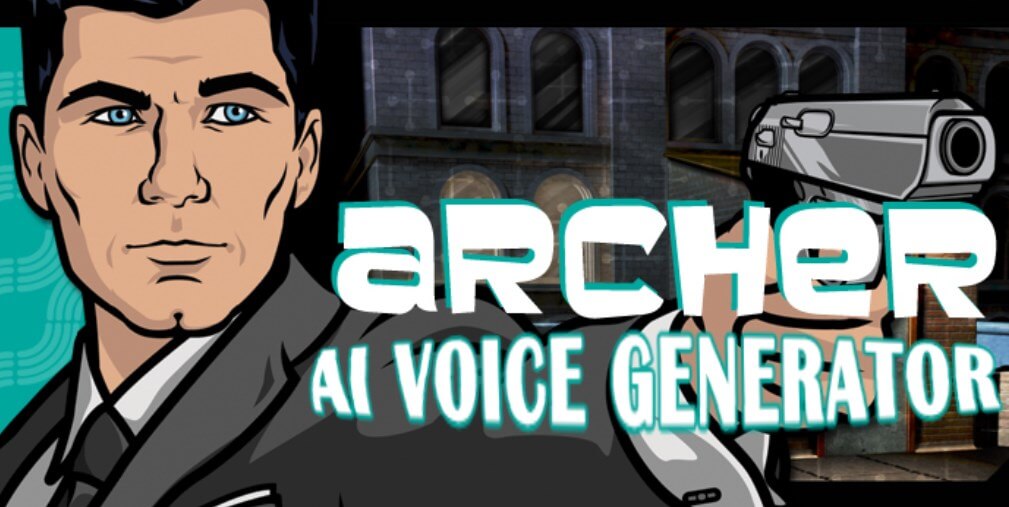 Part 1: How Easily Generate Archer Characters' ai voice?
One of the most effective tools for creating AI-generated voices for Archer's characters is the TopMediai Voice Generator. By integrating Archer Voice Generator into your workflow, you can bring the iconic Archer voices to life effortlessly.
With the ability to generate high-quality voiceovers in seconds, this AI-powered tool eliminates the need for expensive voice actors and time-consuming recording sessions.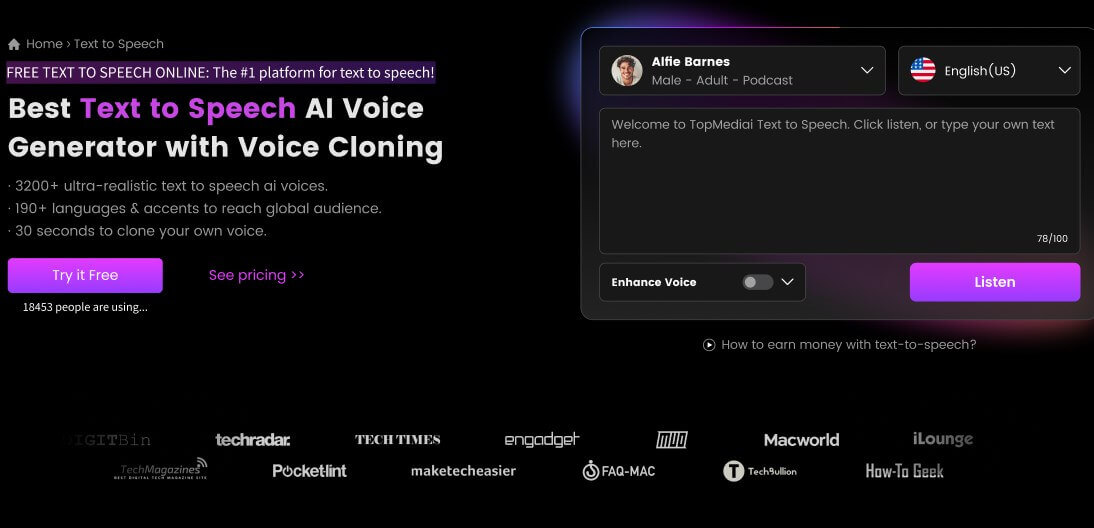 How to Generate Archer AI Voice?
Step 1. Visit the TopMediai Voice Generator website.
Step 2. Choose the Archer Characters' ai Voice option.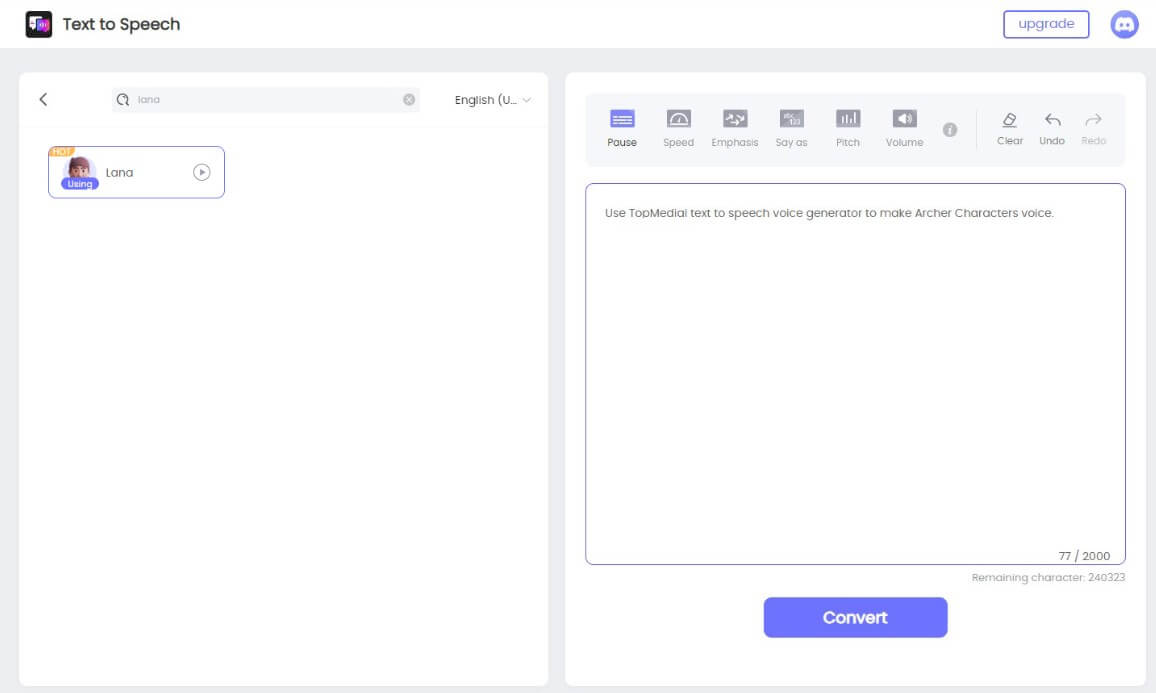 Step 3. Enter the desired text or script.
Step 4. Customize voice settings (optional).
Step 5. Click on "Convert."
Step 6. Preview the generated voice and download it as an audio file.
Step 7. Use the downloaded voice in your project by incorporating it into your multimedia content.
Key Features:
Natural and Authentic AI Voices: High-quality voices that sound realistic and genuine.
Quick and Efficient: Fast voice generation process for efficient workflow.
Multiple Output Formats: Download voices in MP3, WAV, or other compatible formats.
Wide Range of Applications: Suitable for video production, animations, games, and more.
User-Friendly Interface: Easy to navigate and use, suitable for beginners and experts.
Cost-Effective Solution: Eliminates the need for hiring professional voice actors.
Want to Change Archer Characters' vocie in real-time? Look at here! TopMediai voice changer will be your best friends.
Part 2: What is Archer?
Archer is an animated spy sitcom that follows the misadventures of the world's most dangerous secret agent, Sterling Archer, and his eclectic team at the International Secret Intelligence Service (ISIS). With its unique blend of comedy, espionage, and pop culture references, Archer has amassed a dedicated fan base over the years.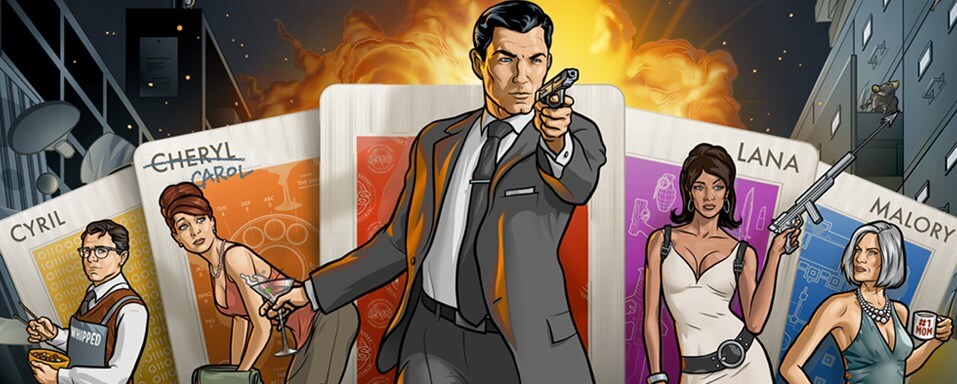 Part 3: Main Archer's Character and Voice Actors?
The show features a talented ensemble, with each actor bringing their own flair to their character's personality. Here's a brief rundown of the primary Archer characters and their voice actors:
Sterling Archer - Voiced by H. Jon Benjamin
Lana Kane - Voiced by Aisha Tyler
Malory Archer - Voiced by Jessica Walter
Cyril Figgis - Voiced by Chris Parnell
Cheryl Tunt - Voiced by Judy Greer
Pam Poovey - Voiced by Amber Nash
Dr. Algernop Krieger - Voiced by Lucky Yates
Part 4: FAQs about Archer Voice AI
1 Is there any spin-off or related content to Archer?
Yes, there is a spin-off series called "Archer Vice," which takes a different approach to the show's format. Additionally, there have been comic books and a mobile game based on the Archer franchise.
2 What is the setting of Archer?
The show is set in a modern-day world that blends elements of spy fiction, technology, and humor. It features a mix of real-world locations and fictional organizations.
3 Is Archer a serialized or episodic show?
Yes. Archer has both episodic and serialized elements. While each episode presents its own story, there is an overarching narrative and character development that spans multiple seasons.
Conclusion Incorporating AI-generated voices into your Archer projects can take them to new heights, adding an extra layer of authenticity and creativity. Whether you're creating fan content or working on an official Archer project, TopMediai voice generator opens up exciting possibilities for enhancing the overall experience.
Embrace the power of text-to-speech AI voice generation and give your Archer characters their unique and captivating voices.