Embark on an exciting adventure with the popular manga series, Spy x Family, and enhance your experience through the revolutionary Spy Family AI Voice technology. In this article, l will explore the world of Spy x Family, introduce how you can generate Spy x Family characters' voice or make a realistic voice change.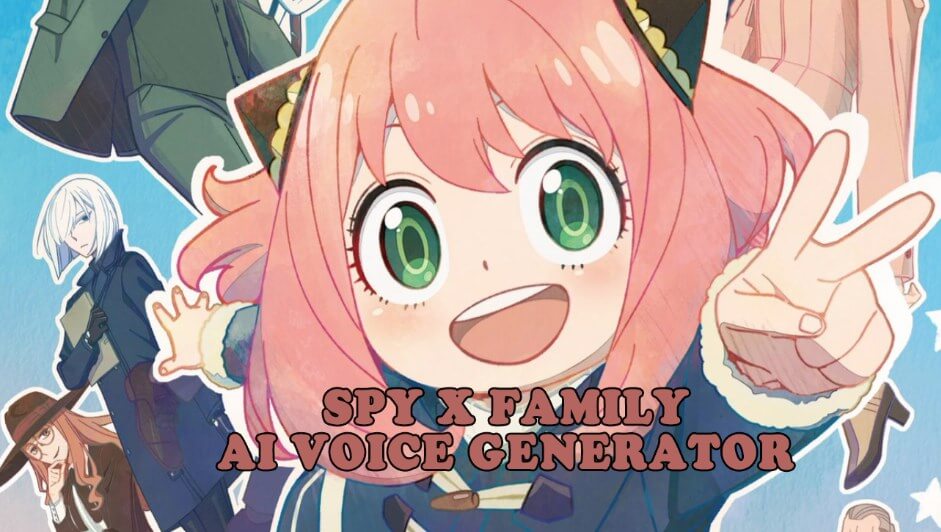 Part 1: How to Bring Spy x Family Characters' AI Voice to Life?
To create authentic Spy x Family voices using TTS technology, one powerful tool that stands out is the TopMediai AI Voice Generator. This cutting-edge platform utilizes state-of-the-art algorithms to generate highly realistic voices, bringing characters to life in a seamless manner.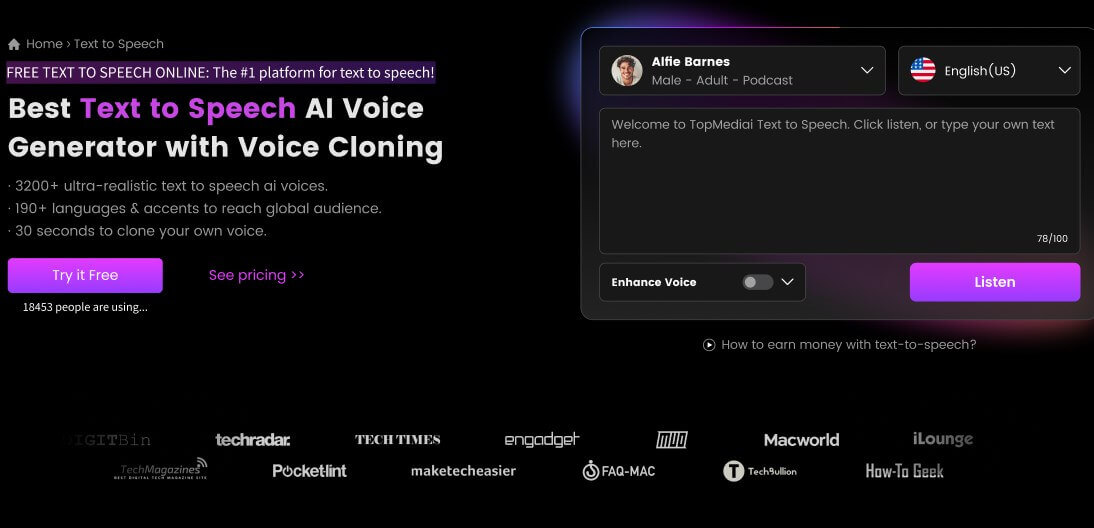 With the Manga Voice AI feature specifically designed for manga fans, users can input text and obtain voiceovers that mimic the voices of their favorite Spy x Family characters.
How to Generate Spy x Family Characters' AI Voice?
Step 1. Visit the TopMediai website and Choose Voice Generator.
Step 2. Select a character model of Spy x Family.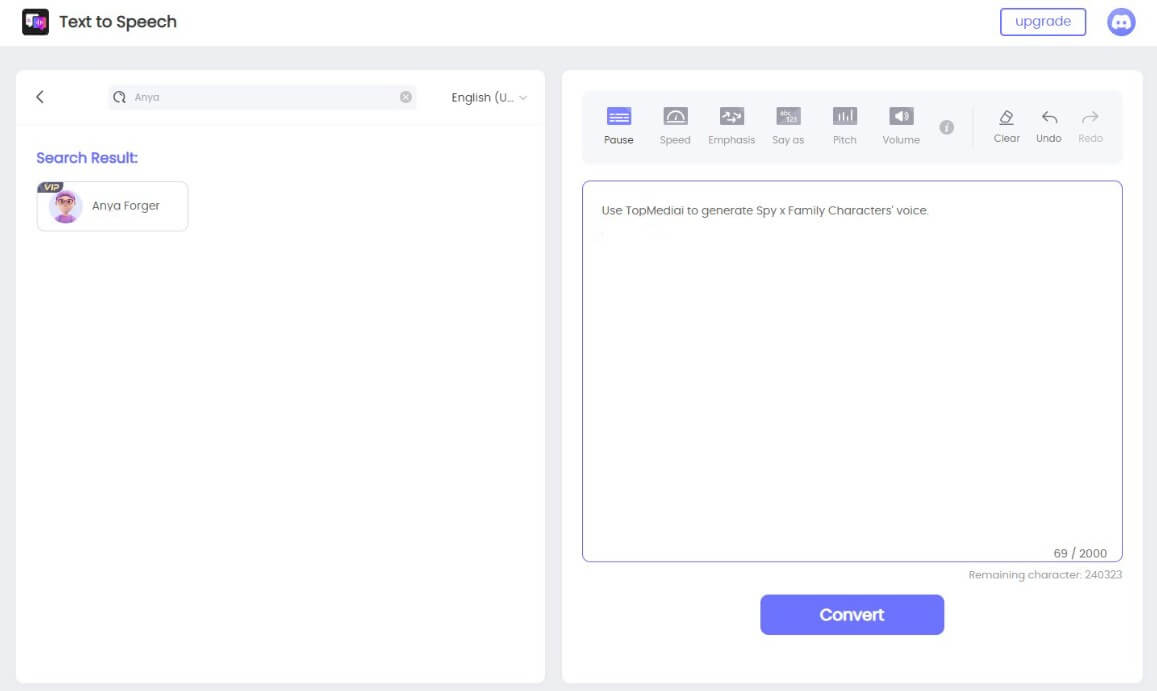 Step 3. Input the text or dialogue you want the character's voice to speak.
Step 4. Convert AI voice.
Step 5. Preview and download the audio file.
Key Features:
Accurate character voices that mimic Spy x Family characters.
Versatile applications in fan-made content, storytelling, and role-playing.
User-friendly interface for easy navigation.
High-quality audio output for clear and pleasant listening.
Compatibility and accessibility across different platforms and devices.
Regular updates and improvements to enhance the user experience.
Want to Change Spy X Family Characters' vocie in real-time? Look at here! TopMediai voice changer is a good choice.
Part 2: What is Spy x Family?
Spy x Family is a highly popular manga series written and illustrated by Tatsuya Endo. The story takes place in a fictional world where espionage and secret identities intertwine. The series follows the adventures of Loid Forger, a spy; Yor Forger, an assassin; and Anya Forger, their daughter who is a telepath. Together, they form a unique family with their own secret agendas.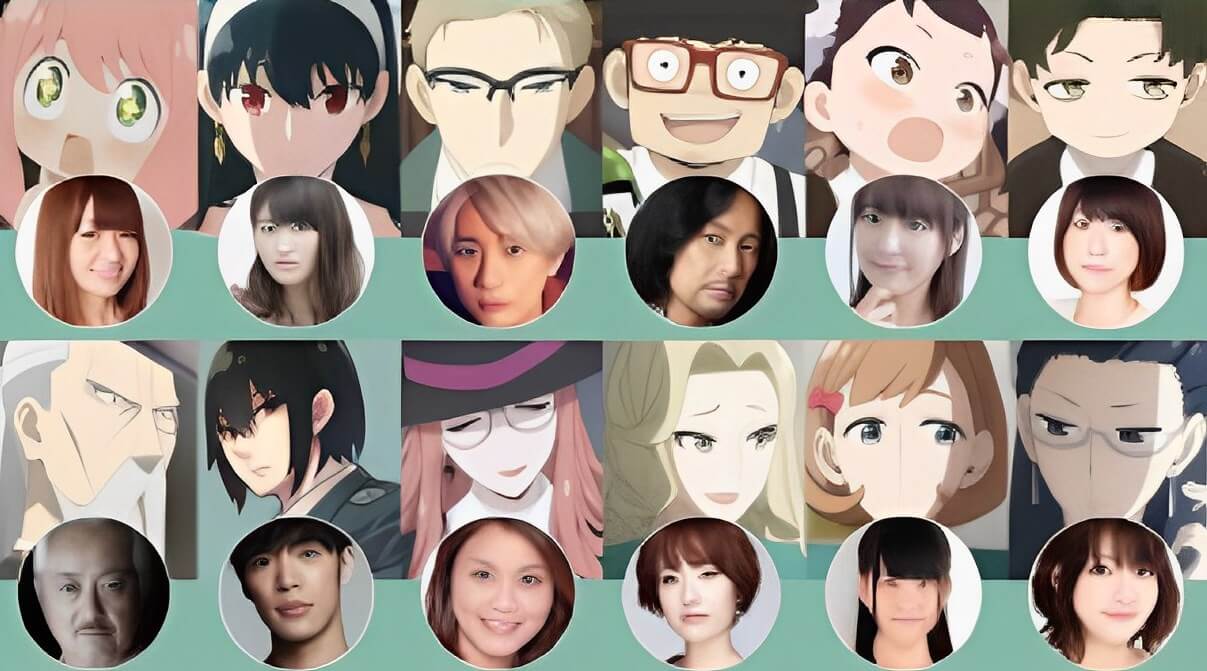 Part 3: The Main Characters and Voice Actors of Spy x Family
Loid Forger (Twilight) voiced by Hiroshi Kamiya: Loid is a skilled spy who excels in his covert operations.
Yor Forger (Thorn Princess) voiced by Saori Hayami: Yor is a talented assassin with a mysterious past.
Anya Forger voiced by Ayane Sakura: Anya is an adorable telepathic girl who unknowingly holds the key to her family's secrets.
Part 4: FAQs about Spy X Family Voice AI
1 How popular is Spy x Family?
Spy x Family has gained significant popularity both in Japan and internationally. It has garnered a large and dedicated fan base, with readers praising its unique blend of action, comedy, and heartwarming family dynamics.
2 How many seasons of Spy x Family?
7. The latest released on 2021.
Conclusion With TopMediai Spy Family AI Voice technology, fans of Spy x Family can take their reading or watching experience to a whole new level. By using Spy x Family AI Voice, you can enjoy the series with the authentic voices of your favorite characters, immersing yourself in their world like never before.