Barack Obama is one of the most iconic and beloved politicians of our time, known for his eloquent speeches and charismatic personality. Now, thanks to the wonders of technology, it's possible to recreate his famous speeches using an Obama text to speech tool.

This innovative Obama voice generator allows users to input their own text and have it read back in Barack Obama's ai voice, complete with his unique tone, inflection, and cadence.

Text to Speech
3 Free Trials of The Selected Voice Below

Barack Obama
Conversion failed.
Please check out if there are special characters or multiple languages in your text.
Part 1: Who is Obama and How is Obama AI Voice?
Barack Obama is a former US President from the Democratic party who served from 2009 to 2017. Born in Hawaii in 1961, Obama is a graduate of Columbia University and Harvard Law School. Prior to his presidency, he served as a community organizer, civil rights attorney, and senator from Illinois.

Obama is known for his distinctive speaking style, which is characterized by his eloquence, charisma, and ability to connect with audiences on a personal level. His speeches are often filled with powerful and inspiring messages that reflect his values and vision for the future.
During his presidency, he delivered several historic speeches, including his acceptance speech for the Nobel Peace Prize in 2009 and his address on the death of Osama bin Laden in 2011.
Part 2 : Best Obama Text To Speech Generator
1. TopMediai for Obama AI Text to Speech
TopMediai is a text to speech generator online that allows users to convert written text into realistic audio using various voice options. One of its popular features is the ability to generate audio in former President Barack Obama's voice, providing users with a unique and exciting experience.
Let's read on to learn more about Barack Obama Voice Generator to make Obama AI Voice!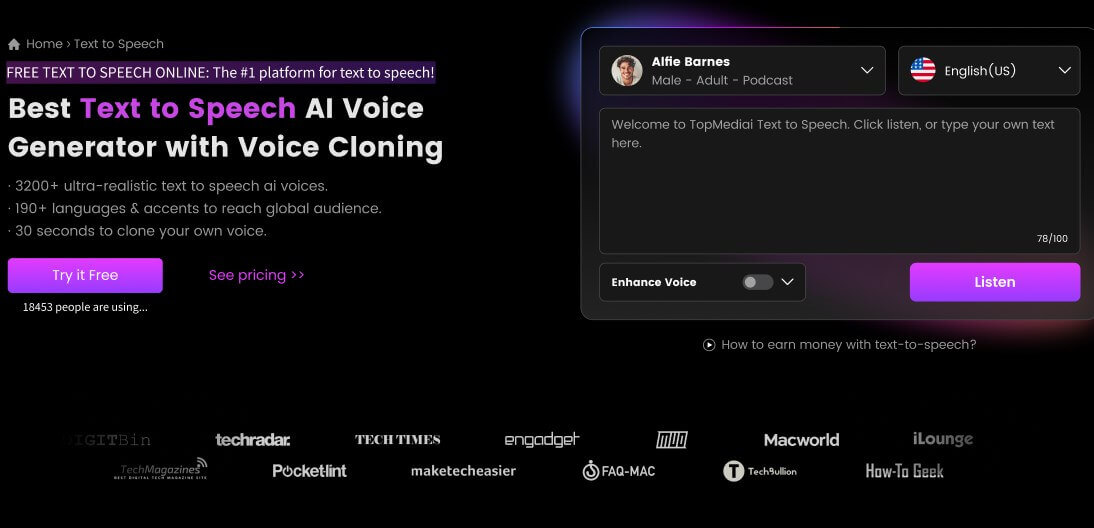 Key Features:
Audio output that sounds natural and human-like.
Obama text to speech and 3200+ other voice options, like Spongebob ai voice.
Users can customize the speed, tone, and pitch.
Advanced AI algorithms for high quality output everytime.
Supports various languages, allowing users to generate audio files in their preferred language.
Many other president ai voices can also be available by president ai voice generator.
Step-by-step guide on how to use Barack Obama Voice Generator:
Step 1: Visit the TopMediai text to speech online.
Step 2: Select "Obama AI Voice" as the voice option from the drop-down menu and then type or paste the text you want to convert into the text box.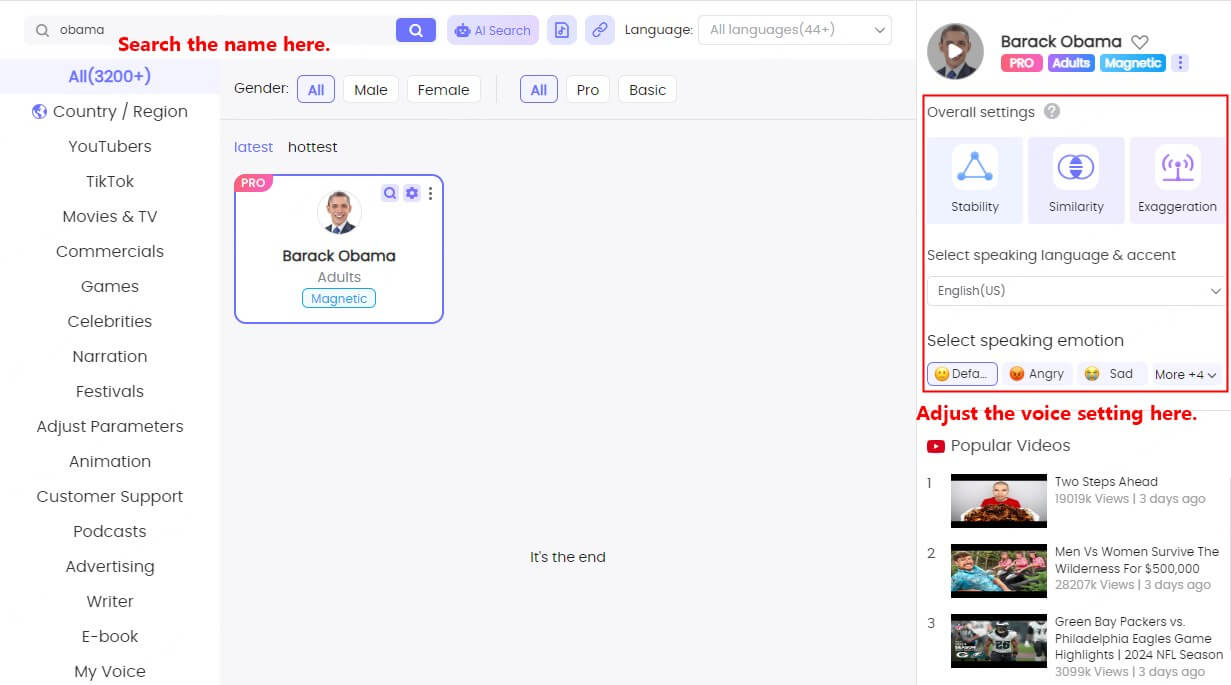 Step 3: Click the "Convert" button to generate the audio output and then download the audio file or share it directly from the website.
Pros
Realistic and high-quality audio output.

Unique and exciting feature to generate audio in Obama ai voice.

Easy to use with customizable options.

Supports multiple languages(70+).

No need to install any software or plugins.
Cons
'Talk Obama to me' is a simplistic online tool that allows users to convert any text into an Obama speech through text-to-speech technology. Created by Ed King, the tool is a fun way to add a touch of presidential flair to your text.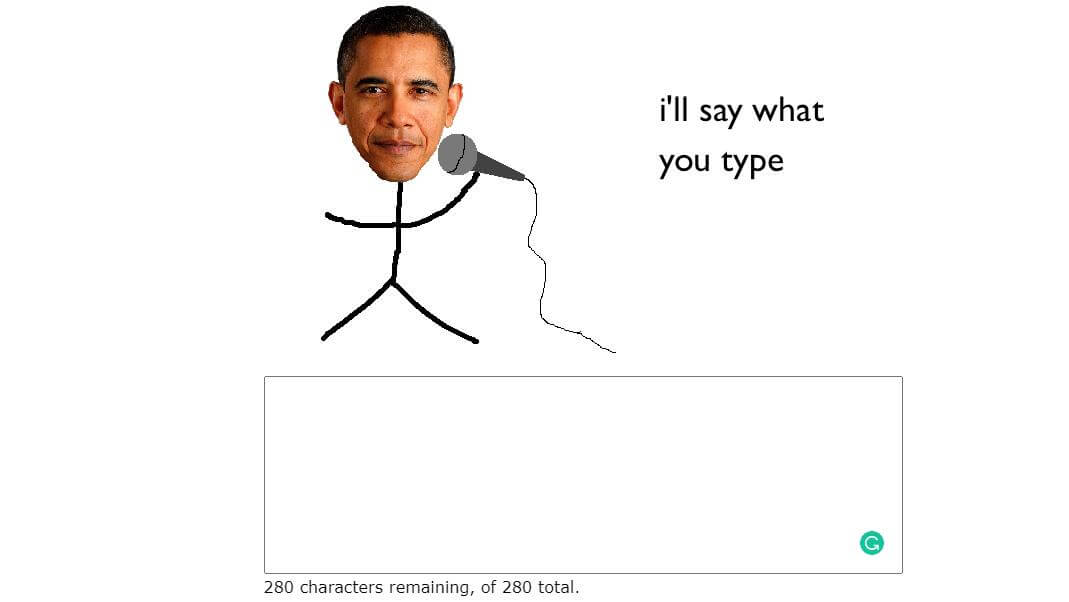 Key Features:
Quick and easy
Obama's iconic voice
Tool allows up to 280 characters, which is perfect for short messages or speeches.
Pros
Simply input your text and click 'talk' to generate an Obama speech in seconds.

Perfect for generating short speeches or messages with a touch of presidential flair.

Obama's iconic voice adds authenticity and humor to the generated speech.
Cons
Limited to 280 characters only, which may not be enough for longer speeches or messages.

No customization options available, such as the ability to adjust the tone or speed of the generated speech.
iSpeech Obama TTS is an online text-to-speech tool that utilizes the voice of former US President Barack Obama to read any text that is inputted into the program. This tool is perfect for those who want to add a unique touch to their presentations, videos, or podcasts, or simply for those who want to hear President Obama's voice read their favorite book or speech.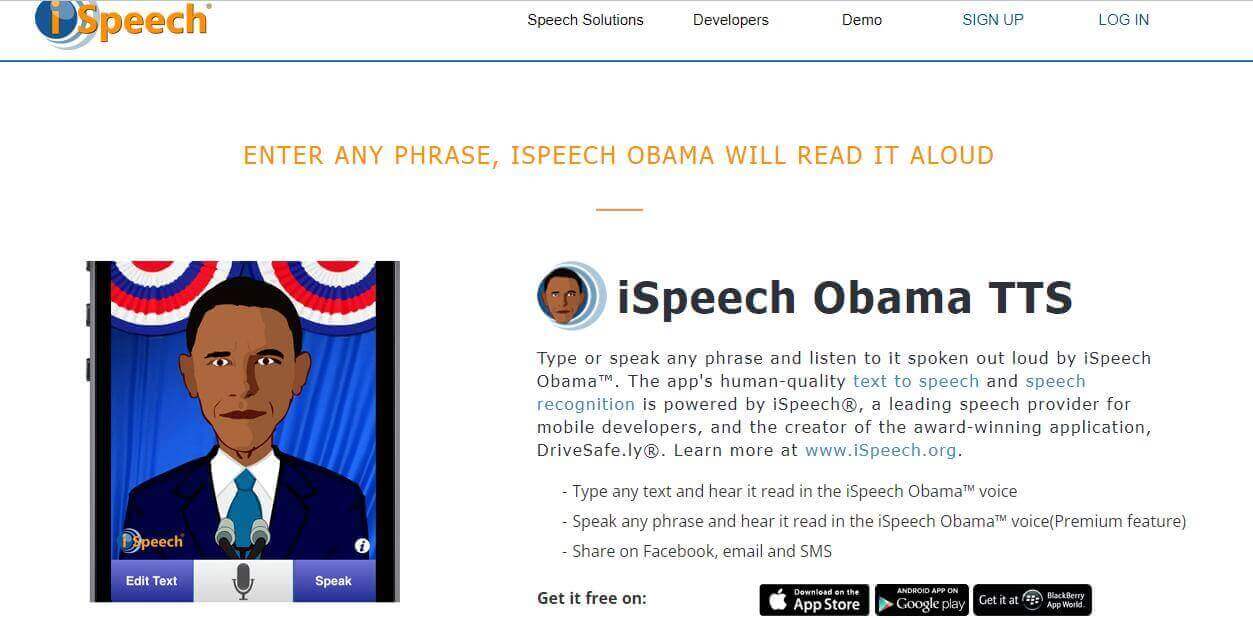 Key Features:
Uses the voice of former US President Barack Obama
Can read any text inputted into the program
Can choose from different speeds and voice pitches
Can download audio files in various formats
Pros
iSpeech Obama TTS provides a unique way to add a touch of President Obama's voice to any text.

The tool is easy to use, with simple controls to adjust the speed and pitch of the voice.

The ability to download audio files in various formats makes it easy to integrate the audio into different types of projects.

Text-to-speech and speech recognition options available.

Lots of customizable audio settings for tailored output.
Cons
The tool is limited to only one voice, which may not be ideal for those looking for a wider range of voice options.

The quality of the audio may not be as high as other professional text-to-speech programs.

The tool requires an internet connection to function, which may be a limitation for those without reliable internet access.
Part 3 : FAQs about Obama Text to Speech
1Is there any Online Obama Voice Generator?
Yes, there are several online Obama voice generators available. These generators use artificial intelligence to simulate the voice of Barack Obama and produce speech in his unique style.
Some popular options include "iSpeech Obama Voice Generator," "TalkObamaToMe," and "TopMediai." These tools are free and easy to use, making them ideal for anyone who wants to create engaging content in the Obama voice.
2 Which is the best Obama Text to Speech tool?
There are several excellent Obama text-to-speech tools available, each with its own unique features and benefits. However, if you are looking for the best Obama text to speech online tool, TopMedia stands out from the rest due to its easy to use interface, speech and accuracy.
3 How can I make a speech in Obama Text to Speech voice?
To make a speech in the Obama text to speech voice, you will need to use a text-to-speech tool that provides this voice, for example, TopMediai.
Once you have chosen a tool that you are comfortable with, simply enter the text of your speech into the tool, select the Obama voice, and hit the "generate" button. The tool will then convert your text into speech using advanced algorithms that mimic the unique cadence and tone of Barack Obama's voice.
Conclusion In conclusion, the Obama text to speech voice generator has revolutionized the content creation industry by providing an AI-powered solution that allows users to get access to Obama AI Voice effortlessly.

For those interested in trying out this technology, TopMediai Text to Speech Online is an excellent online platform to start with, providing access to the best Obama ai voice via Barack Obama voice generator and a user-friendly interface.