In the world of K-pop, BTS has become a global phenomenon, captivating fans with their incredible music and charismatic personalities. One of the standout members of BTS is J Hope. Now, with the J Hope AI Voice Generator, you can create your very own J Hope-inspired voice and bring a touch of BTS magic to your voice-over projects.
Join the journey of Generating J Hope AI Voice!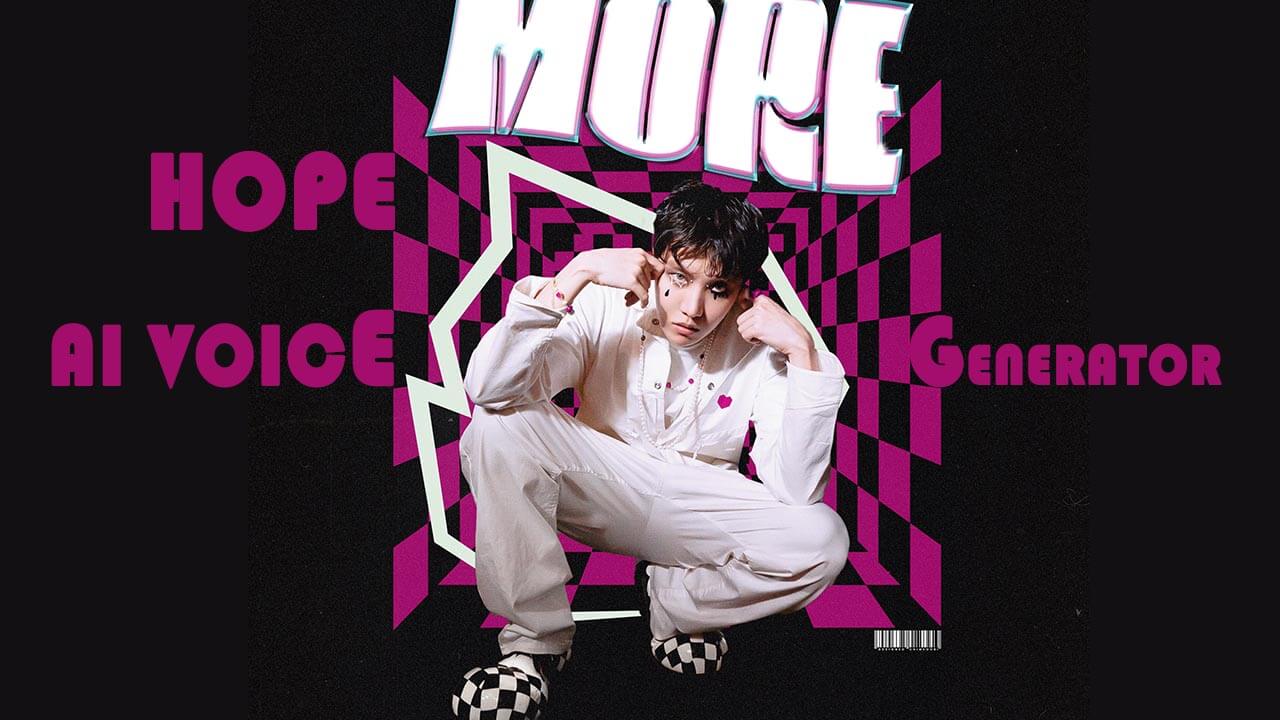 Part 1: Who is Fashion King J Hope?
Jung Hoseok, known as J-Hope, is a South Korean rapper, dancer, songwriter, and record producer. He is a member of the globally acclaimed boy band BTS, which debuted in 2013. J-Hope's infectious energy, dynamic dance skills, and versatile rap style have made him a beloved figure in the music industry.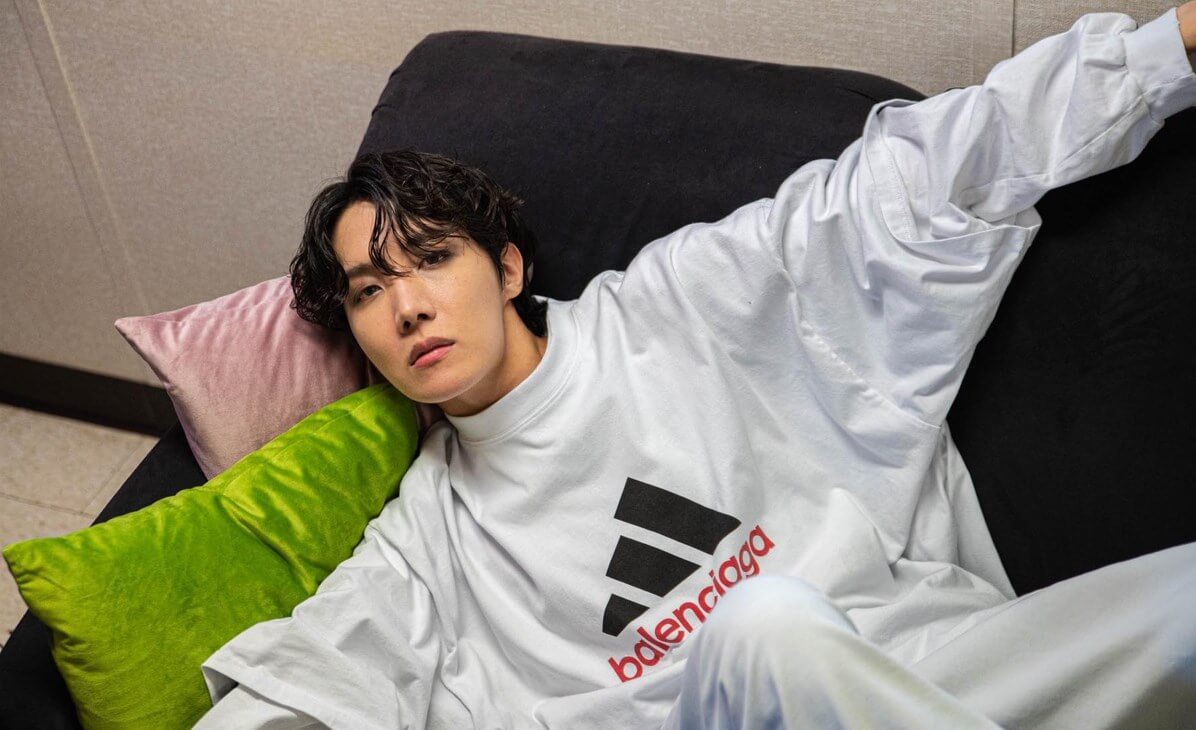 In addition to his contributions to BTS, J-Hope released his solo mixtape "Hope World" in 2018, showcasing his talent and musical exploration. With his positive attitude and philanthropic efforts, J-Hope continues to inspire fans worldwide.
Part 2: How to Make Your Very Own J Hope AI Voice?
To create a J-Hope AI voice, you can leverage the power of TTS voice generators. One popular option is TopMediai's Free J Hope AI Voice Generator, which offers a user-friendly platform for generating high-quality AI voices.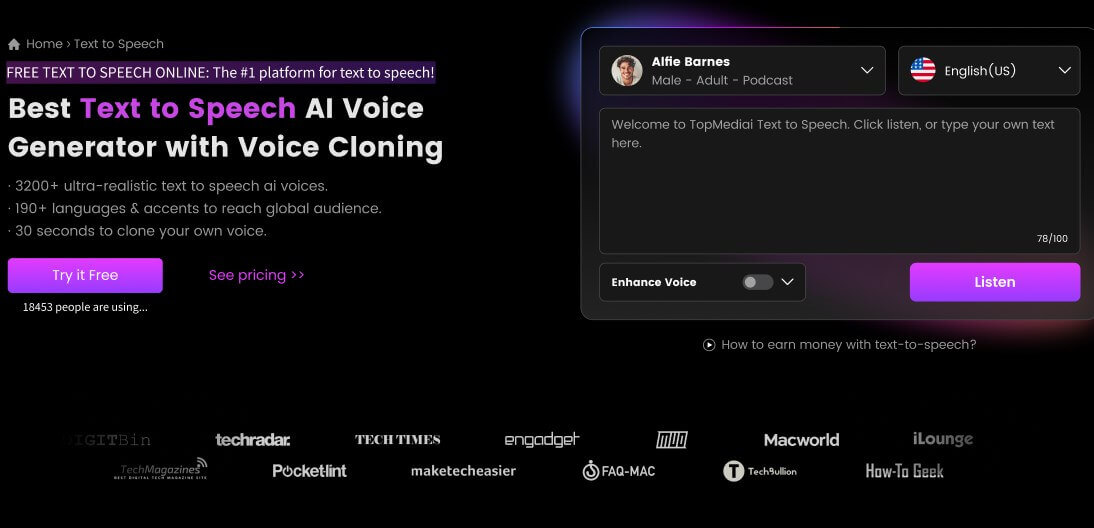 TopMediai is a leading platform that offers a wide range of AI-powered services, including their innovative Free BTS AI Voice Generator. With a user-friendly interface and cutting-edge technology, TopMediai allows users to create high-quality, natural-sounding voices that can be used for various purposes such as voice-overs, virtual assistants, audiobooks, and more.
How to generate your J-Hope AI voice using TopMediai:
Step 1. Visit TopMediai website and navigate to AI Voice Generator section.
Step 2. Select the J-Hope voice option from the "KPOP" voice presets.
Step 3. Input the text or phrases you want the AI voice to speak in J-Hope's style.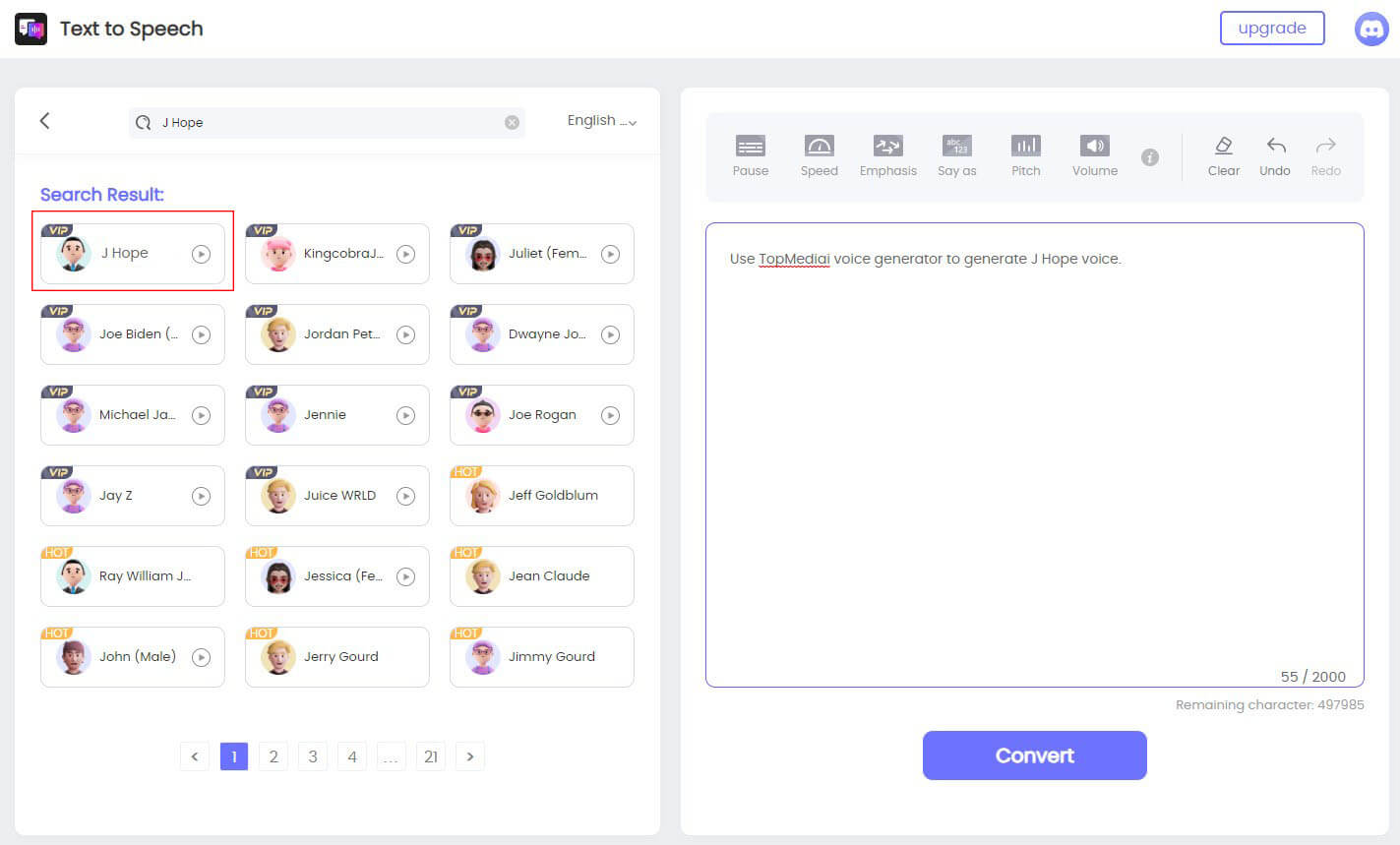 Step 4. Customize the voice settings(optional).
Step 5. Click the "Convert" button and wait for the J Hope AI voice to be created.
Key Features:
Choose from a wide range of ai voice model, including accents, languages, and styles.
Fine-tune voice parameters such as tone, pitch, speed, and emphasis to match your desired style and tone.
Input text in various formats, including plain text, scripts, or specific phrases.
Ensures highly accurate and expressive voice generation.
Preview and Download Options: Preview and download the generated voice as an MP3 or WAV file.
Free Access, making it accessible to users of all levels.
Part 3: What is BTS members popularity ranking?
BTS has amassed an enormous following, and fans are often curious about the popularity rankings of the individual members.
Here are the Ranking based on fan voting results:
V, JIN, JUNGKOOK, J HOPE, SUGA, JIMIN, RM.((Results are for reference only)
Part 4: FAQs about BTS J Hope Voice
1 Is J Hope Jack in the Box is his first album?
Yes, "Jack in the Box" is J-Hope's debut solo album. It was released on July 15, 2022, and features ten tracks, including the lead single "More" and the follow-up single "Arson". The album discusses various themes such as passion, ambition, insecurity, success, and anxiety.
2 What about BTS J Hope singing voice?
J-Hope's singing style is dynamic and energetic, reflecting his vibrant personality. He has showcased his vocal prowess in tracks like "Daydream" from his solo mixtape "Hope World," where he demonstrates his ability to convey emotion and deliver heartfelt performances. In collaborative songs with other BTS members, such as "Mikrokosmos" and "Butter," J-Hope's singing voice adds depth and color to the overall harmonies of the group.
3 What is the main role of J Hope in BTS?
He is a Main Dancer.
Conclusion TopMediai provides an exciting opportunity for fans to create their own BTS J Hope's unique vocal style to their projects. Whether you're a content creator, aspiring singer, or simply a fan who wants to have fun with J Hope AI voice, TopMediai ai voice generator offers a fantastic creative outlet. Get ready to bring the essence of J Hope to your audio creations and experience the magic of BTS in a whole new way.