Are you a fan of the talented actress and singer Keke Palmer? Imagine being able to generate her distinctive voice for various projects, presentations, or personal use. With the advent of Keke Palmer AI Voice Generator, this is now possible.
It is so excited that l will explore how you can generate Keke Palmer's voice using this innovative technology!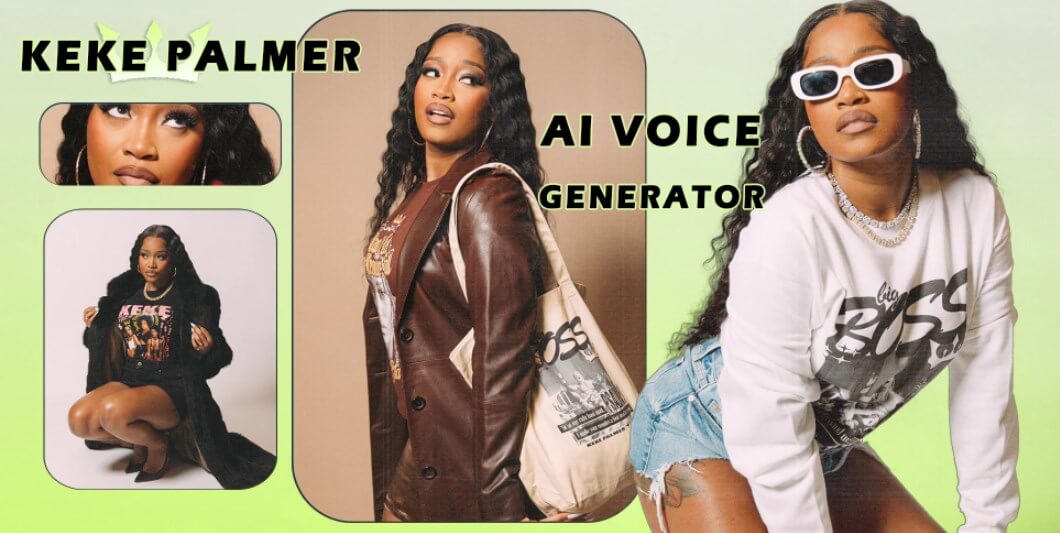 Part 1: How to Make Keke Palmer's Voice?
Are you a fan of Keke Palmer's incredible voice? Do you wish you could incorporate her unique vocal style into your own projects? Look no further than TopMediai's exclusive Keke Palmer AI voice generator, you can now recreate the captivating essence of Keke Palmer's voice.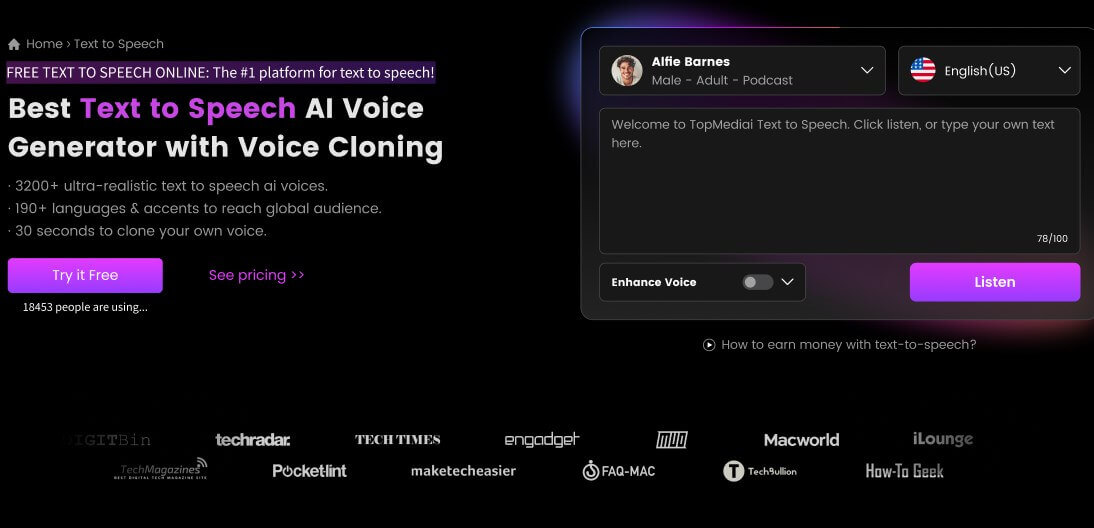 Whether you're working on a creative project, voiceover narration, or even a personal project, TopMediai will enable you to bring your ideas to life with the charm and talent of this remarkable voice actor.
How to Create Realistic AI Voice?
Step 1. Click blue inner link to visit the TopMediai voice generator.
Step 2. Select Keke Palmer ai model as the Voice on "Actors" option.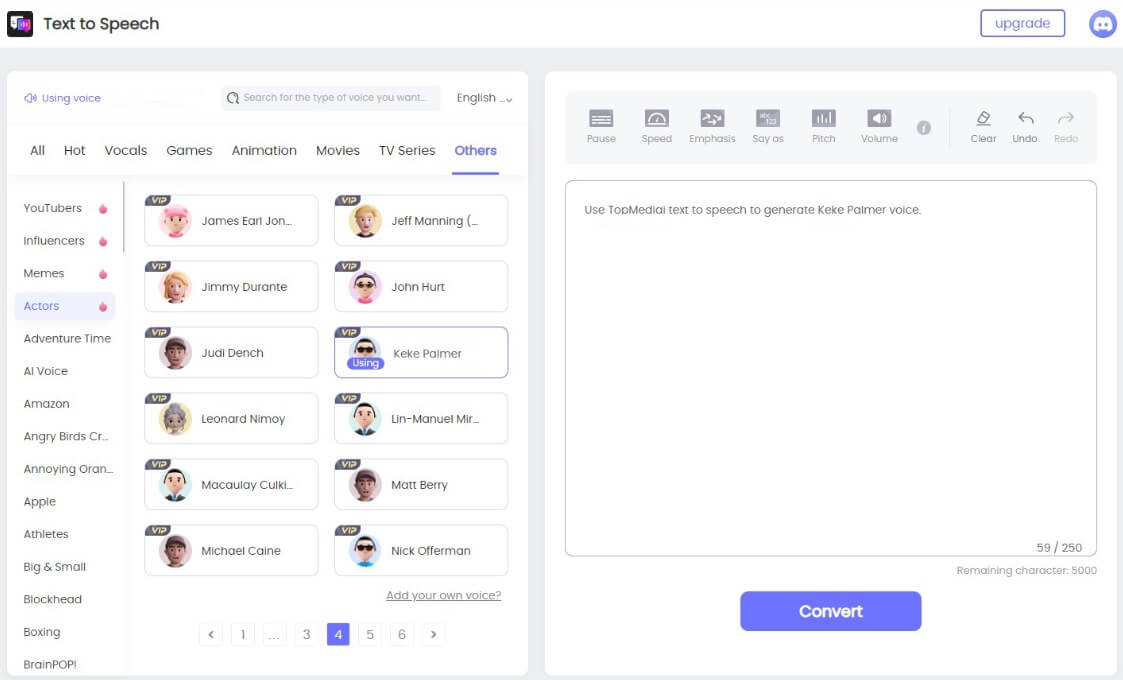 Step 3. Input Your Text you want Keke Palmer's AI voice to speak.
Step 4. Adjust Settings (Optional).
Step 5. Convert to generate the ai voice.
Step 6.
Download to save the audio file.
Want to Change your voice into Any one Actors' Voice in real-time?
Here is a full guide of online free voice changer.
Evaluation:
Wide variety of voices(3200+), including Keke Palmer's voice.
Pronunciation control for accurate word pronunciation.
Support for large blocks of text.
Commercial usage rights for business projects.
Voice style selection for matching content tone.
Reliable customer support for assistance.
Developer-friendly API for custom integrations(Coming soon).
Don't miss: Generate Movie Star Harrison Ford AI Voice Over for Your Creation.
Part 2: Keke Palmer's Growth Story
1. Who is Keke Palmer?
Keke Palmer is a multi-talented American actress, singer, TV host and voice actor. She first rose to prominence as a child actress and gained widespread recognition for her breakthrough role in the film "Akeelah and the Bee" (2006).
Since then, she has continued to impress audiences with her incredible talent and versatility. She is also a talented musician and active in social activism. Keke Palmer's remarkable career continues to inspire and make a positive impact.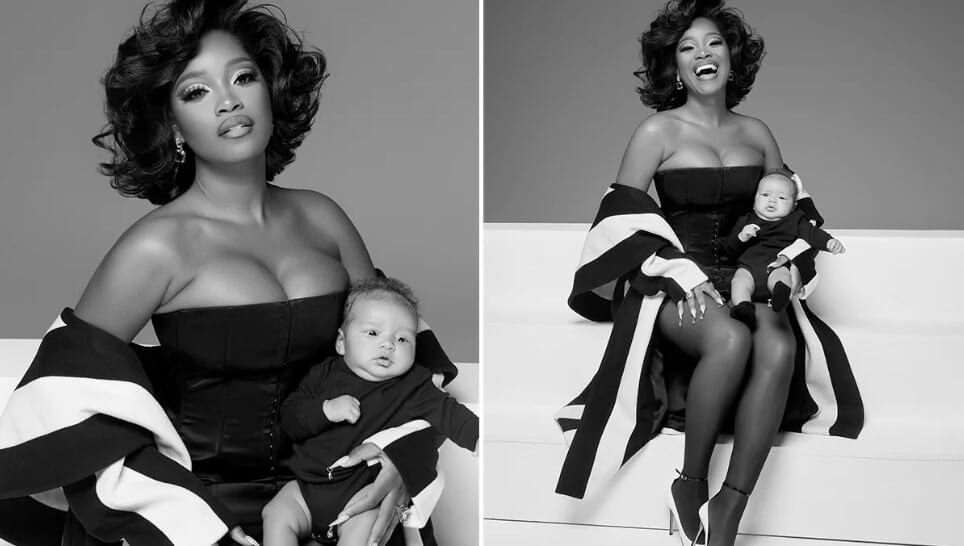 2. Why is Keke Palmer so Famous?
Keke Palmer's journey to stardom began at a young age when she showcased her singing and acting skills in her hometown of Robbins, Illinois. Her undeniable talent caught the attention of industry professionals, leading to her breakthrough role in "Akeelah and the Bee."
Since then, Keke Palmer has consistently delivered remarkable performances in various film, television, and musical projects, solidifying her position as one of the industry's most beloved talents.
Part 3: Quick News: Keke: Under the Boardwalk (2024 Film)
Keke Palmer continues to mesmerize audiences with her captivating performances. Exciting news awaits her fans, as she has been cast in the upcoming film "Under the Boardwalk," set to release in 2024. This highly anticipated project will undoubtedly showcase Keke Palmer's talent and further solidify her reputation as a talented actress.
Part 4: FAQs about Keke Palmer Voice AI
1 Has Keke Palmer received any awards or recognition?
Yes. She has been honored with NAACP Image Awards, BET Awards, and Young Artist Awards, among others, for her outstanding contributions to the entertainment industry.
2 Has Keke Palmer appeared in any TV shows or movies recently?
Yes. Some notable projects include her roles in the TV series "Scream: The TV Series," "Berlin Station," and "Star." She has also been seen in films like "Hustlers" and "Pimp."
3 Has Keke Palmer been involved in activism or social causes?
Keke Palmer has used her platform to raise awareness and advocate for various social causes. She has spoken out about issues such as racial justice, LGBTQ+ rights, and mental health.
Conclusion Keke Palmer's voice has left an indelible mark on the entertainment industry. With the advent of AI voice generation technology, you can now experience the magic of ai voice like never before. Through TopMediai Keke Palmer AI voice generator, you have the power to incorporate her charm and talent into your own projects.
Start creating captivating content and leave a lasting impression on your audience today!