The Kevin Hart AI Voice Generator is revolutionizing the way we experience humor by transforming text into laughter, capturing the essence of Kevin Hart's comedic genius in a virtual form. Here is a guide of how you can use a TTS voice generator to experience Kevin Hart's AI voice. Let's delve into this innovative technology and discover how it brings laughter to life, one phrase at a time.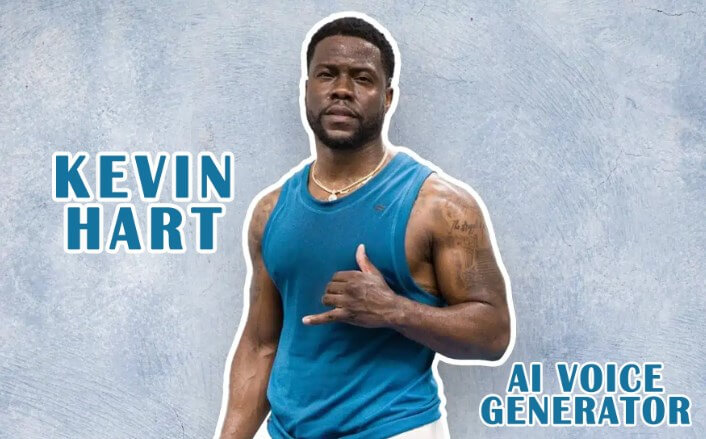 Part 1: How to Explore Kevin Hart AI Voice?
One of the leading players in the AI voice generation landscape is TopMediai, and they have created an exceptional voice generator specifically designed to replicate the unmistakable charisma and humor of Kevin Hart.
This cutting-edge technology allows users to input text and have it transformed into Kevin Hart's unique voice, complete with his signature timing, delivery, and infectious laughter.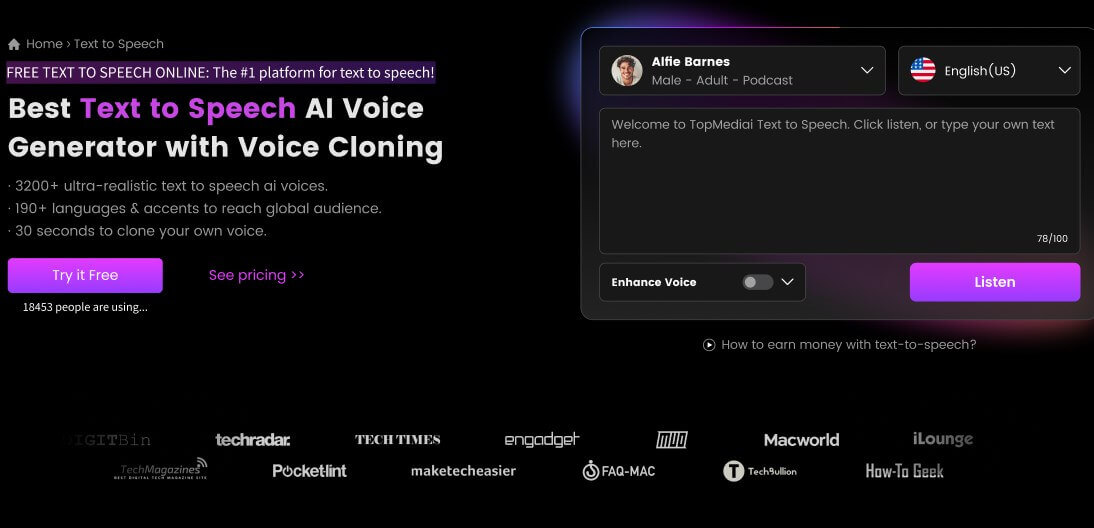 How to Generate Kevin Hart AI Voice?
Step 1. Visit the TopMediai voice generator.
Step 2. Choose Kevin Hart AI Voice Model.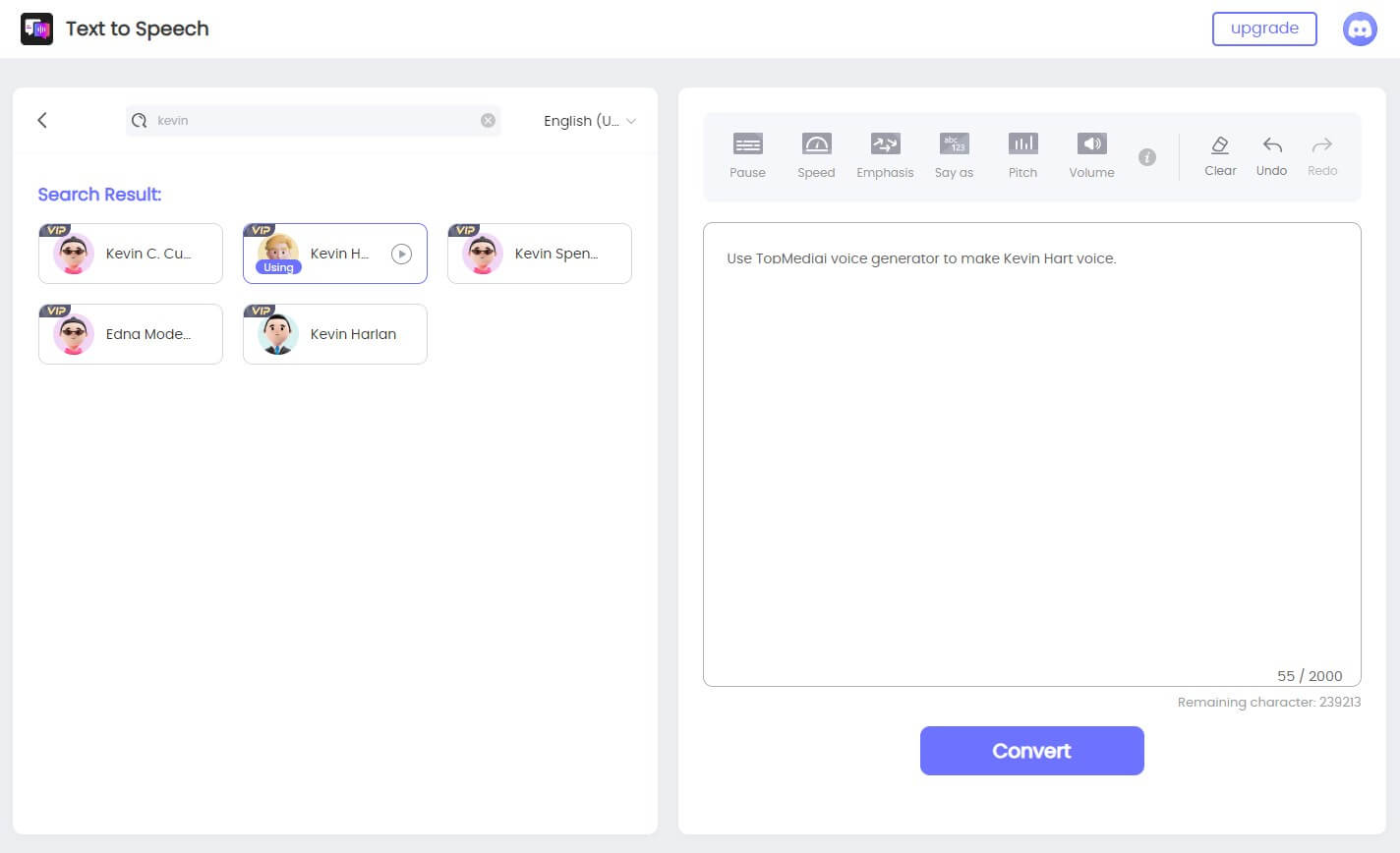 Step 3. Enter your desired text or phrases.
Step 4. Click "Convert" to generate Kevin ai voice.
Step 5. Wait for the voice generation process to complete.
Step 6. Enjoy Kevin Hart's voice and humor!
Highlights:
Accurate replication of Kevin Hart ai voice.
Text-to-speech conversion for any input text.
Realistic emotion and expression in the generated voice.
User-friendly interface for easy operation.
Versatile applications in entertainment and creative projects.
High-quality audio output.
Continuous improvement and updates for enhanced performance.
Don't miss: Tom Hiddleston Voice Generator: Be the Next Loki like Tom Hiddleston!
Part 2: Who is Kevin Hart?
Kevin Hart is a renowned comedian, actor, and producer who has won the hearts of millions around the world with his impeccable comedic timing and boundless energy. Rising to fame through his stand-up performances, Kevin Hart has since conquered both the big and small screens with his undeniable talent and charisma.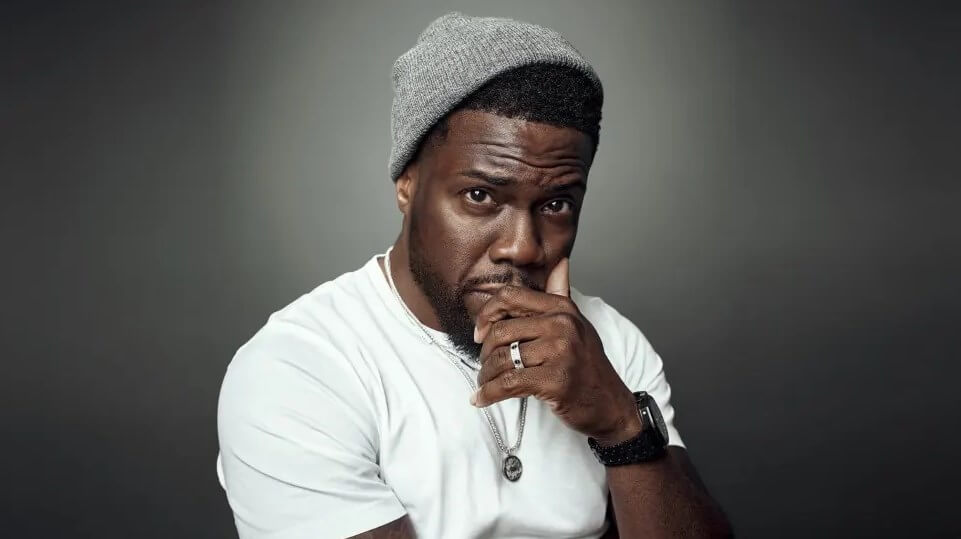 Part 3: What are the Popular Movies and Shows of Kevin Hart?
Kevin Hart has starred in numerous blockbuster movies and TV shows, captivating audiences worldwide with his comedic timing and infectious energy. Some of his most notable works include "Ride Along," "Central Intelligence," "Jumanji: Welcome to the Jungle," and "Night School." Whether he's delivering punchlines or stealing scenes, Kevin Hart's performances never fail to leave audiences in stitches.
Part 4: FAQs about Kevin Hart Voice AI
1 Has Kevin Hart hosted any major award shows?
Yes, Kevin Hart has hosted several prestigious award shows, including the Academy Awards (Oscars) in 2019, MTV Video Music Awards, and BET Awards. His hosting gigs are known for his comedic flair and lively performances.
2 Does Kevin Hart have any comedy specials?
Yes, include "Laugh at My Pain," "Let Me Explain," "What Now?" and "Irresponsible."
3 Has Kevin Hart won any awards?
Yes, include winning the BET Award for Best Actor, Teen Choice Awards for Choice Comedian, and being named Entertainer of the Year by NAACP Image Awards.
Conclusion TopMediai Kevin Hart text to speech AI Voice Generator is a groundbreaking technology that brings Kevin Hart's comedic brilliance to life through text-to-speech conversion. Fans can enjoy the hilarious charm and infectious laughter of Kevin Hart anytime, anywhere. Whether you're a devoted fan or simply seeking a good laugh, this innovative AI-powered tool is sure to deliver endless entertainment.
Get ready to experience laughter like never before!