Discover the groundbreaking innovation that allows you to effortlessly generate an AI voice that perfectly embodies the unmistakable charisma of LeBron James. In this comprehensive guide, l will unveil a step-by-step process that empowers you to create your very own LeBron James AI voice with voice text to speech generator, unlocking a world of possibilities for content creators, developers, and devoted fans alike.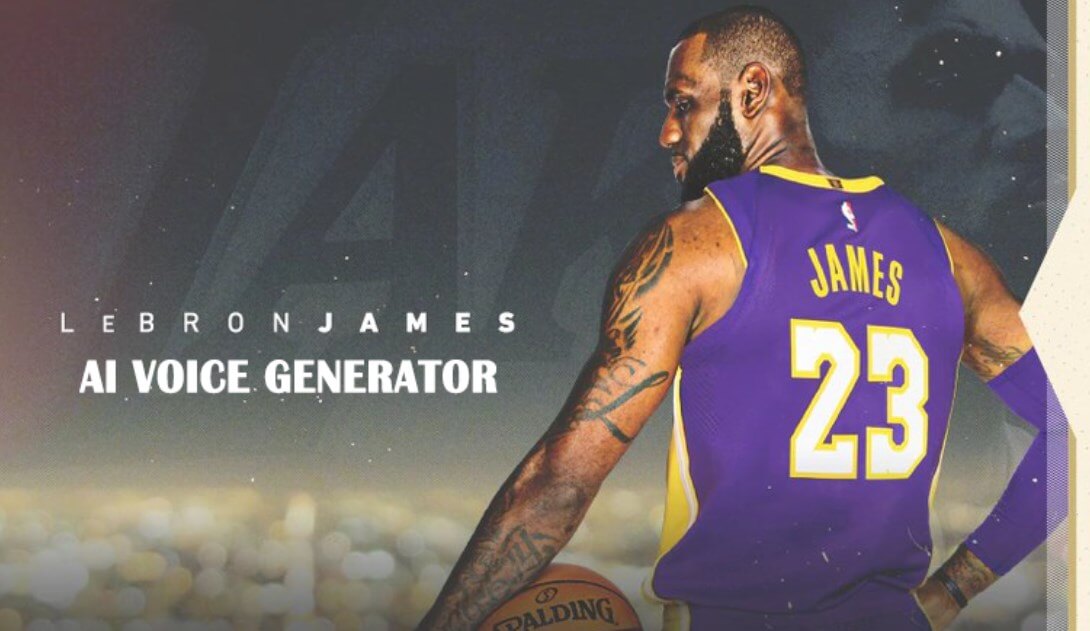 Part 1: [Step-by-Step]How to Create Lebron James AI Voice?
The first step in creating your own LeBron James AI voice is to utilize a reliable text-to-speech technology. TopMediai offers an exceptional Text to Speech tool that provides a realistic rendering of LeBron James' voice. By using this AI-powered platform, you can convert any text into speech with LeBron James' unique vocal characteristics.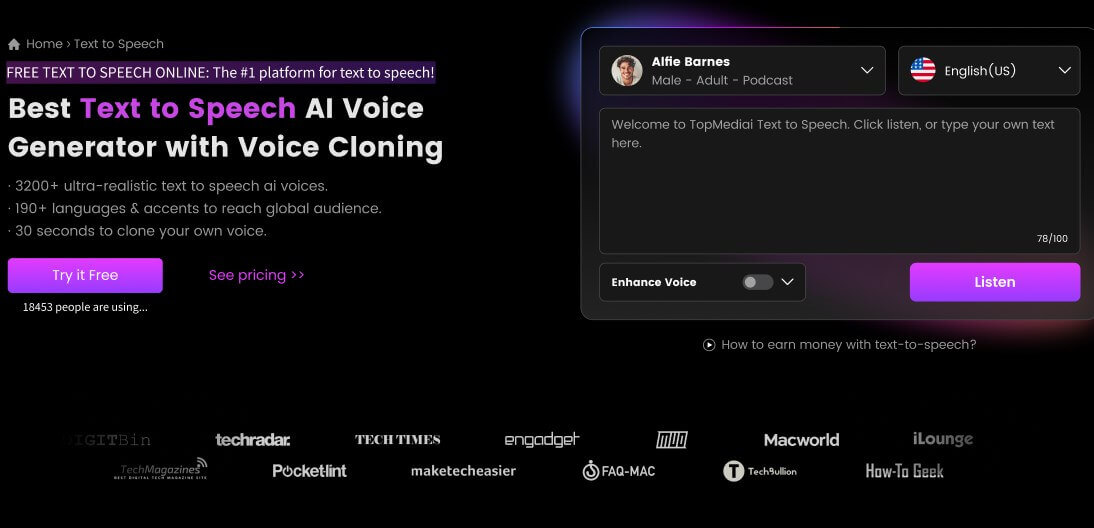 How to Use James voice Text to Speech:
Step 1: Visit the TopMediai and locate the Text to Speech feature.
Step 2: Choose the LeBron James Voice option by searching or in "Sport" Section.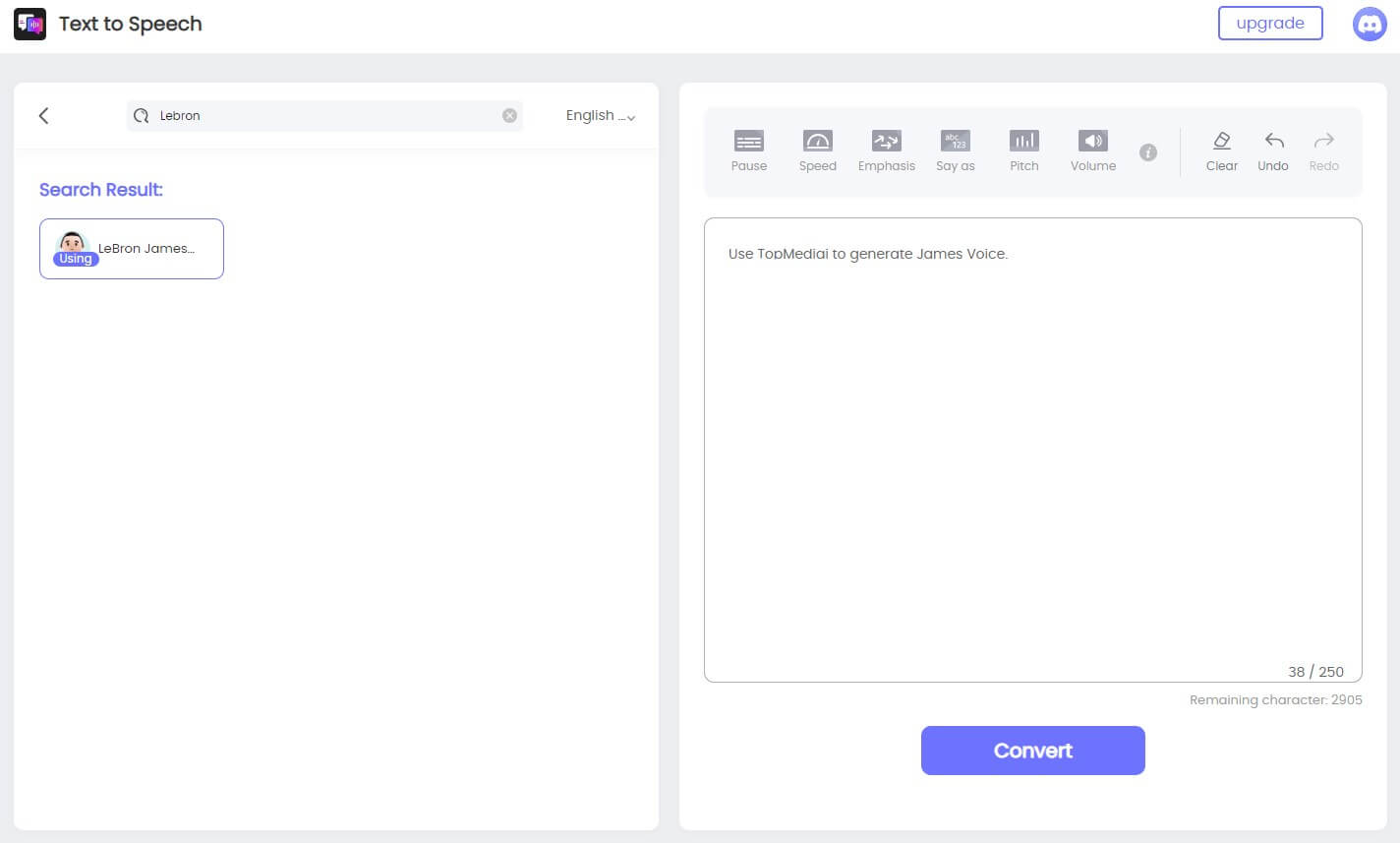 Step 3: Type or paste the text you want to convert into LeBron James' voice.
Step 4: Adjust any additional settings or parameters, such as speed or tone(optional).
Step 5: Click "Convert" button to initiate the voice generation process.
Step 6: Once the generation is complete, you can listen and download audio file.
Focus Points:
Experience a superior and lifelike James AI voice.
Enjoy extensive language support with over 70 languages and accents.
Choose from a variety of output file formats such as OGG, WAV, and MP3.
Explore a diverse selection of voice options including male, accent, and robotic AI voices.
Benefit from automatic punctuation and capitalization for seamless speech. Instantly preview and edit speech output in real-time.
2. Free Voice Changer - Change Lebron James Voice in 1 Click
Once you have the LeBron James AI voice generated, it's time to customize it according to your preferences. TopMediai Free Voice Changer is an excellent tool that allows you to modify and personalize LeBron James' voice. With just one click, you can tweak the pitch, speed, and other parameters to match your desired voice output. This tool also could used to cover songs, just upload your songs is ok!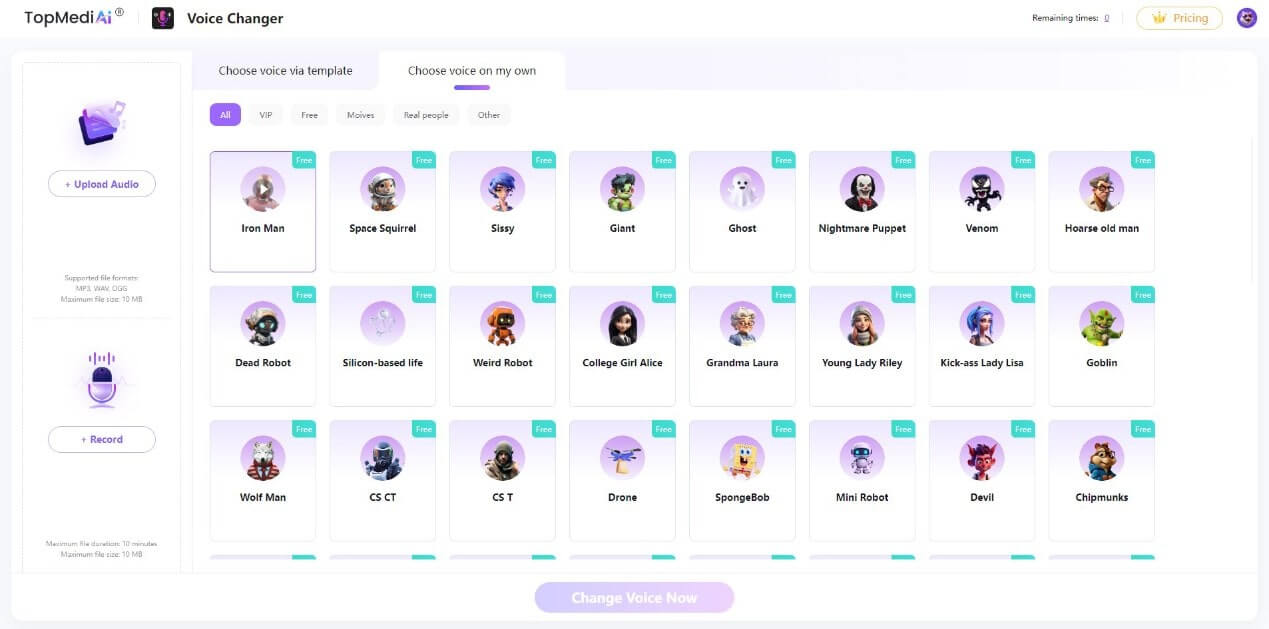 How to Use James voice changer:
Step 1: Access the TopMediai and look for Free Voice Changer.
Step 2: Upload audio file or recording online(songs or speaking).
Step 3: Choose "LeBron James" avatar and convet.
Step 4: You will see various customization options for altering the voice.
Step 5: Adjust the pitch, speed, or any other available parameters to modify the voice to your liking.
Step 6: Preview the modified voice to ensure it sounds as desired.
Focus Points:
Create your unique voice and sound using the application.
Compatible with popular gaming and social networking sites.
Use any speech filter of your choice while using other applications.
With TopMediai voice changer, you get your personalized soundboard where you can add your own sounds.
Customize the voice settings according to your preferences with the tool.
Part 2: Who is LeBron James?
LeBron James needs no introduction. As one of the greatest basketball players of all time, LeBron James has left an indelible mark on the sport. Born on December 30, 1984, in Akron, Ohio, LeBron James quickly rose to prominence during his high school years.
He eventually became a dominant force in the NBA, winning multiple championships and earning numerous accolades for his exceptional skills on the court.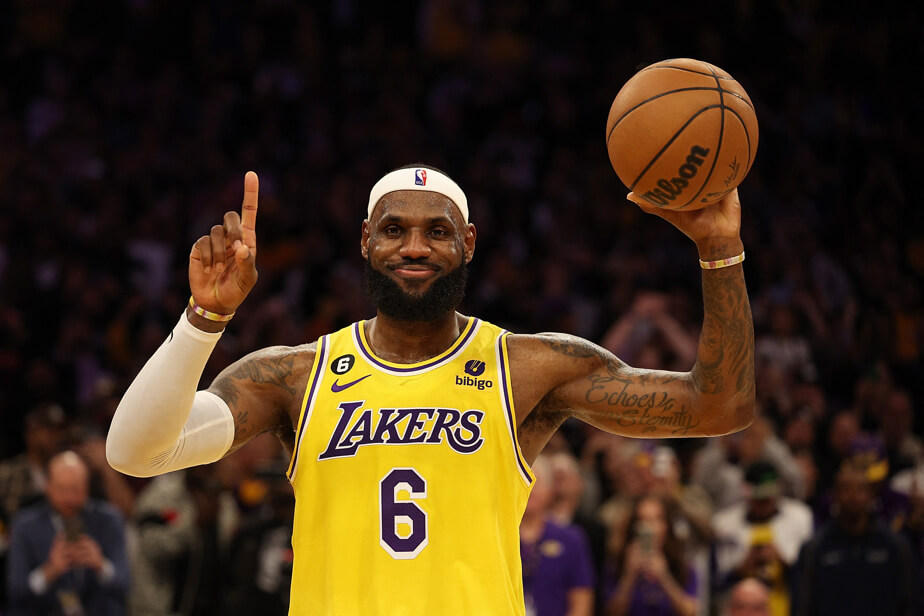 Part 3: What about Lebron James Career Stats?
LeBron James boasts an incredible professional basketball career, with statistics that solidify his status as one of the game's legends. Throughout his career, he has amassed an impressive number of points, rebounds, assists, and other notable achievements.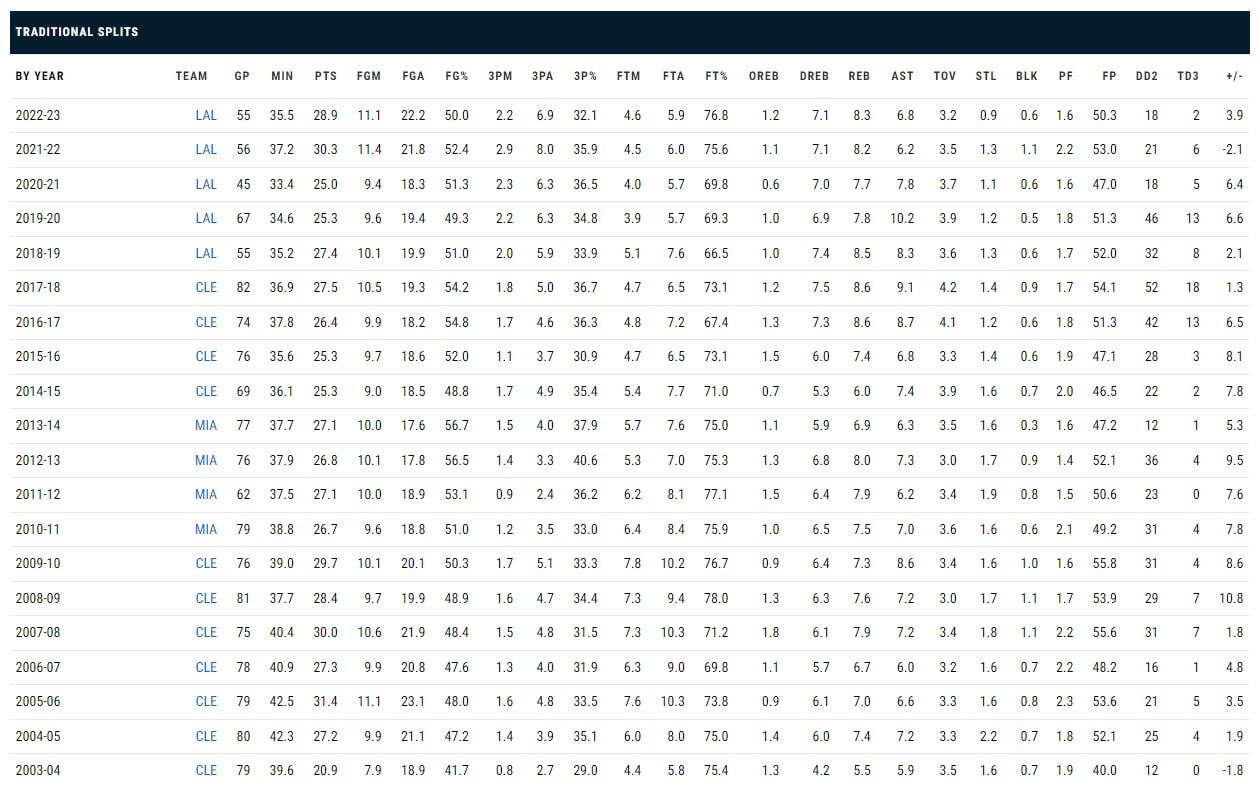 Part 4: FAQs about LeBron James Voice AI
1 Why did James Change Cavaliers team to Lakers team?
LeBron James joined the Lakers after leaving the Cavs again. Factors driving his move included the Lakers' historic success, talented young players, LA's allure, and off-court opportunities.
2 When does LeBron James retired?
According to post-game confirmation, LeBron James is reportedly considering retirement after completing 20 seasons in the NBA. At 38 years old, it appears that James may genuinely be contemplating the end of his basketball career and potentially retiring his iconic Nikes.
Related Article: Cristiano Ronaldo AI Voice Generator: Generate Realistic Cristiano Ronaldo Voice Over
Conclusion Creating your own LeBron James voice using the LeBron voice generator voice ai opens up exciting possibilities. Whether you want to entertain, engage, or even prank your friends, this innovative technology allows you to harness the power of AI to mimic LeBron James' unique voice.
Start creating your LeBron James AI voice today and bring the essence of this basketball legend into your world!