Introducing the groundbreaking Ryan Reynolds AI Voice! Get captivated by the iconic voice of the Hollywood A-lister through cutting-edge text-to-speech technology. Discover the magic and star quality it brings to your voiceovers. Your dream of having Ryan Reynolds narrate your projects is now a reality!

Prepare to impress your audience with charisma and wit as your secret content creation weapon!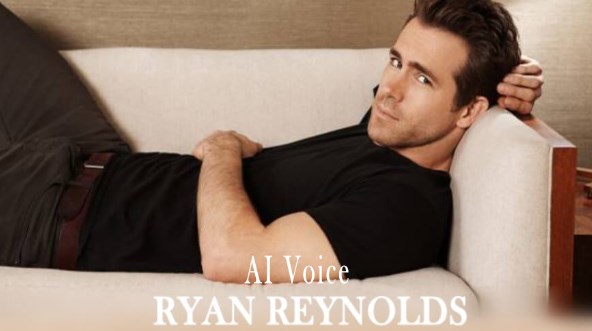 Part 1: How to Generate Ryan Reynolds AI Voice?
Imagine having the ability to generate voiceovers, narration, or personalized messages in the voice of the beloved Hollywood superstar, Ryan Reynolds.
An AI Voice Generator for Ryan Reynolds, developed by TopMediai, is a leading company in AI-driven media technology. With their expertise in artificial intelligence and natural language processing, TopMediai Ryan voice ai has succeeded in creating an incredibly realistic and lifelike voice that captures the essence of Ryan Reynolds's unique tone, cadence, and charisma.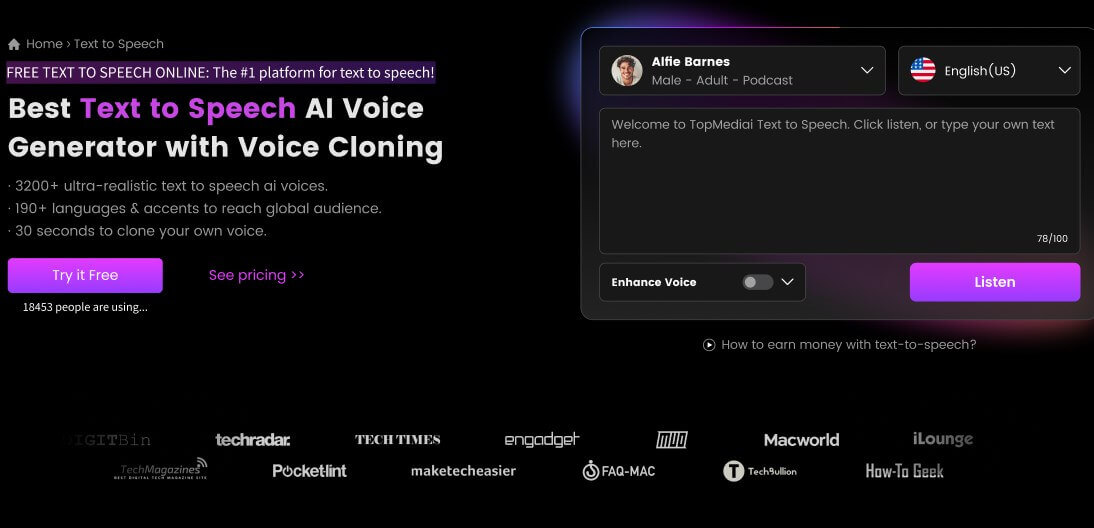 How to Use Text to Speech to generate Ryan Reynolds AI Voice?
Step 1. Visit TopMediai voice generator and Sign up or log in to the platform.
Step 2. Choose each actor's voice you want to use.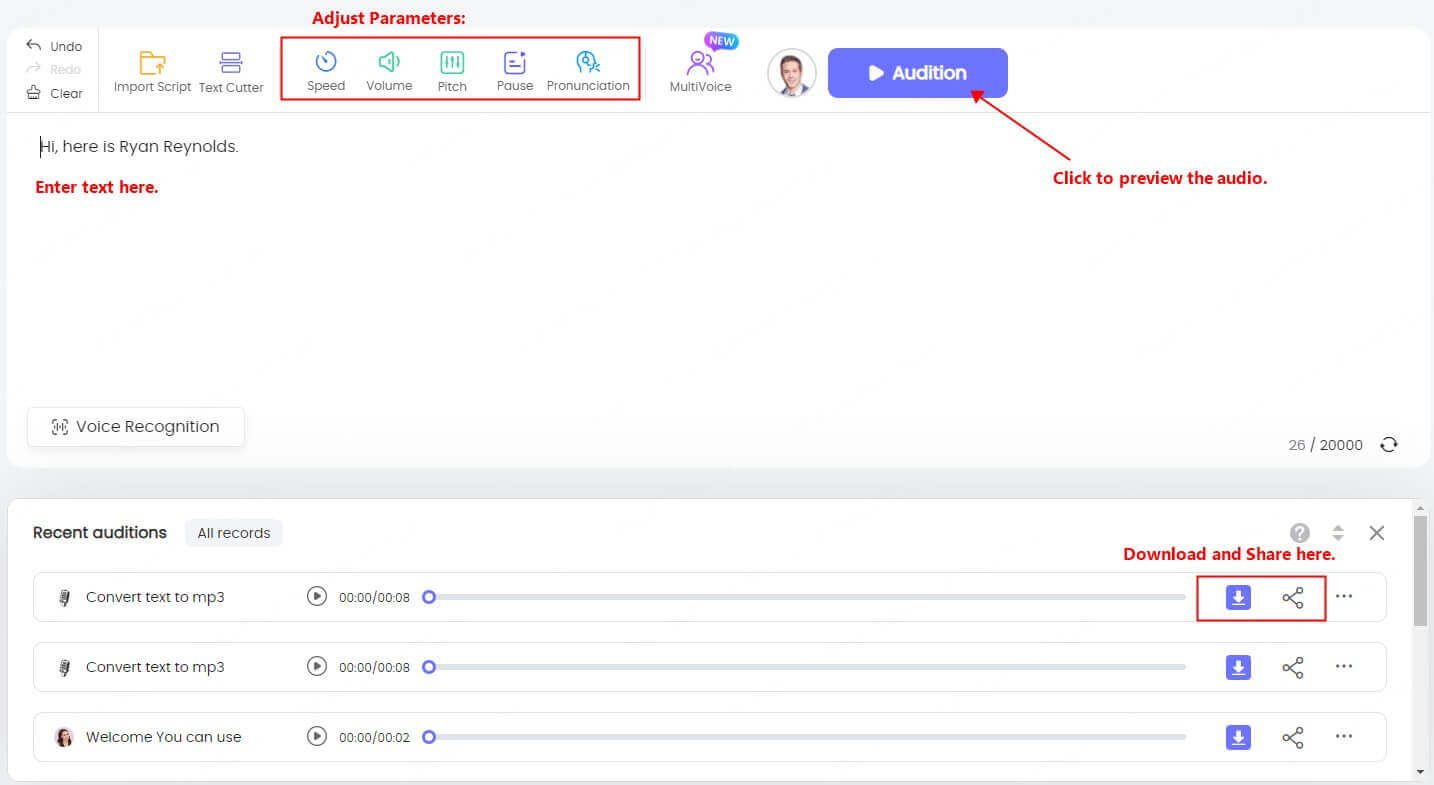 Step 3. Customize your text script for the voiceover.
Step 4. Optionally, adjust voice settings like speed or tone.
Step 5. Click "Convert" to Preview and edit if needed.
Step 6. Download or save the audio files.
Highlights:
Wide variety of actors' voices available, including Ryan Reynolds.
User-friendly interface with quick voice generation.
Versatile applications for different media formats.
High-quality and realistic voice synthesis.
Cost-effective alternative to hiring voice actors.
Possible support for 70+ languages.
Regular updates and advancements in AI technology.
Related Read: Tom Hiddleston Voice Generator: Be the Next Loki like Tom Hiddleston!.
Part 2: Who is Ryan Reynolds?
1. Info of Ryan Reynolds
Ryan Reynolds is a Canadian-American actor, producer, and entrepreneur, born on October 23, 1976. He gained fame for his versatile roles in a wide range of films, including comedy, drama, and action genres. Renowned for his quick wit and captivating screen presence, Reynolds has amassed a massive global fanbase over the years.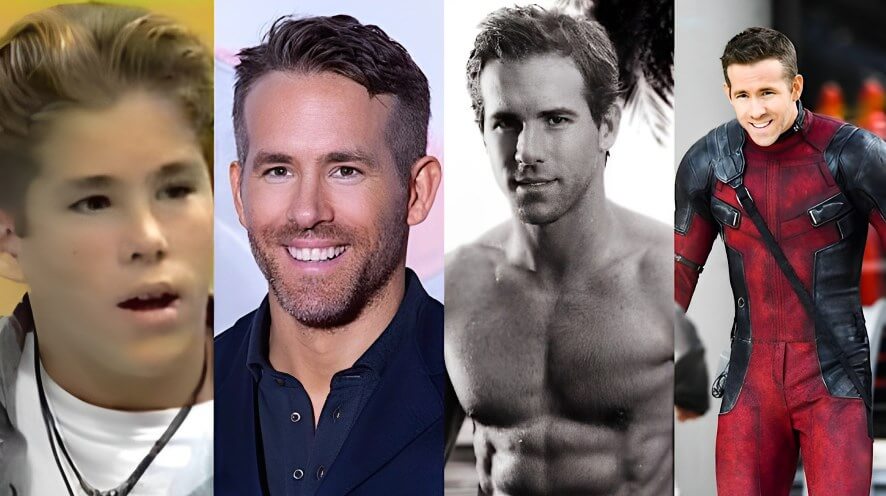 2. Young Ryan Reynolds
Ryan Reynolds began his career in the entertainment industry in the early 1990s, making appearances in various television shows and films. His breakthrough role came in 1998 when he starred in the comedy series "Two Guys and a Girl," which significantly boosted his popularity.
Part 3: What are the Popular Ryan Reynolds's TV Show and Movie?
Over the years, Ryan Reynolds has graced both the big and small screens with memorable performances, earning him a dedicated fan base worldwide. Some of his most popular TV shows and movies include:
"Two Guys and a Girl" (1998-2001)
"Deadpool" (2016) and "Deadpool 2" (2018)
"The Proposal" (2009)
"Green Lantern" (2011)
"The Hitman's Bodyguard" (2017)
"Detective Pikachu" (2019)
"Free Guy"(2021)
"Deadpool 3"(2024) Coming Soon!
Ryan Reynolds' ability to effortlessly switch between humor, action, and drama has made him a beloved actor across various genres.
Part 4: FAQs about Ryan Reynolds Voice AI
1 Who is Ryan Reynolds Married to?
Ryan Reynolds has been married twice. Before his marriage to Blake Lively in 2012, he was previously married to actress Scarlett Johansson from 2008 to 2011.
2 What is Ryan Reynolds most famous for?
Ryan Reynolds is indeed most famous for his role as the title character in the Deadpool films, and his portrayal has garnered him immense popularity and admiration from audiences worldwide. His comedic talent, quick wit, and versatile acting have contributed to his status as a beloved Hollywood star.
Conclusion An AI Voice Generator for Ryan Reynolds opens up exciting possibilities for incorporating the beloved actor's voice into various media projects. Whether you are a content creator or an avid fan of Ryan Reynolds, this AI voice generator provides a unique opportunity to infuse your audio productions with Hollywood charm.

Unleash the captivating charisma of Ryan Reynolds ai voice in your creative endeavors with TopMediai.