Mac Miller, a beloved rapper, and artist left a lasting impact on the music industry before his untimely passing. Fans around the world mourned the loss of his unique voice and talent.
In this article, we explore the cutting-edge technology of AI Voice Generator, which brings Mac Miller's ai voice back to life, allowing us to hear him speak one more.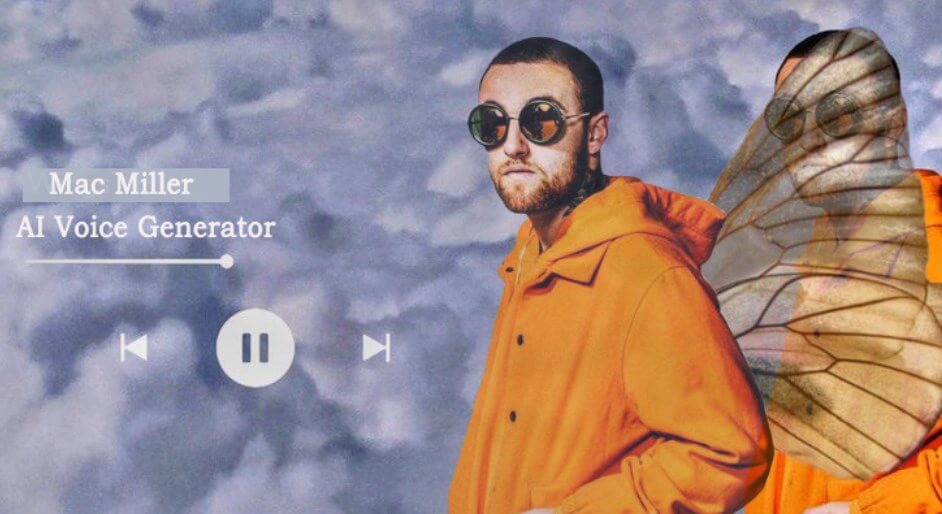 Part 1: How to Recreate Mac Miller's AI Voice?
TopMediai AI Voice Generator is a groundbreaking tool that uses state-of-the-art artificial intelligence algorithms to replicate Mac Miller's distinctive voice. Through sophisticated speech synthesis techniques, the AI can analyze hours of Mac Miller's interviews, speeches, and songs to understand the nuances of his vocal patterns, tone, and inflections.
This technology opens up endless possibilities, enabling fans to create personalized messages, voiceovers, and even songs in Mac Miller's unmistakable voice.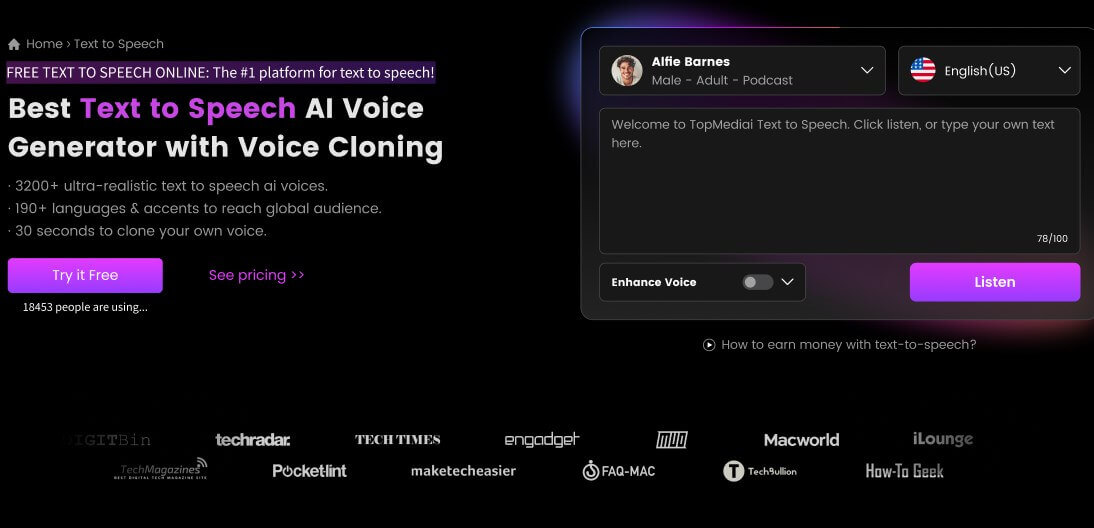 How to Use Text to Speech to generate Mac Miller AI Voice?
Step 1. Visit TopMediai Website: Go to TopMediai voice ai.
Step 2. Sign Up or Log In: Create a new account or log in to your existing account.
Step 3. Select a Voice Model: Choose Mac Miller ai voice model that suits your needs or closely resembles the desired voice. (If there is no voice you want, you can try voice clone by yourself.)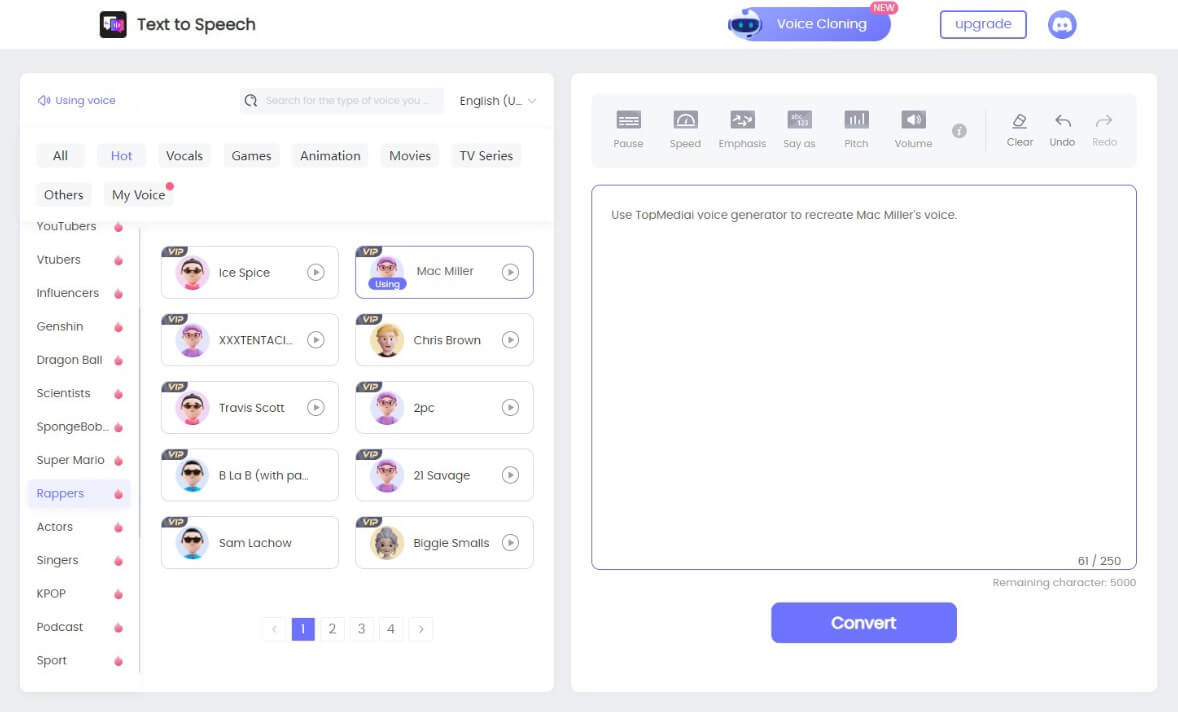 Step 4. Input Text: Type or paste the text you want the AI to read in the selected voice.
Step 5. Generate Voice: Click the "Convert" button to let the AI process and create the audio clip.
Step 6. Listen and Download: Listen to the generated voice clip on the platform and download it to your device.
Key Features:
Text-to-speech conversion for easy voice generation.
Quick processing for prompt results.
Downloadable audio output for convenience.
Optional API integration for developers.
Compatibility with different devices and operating systems.
Emphasis on privacy and data security.
Don't miss: Use Voice Generator to Create realistic XXXTentacion AI Voice.
Part 2: Who is Mac Miller?
Born Malcolm James McCormick, Mac Miller was an American rapper, singer, and record producer. He gained widespread recognition for his unique style and thought-provoking lyrics. Over the course of his career, Mac Miller released several critically acclaimed albums, including "Blue Slide Park," "Watching Movies with the Sound Off," and "Swimming."
Mac Miller was not only admired for his musical talent but also for his authenticity and openness about his struggles with substance abuse and mental health. His music often served as an outlet for his emotions, resonating with millions of fans worldwide.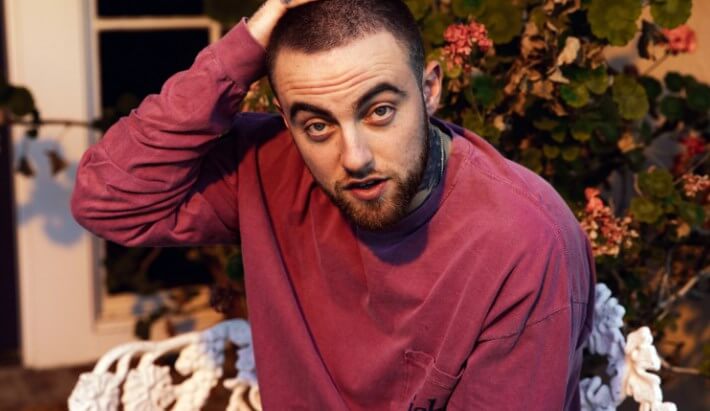 Part 3: What is Mac Miller Death?
On September 7, 2018, the music world was devastated by the untimely death of Mac Miller. The rapper was found unresponsive in his home in Los Angeles, California, and the cause of death was attributed to an accidental drug overdose. His passing marked a profound loss for the music community, leading to an outpouring of tributes from fans and fellow artists alike.
Part 4: FAQs about Mac Miller Voice AI
1 What are some of Mac Miller's most popular songs?
Some of Mac Miller's most popular songs include "Self Care," "Donald Trump," "Best Day Ever," "Swimming," "Good News," and "The Way" featuring Ariana Grande.
2 Did Mac Miller win any awards?
Yes, Mac Miller received recognition for his talent and contributions. He was nominated for several awards, including Grammy Awards and MTV Video Music Awards.
3 Did Mac Miller have a posthumous album release?
Yes, after his passing, a posthumous album titled "Circles" was released on January 17, 2020. The album was completed by Jon Brion, a producer and musician, based on Miller's existing recordings.
Conclusion While nothing can replace the real Mac Miller, the voice ai provides a unique chance to hear him speak once again and appreciate the legacy he left behind. Mac Miller's ai voice lives on, a testament to the enduring power of artificial intelligence and its ability to keep the voices of our favorite artists alive forever.