In an era marked by ever-advancing technological innovations, the realm of text-to-speech (TTS) has witnessed remarkable strides. Within this fascinating domain lies the ability to replicate a wide range of voices, including that of an elderly gentleman.

In this article, let's explore Old Man Text to Speech, how it can generate old man ai voice, and the top-notch tools available for generating this unique vocal style.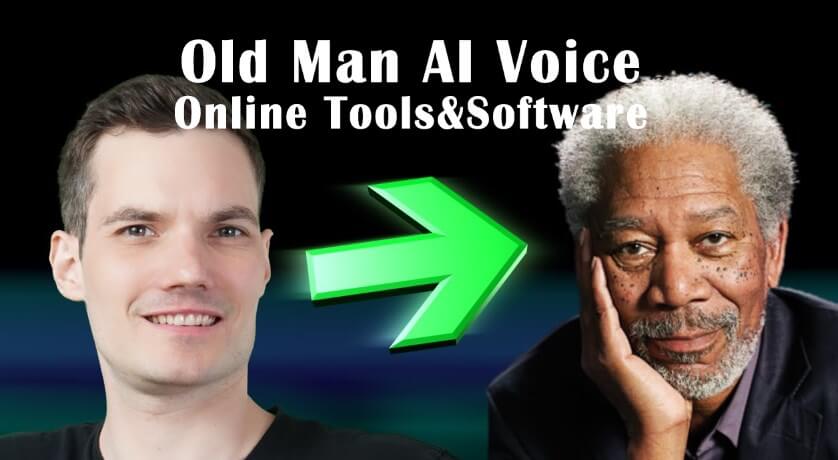 Part 1: What is Old Man AI Voice?
Old Man AI Voice, also known as an elderly male voice, is a synthesized speech that replicates the vocal characteristics of an elderly man. This includes the timbre, pitch, and speech patterns typically associated with older individuals. This technology allows you to transform written text into spoken words with the distinct charm of an old man's voice.
Part 2: Old Man AI Voice Generator Online
TopMediai Text to Speech for Old Man is a cutting-edge online tool designed to bring the charm and wisdom of an elderly man's voice to your digital content. Whether you're a content creator, filmmaker, or simply looking to add a unique touch to your projects, with a user-friendly interface, this tool makes it easy to convert your text into an elderly man's voice. Simply input your text, select the desired settings, and let TopMediai do the rest.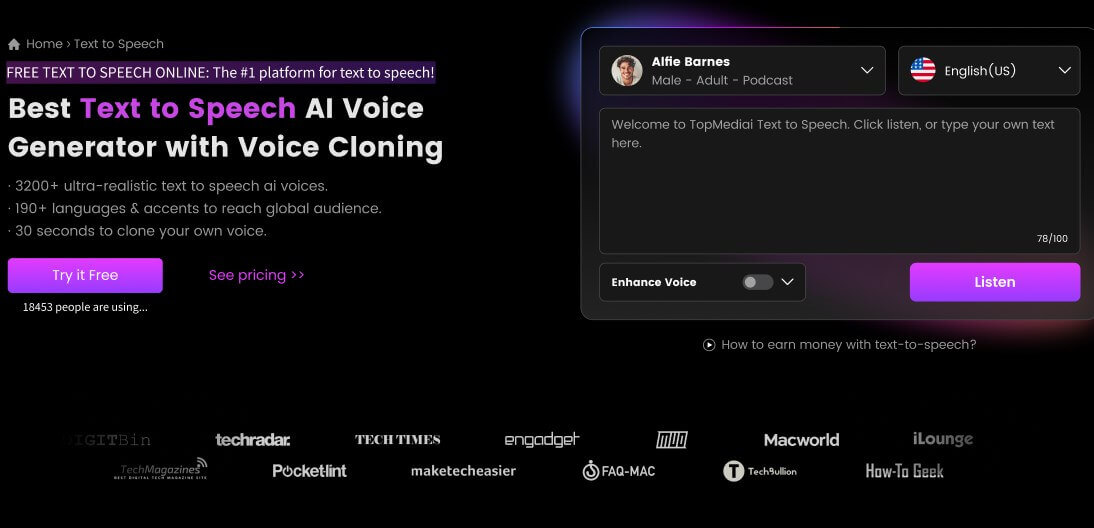 How to Generate Old man AI Voice?
Step 1: Visit the TopMediai Text to Speech.
Step 2: Search for Old man ai voice model.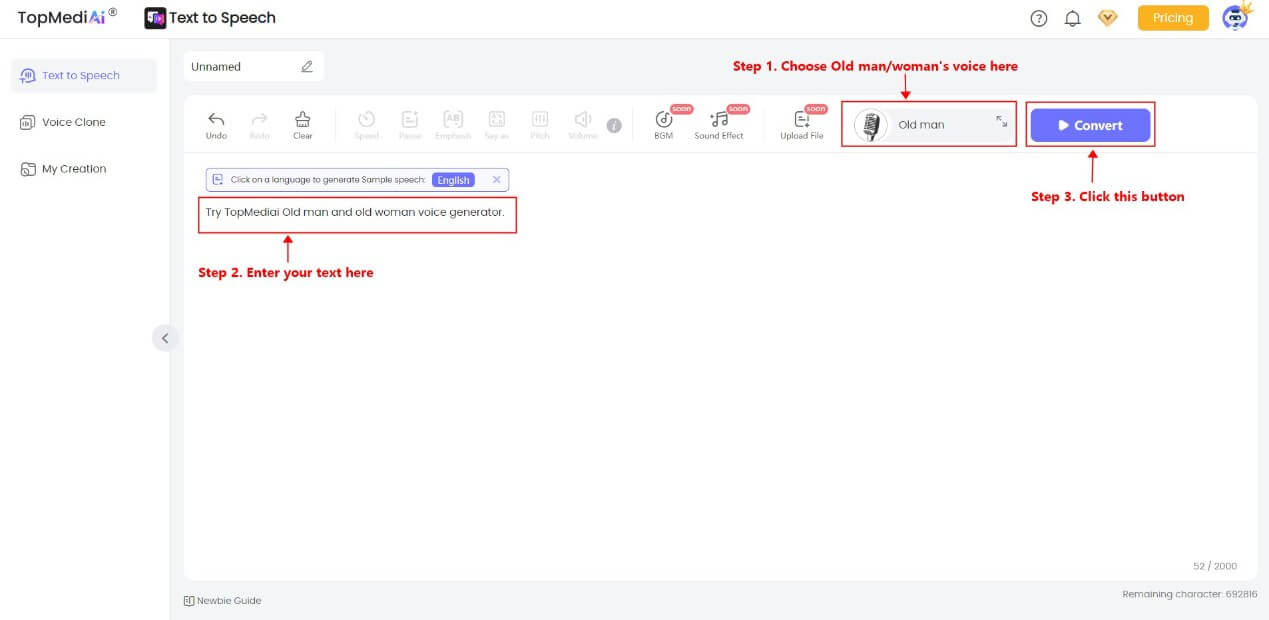 Step 3: Input your text.
Step 4: Generate the audio and enjoy the results.
Multiple Voices: Offering 70+ voices to choose from, including different, accents(Irish, US, UK, etc), genders, and age groups(Baby, Kids, Old man).
API Integration: Offering an API for developers to integrate TTS capabilities into their applications or websites.
Pricing Plans: Offering various pricing plans, including free trials or a range of subscription options.
Ease of Use: Providing a user-friendly interface for easy text input and voice generation.
Natural Sound: Providing high-quality and natural-sounding voice synthesis to enhance the listening experience.
Try Old Man Text to Speech Online >>
2

Narakeet

Narakeet is another powerful online tool for generating Old Man AI Voices. It offers a wide range of voice options, including elderly male voices, to suit your needs. The intuitive interface and flexible customization options make Narakeet a valuable resource for content creators.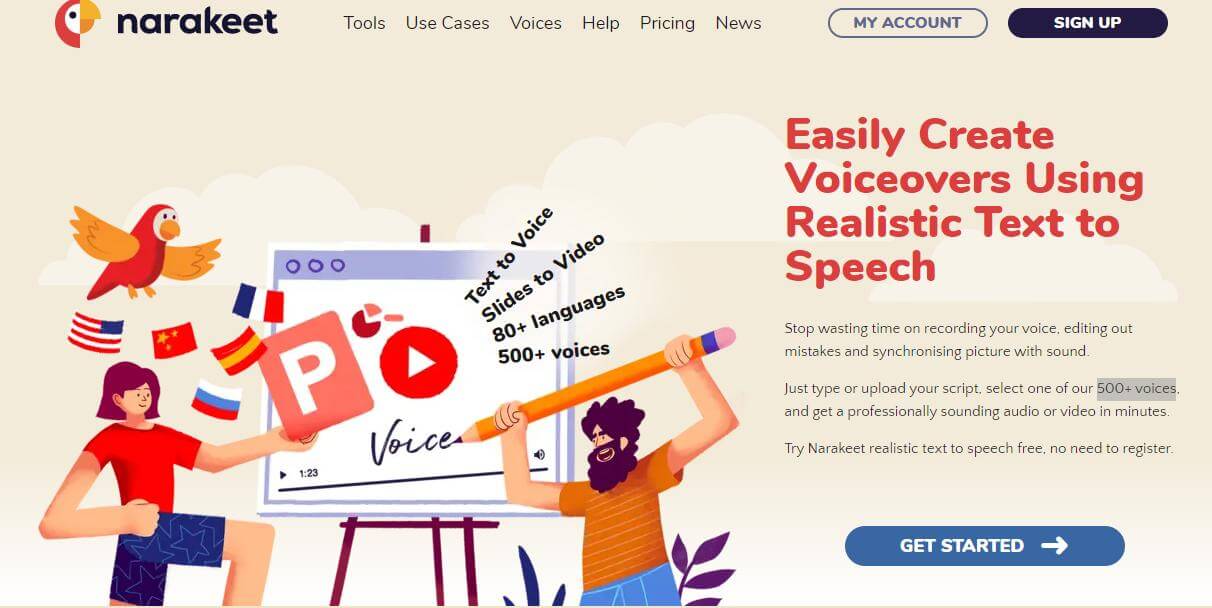 Script Formatting: Allowed users to format scripts with simple markup for expressive voiceovers.
Customization: Users could adjust voice characteristics like tone and pacing.
Export Options: Users could export audio as MP3 files or use it directly in videos.
Text-to-Speech Conversion: It converted text into high-quality audio.
Part 3: Old Man AI Voice Generator Software
Speechify
Speechify is a robust AI voice generation software that provides the option to create Old Man AI Voices. It is also a e-reader that could generate high-quality text-to-speech audios. With its diverse range of features, Speechify allows you to craft high-quality, realistic elderly male voices for various applications. This software is ideal for professionals and enthusiasts alike.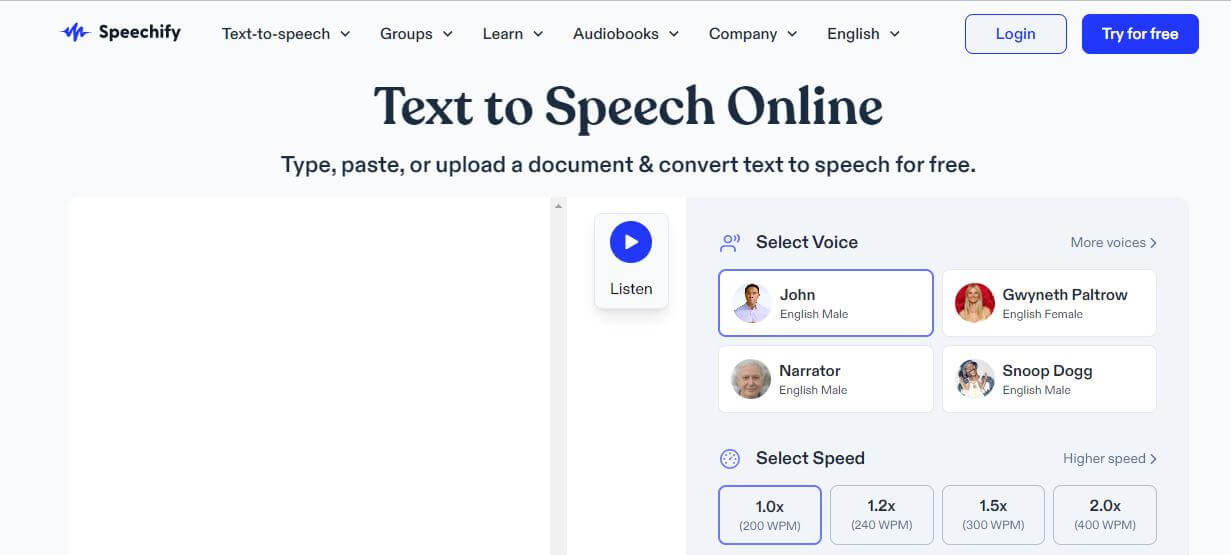 Offline Access: Some versions of Speechify allowed users to download audio versions of content for offline listening.
Sync Across Devices: Users could sync their progress and preferences across different devices to continue listening seamlessly.
Text-to-Speech (TTS) Capability: Speechify allowed users to convert written text into spoken words, making digital content accessible through audio.
Voice Recognition: Speechify sometimes included voice recognition capabilities, enabling users to dictate text for conversion.
Learning Tools: The platform might have included tools to assist students and individuals with dyslexia or other reading challenges in their learning processes.
Part 4: Tips for Generating Realistic Old Man AI Voice
1. Adjust the pitch and speed to match the age and character you're aiming for.
2. Pay attention to pauses and intonation for a more natural flow.
3. Experiment with different texts to find the perfect balance between expressiveness and clarity.
4. Use high-quality text-to-speech software or services for better results.
5. Practice and refine your script to maximize the effectiveness of the Old Man AI Voice.
Part 5: FAQs about Old Man AI Voice
1 What tools are available for generating Old Man AI Voice online?
Some online platforms and tools, such as TopMediai and Narakeet, offer the ability to generate Old Man AI Voice with customizable options.
2 Do I need coding skills to use Old Man AI Voice generators?
No. Many user-friendly platforms and tools such as TopMediai Text to Speech offer Old Man AI Voice generation without requiring coding skills. However, developers can use APIs for more advanced integration.
3 Can I use Old Man AI Voice for entertainment and creative projects?
Absolutely! Old Man AI Voice can be used for entertainment purposes, including creating characters for storytelling, podcasts, and humorous content.
Conclusion Old Man Text to Speech technology opens up a world of possibilities for content creators, educators, and anyone looking to add a unique touch to their projects. Whether you opt for online tools like TopMediai and Narakeet or advanced software like Speechify, you can harness the power of AI to create captivating and realistic Old Man AI Voice. Easily speak like a old man and try these top old man text to speech!