Are you a Selena Gomez fan looking to add a unique touch to your audio creations? Well, look no further than the Selena Gomez voice generator. In this article, we will explore Selena Gomez's voice, what happened to it, what a Selena Gomez AI voice generator is, and how you can make yourself sound like Selena Gomez.
Part 1: Who is Selena Gomez?
Selena Gomez is a singer, actress, and producer who rose to fame as a child star on the Disney Channel. She was born on July 22, 1992, in Grand Prairie, Texas, and began her career in show business at a young age.
She gained widespread recognition for her role as Alex Russo on the Disney Channel series Wizards of Waverly Place," which aired from 2007 to 2012.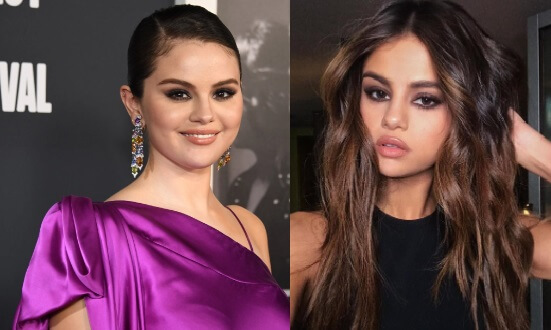 As a musician, Gomez has released several successful albums and singles, including "Come & Get It" and "Lose You to Love Me." Outside of her entertainment career, Gomez is also known for her philanthropic efforts, including her support for mental health awareness and lupus research.
Part 2: What is a Selena Gomez AI Voice Generator?
A Selena Gomez AI voice generator is an online tool that allows users to create audio recordings in the voice of Selena Gomez. By inputting text into the generator, it will then produce a computer-generated voiceover in the style of Selena Gomez.
This tool is particularly useful for musicians, content creators, or fans who want to incorporate Selena Gomez's voice into their work or pay tribute to her musical style.
Part 3: How to Generate Selena Gomez AI Voice?
If you want to make your voice sound like Selena Gomez, here recommend TopMediai Text to Speech Online! It is a cutting-edge text to speech (TTS) voice generator that allows users to create natural-sounding voiceovers from written text.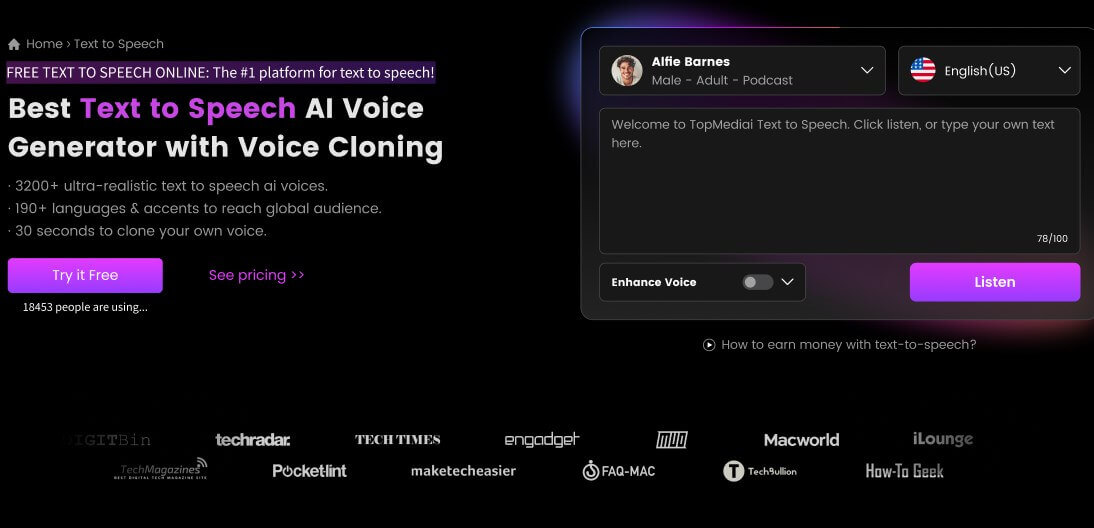 The TTS technology used by TopMediai employs machine learning algorithms that analyze and understand the nuances of natural human speech, resulting in voiceovers that sound remarkably lifelike and realistic.
How to Use Selena Gomez AI Voice Generator:
Step 1: Click the button below to visit TopMediai text to speech online.
Step 2: Enter your text you want to convert in the given space which you want to make it in Selena's voice.
Step 3: Select the desired Selena voice and click the "Convert" button.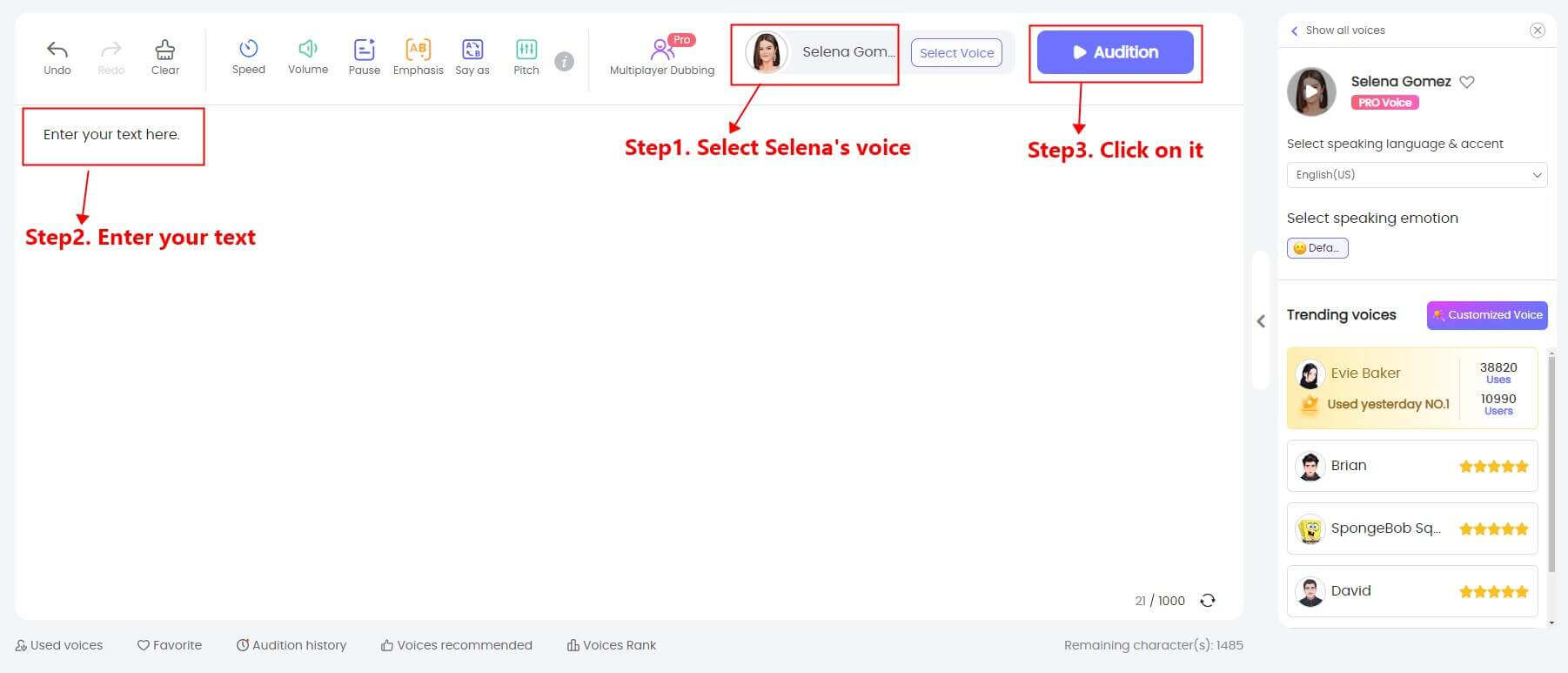 Step 4: Finally download your celebrity text to speech converted file.
Key Features:
There are 3200 voices and 70+ global languages to choose from, like British Text to Speech.
There are many voice editing features like timbre, Pitch, and accent.
There are tons of ai voice of different genre, including characters, cartoon, rappers, spongebob and so on.
Supported parameters to make adjustment, like Pause, Pitch, Volume, Speed & Emphasisc.
Easy to make other celebrity voice, like Kanye West or Morgan Freeman.
Part 4: FAQs about Selene Gomez AI Voice
1 Is Selena Gomez friends with Hailey Bieber?
Selena and Hailey have had a somewhat complicated relationship over the years. They were both linked to Justin Bieber at different times, which caused some tension between them. However, in recent years, they appear to have buried the hatchet and even exchanged friendly messages on social media.
2 Can I use a Selena Gomez AI voice generator to make prank calls?
While it may be tempting to use a Selena voice generator for some harmless fun, it's important to remember that impersonating someone without their consent can be considered harassment or identity theft. Always use voice generators responsibly and with respect for others.
3 Can I use a Selena Gomez voice generator for commercial purposes?
It depends on the specific generator and its terms of use. Some voice generators may require attribution or prohibit commercial use, so be sure to read the fine print before using one for business purposes.
4 What Happened to Selena Gomez's Voice?
In 2015, Selena Gomez revealed that she had been diagnosed with lupus, a chronic autoimmune disease that can cause fatigue and joint pain. She later underwent a kidney transplant in 2017, which led to complications and a temporary hiatus from music.
Conclusion A Selena Gomez voice generator is a fun and creative tool that allows fans to emulate the pop superstar's signature sound. While Selena's voice has undergone some changes over the years, her talent and appeal remain as strong as ever.
So go ahead and try out a Selena voice generator for yourself – you may just discover a new way to pay tribute to this talented artist.