Yoda text to speech ai voice generator is here to help you achieve that Jedi Master level of narration.

Star Wars has captured the hearts of millions worldwide, and one of its most iconic characters is the wise and enigmatic Yoda. l'll explore the top three Yoda Text to Speech voice generators available online for free.

Text to Speech
3 Free Trials of The Selected Voice Below
Conversion failed.
Please check out if there are special characters or multiple languages in your text.
Part 1: Who is Yoda - Star Wars?
Who is Yoda:
Yoda, an iconic character in the Star Wars universe, is a wise and powerful Jedi Master of a mysterious, green-skinned species. Known for his unique speech patterns, he imparts invaluable wisdom and trains Jedi Knights like Luke Skywalker.

Yoda's teachings emphasize patience, self-mastery, and the Force's spiritual aspects. Despite his diminutive stature, he possesses immense knowledge and skills, leaving an indelible mark on the Star Wars saga and earning a special place in the hearts of fans worldwide.
Who is the Yoda Voice Actor?
Yoda's voice was primarily provided by Frank Oz. Frank Oz is a renowned puppeteer and voice actor known for his work with The Jim Henson Company and his iconic characters such as Yoda in the Star Wars franchise, Miss Piggy and Fozzie Bear in The Muppets, and many others.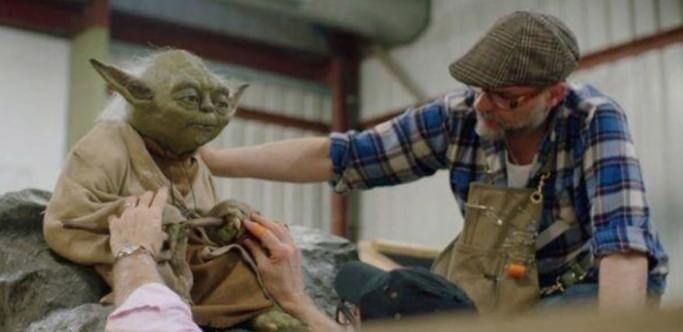 He provided the voice of Yoda in several Star Wars films, including "The Empire Strikes Back" (1980), "Return of the Jedi" (1983), "The Phantom Menace" (1999), and "Attack of the Clones" (2002). His voice and performance as Yoda are iconic and beloved by Star Wars fans around the world.
Part 2: What is Yoda Text to Speech?
Yoda Text to Speech(Yoda Voice Generator) is a cutting-edge technology that allows you to transform ordinary text into Yoda's distinct and memorable voice. It's the perfect tool for fans, content creators, or anyone looking to infuse a bit of the Force into their projects.
Whether you want to create entertaining content, prank your friends, or simply enjoy the fun of speaking like Yoda, these Yoda Text to Speech generators have got you covered.
Part 3: Best 3 Yoda Text to Speech Voice Generators Free Online
TopMediai is a leading platform for Yoda Text to Speech conversion. It offers a user-friendly interface and the ability to transform your text into Yoda ai voice with just a few clicks. Best of all, it's available online for free, making it accessible to Star Wars enthusiasts of all kinds.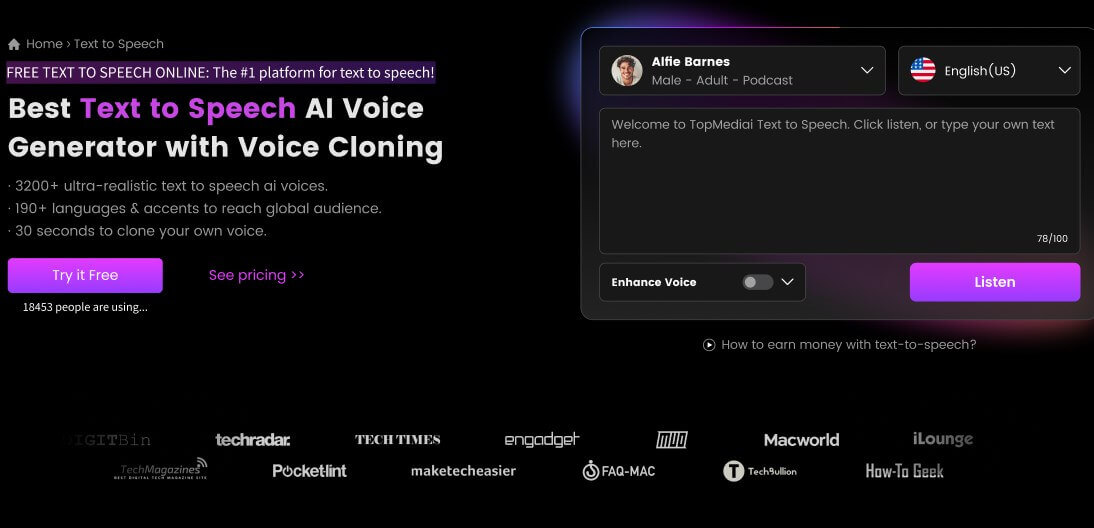 Not only Yoda, but also all characters of Star Wars, or cartoon characters, celebrity, singers and so many voices are available! It's really worth it to exlpore it!
How to Use TopMediai Voice Generator to generate Yoda AI Voice?
Step 1: Access TopMediai: Go to the TopMediai voice generator.
Step 2: Enter Text: Type or paste your text into the provided box.
Step 3: Choose Voice: Select Yoda ai voice model on "Star Wars".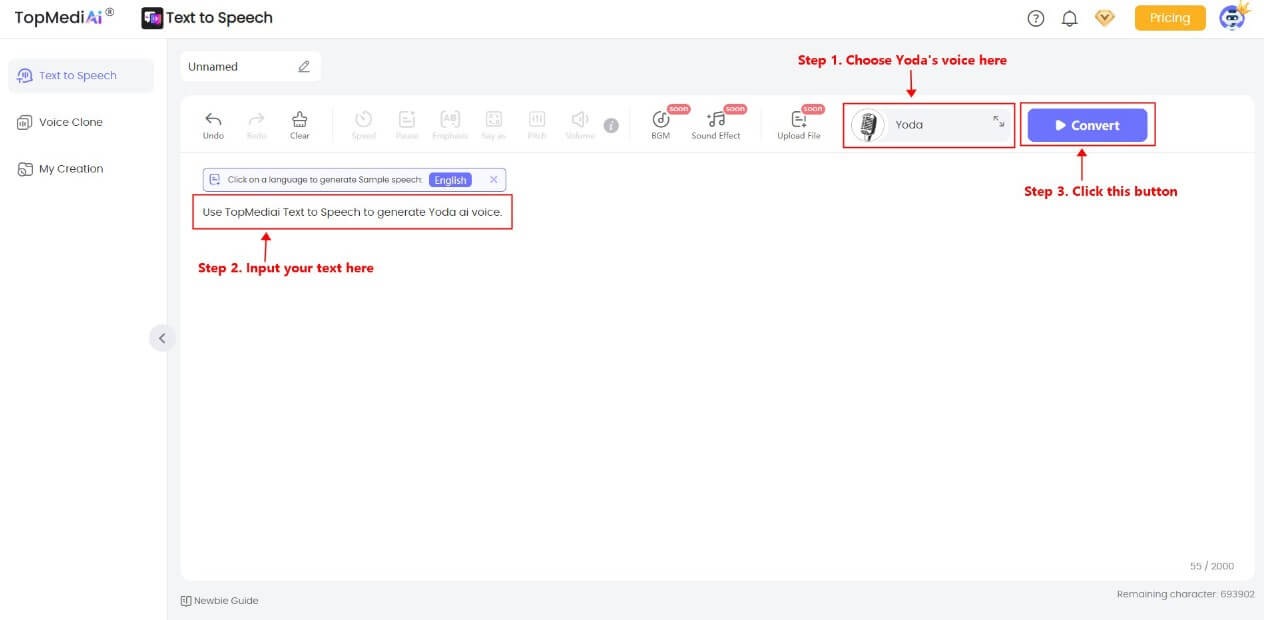 Step 4: Generate Speech: Click the "Convert" button to create the audio.
Step 5: Preview and Download: Listen to the generated speech and download it if satisfied.
7/24 Customer Support: Access to customer support or documentation can be beneficial, especially for users who encounter issues or have questions about the service.
Privacy and Data Security: Check the service's privacy policy to understand how user data is handled and whether it respects user privacy.
Speed and Reliability: The speed at which text is transformed into speech and the service's reliability are crucial factors for a smooth user experience.
Yoda Voice Accuracy: The most critical feature is the accuracy of the Yoda voice. The generated speech should closely resemble Yoda's unique speech patterns and intonation.
Safe and secure data handling.
Free or Paid Tiers: Consider whether the service offers both free and premium (paid) tiers, with premium options providing additional features or higher quality output.
Pros
Many more new online ai tools are coming soon, like Ai art generator.

It can be used for a lot of different scenarios like conferences, classrooms, or online communication.

Use it to make Yoda text to speech in 3,200+ voices that are amazingly unique.

You can tweak your text as you want, like delect or retreat.

User-friendly interface and easy to use.
Cons
The internect condition should be good when using it.

TopMediai Text to Speech - Realistic Yoda Voice Generator
No need to hire a voiceover anymore! Built for content creators, our text to speech saves your time and money.
Try It Free
2.Yoda Speak to Get Yoda AI Voice
Yoda Speak is another excellent option for Yoda voice generator. This platform provides a straightforward way to generate Yoda's voice from your text. Simply type or paste your content into the text box, click a button, and voilà – your text is instantly converted into Yoda's unique speech pattern. Yoda Speak is known for its accuracy in replicating Yoda's voice, making it a top choice for authentic-sounding narration.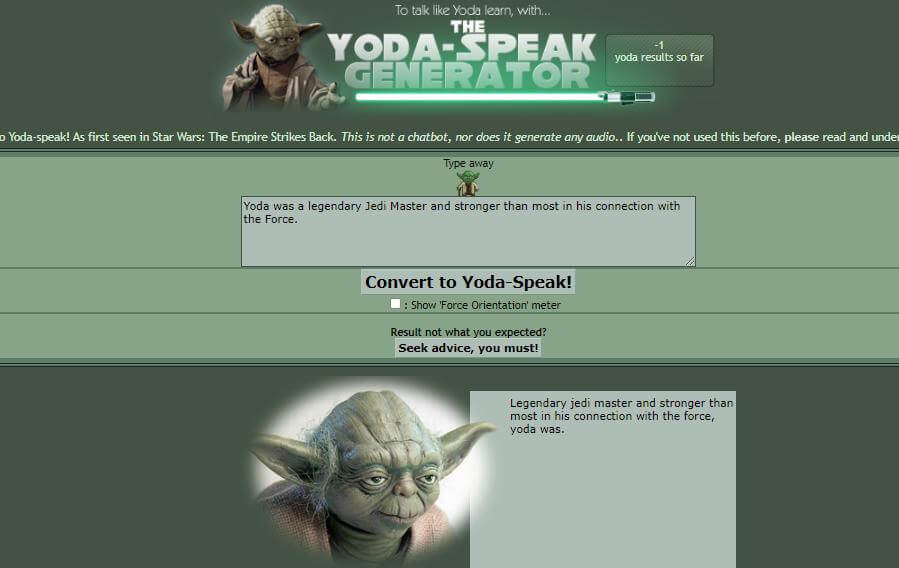 Effortless Conversion: Yoda Speak provides a straightforward and quick conversion process. Users can paste their text, press a button, and witness their text transform into Yoda's unique speech style.
Authentic Sound: Known for its accuracy in replicating Yoda's voice, Yoda Speak aims to provide an authentic Yoda experience for users.
Free Accessibility: Like TopMediai, Yoda Speak is also available for free online, ensuring that it's accessible to a wide range of users.
Did you ever wish you could sound like Yoda effortlessly? Yoda Speak to Get Yoda AI Voice makes it possible. This user-friendly Yoda Text to Speech generator offers a seamless experience. Just enter your text, click the conversion button, and you'll be speaking like Yoda in no time. Whether you're looking to entertain your friends or create Star Wars-themed content, this tool has got you covered.

Efficiency: Users can quickly generate Yoda's voice by inputting their text and utilizing the generator's conversion function.
Immersive Yoda Experience: This tool aims to provide users with an immersive Yoda experience, allowing them to speak like the iconic Jedi Master effortlessly.
Free of Charge: Similar to the other generators, Yoda Speak to Get Yoda AI Voice is accessible online at no cost, making it budget-friendly for all users.
Commercial Use: Acapela Group's voices and text-to-speech technology can be used for commercial purposes, such as advertising and voice-over work.
Part 4: FAQs about Yoda Voice Generator
1 What are the benefits of using Yoda Text to Speech?
One of the benefits of using Yoda Text to Speech is that it adds a unique touch to your narration, making it more engaging and entertaining. It can also save you time and effort by automatically generating speech from written text.
2Are Yoda Text to Speech generators free?
Some Yoda Text to Speech generators, such as Yoda Speak and Text-to-Speech Robot, are free to use. However, others, such as Acapela Group's Yoda Voice, may require payment for commercial use.
3 How can I get a Yoda ai voice?
There are several ways to get a Yoda voice, including using text-to-speech generators, voice changers, or hiring a voice actor to perform the voice.
4Can I create my own Yoda voice using a voice changer?
There are several ways to get a Yoda voice, including using Yoda text-to-speech generators, Yoda voice changers, or hiring a voice actor to perform the voice. Here will list some Yoda Voice Changers to make Yoda voice easily : TopMediai, Voicemod, Clownfish Voice Changer, Voxal Voice Changer, MorphVOX, AV Voice Changer Software.
Conclusion In a galaxy far, far away, Yoda's wisdom and distinctive voice have captured the hearts of millions. With Yoda voice generator, you can now bring that iconic voice into your own projects, adding a touch of the Star Wars universe to your narration.
Whether you choose TopMediai, Yoda Speak, or Yoda Speak each one Yoda voice generator to get Yoda AI Voice, you're sure to impress your audience with your newfound Yoda-like abilities.